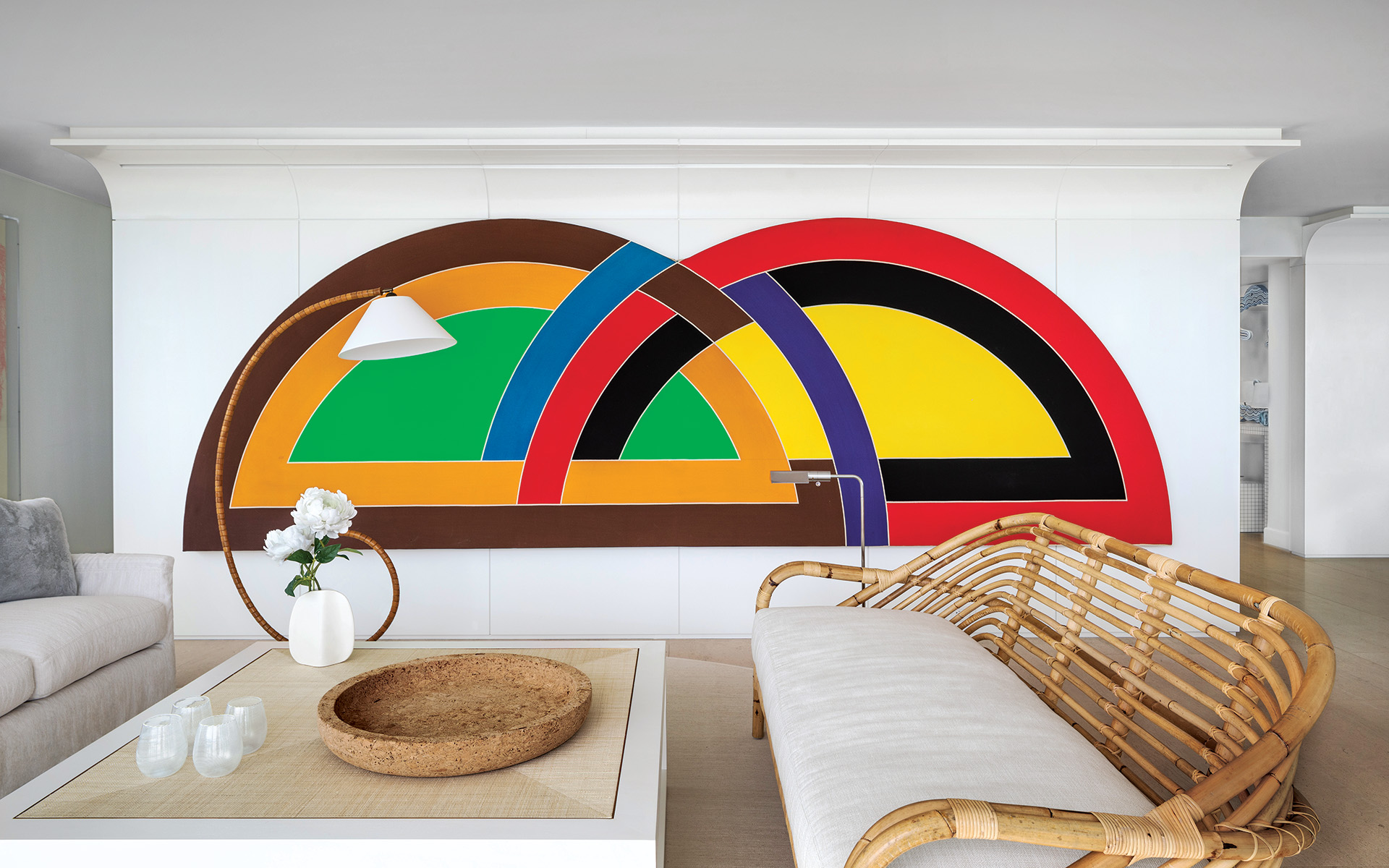 Lee F. Mindel Conjures a Palm Beach Residence for Longtime Friend Laurie Tisch
Mindel's elegant yet simple ideas yield radiant results as admired collector, Tisch, turns to the celebrated architect to solve design flaws at her South Florida retreat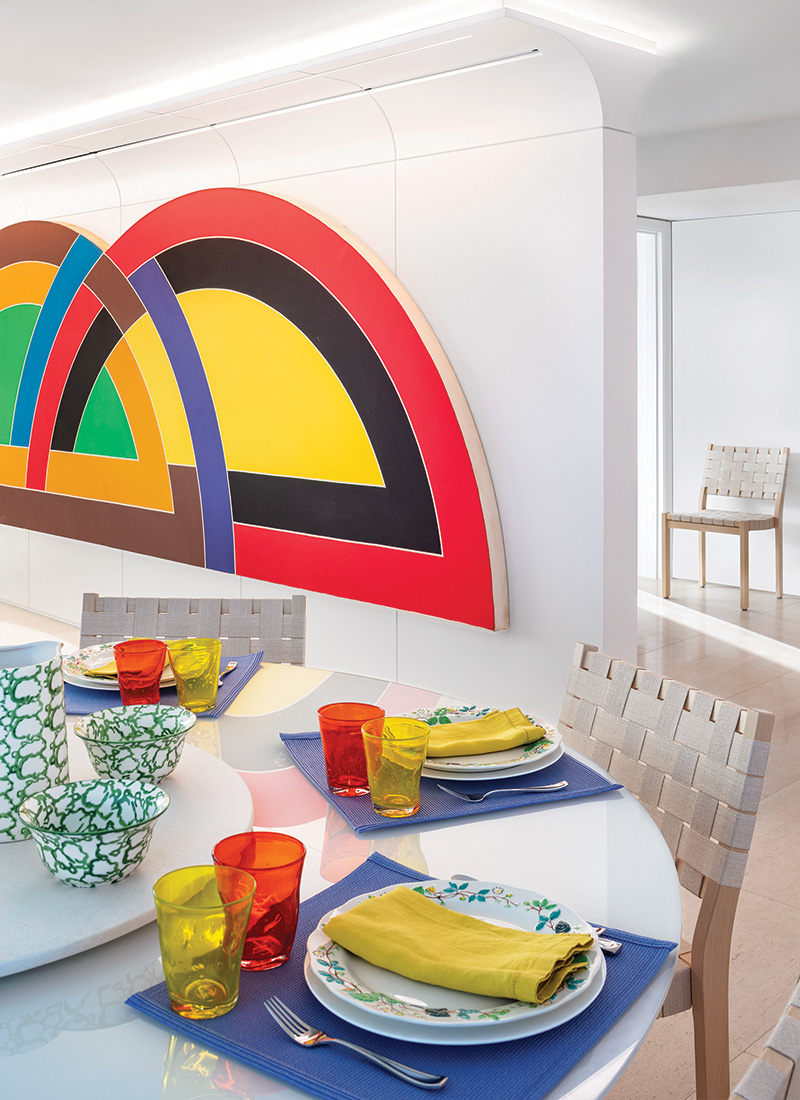 The Stella brought them together again. 
Architect Lee F. Mindel, head of the firm SheltonMindel, and Laurie Tisch, the collector and philanthropist, have a history that goes back far longer than most designer-client relationships. "Lee and his family used to come and stay at the Americana Hotel in Bal Harbour," says Tisch. The Americana was the first hotel built by her father, Preston Robert Tisch, and his older brother, Laurence, who developed a string of hotels and movie theaters that they grew into the powerful Loews Corporation. "Lee and I were both kind of spunky kids. We would take trampoline class together and get into trouble." She laughs, adding, "Nothing bad. We were teenagers."
When the COVID-19 pandemic spurred her to acquire a 1960s oceanfront apartment in Palm Beach, Tisch asked Mindel—who designed her art-filled New York City home years before—to drop by to take a look. Just a look, mind you. "The place was supposed to be in move-in condition," she says.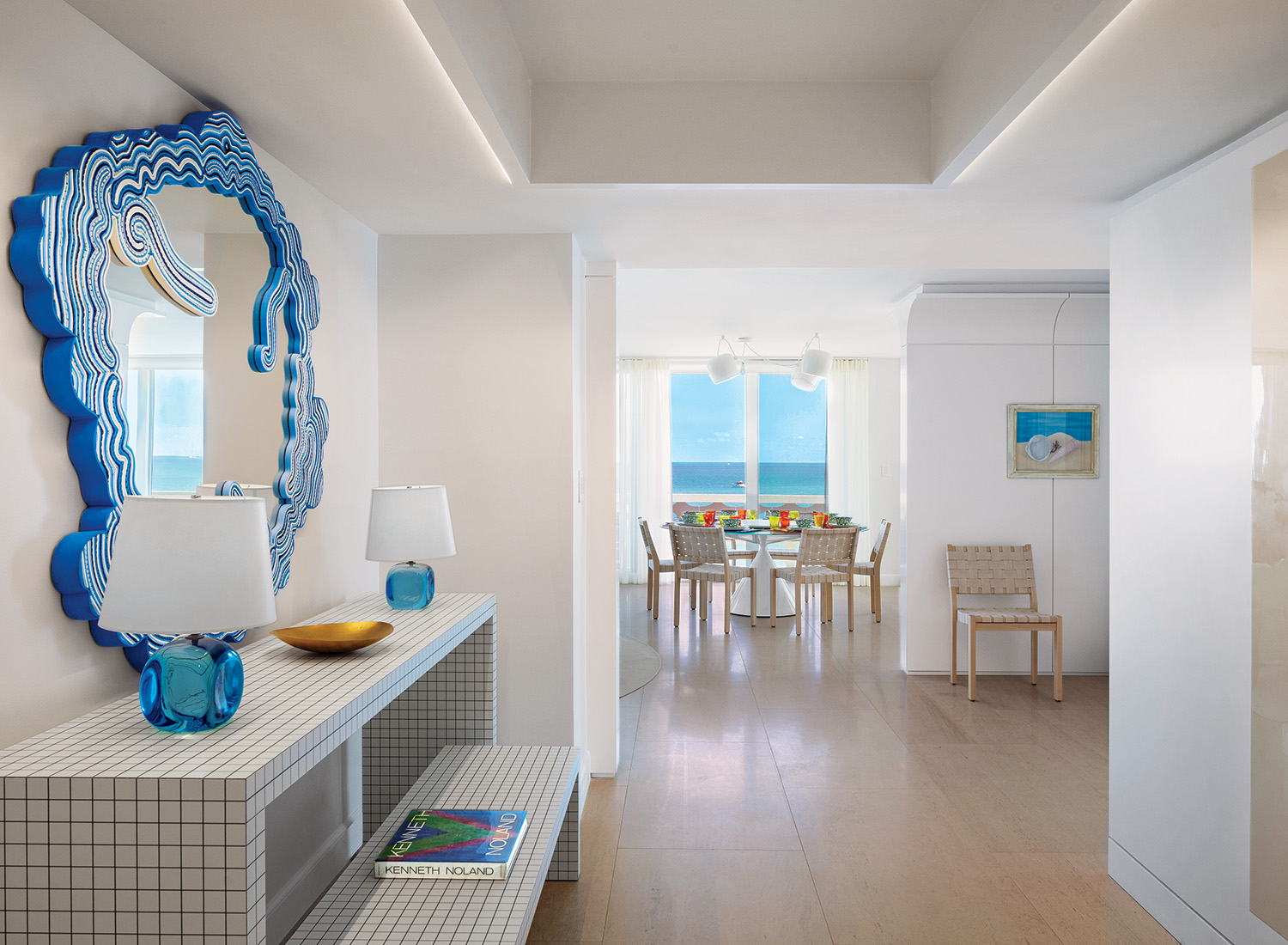 But she did think he might have ideas about how to display the work of art she was planning as the centerpiece: Frank Stella's 16-foot-wide Protractor, part of his series of paintings with the same name, featuring interlacing semicircular forms rendered with geometric precision in vivid hues. A departure from the early 20th-century modernist works Tisch is known for collecting, the strikingly shaped artwork was inherited from her parents, who hung it in the den of their apartment in the Loews Regency New York Hotel. "My kids liked to sit underneath it when we visited," she says. "It holds strong memories."
The problem in Palm Beach was that there was no wall space large enough to contain the painting. "I said to Lee, 'I'll just let it hang over,' " Tisch recounts. "And Lee said, 'Are you crazy?' " And just like that, they were sharing a design adventure again.
Mindel, who was a student of Stella's close friend Richard Meier, has long felt "adjacent to Stella's work," as he puts it. The challenge, he says, was to develop a lighting system without dropping the already low ceiling. "Also, there had to be a panoramic view of the Stella as well as a shade device so the sun wouldn't damage it," he says.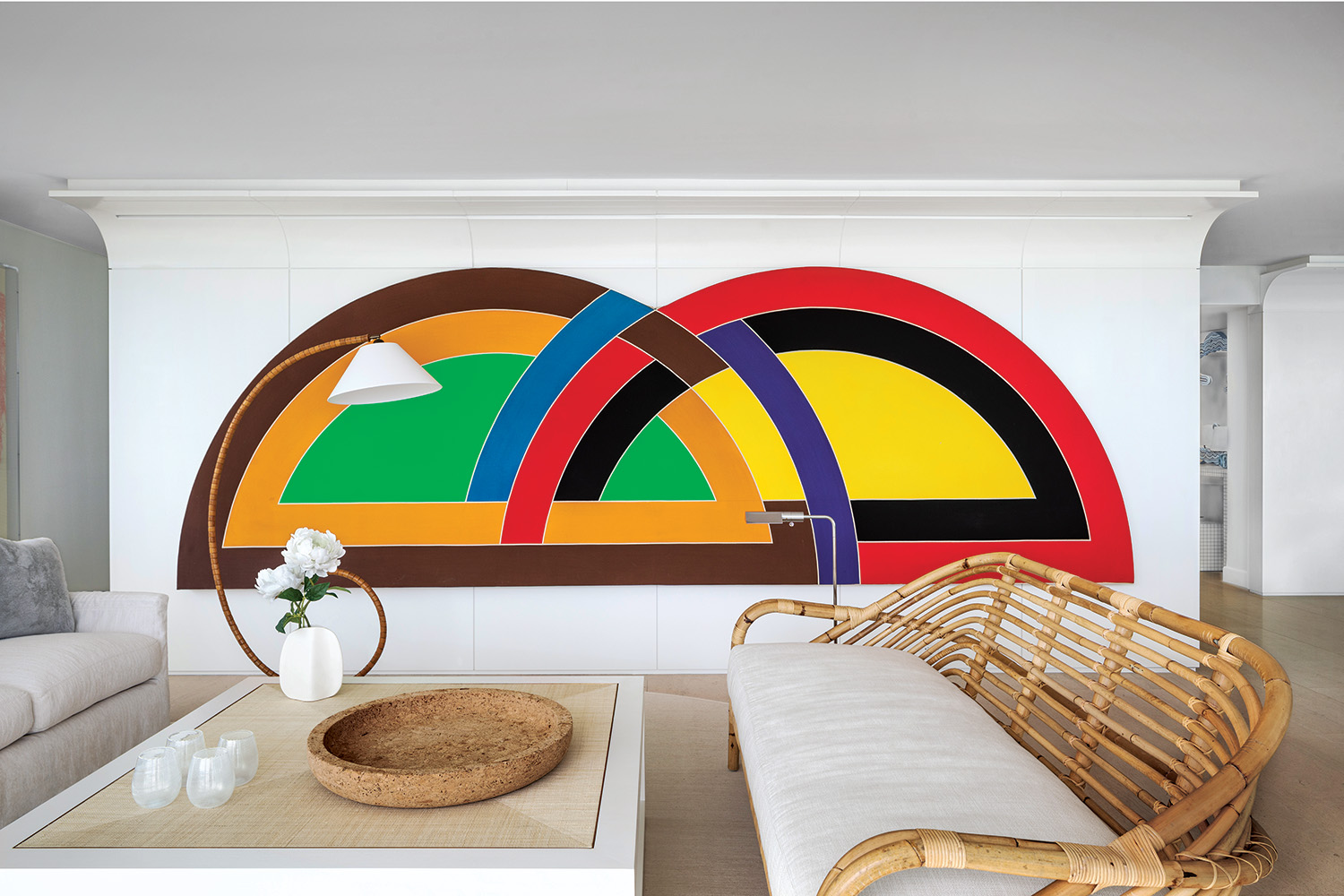 Mindel's solution was to insert a partition wall between the entry and the living and dining areas, cladding it in white-lacquer panels with minimalist crown molding that curves out a couple of inches below the ceiling. Embedded within are state-of-the-art LEDs that provide cove lighting on top as well as downward illumination for the piece. There's also a motorized scrim that can be lowered to protect the painting from sunlight, which Mindel softened with diaphanous curtains lining the windows.
Both he and Tisch note how the canvas evokes the interplay of light and color that is part of living in this seaside setting, and they have included other works that extend those themes. Mindel, who has shown art by Olafur Eliasson at Galerie56, his year-old Tribeca gallery, chose for the living area the artist's Your Lost Outside, a wall-mounted installation composed of 24 glass-and-stainless-steel spheres, progressing from clear to opaque and representing the hours of the day, "almost like a sundial," says Mindel. The more translucent orbs also reflect the turquoise ocean, while on a nearby wall Vik Muniz's Eight Color Spectrum (Pictures of Magazines) hangs in a grid, like colored panes of glass, adding a chromatic punch.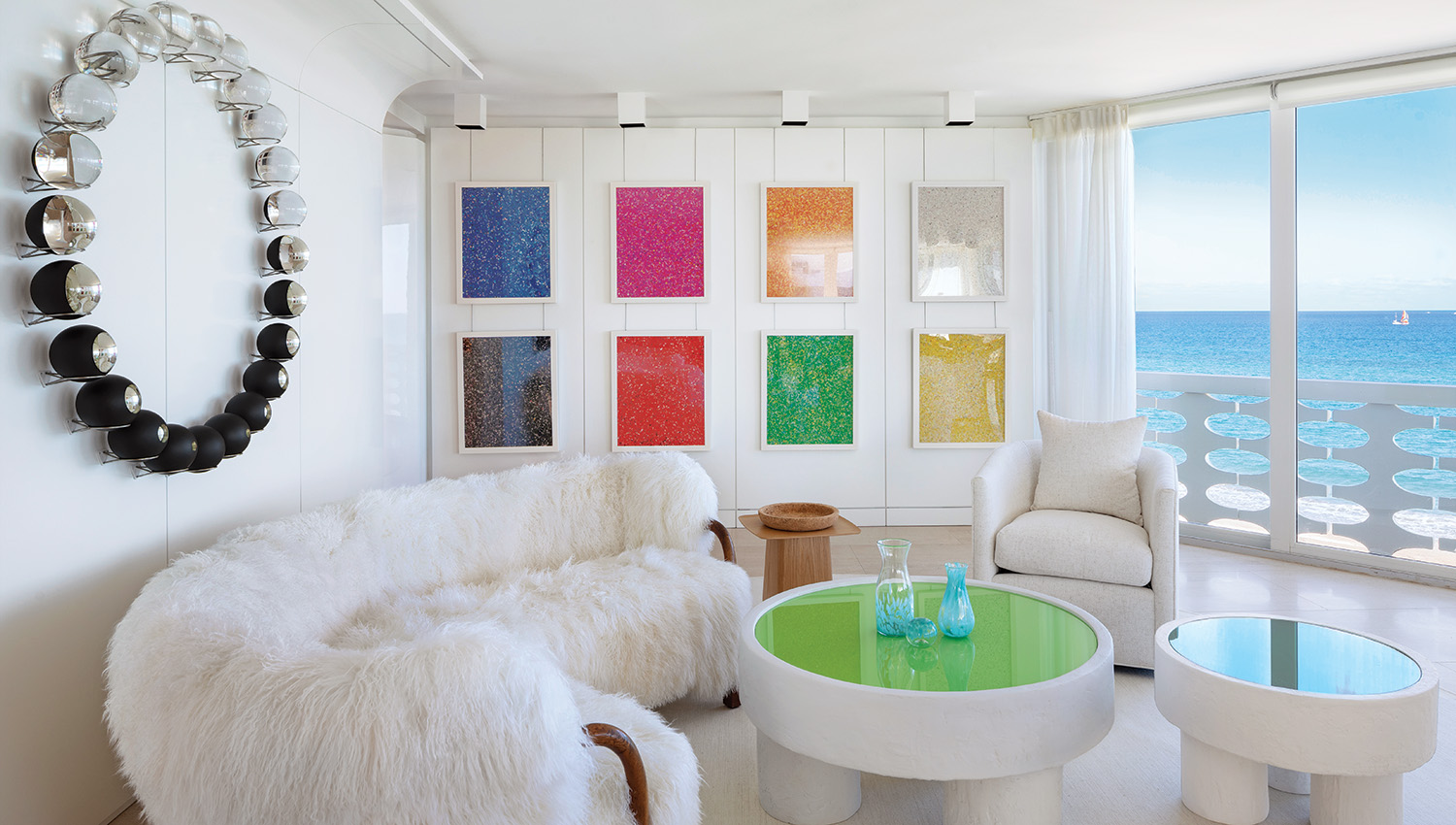 Beneath the artworks, a 1940s curved sofa attributed to Viggo Boesen, upholstered in Mongolian lambskin, curls around a pair of circular cocktail tables from Mindel's Veritas collection for Ralph Pucci. The tables have tinted-glass tops in "the colors of the tropics and the ocean," Mindel says, "and they are called Giverny, which also makes them about reflected light."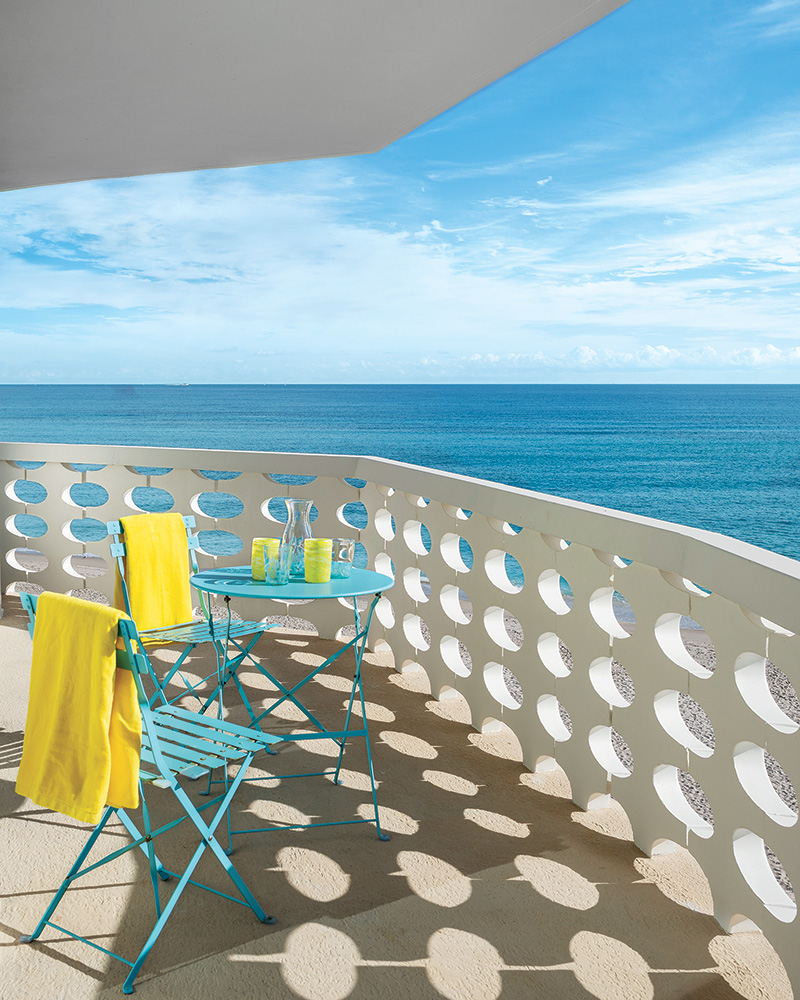 The apartment's casual sophistication takes an even more relaxed turn near the masterpiece, where a Serena & Lily rattan settee's twisting form is playfully echoed in a curlicue '30s Swedish floor lamp. And in the adjacent dining area, classic Alvar Aalto chairs surround a Marc Krusin table with a round ceramic top, its geometric profile in subtle dialogue with Stella's Protractor.
Equally important, it's a delightful place for sunny luncheons where Tisch and guests—Mindel often among them—can enjoy glorious art and ocean views. 
A version of this article first appeared in print in our 2023 Collectors Issue under the headline "Magical Thinking." Subscribe to the magazine.
Next Post