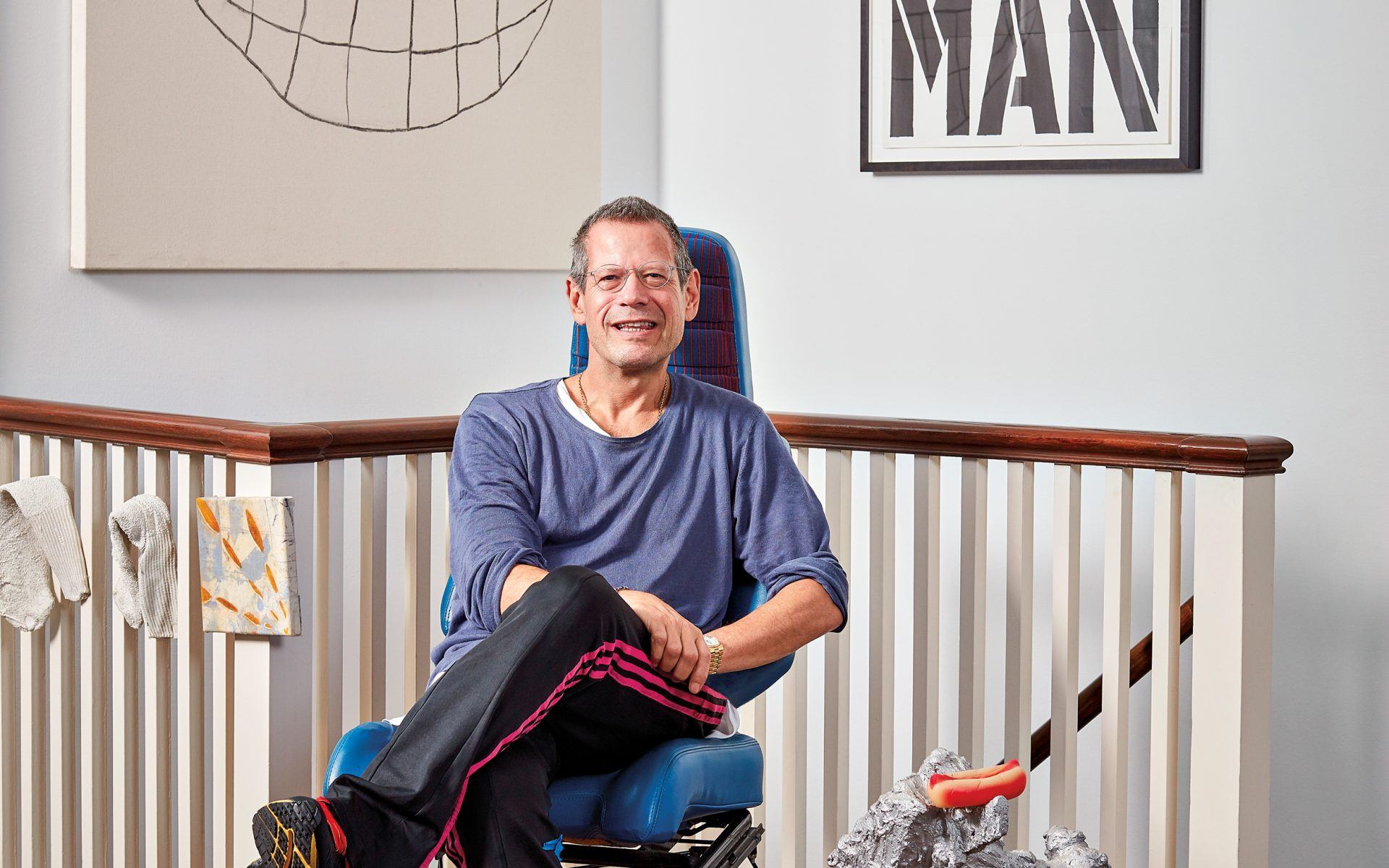 Art World Provocateur Kenny Schachter Opens Up His New Manhattan Home
The creative powerhouse and self-confessed hoarder reflects on his recent move from London
As someone who has had a long involvement with art and design—as a dealer, an artist, a curator, and, yes, a buyer—I have tried to understand what drives the bottomless compulsion to collect. In doing so, I turned to Sigmund Freud. Who else? Dismissing his (dubious) theories of unresolved toilet-training issues as the cause, I considered his ideas about longing for the comforts of childhood, from our mother's breast to the accumulation of cuddly stuffed animals—which, funnily enough, often crop up in contemporary art and may go far in explaining the popularity of market phenoms like KAWS, Murakami, and Nara. 
In my youth I was never overly acquisitive, though I did accumulate magazines that I still love. I would incessantly cut out and collage images onto a cork wall in my bedroom, a practice not unlike what I do today, only digitally, with the artworks I use to illustrate my writings.
For me, the collecting compulsion came later, when I visited my first gallery after stumbling into Andy Warhol's estate sale in 1988. Up to that point, I had no notion of art being bought and sold, having only experienced it hanging in museums during college. But soon I found myself taking out an unsecured loan to buy some Cy Twombly prints. Gradually, I transformed into the worst kind of hoarder, stockpiling not only works of art and design but also old newspapers and bills, a condition that had intensified during the past 15 years I'd spent living in London.
[Slideshow: See more photos of Kenny Schachter's Manhattan townhouse brimming with art]
Recently, I decided to leave London—due to the notable deterioration in the quality of life, from high levels of crime to an escalation in taxes and running animosity against foreigners—and return to New York. To pack up all of my crap (I say that with affection) and ship much of it to my new brownstone rental, it took no less than three months with a half-dozen movers, to say nothing of the expense.
Fifteen crates have made the journey (so far), and that includes no furniture other than a handful of design pieces by Zaha Hadid, Maria Pergay, the Campana Brothers, and Tom Dixon, all of whom I worked with curatorially in the past (especially my beloved friend Zaha). To help cushion the shock of the move, I enlisted Martino Gamper, commissioning him to make my dining room table, chairs, and bed.
Recommended: Martin Margulies and His Daughter, Elizabeth, Open Up Their Miami Home
The art packed into my new home ranges from conceptual works of the 1960s and '70s—notably by Vito Acconci and Paul Thek, whom I have organized exhibits for and written extensively about—to the latest creations by emerging contemporary artists I adore, such as Cheyenne Julien and Ebecho Muslimova. Other stalwarts I've collaborated with over the years and can never live without include Joe Bradley (whose first solo show in New York I curated in 2003), Cecily Brown, Wade Guyton, and Pope.L, whose artwork was the subject of two shows I staged in London in 2005 and 2007. It's a pleasure to be surrounded by so many great things I care passionately about, especially in a city bustling with so much art, design, and creativity.
But exactly what I will do with everything in two years, when my present lease expires, I have tried not to think about. It hasn't taken much time to get to full capacity. (I just hope the building doesn't sink into the foundation from the weight of it all!) Most collectors worth their salt at some point find themselves in a similar predicament—i.e., home erupting at the seams, costly storage obligations far and wide—and my move from London forced a reckoning of sorts. It's about time to prune my holdings, especially those stashed in warehouses in Zurich, London, and New York. 
[Slideshow: See more photos of Kenny Schachter's Manhattan townhouse brimming with art]
As a result, I am organizing a series of exhibitions and sales titled, fittingly enough, "The Hoarder." The first will take place at gallery S|2 in London December 11 to 18 and feature a range of design and art pieces that have been the focus of my collecting habit. This will be followed by a New York sale at a date to be determined.
Of course, while I am doing some much-needed letting go, hardly a week passes when I don't add to my collection. My latest acquisitions include some stools by Irish sculptor Eva Rothschild and a Paul Thek sculpture composed of 23 tiny bronze mice. And I've got my roving eye on plenty more. Old habits die hard—or, in my case, not at all. 
A version of this article first appeared in print in our 2019 Winter Issue under the headline "Can't Stop, Won't Stop." Subscribe to the magazine.
Next Post