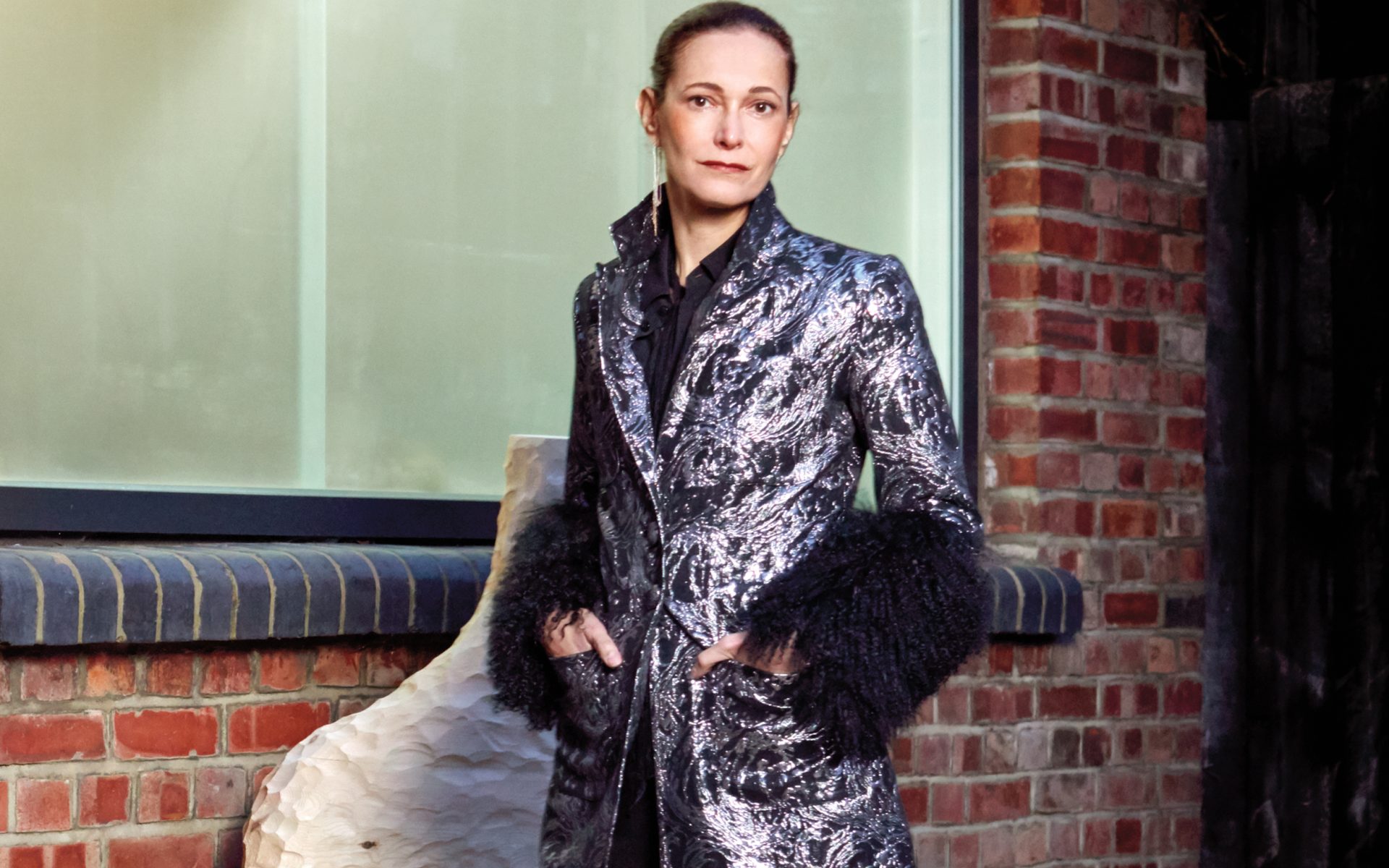 What Legendary Gallerist Jeanne Greenberg Rohatyn Can't Live Without
From her first art purchase to her beloved 1984 Gaetano Pesce Pratt chair to her sculptural Karl Fritsch rings
At Frieze L.A.'s inaugural edition earlier this year, Jeanne Greenberg Rohatyn presented a pink ombré booth with furniture by designer Max Lamb, sculptures by Francesca DiMattio, desert landscape paintings by Australian indigenous artist Yukultji Napangati, and quirky resin chairs by Italian modernist Gaetano Pesce.
It's this bold mash-up of genres, cultures, and mediums that has solidified Rohatyn, the legendary gallerist behind New York's Salon 94, as one of the art world's most inspiring forces. "I look for an artistic vision and a singular voice," she says of her roster, which ranges from celebrated artists Marilyn Minter and Laurie Simmons to rising young talent Ruby Neri. "It doesn't matter to me what the medium is; I don't see hierarchies."
Art runs in the family. Raised in St. Louis, Rohatyn grew up in a home filled with works by the likes of Donald Judd and Andy Warhol, talents her father, esteemed dealer Ronald Greenberg, represented. After cutting her teeth at her father's namesake gallery, she launched Salon 94 in 2002 on the ground floor of an East 94th Street townhouse. (She and her husband, financier Nicolas Rohatyn, live upstairs with their three children.) Later, she set up two additional spaces on the Lower East Side: Salon 94 Bowery and Salon 94 Freemans.
Recommended: Melike Kara's Striking Canvases Go On View at Salon 94
In 2017, Rohatyn teamed up with Paul Johnson of New York's Johnson Trading Gallery to launch Salon 94 Design. Now she's moving her headquarters into a marvelous landmark originally designed by Ogden Codman Jr. on the Upper East Side. The space, slated to open next spring, is expected to include room for exhibitions, a pop-up shop, a café, and offices.
Here, Rohatyn gives insight into the artwork that captures her attention and the personal items she treasures most.
The first piece of art I acquired was David Hammons's Rock Head. It's essentially a rock that he found and took back to his studio and cleaned before covering it in hair and giving it this Spiral Jetty haircut. To me it was this perfect object that crossed both art history—it looks like a Constantin Brancusi or an archaeological find—and popular culture.
I recently discovered the exciting work of ceramic artist Magdalene Odundo, who lives in Surrey and was born in Nairobi, Kenya. I felt that she had elevated the craft to the next level.
The most personal gift I ever received was a story written for me by the author A. M. Homes, illustrated with photographs by Laurie Simmons, for my 40th birthday. It was so special.
My go-to outfit for an art fair is usually a jumpsuit and an Yves Saint Laurent blazer. For events, I love wearing pieces by the designer Duro Olowu, who brilliantly mixes prints from different countries and eras—a high-end French 1930s pattern with a vintage Nigerian cloth that he has updated, for example.
I like wearing rings by Karl Fritsch, which are like miniature sculptures. I love to juxtapose his raw diamonds with my polished cut-diamond wedding ring. You can see his fingerprints in the gold and feel his presence too.
The last meal that truly impressed me was at The Ranch, a wellness resort in Malibu. All the food is locally sourced, plant-based, and vegan. Every time I sat down there was an element of both pleasure and surprise—and it was good for you!
My favorite piece of furniture right now is a 1984 Gaetano Pesce Pratt chair, which we have been recasting, blending different colors in resin using cutting-edge technology. His chairs have a totally unique, organic form. Each one has a wonderful story too that symbolizes his life as an artist.
If I could have any artwork it would probably be Picasso's Les Demoiselles d'Avignon or the Rose Period acrobats. I've been thinking a lot about Picasso recently. A few weeks ago, however, it may have been Cézanne's Bathers. There are also paintings in museums that I always revisit. In Venice, it's La Tempesta by Giorgione. I'd like to take my kids to see the Isenheim altarpiece painted by Grünewald in Alsace, France, next. 
A version of this article first appeared in print in our 2019 Late Fall Issue under the headline "Dealer's Choice." Subscribe to the magazine.
Next Post