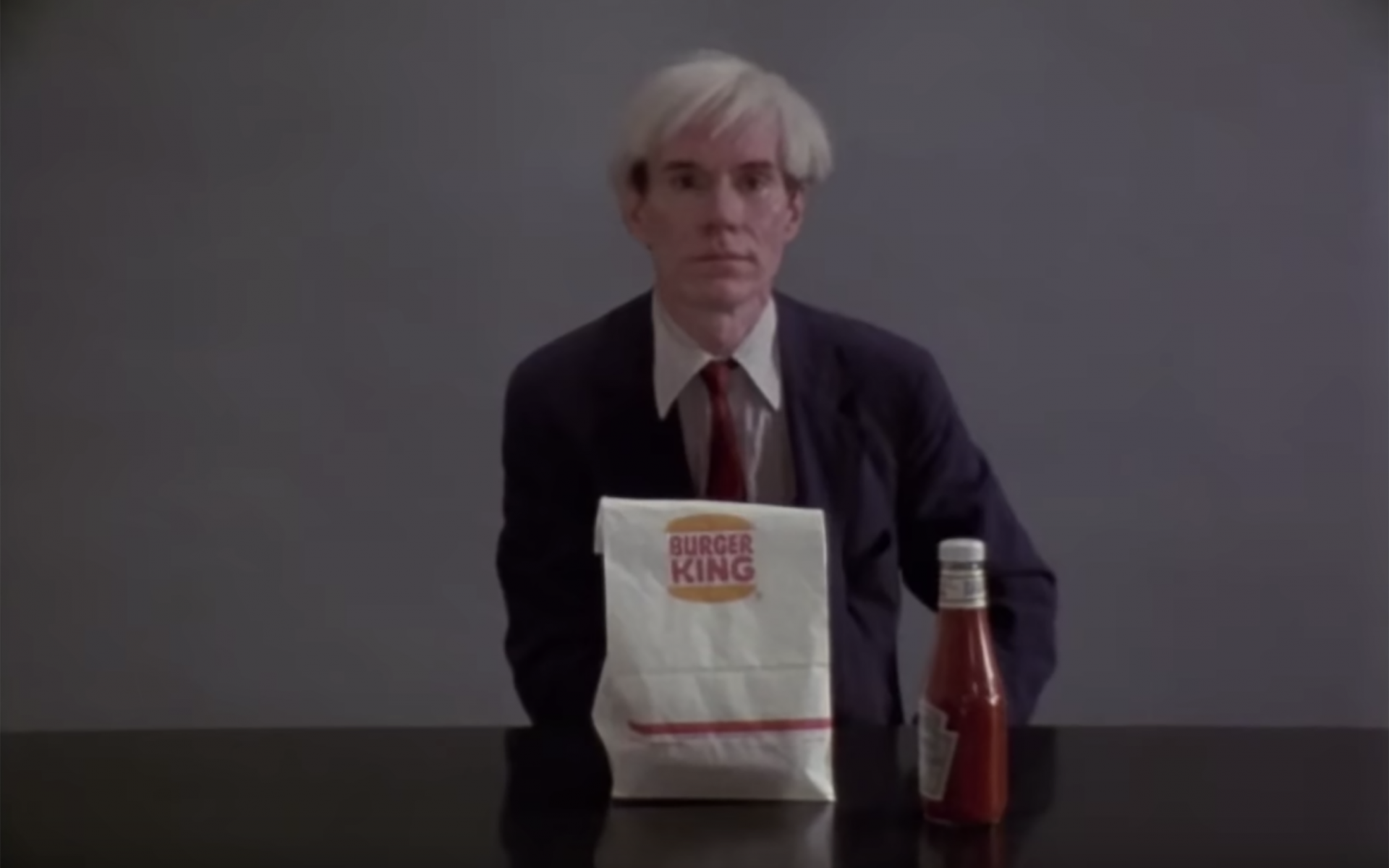 Andy Warhol Stars in Burger King's New Ad Campaign
The fast-food chain used archival footage of the Pop artist eating a Whopper in their Super Bowl ad
In the midst of the lowest-scoring Super Bowl of all time, Burger King aired a distinctly memorable ad featuring an incredibly unlikely star: Andy Warhol.
The fast-food company aired a 45-second commercial that showed the famous Pop artist silently eating a Whopper.
The footage is from Jørgen Leth's 1982 film, 66 Scenes from America, which was made up of a series of vignettes about American life. The full clip, which can now be seen on Burger King's YouTube channel, clocks in at nearly five minutes and is included in the current Whitney Museum exhibition dedicated to the artist.
"I wish we could put four minutes and 20 seconds in the Super Bowl, but that would probably get us all fired, because we would be paying for it for ten years to come," Marcelo Pascoa, Burger King's global head of brand marketing, said of the abbreviated clip that aired.

Recommended: Take a Peek Inside an Incredible Home Designed for Tom Brady
Before the Warhol spot ran, the burger chain had released an ad featuring their mascot, the Burger King, painting. The teaser promoted a Mystery Box Deal through the delivery service DoorDash. The Mystery Box, the contents of which recipients were asked to keep secret until game day, contained a silver Warhol-esque wig and a bottle of ketchup.
@BurgerKing @DoorDash I just got the mystery box. Say what???? A wig and a ketchup bottle? Lmao! #MysteryBox #doordash #burgerking pic.twitter.com/9NIcGz7H2C

— Nathan ?? (@natek711) February 1, 2019
"I still remember the first time I watched the complete length of the film of Andy Warhol eating a Burger King Whopper, and my head exploded," Fernando Machado, Burger King's global chief marketing officer, told AdAge. "I was like, 'Is that really Andy Warhol; why is he eating that? What's happening there?'"
Burger King worked with the Andy Warhol Foundation and Leth's representatives to secure the footage, knowing that they wanted to keep the clip as intact as they could.
"We believe that it's kind of cool that he did a lot of art that looked like advertising and that we are using his art to advertise," Machado said of Warhol. "It's like a silent assassin in the clutter of the Super Bowl."
Next Post