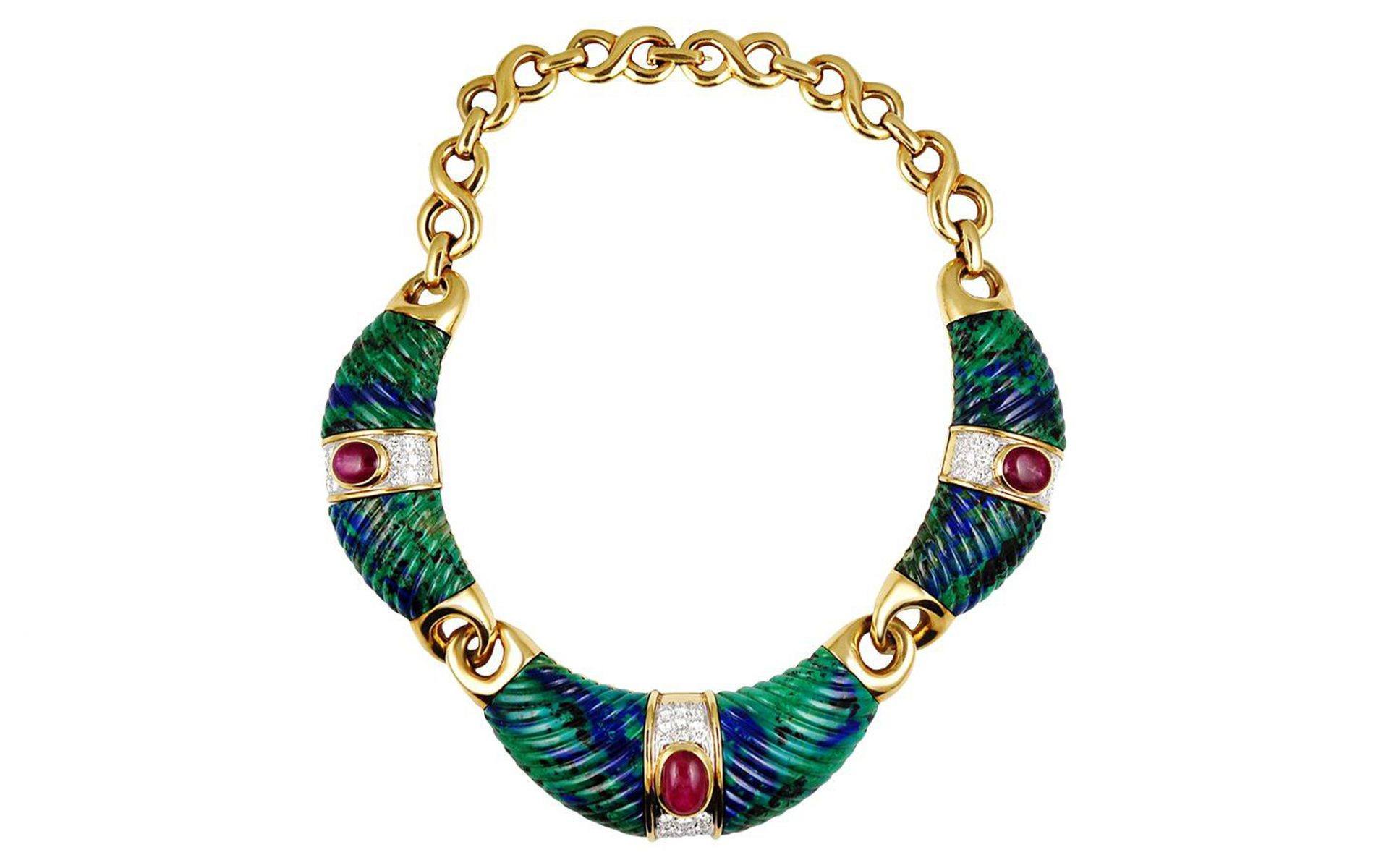 10 Must-See Exhibitions at New York City Jewelry Week
The second annual event features some 200 happenings taking place across the city
Now in it's second year, New York City Jewelry Week (NYCJW) is every jewelry aficionado's dream. Launched by Bella Neyman and J. B. Jones to promote and celebrate the world of bijoux through educational and innovative-focused programming, this year's edition takes place November 18–24 and features some 200 happenings across the city. Highlights include Katie Stout's jewelry debut on the Lower East Side, a symposium at the Fashion Institute Technology on sustainability in the industry, an exhibition of sculptural rings by Karl Fritsch at Salon 94, a guide to collecting vintage and estate jewelry at Macklowe Gallery, and an afternoon with designer Clarissa Bronfman, among other glittery events.
"One of the biggest trends that we are seeing this year come out of the industry is designers who are socially responsible, and who are not only saying that they are but also putting their practices under a microscope for the world to see," says Neyman. "I am excited about this year's NYCJW not only as its organizer but as an attendee. There are so many emerging and established designers involved this year, and it's very inspiring to think about being able to hold all these pieces and even try them on."
Here, we share the must-see exhibitions.
1. "Rings Without End: Karl Fritsch" at Salon 94
What: Over 100 magnificent rings designed by the artful jeweler Karl Fritsch will go on display at Salon 94 Design. Fritsch combines exquisite and unexpected pairings of precious stones with nontraditional materials. Oftentimes cutting and carving the gems himself, Fritsch pushes the limits of jewelry design into new realms. Many works retain fingerprints of the artist that are made permanent in the wax-casting technique; others are adorned with insignias or text. "I love wearing rings by the Karl Fritsch," Jeanne Greenberg Rohatyan of Salon 94 told Galerie in a recent story. "They are like individual miniature sculptures. You can see his fingerprints in the gold, and you can feel his presence too."
Where: Salon 94, East 94th Street
When: November 19
2. "Greek Jewels" at the Museum of Arts & Design
What: Greek jewelry returns to the Museum of Arts & Design (MAD) from November 20 through 23. Taking place on the 7th floor of the museum, the exhibition offers visitors the chance to see 16 of the latest creative talents working in Greece, a country with a rich jewelry-making tradition and history of craftsmanship.
Where: Museum of Arts and Design, 2 Columbus Circle
When: November 20–23
3. Katie Stout Jewelry at Fort Makers
What: The Massachusetts-based project and exhibition space Sienna Patti is known for representing work by contemporary studio artists that blend the worlds of art, design, and craft. For New York City Jewelry Week, a selection of weird and wonderful jewels, including shark tooth charms, cicada wing pins, and egret brooches, will be on display at the artist-run design store Fort Makers. The highlight is the jewelry debut by the New York artist Katie Stout and her design partner, Simone Paasche.
When: November 20–23, 12–7 p.m.
Where: Fort Makers, 38 Orchard Street
4. "About Face by Claudia Lepik" at 92Y Hall of Mirrors
What: An exhibition of photographs and face jewelry by 92Y's 2019 artist in residence, Claudia Lepik, is a highlight of New York City Jewelry Week. The Estonian jeweler works in a distinctive avant-garde style, creating pieces in metal and mixed media that explore the different ways jewelry can be worn on the body. "Most important in all of my work is that I love my hands," Lepik tells Galerie. "Sometimes it feels like my hands do not belong to the same nervous system and catch signals from elsewhere; they work so fast and without a second of hesitation."
When: November 18–24
Where: 92nd Street Y (between 91st & 92nd Streets), 1395 Lexington Avenue
5. "Be Dazzled: The Exceptional Jewels of 1stdibs"
What: An extraordinary collection of jewels, curated by 1stdibs, goes on display in a private penthouse with views of Madison Square Park. Open by appointment only, the exhibition features pieces by the Collective, Ella Gafter, Finn, Mahnaz Collection, Mark Davis, Stephanie Windsor, and Yafa Signed Jewels.
When: November 19 (VIP day) and 20th (by appointment)
Where: 1st Dibs, Madison Square Park Tower, 45 East 22nd Street, 57th floor
6. "Body/Motion: Kinetic Jewelry by George Rickey + Itoaya" at R & Company
What: Movement serves as the central theme for "Body/Motion," an exhibition curated by Elizabeth Essner that explores the influence of kinetic jewelry through two artists, emerging Japanese jeweler Itoaya and late American sculptor George Rickey, at R & Company. Visitors will get the chance to see Rickey's rare work in jewelry, which he mostly made as gifts for friends. His sculptures, meanwhile, informed the practice of the young designer Itoaya, whose works can decorate either the body or the wall.
Where: R & Company, 82 Franklin Street
When: November 18–December 20
7. "Rings: 1957–2019, Legends and Tales from Athens to New York" at the LaLaounis Boutique
What: This exhibition explores rings created by a selection of international artists who work in studio and fine jewelry. Showcased will be finger rings selected by Helen Drutt ​and organized by ​Elizabeth Essner;​ rings from the permanent collection of the Ilias Lalaounis Jewelry Museum; and a number of new creations designed by ​Maria Lalaounis​. "It has been very exciting and inspiring to show Lalaounis rings from the permanent collection of the museum, inspired by Ancient Greece, science, and technology, and contemporary rings by Maria Lalaounis, who continues a long family tradition in jewelry making," says Ioanna Lalaounis, director of the Ilias Lalaounis museum. "Highlights include Maria's hand-hammered gold abstract flower petal ring with diamonds, the Fabrizio Tridenti ring featuring distinctly nontraditional materials, and an Ilias Lalaounis 22K-gold flower ring, which exemplifies exquisite granulation work inspired by Hellenistic art."
Where: LaLaounis Boutique, 31 East 64th Street
When: November 18–November 23
8. "A Winter Garden, Jewel Works by New London Originals: Mahnaz Collection"
What: Cutting-edge contemporary jewelry by ​the London-based talents Alice Cicolini ​and Christopher Thompson Royds​ goes on display at the Mahnaz Collection alongside a selection of vintage jewels by ​Wendy Ramshaw​,​ Charles de Temple​, ​John Donald, ​and ​Gerda Flöckinger. Age-old techniques are celebrated at this show: Cicolini handcrafts in Jaipur, India, in collaboration with artisans, including one skilled in the nearly lost art of meenakari enameling; Thompson Royds​ traces around the stems and petals of pressed wild flowers before hand-cutting them in layers of paper-thin gold or silver, binding them with fine gold wire. Helmed by Mahnaz Ispahani, Mahnaz Collection is a gallery that specializes in fine jewelry collectibles made from 1960 onward.
Where: Mahnaz Collection, 32 East 57th Street
When: November 18–22, 11:30 a.m.–5:30 p.m.
9. "Daniel Brush Actresses" at Phillips 
What: An exhibition of the artist Daniel Brush's latest work, inspired by the golden age of Hollywood. The collection features steel and diamond hand-engraved ID bracelets that pay tribute to the icons of the silver screen.
Where: Phillips, 450 Park Avenue
When: November 18
10. "Deceptively Modern Jewelry: 1940s to 1980s" at A La Vieille Russie 
What: On display will be a curated selection of works from A La Vieille Russie's most recent jewelry exhibition, "Deceptively Modern Jewelry: 1940s to 1980s," along with pieces from its vast collection of European and American antique jewelry, 18th- and 19th-century European gold snuffboxes, and objets de vertu.
When: November 18–22
Where: A La Vieille Russie, 745 Fifth Avenue, 4th floor
Next Post