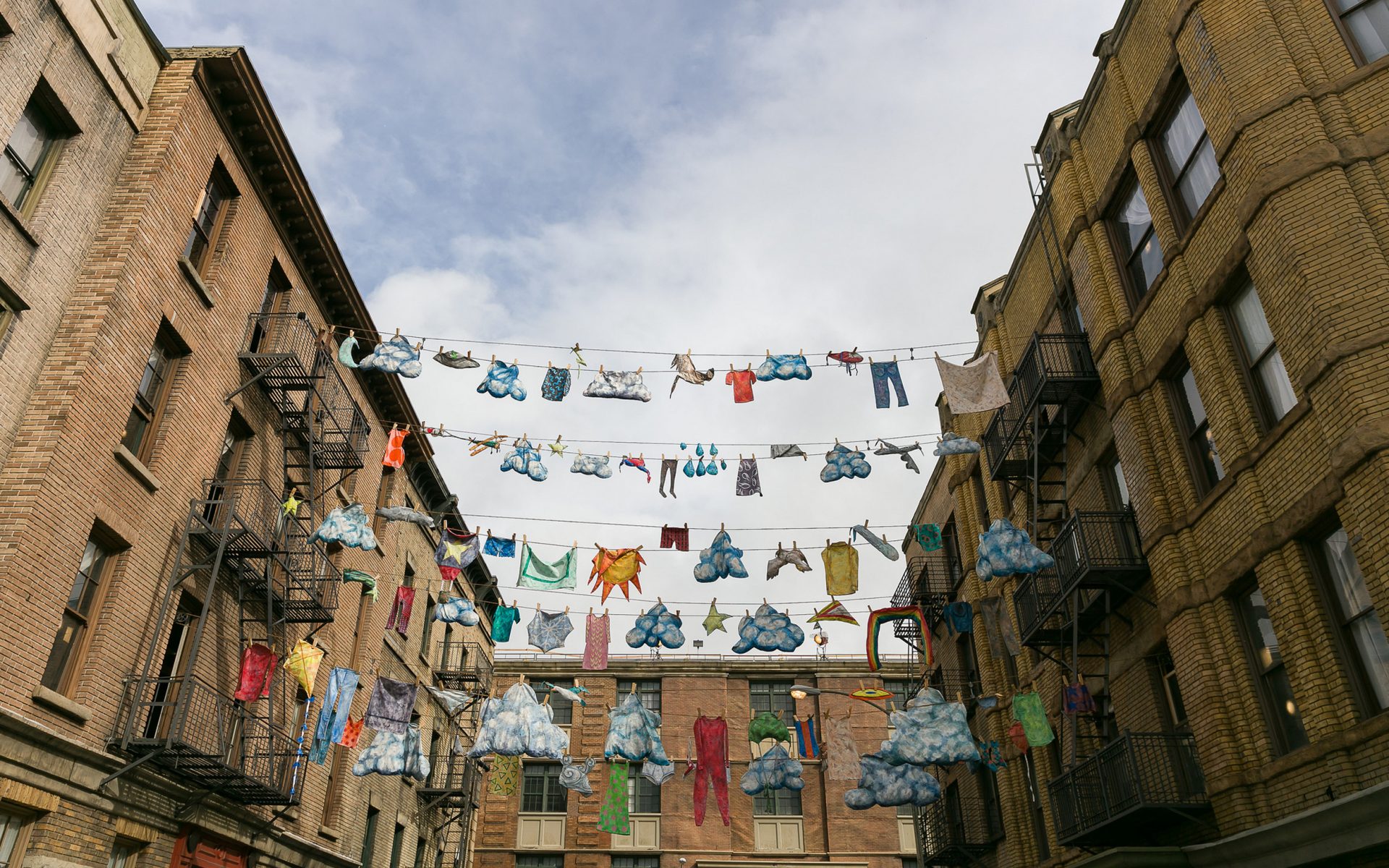 The Top 10 Booths at the Inaugural Frieze LA
The fair's debut boasted swift sales, including several works that targeted the West Coast's collector base
Despite the monsoon-like weather in the City of Angels on Thursday morning, VIPs and art collectors headed to Paramount Pictures Studio for the inaugural edition of Frieze LA. Approximately 70 galleries are housed in a custom-designed tent by Kulapat Yantrasast, a stark difference to the usual hundreds of dealers shown at the editions in London and New York. Spotted on the VIP preview day were Jane Fonda, Brad Pitt, and Sylvester Stallone, along with art-world honchos, including LACMA's Michael Govan, LA MOCA's  Klaus Biesenbach, and globe-trotting curator Hans Ulrich Obrist.
Many dealers presented entire booths dedicated to the West Coast, such as Blum & Poe, which has a series of works by its L.A. artists, or Acquavella Galleries, from New York, which devoted its walls to the 98-year-old Bay Area artist Wayne Thiebaud. Others nodded to the location in smaller ways, such as Pace, which showed a black-and-white portrait of Judy Garland by Andy Warhol. Nearly half of the galleries at the fair are from greater Los Angeles.
Here, we share our favorite booths.
1. Jeffrey Deitch
Dealer Jeffrey Deitch, who now operates out of both New York and Los Angeles, devoted his booth to a series of little-known works by Judy Chicago. An impressive Zig Zag (1965/2019) sculpture made a statement in the center. Conceived in 1965, the work was refabricated by Deitch after the original was destroyed by Chicago due to a lack of storage space and no market for her work. It is on offer for $375,000. Also on view are a series of pastel abstract drawings that Deitch found during a visit to Chicago's studio, where they had been stored since the 1970s and never before exhibited. Each is on offer for $65,000. At the gallery's space is "People," an exhibition of figurative sculpture that was previously shown in New York.
2. Galerie Thaddaeus Ropac 
For its first outing at an L.A. fair, Thaddaeus Ropac's booth brought it home with an homage to the city. "We really curated this booth for L.A.," Thaddaeus Ropac tells us at the VIP preview. "We brought a new work by Robert Longo, Harley Davidson, Alex Katz's bikini girls, Tom Sach's work Chevrolet, and Rauschenberg's Road Trip." There was also a portrait of Georgia O'Keeffe by Andy Warhol. "L.A. has something about it," he says, seemingly upbeat and unfazed by the torrential downpours that happened earlier that day. "Even the rain—I don't care!" Asked why he chose to do a fair in L.A. now, he says, "It never felt necessary to do a fair, because it was not there yet. But now it was the right the combination of galleries." He says the energy "feels very strong" and the collector base is "solid."
3. Eva Presenhuber
Zurich dealer Eva Presenhuber presented almost an entire booth dedicated to the Los Angeles artist Sam Falls, who has recently been creating lush landscape works made in California's natural forests, using a mixed technique of photography and painting. "He already has a huge following in L.A., but we wanted to give him the opportunity to show his newest works here," says Presenhuber, sitting at a striking desk also designed by Falls at the opening. Also on view is a 2018 painting by the rising star Brooklyn artist Shara Hughes, who was seen wandering the fair. "It's such a unique place and the cultural scene has developed so much in the last ten years so participating in this fair was really a no-brainer."
4. Sprueth Magers
One of the first international galleries to open in Los Angeles, Sprueth Magers presented works by Jenny Holzer, Barbara Kruger, Louise Lawler, Cindy Sherman, Karen Kilimnik, Lizzie Fitch, Ryan Trecartin, and Senga Nengudi. Don't miss its Ruby Sterling exhibition titled "Damnation" at the gallery space, located across the street from LACMA.
5. Night Gallery
Paris-born, Los Angeles–based art darling Claire Tabouret's monumental paintings of debutants and women soccer players drew a crowd in the booth of the local Night Gallery, including Brad Pitt, who was found chatting to the gallerists on the opening day.
6. David Kordansky
Local gallerist David Kordansky presented a series of paintings and sculptures by L.A. artist Kathryn Andrews, which were created after she bought several film props. Eleven of the wall-based works, all entitled Hollywood Dahlia, sold for $40,000 each on the first morning. One work, T-1000, which sold for $85,000, incorporates a hand prop from the 1991 film Terminator 2: Judgment Day.
7. Hauser and Wirth
Mike Kelley's seminal installation, Unisex Love Nest, is re-created for the first time in L.A., the city where it was created 20 years ago. It was inspired by a photograph of a child's bedroom that the artist found in a magazine and draws upon themes and imagery from storybooks and fairytales while hinting at repressed sexual urges and forms of desire. It sold on the opening morning for $1.8 million.
8. Koenig Galerie 
Koenig Galerie's booth was devoted to a solo presentation of the work of Berlin- and Copenhagen-based artist Jeppe Hein, whose interactive sculpture combines humor with minimalist traditions. The walls of the booth were painted with vertical blue brushstrokes that the artist had applied in a rhythm that matched his breathing—one brushstroke per inhale and another per exhale. "Like a meditation," says gallery owner Johann Koenig. "It's all about the pursuit of happiness." Within the booth were a series of mirrored works. One, a very popular wall work, had on it a statement in neon that said, "You look into my heart."
"You look into the mirror, and the 'you' is you," says Koenig. "You look into your own heart, and you say that to yourself." It was the perfect moment for a fair preview on Valentine's Day. Koenig also noted its relevance to Los Angeles. "It's like a dream factory, and then in L.A. you have certain trends of people, this whole finding-yourself movement."
9. Salon 94 
Salon 94's booth was decidedly pink and featured new pink furniture pieces by Max Lamb, colorful ceramics by Francesca DiMattio, and paintings by Australian aboriginal artist Yukultji Napangati. DiMattio's ceramics were humorous and stunning, towering over the other works in the booth. Her Caryatid II (2019), a tall pink statue featuring a classical female torso placed awkwardly onto a strong female leg wearing a stiletto-heeled, thigh-high boot, offered a mash-up of female representations from antiquity through the present. Napangati is from the group of artists known as the Papunya Tula, a movement originally founded in 1971. Her generation of female artists followed the male artists who originated the movement. And because it was Valentine's Day, two of Lamb's planters were filled with flowers. A nice touch!
10. Ghebaly Gallery 
Ghebaly Gallery's booth had a standout sculpture by artist Kelly Akashi of a smooth creamy glass bowl with silken tufts of hair threaded through small holes in the bowl. Akashi, who currently has a solo show at the L.A. gallery, often uses ephemeral materials to signify transformation and decay, and her work might involve delicate glass, lit candles, and other organic materials, like hair—in this instance, that of a friend, artist Kathleen Ryan, whose "lemon" works are featured in the booth. Neil Beloufa, Joel Kyack, and Sayre Gomez were also among the artists shown.  While the gallery had done Art Los Angeles Contemporary in the past, director Gan Uyeda said Frieze felt more like a "fair" fair. '"It's the party that moves to every city," says Uyeda about the crowd at the fair. "And now the party's here. It's arrived."
Next Post