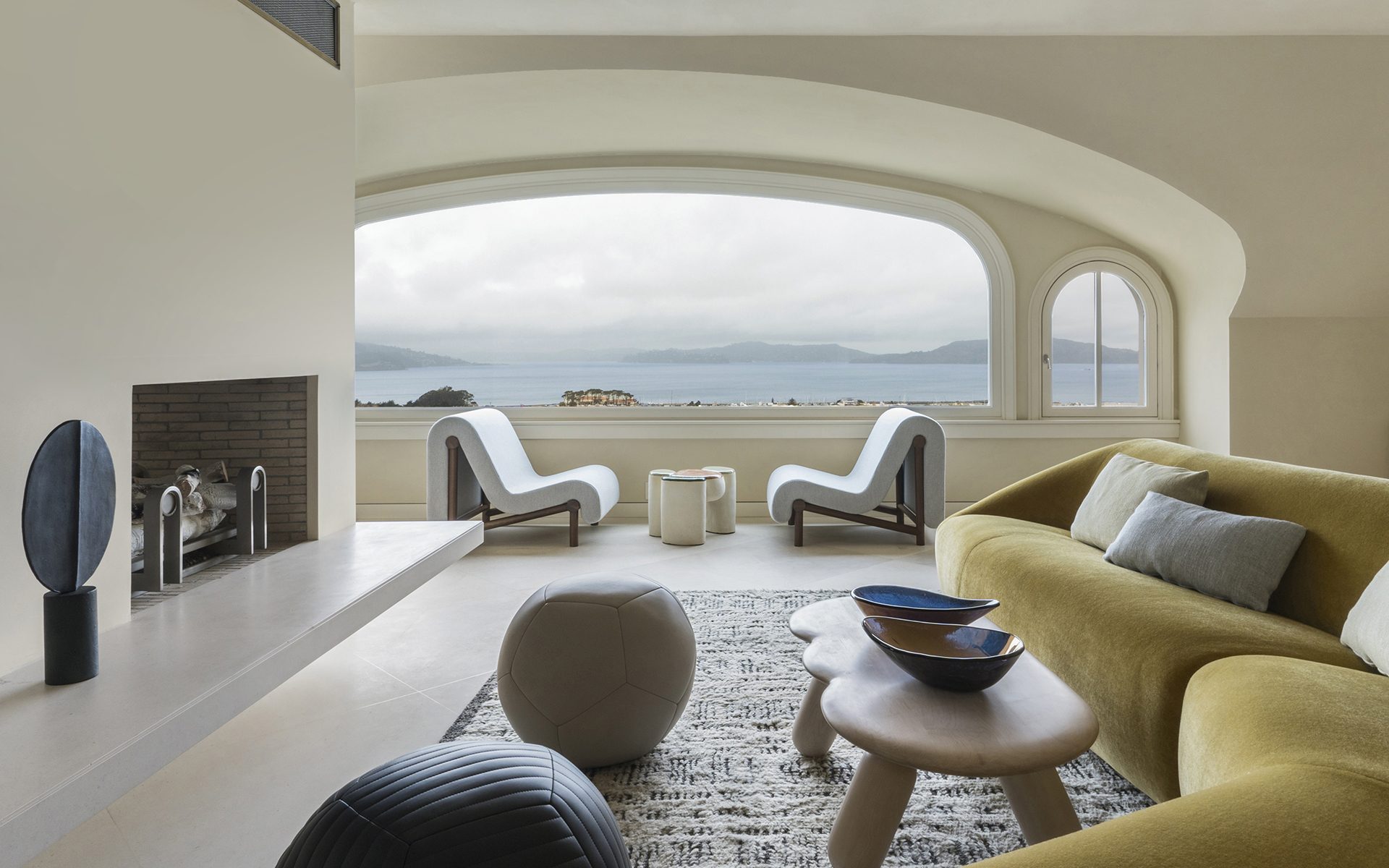 This Spectacular San Francisco Home Highlights an Adventurous Art and Design Collection
Designer Heather Hilliard organized the 9,000-square-foot residence around a serene grouping of furnishings paired with a bold selection of works by art-world stars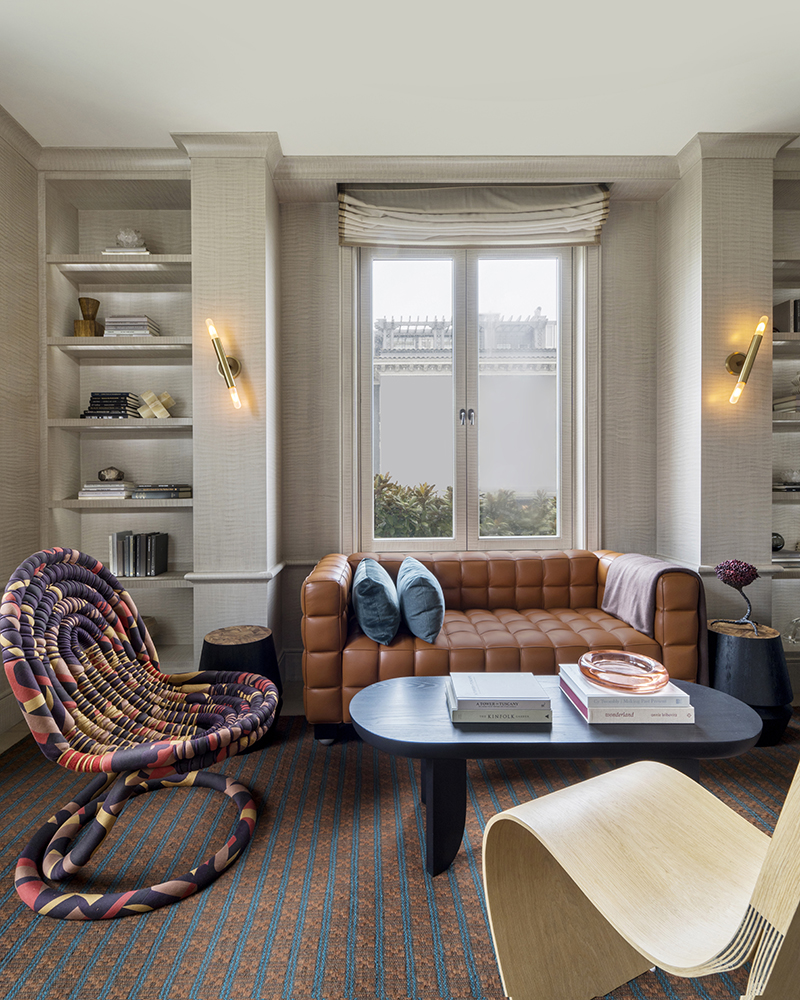 Not only were Heather Hilliard's clients some of the youngest she'd ever worked with, they were also on one of the tightest timelines. After purchasing a significant home in one of San Francisco's most prestigious neighborhoods, they were looking to fast-track the process while gaining a deeper understanding of the worlds of art and collectible design.
"We really like a mix of contemporary and vintage," says Hilliard, who introduced her clients to galleries such as Friedman Benda, Ralph Pucci, Bernd Goeckler, and Cristina Grajales to source captivating works by Ayala Serfaty, Patrick Naggar, and Faye Toogood. "We go to Design Miami/, FOG, and the Venice Biennale, hoping someday we're going to be able to use these really interesting pieces. When this client said they wanted that, it was exciting for us."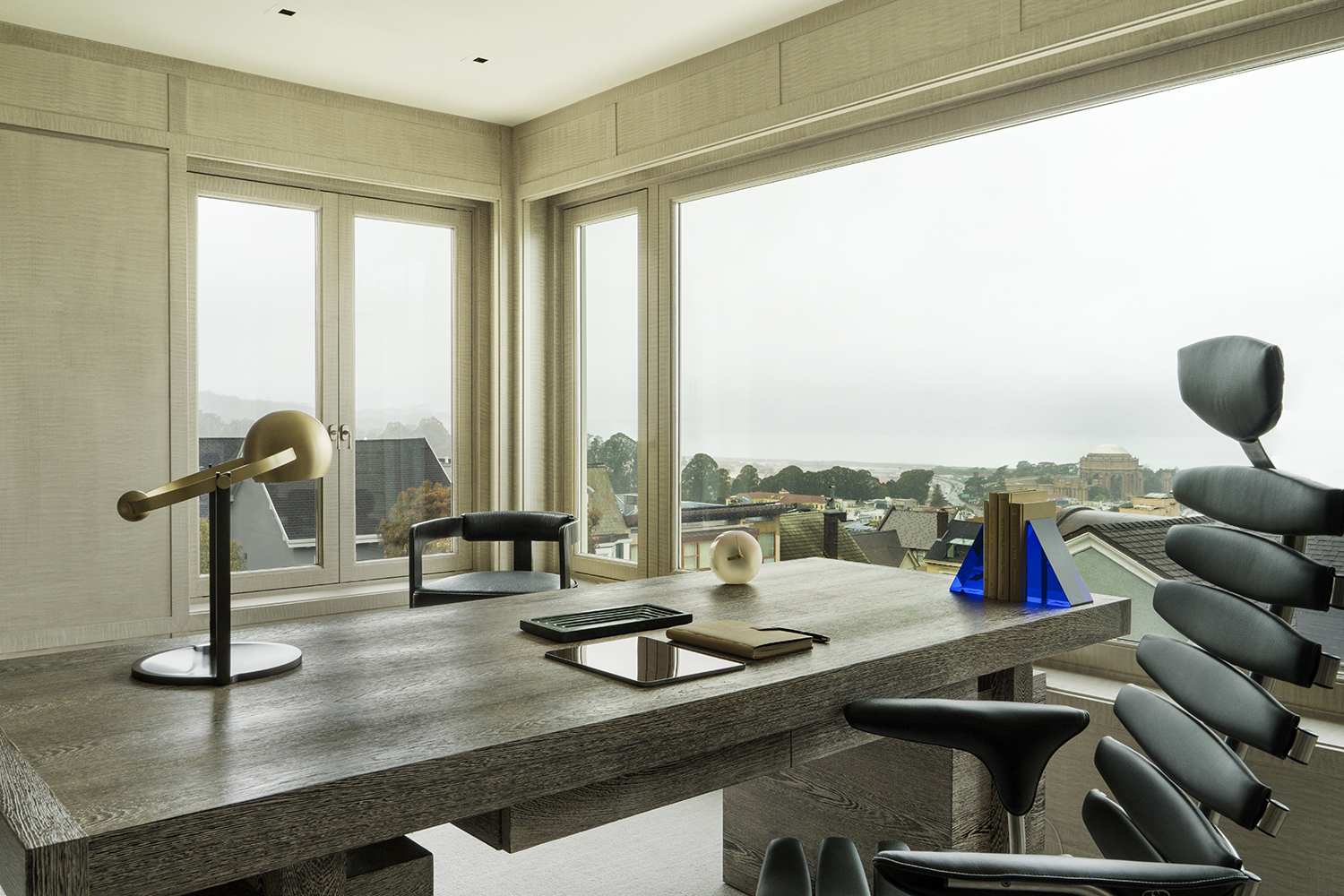 At the time, the homeowners weren't looking for a total renovation, but rather a refresh of the existing structure, which had already undergone a major overhaul. Hilliard refinished floors and dated millwork, sheathing the dining room in a sumptuous Holland & Sherry fabric that echoed the tranquil palette of warm vanilla, navy, and mustard that carries through to a vast penthouse salon as well as the main bedroom, which is washed in a moody blue-green to provide a visual link to the bay and sky.
"The view of Marin is amazing, so we thought about how to use these really unique pieces and pair them with some custom items," says Hilliard, who selected a modern ombre-glass bench by Studio Buzao from Gallery All, discovered at Design Miami/, pairing it with a Josef Hoffmann sofa, Faye Toogood chair, and custom bed crafted using Jiun Ho fabrics from DeSousa Hughes.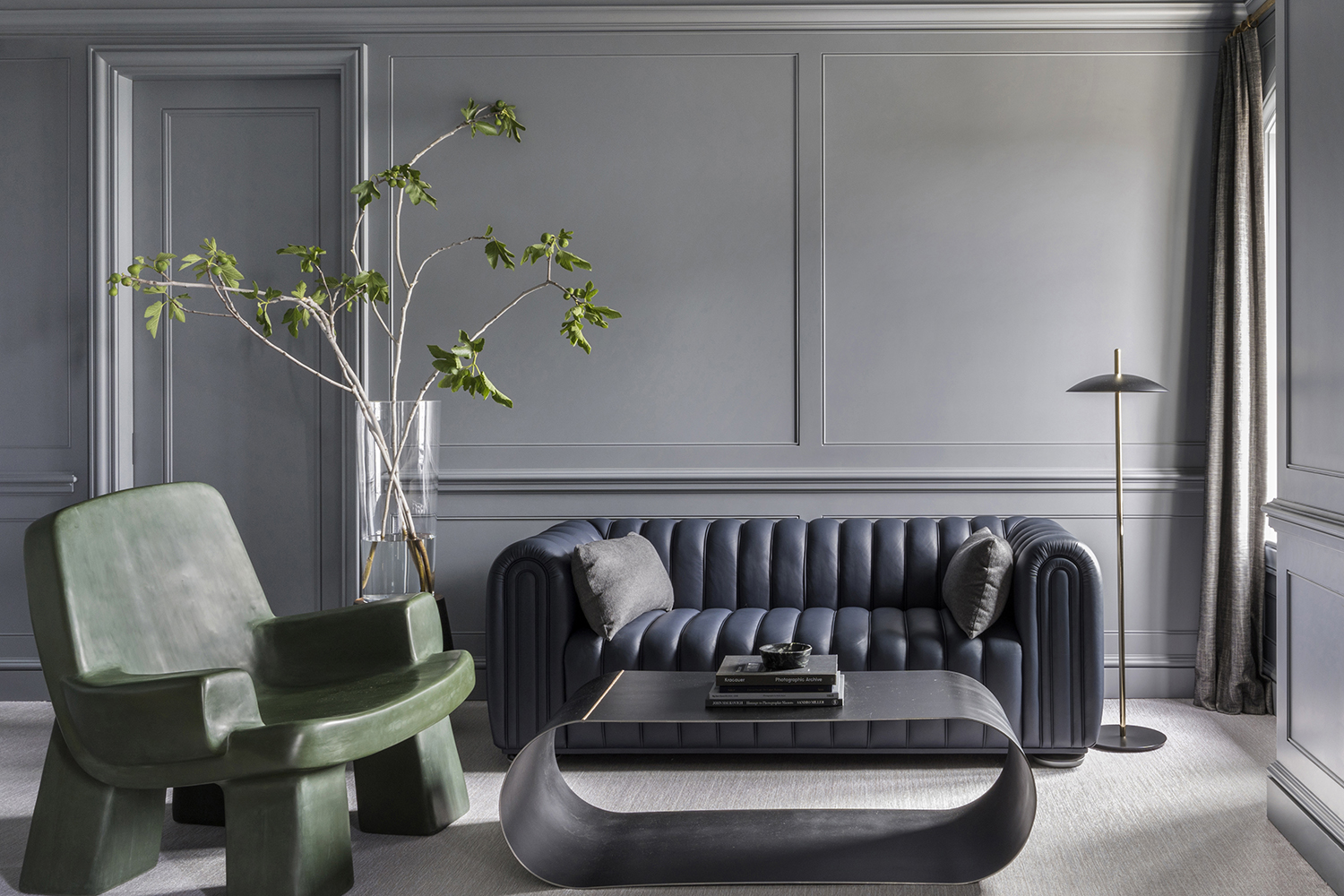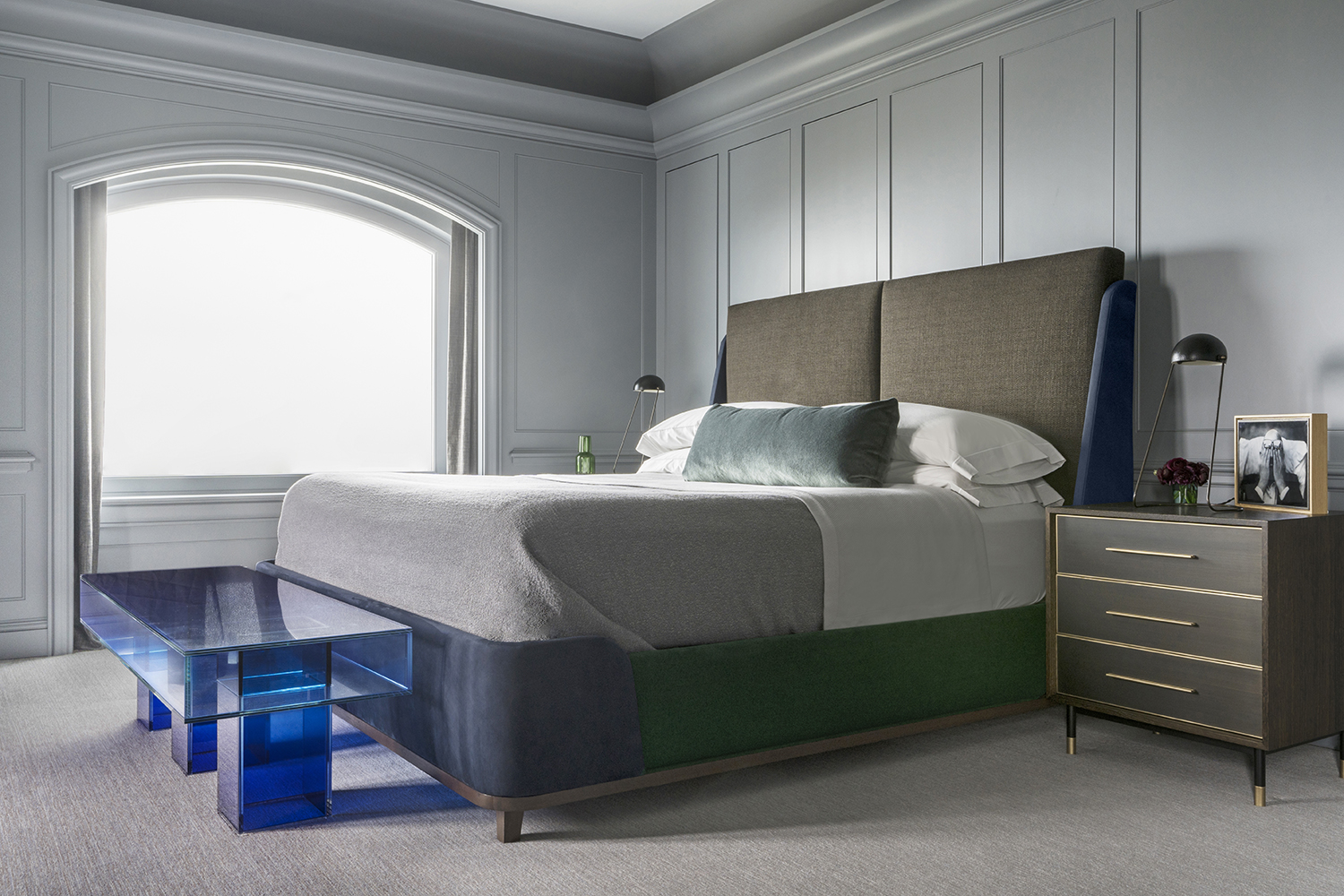 Building off the client's love of comics, Hilliard peppered in whimsical, playful pieces, including a Panda banquette chair by the Campana Brothers, installed in the couple's downstairs lounge, or one of Seungjin Yang's signature balloon-like Blowing chairs, which occupies a stairwell landing with picturesque views out over San Francisco. "They were interested in collectible furniture pieces and things that felt very casual and not very serious," says Hilliard. "They had a couple inspiration images of furniture as art and so we started looking at galleries with limited edition pieces and trying to incorporate those things."
Art, too, became a driving force with powerful works by Hiroshi Sugimoto, Claire Oswalt, and more purchased to make an impact. "Everything was new, and since since we've installed it, they have been working with an art consultant to expand their holdings," says Hilliard.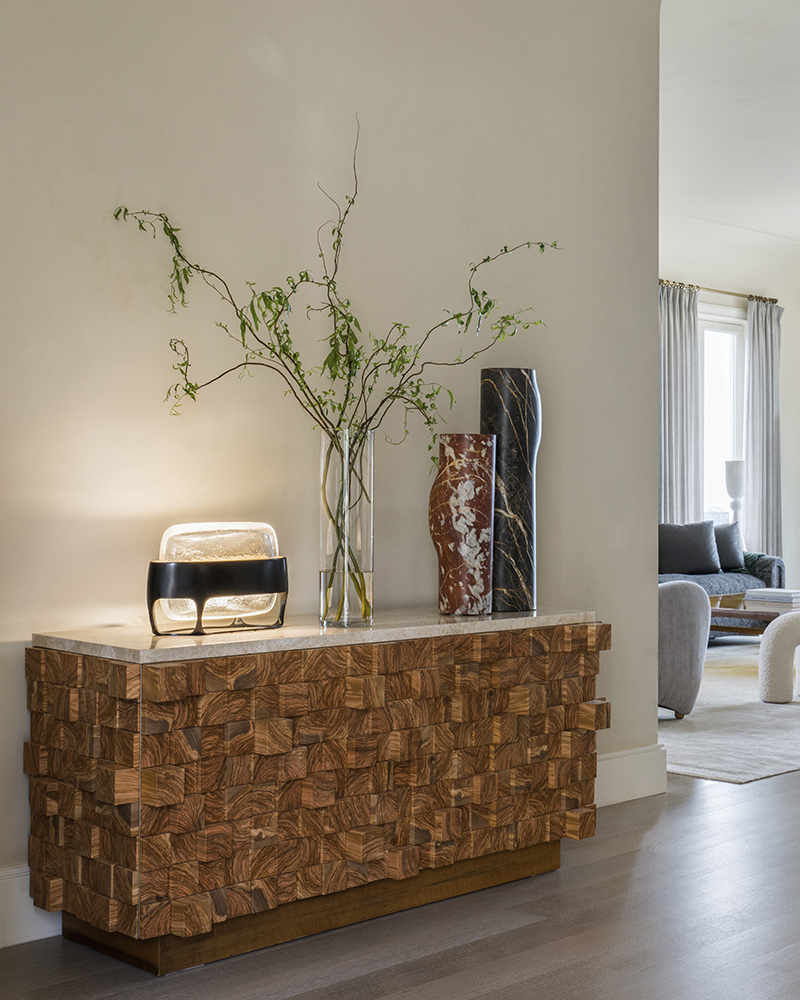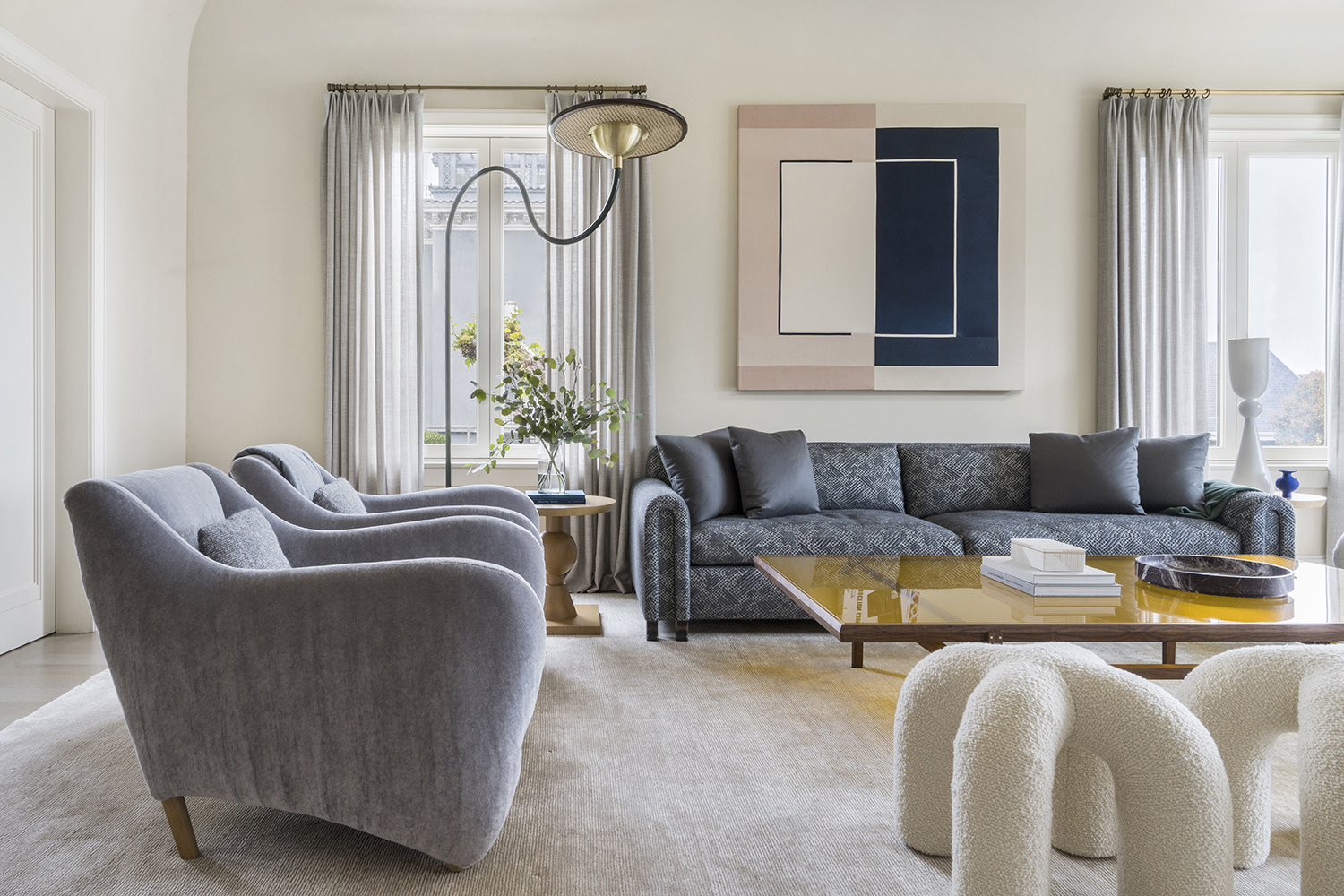 Importantly, space was left for the collection to grow, including in the entryway, where an elegant olive-wood console from Bernd Goeckler occupies what will eventually become an eye-catching art wall for a yet-to-be-acquired canvas.
But like most collectors, once the client started, he has more than embraced the experience. "It's been an interesting process, because we started this as a decorating project and since then, it's now evolved into a major renovation," says the designer, who just completed a second residence for these clients. "They're getting up the curve quickly in terms of learning about design and getting really interested in it."
Next Post