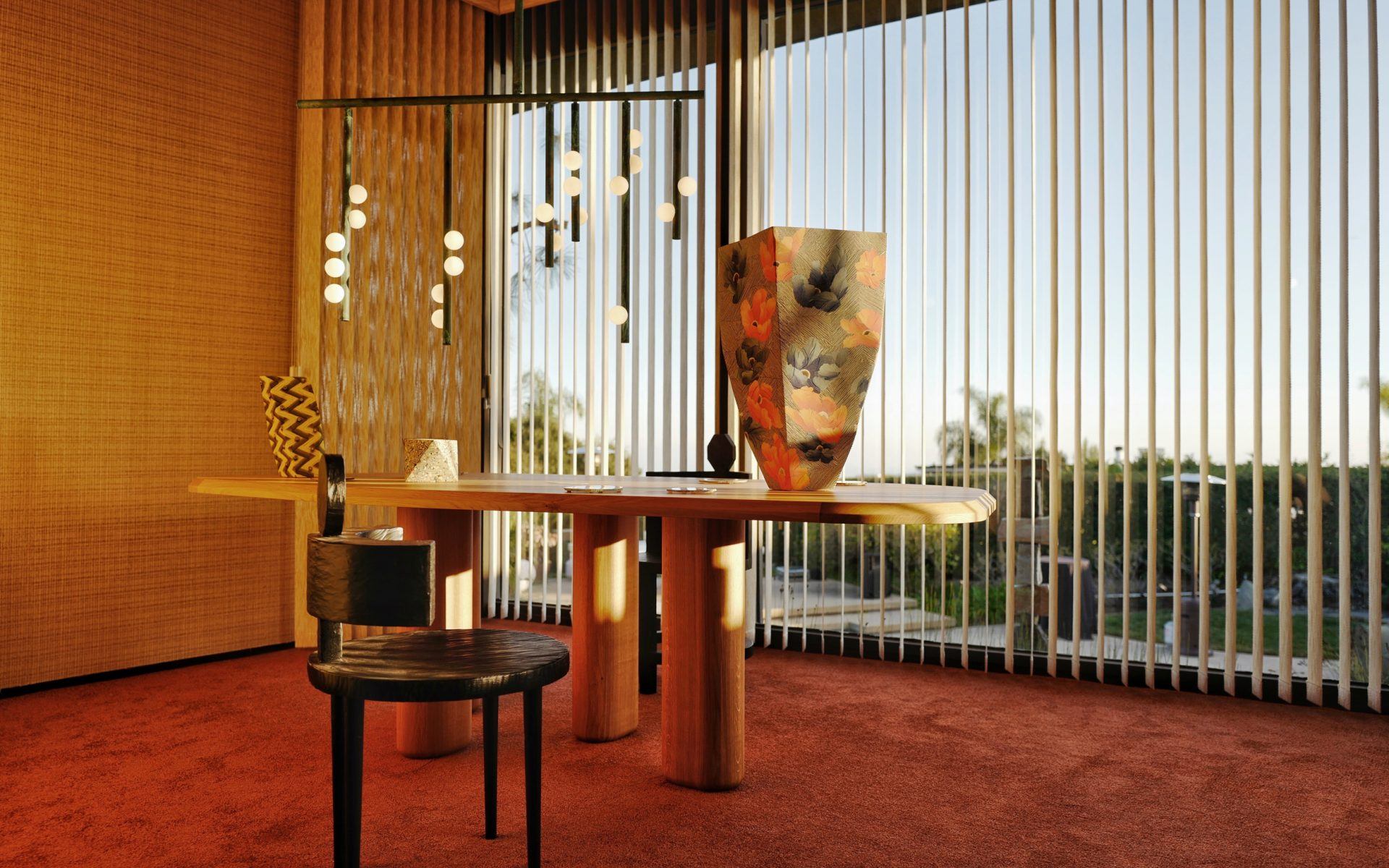 A First Look at the New Casa Perfect in Los Angeles
The innovative retail concept moves into a 1971 home in Beverly Hills during Frieze Week
"We don't want to create a showhouse in the typical sense," says David Alhadeff, founder of the Future Perfect, in Los Angeles. He is busy putting the final touches on the fourth installment of Casa Perfect, a unique retail experience that transforms historic homes into galleries where everything on view is for sale. The innovative concept launched three years ago in Los Angeles with a 1954 midcentury-modern house before it moved into the former Hollywood Regency–style home of Elvis Presley. Last year, Alhadeff opened the first New York edition of Casa Perfect in an Italianate brownstone on St. Luke's Place in the West Village that had been renovated by David Chipperfield.
Nestled in Trousdale Estates, a wealthy enclave dotted with architectural gems located at the highest point of Beverly Hills, the midcentury home was designed by Raul F. Garduno in 1971. With a crescent shape that captures the view, framing the pool and Zen-like grounds, the striking home offers a step back in time. "There is a wow factor as soon as you walk in the door," says Alhadeff, who is only the second occupant since the original owners. "With all of our houses, we are looking for that initial impression."
Visitors are greeted with striking wood doors that lead to a sunken living room and a large curved hallway with the dining and kitchen rooms positioned to look out over the pool. "This house has a cool hybrid element going on," Alhadeff tells Galerie. "There are Schindler-esque ceilings and narrow skylights in the roofline. There was also this weird popcorn ceiling and wall-to-wall carpeting, which I wasn't offended by at all. That look is starting to come back, and I am personally super into it!"
Recommended: Ten Iconic Homes to Visit During Palm Springs Modernism Week 
At the appointment-only space, visitors will find the latest from Alhadeff's cutting-edge roster, which he has grown since founding his gallery in 2003. Artist Matthew Day Jackson, who is most known in the art world for his sculpture, painting, and collage, is a perfect example of Alhadeff's vision—one that pushes the boundaries of the genres. Here, Jackson created a whimsical childlike furniture collection comprising a bookshelf, table, and chairs that seem as though they may topple over at any moment.
Each piece was crafted out of cardboard before being dipped into richly colored fiberglass. Painted surfaces are uneven, bubbles appear in lumps across the fiberglass, and symmetry is never achieved. "He's a superspecial guy. It looks irregular and silly, but it actually requires a lot of precision," says Alhadeff, who came across Jackson's Kolho furniture collection using Formica at Salone del Mobile last year. "I wouldn't have thought industrial designer from looking at his art. But we are a hybrid too, and we show all forms of contemporary—from studio to production."
Elsewhere, the rooms are rather unconventional, but thanks to Alhadeff's discerning eye, everything ties together and it feels as though he's lived there for years. The kitchen is filled with balloon furniture by the buzzworthy South Korean designer Seungjin Yang, whose epoxy-resin-dipped balloons are an interesting juxtaposition between ephemeral objects from childhood and cutting-edge industrial design.
Recommended: The Most Exciting Emerging Artists Spotted at Frieze L.A. 2020
A closet, meanwhile, is used as a contemporary wunderkammer to display an assortment of small objects, such as Studio Floris Wubben's extrusion sculptures, while the media room displays work by New York talent Cody Hoyt, who has pushed the limits of his masterful inlay technique to create larger pieces. In the master bathroom, walls are lined in hand-painted gold wallpaper with ceramic vases lining the edge of a Roman tub. In a back room, a wild tropical chandelier crafted from old hot chocolate tins by American designer Chris Wolston hangs above his surrealist aluminum coffee table and a woven rattanlike chair.
Aside from the furniture, all the door hardware and fittings were redone, walls repainted, and a rich coral carpet laid down. A custom scent developed with Le Labo lingers in the air. "We invest a lot into the space, which is important because we want to create a special, immersive environment to experience our program," Alhadeff says. "It's all in the details."
Take a tour of Casa Perfect below:
Casa Perfect, the Future Perfect's private gallery, is open by appointment only. 
Next Post