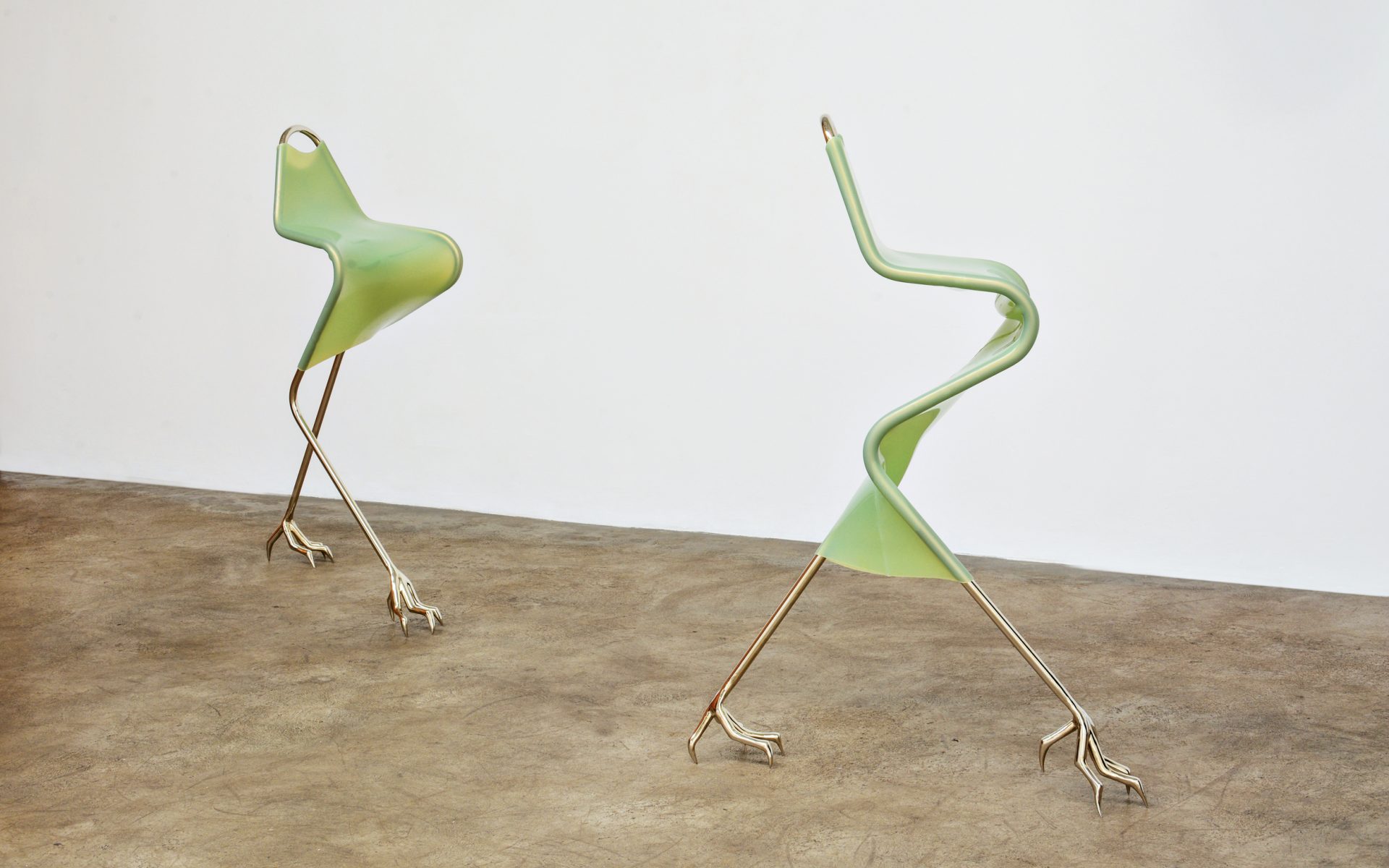 Why Hannah Levy's Creations Are Strikingly Human
The up-and-coming artist uses silicone to craft beautiful—but unsettling—work
Our bodies can be both beautiful and, let's face it, kind of gross. Working with silicone, the same material used for prosthetics, artist Hannah Levy creates anthropomorphic sculptures that often resemble design objects but capture the dimpled, flaccid, and sometimes comical traits of flesh. An eight-foot-long asparagus supported by polished-steel claws has just the right droop to appear overcooked yet strikingly human. A nude-color hoodie recalls a bubble-wrapped straitjacket. Other sculptures feature colorful seats that hang like clothing from elegant steel frames whose proportions are too off to be real chairs.
Recommended: Photographer Sara Cwynar Blends Fashion and Design at the Minneapolis Institute of Art
Industrial design, in fact, was what Levy thought she would pursue before she came under the spell of making art (first at Cornell University, then at Frankfurt's Städelschule). "I think a lot about furniture and the history of design and our relationship to it," she says from her South Bronx studio. "It's a play on the skin-and-bone furniture of the modernists but taken to a funny or surreal place."
The art world certainly isn't laughing—at least not at this young talent. The Louisiana Museum of Modern Art and the Rubell Family Collection have bought her sculptures, which have recently been showcased at Art Basel, in David Zwirner's summer show in New York, and at Savannah's SCAD Museum of Art, in an exhibition that runs through December. 
Recommended: See Why Artist Reginald Sylvester II Is Garnering Critical Raves
"Revulsion and attraction exist side by side," says Levy, adding with a laugh, "I guess there's some body anxiety in my work. It's mildly grotesque in the way having a body is mildly grotesque."
A version of this article first appeared in print in our 2018 Fall Issue under the headline Hot Pursuits. Subscribe to the magazine.
Next Post