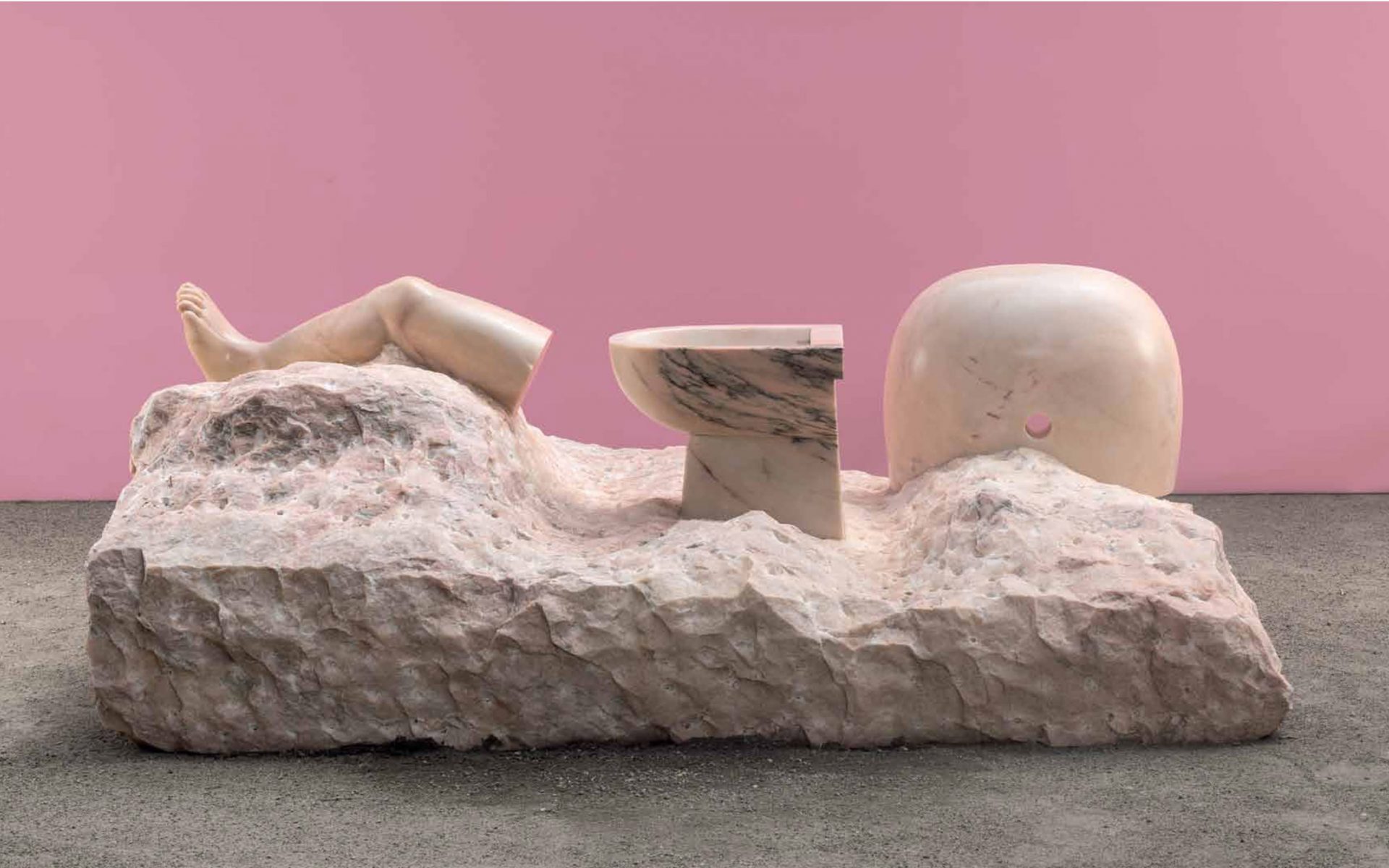 Your Snapshot Preview of Art Basel Week 2018
Here's a cheat-sheet of what to see in art and design during this year's fair week
Navigating the ever-expanding list of events during Art Basel Week can be a daunting task, especially when competing with thousands of other dealers, artists, and collectors. To help organize your itinerary, we've rounded up a few of the week's must-see events, from the flagship art fair to the under-the-radar exhibitions. And for tips on what to do beyond the fairs and where to stay and eat, see our Insider's Guide with pointers from the experts.
1. Art Basel
When: June 14–17
This year, Art Basel brings together nearly 300 of the world's leading galleries showcasing the work of more than 4,000 artists. The sprawling event takes place at Messe Basel, which includes a striking hall designed by Pritzker Prize–winning architects Herzog & de Meuron, who are based in the city. While there are plenty of blue-chip names to collect, be sure to keep an eye out for the Statements section, in which 18 galleries present work by up-and-coming talent from around the world. Another standout in the past has been the Parcours section, this year curated by Samuel Leuenberger of local art space SALTS. Located in the Münsterplatz, the section features almost two dozen site-specific works by buzzy young artists including Julian Charrière and Marina Pinsky, along with globally recognized talents like French artist Pierre Huyghe and Elmgreen & Dragset.
Recommended: The Ultimate Art Insider's Guide to Basel, Switzerland
2. DesignMiami/Basel
When: June 12–17
The Swiss edition of Design Miami/ returns with 46 galleries from 13 countries showcasing the best of historic and contemporary design. The highly-anticipated Curio sector will feature 10 small-scale and immersive installations from a diverse range of talent, including a snapshot of a 1965 Italian living room featuring rare Ettore Sottsass furniture and ceramics, as well as Atelier Swarovski's striking new line of home decor. In addition, the Design at Large program is being curated by photographer François Halard and focuses on 20th and 21st-century architectural expression. Other highlights include Calvin Klein's debut at the fair, which will feature a limited-edition Feltri chair by Gaetano Pesce and vintage quilts selected by Raf Simons, as well as Paris's Galerie Mitterrand, which has a 1999 masterpiece bed made by by Claude Lalanne. 
Recommended: The Ultimate Art Insider's Guide to Basel, Switzerland
3. Audemars Piguet Art Commission
When: June 13–17
Since 2014, luxury watchmaker Audemars Piguet has teamed with a curator to produce a special work of art to present during Art Basel. For this year's commission, the company tapped Spanish curator Mónica Bello, who works as the head of arts at CERN, a Geneva-based scientific research lab. Bello turned to Semiconductor, a British artist duo who had done a stint as artists-in-residence at CERN in 2015. Inspired by lab experiments, they created a 33-foot-wide cylindrical structure, dubbed HALO, which is surrounded by vertical piano wires. Once inside the tube, a screen displays slowed-down subatomic particle collisions that trigger the chords and send vibrations throughout the space.
4. Liste
When: June 11–17
Created in 1996, the Liste Art Fair is designed to showcase emerging artists and galleries that often go ignored by the larger fairs. This year's event, which will feature 36 galleries, will once again occupy the former Warteck brewery building, which boasts a dramatic exterior staircase. Among the new galleries showing this year are Chapter NY and Bodega, both from New York City, Zurich's Maria Bernheim, and Ivan, of Bucharest, Romania. As a special guest of this year's fair, the pioneering digital arts group HeK will presents a site-specific installation by RYBN.ORG, as well as new works by Lauren Huret.
5. Photo Basel International Art Fair
When: June 12–17
Switzerland's first international fair to focus exclusively on photography is returning to Basel for the fourth time, taking over the Volkshaus Basel, a building revamped by Pritzker Prize–winning architects Herzog & de Meuron. Curated by New York artist and photographer Daniel Blochwitz, this year's edition features 35 galleries from a dozen countries. This year also marks the debut of a section called "Master Cabinet: Pivotal Moments," devoted to standouts from the 20th century.
Recommended: Highlights from Design Miami/Basel 2017
6. Frame Art Fair
When: June 10–18
Making its debut this year, Frame Art Fair is the latest enterprise attempting to make a splash during the week's jam-packed schedule. Cofounded by French gallerist Bertrand Scholler, the boutique event includes just 13 exhibitors, hailing from Budapest to Barcelona, in a 8,500-square-foot space at the Basel Art Center. The fair's collaborative approach means lower costs for participating galleries, many of which are handling back-end aspects of the fair. (New York's SAAB Projects is handling social media, while Paris's Gallery 55 Bellechasse is designing the website.) 
7. Volta14
When: June 11–16
After debuting in 2005, Volta has made a name for itself by presenting galleries that fit somewhere between the main fair's heavy hitters and the newcomers featured at Liste. This year, the fair will inaugurate a revamped former COOP distribution center with booths by 75 galleries, 17 of which are new to Volta, including New York's Essex Street, Los Angeles and Paris's Freedman Fitzpatrick, Dusseldorf's Galerie Max Mayer, London's Carlos/Ishikawa, Cologne's Jan Kaps, and Vienna's Croy Nielsen. 

SaveSave
SaveSave
SaveSave
SaveSave
SaveSave
SaveSaveSaveSave
SaveSaveSaveSave
SaveSave
SaveSave
SaveSave
Next Post