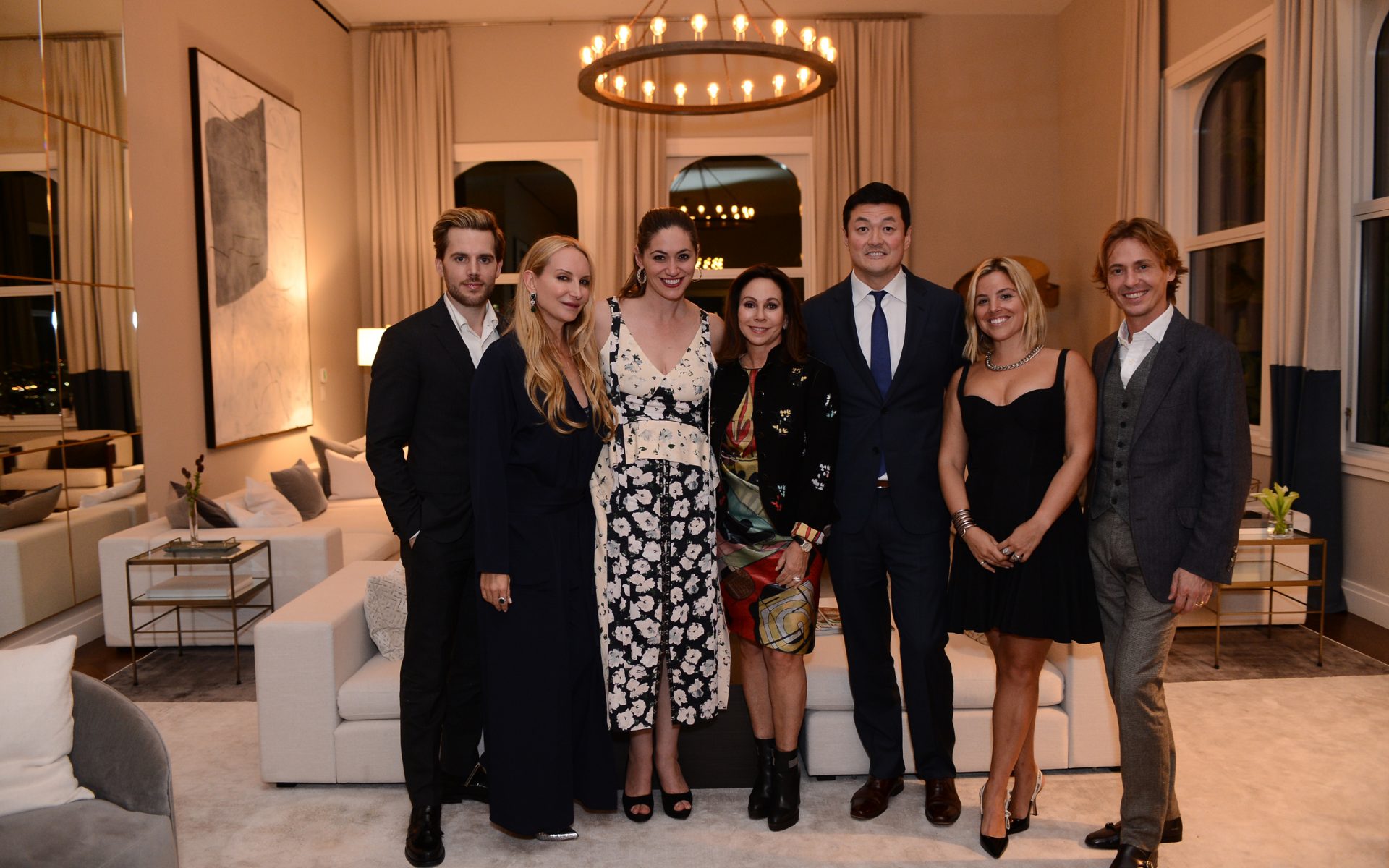 Lalique and Galerie Host an Intimate, Enchanting Dinner
Lalique pieces served as inspiration for unique, magical tablescapes created by four leading designers
Recently, Lalique and Galerie invited leading designers Caleb Anderson, Sasha Bikoff, Nicole Fuller, and Alvise Orsini to a challenge: Take the cue of "expect the unexpected" and dream up an imaginative tablescape with the bounty of Lalique's crystalware at their disposal. Those tablescapes were revealed at an intimate dinner this week, hosted by Galerie editor in chief Jacqueline Terrebonne and the North American president of Lalique, James Mun, in apartment 40A at the Woolworth Tower Residences. They did not disappoint. The designers all gave outstanding contemporary interpretations of the elegant and classic Lalique brand.
"My desire to go deeper and more creative with our Galerie collaboration was truly captured in this magical evening," said Mun. "We love watching creative geniuses interpret or infuse Lalique elements into their world, and tonight far exceeded my expectations."
Guests entered the one-of-a-kind, 6,000-square-foot apartment from a private elevator entrance that opened onto the great room and were greeted by stunning views of the city. From there, they passed through a series of double doors into the formal dining room, which was transformed into a magical space, with the immersive installations designed by Bikoff, Anderson, Orsini, and Fuller taking center stage.
Anderson's table, decked to dazzling gold-and-white effect, centered around Lalique's limited-edition gold-leaf-and-crystal Bacchantes Grand vase, a 1927 design by René Lalique that features the voluptuous nude priestesses of Bacchus. The Lalique piece was set on a pedestal and featured a sky-high arrangement of white lilies and hydrangeas by Zezé, complemented by gold dining settings from Michael Aram and accessories from Maison Gerard. "The overall idea was to really take this piece and make it an amazing piece of art," said Anderson of the Lalique vase. "It's a beautiful art object and something that not only makes for a beautiful centerpiece at a meal. But it is also something that can be a centerpiece in your home all the time."
Orsini, whose family can be traced back to 11th-century Italy, drew influence from that heritage for the centerpiece of his table, which showcased an 18th-century ceramic sculpture from his family's collection. The setting was also adorned with Lalique's green crystal Languedoc vases, whose cactus leaf design from 1929 draws on the region in the South of France known for its shrublands and gorges. The greenery-filled floral arrangements by Nicolás Corgel seemed to tap that specific landscape for inspiration as well. "I want to show how to mix contemporary Lalique pieces with 18th-century European ceramics and how to create a refined table that encompasses many styles," said Orsini. "Entertaining is an art, and you have to set the stage for your guests."
Recommended: Lalique Partners with Designer Ryan Korban for Salon Art + Design
Nicole Fuller wanted to bring guests "into the woods" with her fantastical forest-inspired tablescape. Highlights of the sensual tableaux were Lalique's vases and votives, including the Bacchantes vase in gold luster crystal. Taking its cue from that iconic piece—and capturing the splendor of Lalique—the table was surrounded by poles wrapped in leafy vines that crept up toward the ceiling, truly conveying a wooded scene. "It's very romanticized," Fuller said of her vision for the table. "It's this beautiful enchanted forest with furs, candlelight, and foliage, and you're taken into this space that's artful. The vases have these goddesses—in my mind they're nymphs and fairies—leading us and we're going to this romantic place."
Bikoff found inspiration in the nude female form, which figures prominently in many of Lalique's designs. She chose the Bacchantes vase in bronze, clear, and black crystal as well as a variety of objects, including the Nude Dream and Nude Temptation sculptures. The tablecloth of Pierre Frey fabric echoed the pieces' spirit with erotic illustrations of intertwined figures by Louise Bourgoin. Overall, the effect was surprisingly edgy, a hallmark of Bikoff's work.
"When I heard that the theme was 'expect the unexpected,' I thought people would not be expecting to see a table full of nudes," said Bikoff. "But I think that's almost a signature of Lalique's, so I wanted to take this classic element and give it a fresh, new approach." 
A perfect complement to the exquisite dining installations was the architecture of the residence, with its lofty 14-foot ceilings, enormous arched windows wrapped in polychromatic terra-cotta, and breathtaking views of the East River, City Hall Park, and the New York skyline. The space is among 33 residences spanning the 29th to the 58th floors (the pyramidal cap of the tower is one five-story penthouse), which have been luxuriously transformed by developer Alchemy Property, with the help of designer Thierry Despont, roughly one hundred years after the majestic building was officially inaugurated in 1913. It was the perfect setting for an evening that saw heritage enhanced with contemporary spirit.
See below for more images from the beautiful event:
Next Post