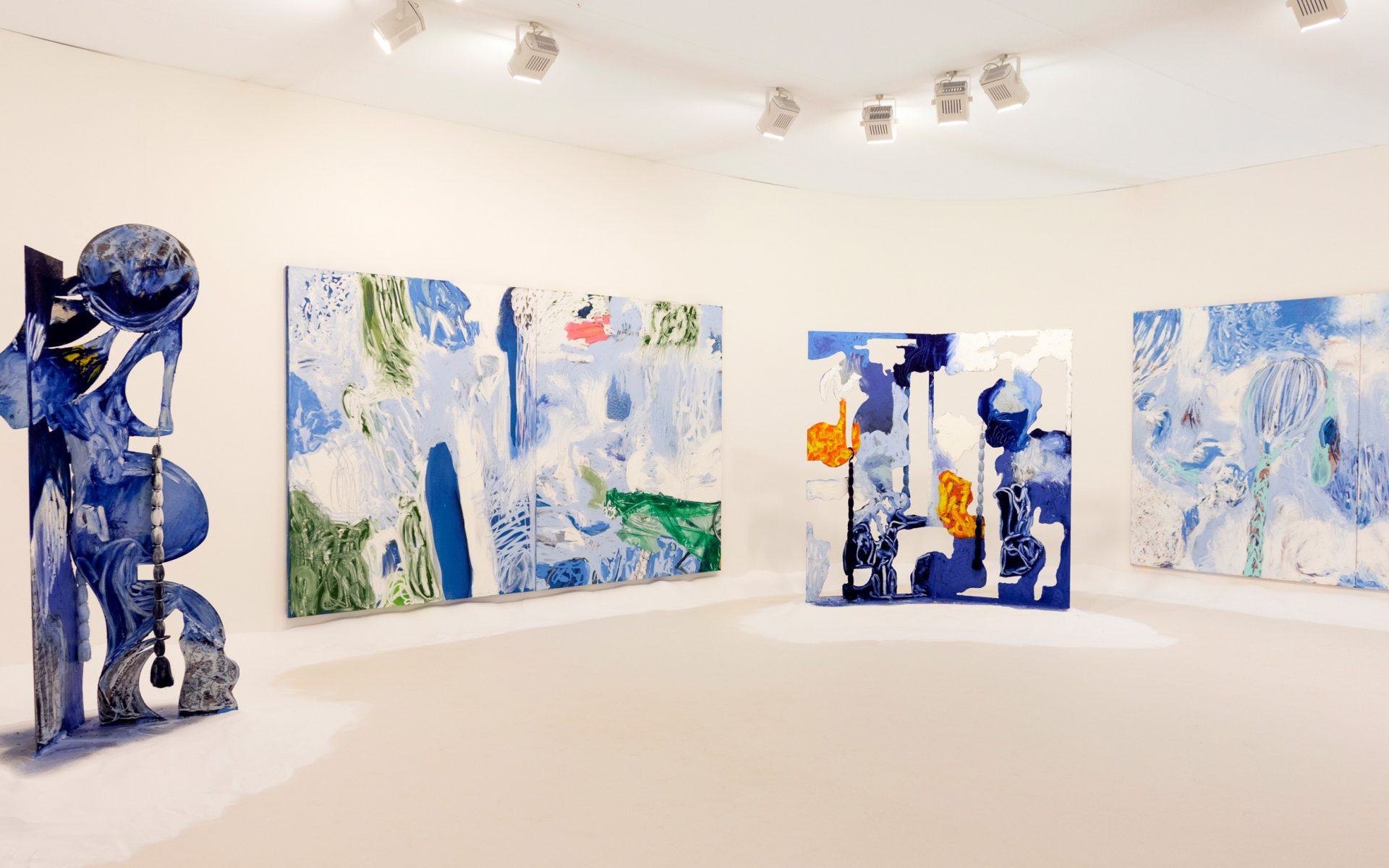 9 Standout Booths at Frieze London 2019
From the Haas Brothers at Marianne Boesky to Donna Huanca at Simon Lee, these displays caused a stir among visitors
The white tents in London's picturesque Regent's Park are buzzing once again with the opening of this year's Frieze, which kicked off on October 2. While Brexit was a hot topic among collectors and the general showings were more muted than usual, the opening of the fair still drew a crowd of VIPs from across the globe and boasted a number of standout works.
Highlights include the thematic Woven section, curated by the director of Hong Kong's Para Site art center, Cosmin Costinas, which reflects a growing interest in textiles in the art world, and the Focus section, which is dedicated to emerging art. The most expensive work at the fair is a lumpy, red hand by Philip Guston made later in his career at Hauser & Wirth (Hand, 1979). It sold for $5 million on the opening morning. Art-world notables spotted wandering the brightly lit aisles included Tracey Emin, Keira Knightley, and John Malkovich.
Recommended: The Artistic Director of Frieze Masters Opens Up About This Year's Fair
Here, we share what's on our list of things to see at this year's edition.
1. The Haas Brothers at Marianne Boesky
Marianne Boesky's stand has been transformed into an underwater wonderland filled with beguiling ceramic objects that recall anemones or corals made by brothers Nikolai and Simon Haas. (It's the first time they've shown in London.) "The pieces are a continuation of what they have been working on for the past few years," Boesky tells Galerie. "The Haas brothers are beloved in the design world but they are truly artists, and it makes sense for us to be showing here at Frieze." Made through a laborious process where a brush coated in colored porcelain slip is repeatedly moved across a hand-thrown clay vessel, the objects have a sumptuous quality. The works range from $6,500 to $75,000, and one large piece had sold on the first morning.
2. Sterling Ruby at Gagosian
Psychedelic, large-scale paintings crafted with scraps of raw cardboard and pieces of textile pack a punch at the Gagosian booth this year, while a monumental clay basin in the center draws in onlookers. Sterling Ruby, who has been making ceramics for the past three decades, has only recently received critical acclaim for the medium. By submerging clay fragments and misfires from earlier works into pools of richly colored high-gloss glaze, he celebrates the role of chance and reuse. Don't miss his solo show at the gallery's Mayfair space.
3. Donna Huanca at Simon Lee
Those in search of respite from the madding crowd and bright lights can find sanctuary in Simon Lee's booth. Within, vibrant works by Nomadic Bolivian-American artist Donna Huanca fill the tranquil white space while a bespoke aroma of burning wood wafts through the air. The booth was sold out at the time of reporting. Huanca—who currently lives in Los Angeles—creates her paintings during performances, and her first major museum exhibition, "Obsidian Ladder," is on view at the Marciano Foundation in L.A. through December 1. She will be having a solo with Simon Lee, who recently signed her on to their roster, in London next year.
Recommended: The Artistic Director of Frieze Masters Opens Up About This Year's Fair
4. Chitra Ganesh at Gallery Wendi Norris
A solo booth featuring the Indian-American artist Chitra Ganesh is a highlight in the Woven section, which reflects the growing art-world trend of textile- and fiber-based works. Titled "Unearthly Delights," the presentation of whimsical embroidered works on linen depicts semi-human figures and animals in surreal landscapes as a comment on the destruction of the natural environment. They also incorporate paint, ink, glitter, and found objects. Other pieces in this section that shouldn't be missed include Cian Dayrit's banners featuring historic colonial photographs emblazoned with political text at 1335 Mabini Gallery.
Recommended: 10 Artists to Rediscover in Spotlight at Frieze Masters in London
5. Historic Korean artists at Gallery Hyundai
Gallery Hyundai's beautiful booth spotlights important South Korean artists that have had a lasting impact on the development of modern art in the nation. Standouts include two pieces by Korean-American Fluxus artist Nam June Paik, who is due for a retrospective at the Tate Modern later this year. Other impressive pieces are a monochromatic painting by Chung Sang-Hwa, a leading figure associated with the Korean Dansaekhwa movement, works by Lee Ufan, and a delightful sculpture by Lee Kang-So—one of South Korea's most important experimental artists—that comprises stacks of white tubes that appear to almost topple over.
6. Ivan Morley at David Kordansky
The Los Angeles dealer is having a successful Frieze Week, selling out the booth of works by Ivan Morley on the opening day for between $40,000 and $85,000. Morley, an artist from L.A., is known for his paintings that challenge what the medium can be, using techniques such as embroidery to masterful effect. The works on view at Frieze are a continuation of a group of paintings titled "Fandango," a series inspired by the semi-mythical Olvera Street in the heart of downtown L.A. as well as Mexican muralism and the canon of modernist painting.
7. Nicholas Pope at the Sunday Painter Gallery
An established art-world name in the 1970s, the Australia-British artist Nicholas Pope is undergoing something of a renaissance. He represented Great Britain at the Venice Biennale in 1980 but shortly afterward contracted a rare form of encephalitis, an acute inflammation of the brain, while working in Tanzania, which resulted in brain damage and a long career break. Visitors can now marvel at his Yahweh and the Seraphim installation at the Sunday Painter Gallery, which rediscovered the talent and put him in the spotlight once again, where six monumental white columns sport gold horns and are clustered around a black ceramic totem.
8. Urara Tsuchiya at Union Pacific
Union Pacific's solo booth of provocative ceramics by Japanese artist Urara Tsuchiya caused a stir among visitors. A life-size white bed is found in the center with glazed ceramic underwear strewn across the sheets while the shelves and chest of drawers are filled with tiny ceramic figurines engaged in various sexual acts.
9. Neil Beloufa at Kamel Menour
The French-Algerian artist fills the booth with eye-catching yet strangely disconcerting works. The bas reliefs in medium-density fiberboard at first seem like happy seaside vignettes but upon closer inspection reveal cans and bottles in a comment on ocean pollution.
Frieze London is on view through October 6 in Regent's Park. 
Next Post