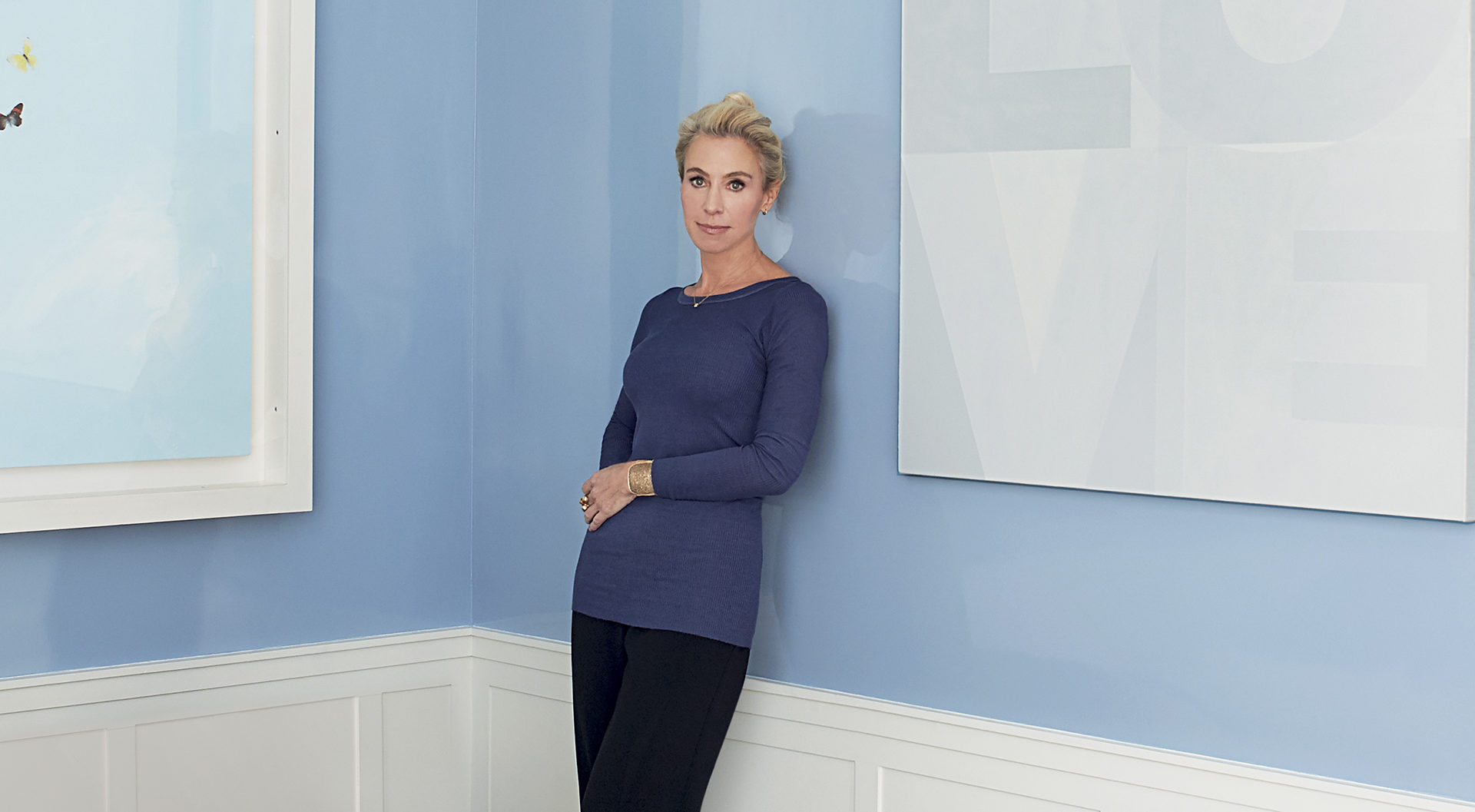 Manhattan Art Dealer Marianne Boesky Opens Her Doors
Architect Deborah Berke breathes new life into the Chelsea abode
Why is that still there?" Artist Donald Moffett has artwork in the Museum of Modern Art's collection, and just this spring the Whitney Museum of American Art acquired two of his works. But whenever he is at dinner at the Manhattan home of his art dealer, Marianne Boesky, it rankles him that his art isn't hanging over her fireplace—one of Yoshitomo Nara's giant anime-like paintings is. "He always brings it up, everytime," says Boesky with a laugh—and a sigh.
For art dealers, placement is political. While members of other professions can decorate their homes with impunity, dealers have their artists' egos to fret over. One visiting artist may wonder, Why does a rival sculptor get pride of place in the master bedroom? Another might frown at the display of her work in the hallway. As a powerhouse dealer with galleries in New York and Aspen, Colorado, Boesky knows that ruffled feelings are possible even with big-gun talents such as Frank Stella and Barnaby Furnas. She hastens to explain to them: "I have works by artists who I don't represent, too.
Recommended: The Essential Aspen Summer Art Guide 2018
It's not a showroom; it's my home." But when it comes to the Nara work—as well as to a huge butterfly painting by Damien Hirst, another artist she doesn't represent, that anchors her dining room—she has a better excuse: "The Nara and the Hirst can't come out. They went in before the walls went up."
The walls Boesky is referring to are the ones in her three-bedroom apartment, perched atop the dealer's Chelsea gallery, all designed by architect Deborah Berke a decade ago. Last year, Boesky was ready for a makeover and once again sought out Berke, a go-to architect for art dealers and collectors (and who was named dean of the Yale School of Architecture last year). "We changed everything," Boesky says. Paint colors went from brown and pink and even stripes to subtle shades of blue, gray, and lavender. Her artworks were installed over walls of grass cloth, making it easier to rehang on a whim. Furniture was acquired or moved. "Now it's lighter, more feminine," she adds. 
It was a whirlwind project. Spinning around the apartment with her shaggy Italian water dog, Dino, Boesky gives a rundown of the furniture additions: "I got the living room chairs at Holly Hunt—the sexiest chairs ever. And that's an Yves Klein table, unlimited edition. They come in blue, gold leaf, or—what is that color I have?—magenta. The daybed in the dining room is from Ralph Pucci, and I bought the dining chairs online, six for $250, and had them re-covered, of course. The stools in the den I found at an antiques store in Aspen. It's called Paris Underground. I love them."
Recommended: Artist Rashid Johnson Takes a Hike and Wins Aspen Award for Art
When did the busy dealer have time to redecorate? "Late at night, if I can't sleep, I'm on liveauctioneers.com—the website tracks almost every auction on the planet," she explains. "Plus, I look at tons of magazines and other sites. I keep boxes of tear sheets of things that I like." In the new design, Boesky picked everything out herself but left some key decisions to her architectural team, who, she recalls, "coordinated everything for me, like whether the sofa would fit. I'm very bad with scale."
Sleek and inviting as the furnishings are, it's the art, naturally, that takes center stage. Boesky's place is crazy-rich with it. She has a pair of sculptures by Robert Gober, including a haunting child's shoe cast in translucent wax and displayed under a bell jar. There's a Barnaby Furnas painting (Suicide #5) splattered with color, a Sigmar Polke painting of a topless woman with enormous breasts beckoning a man, a geometric Donald Moffett in gray and white, paintings and a drawing by husband-and-wife artists John Currin and Rachel Feinstein, a word painting (Seconds Years) by Ed Ruscha, and a tabletop sculpture by Franz West. She just added a silver sculpture by Sanford Biggers, who recently joined the gallery. "These are artists who I totally idolize, who influence everything that comes after them," says Boesky.
She confesses that she used to display more aggressive art in her home—including an explicit photograph of Jeff Koons on top of his then wife, Italian porn star Cicciolina—but having a child (Boesky's daughter, Ellie, is now 13) changed all that. "I've cleaned it up quite a bit," she says. The lesson of her renovation, she adds, is that no matter how your life changes, "art lasts in the biggest, most meaningful way." 
Click here to view more photos of the home.
Next Post