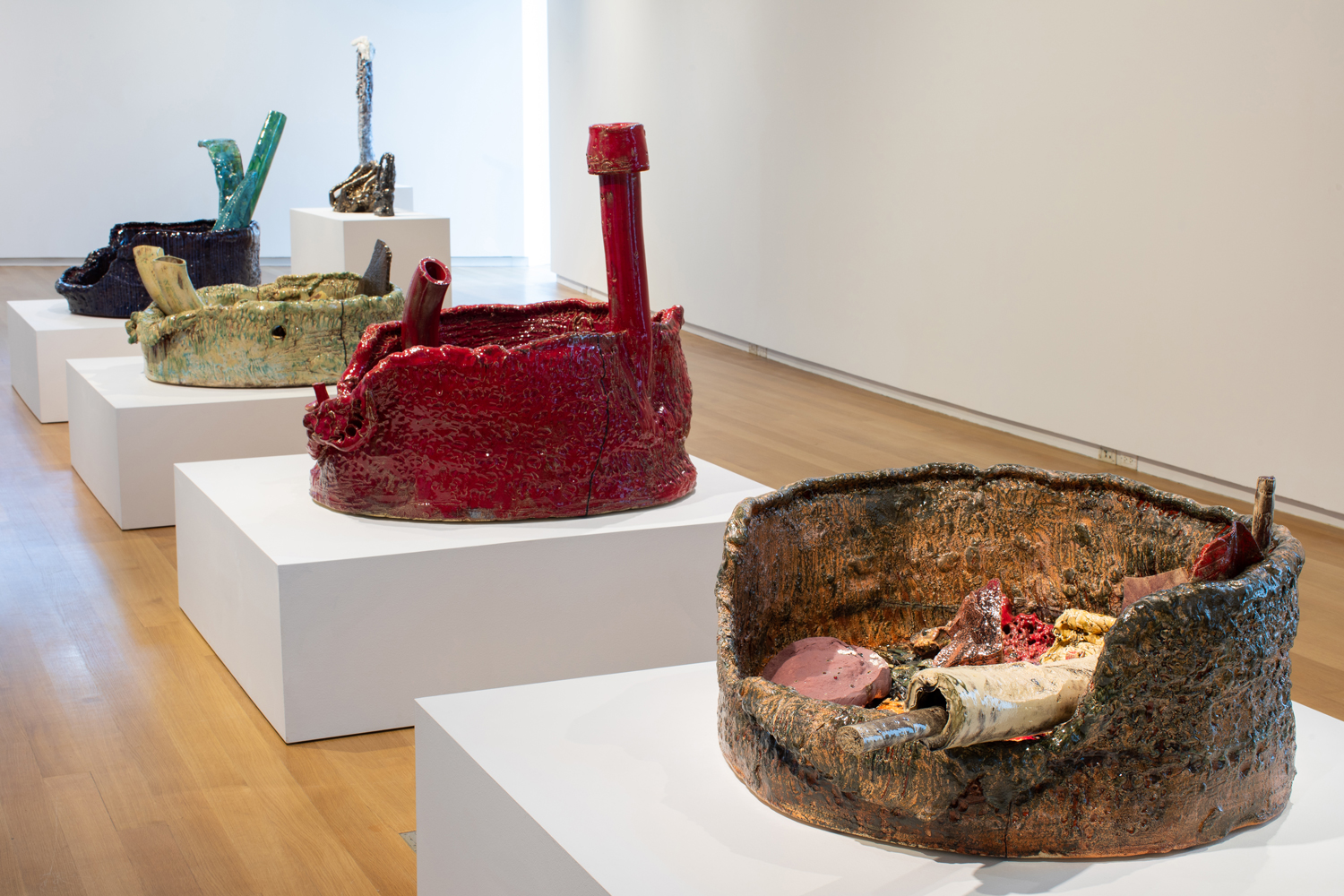 Sterling Ruby Shows Off His Monumental Clay Sculptures in Stunning New Exhibition
A new exhibition at the Museum of Arts and Design is the first in New York devoted entirely to his ceramics
Sterling Ruby has a fantastical name. It evokes something mysterious, precious, and dramatic. And his dazzling body of work aptly lives up to the illusion. One of the most exciting artists ever to come out of Los Angeles, Ruby is most known for his massive, foreboding spray-painted paintings and nail polish drawings, but his practice is varied, encompassing collage, video and photography, textiles, sculpture, and fashion. (He recently designed the Calvin Klein headquarters in collaboration with the brand's artistic director, Raf Simons.)
Least known is his work with clay: a material he calls "monumental." He has been quietly yet obsessively working with the medium for some 20 years. It was in 2014 at the Whitney Biennale in New York that his glazed ceramics were first exhibited and caused a stir among art enthusiasts.
This month, the Museum of Arts and Design has staged the only New York museum exhibition devoted exclusively to Ruby's work in clay. Organized by the Des Moines Art Center and curated by its director, Jeff Fleming, the show is simply titled "Sterling Ruby: Ceramics."
Through March 17, 2019, the exhibit transforms the third floor of the museum with a series of bold, colorful, and almost childlike forms. They are crudely hand-built, wonky, and distinctly covered in his finger marks.
The high-gloss colors range from scarlet red and mossy green to a deep copper that looks almost black. There are flattened heart-shaped works that resemble splayed organs, anthropomorphic forms, and totem-like soldiers. Most notable are the hefty vessel-like slabs filled with pieces repurposed from failed works, half-submerged and frozen in droopy pools of glaze.
The works are each conversations with the kiln, where his process and the technical challenges are beautifully recorded in the final object. "It becomes an autobiographical excavation, my own archaeology," he said in a new book, Vitamin C: Clay and Ceramic in Contemporary Art, published by Phaidon.
"We yearn for that wonderful transformative experience when we look at art, and that's what happened with this work. I was mesmerized. I hadn't seen anything like it, and I haven't since," Fleming told Galerie. "My reaction was to history and tradition: his ability to record his creative process."
There are clear affinities in his work with Peter Voulkos, the so-called father of the American Clay Revolution whose constructions embodied the sense of gestural spontaneity and momentum of Abstract Expressionism along with the acceptance of imperfections found in Japanese pottery. There are also influences from the German artist Rosemarie Trockel.
Given the setting at the Museum of Arts and Design, which was founded to support artists of the Studio Craft movement, the show also allows the viewer to question the relationship between craft and art.
Ceramics has been slowly gaining momentum in the art world in recent years, and a slew of young artists are shifting the way it's perceived, not to mention the surge of interest it has gained in the market. But Ruby doesn't care much for all that. "I have always looked to the Bauhaus movement as a model—form, function, politics, and artistic autonomy—all existing simultaneously," he once said. "I like being nonhierarchical. I don't feel an allegiance to these older codes or categories."
"Sterling Ruby: Ceramics" runs through March 17, 2019.
Next Post