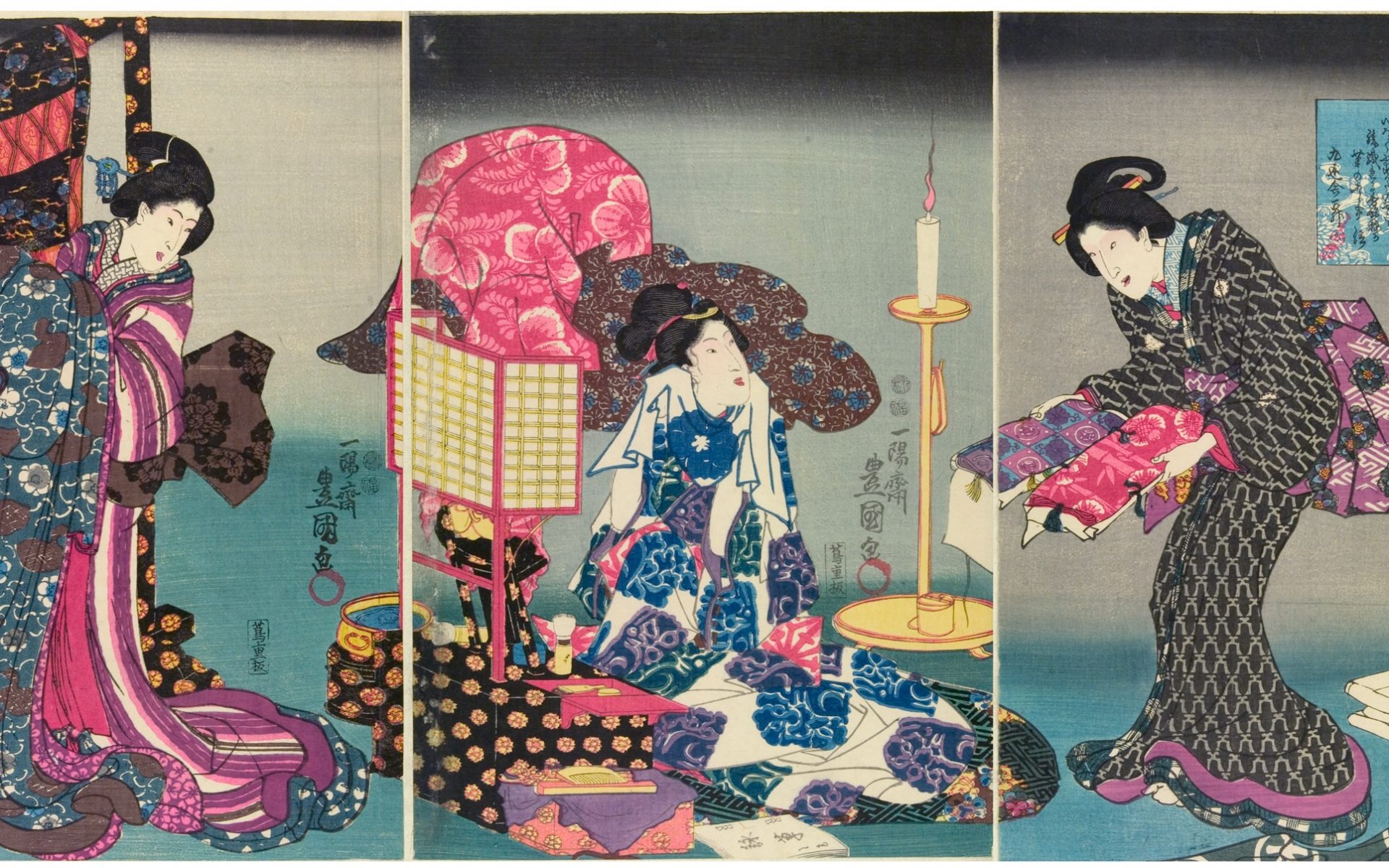 5 Must-See Fashion Exhibitions Around the World This Spring
Shows by Derrick Adams, Christian Louboutin, and Shinique Smith are among the standouts
Clothes define not just who we are as individuals but who we are as a society. At the moment, humans consume some 80 billion pieces of clothing each year, demonstrating that the world's appetite for fashion isn't in any danger of waning. From the personalities who shaped the industry into what it is today to the cultural forces that guide it, here are five must-see exhibitions that take a unique approach to the world of fashion.
1. "Patrick Kelly, The Journey"
SCAD FASH, Atlanta, Georgia
Through July 19
Artist Derrick Adams translated the late fashion designer Patrick Kelly's designs into art for the SCAD FASH Museum of Fashion + Film's new latest show, "Patrick Kelly, The Journey." Always dressed in his signature overalls, Kelly wooed the fashion crowd in the 1980s with his flair, flamboyance, and a vernacular that reclaimed black culture. After moving to Paris at the insistence of supermodel Pat Cleveland, Kelly became the first American to become a member of the prestigious Chambre Syndicale du Prêt-à-Porter des Couturiers, the French governing body of ready-to-wear, joining the ranks of Yves Saint Laurent, Sonia Rykiel, and Coco Chanel. Marked with hearts, bows, and even watermelons, his exuberant designs earned him fans like Grace Jones, Madonna, and Gloria Steinem.
Recommended: How Derrick Adams Explores Race and Pop Culture Through His Art
2. "Christian Louboutin, Exhibition[niste]"
Palais de la Porte Dorée, Paris
February 26–July 26
From the moment Christian Louboutin founded his footwear label in 1991, his red soles became synonymous with style and status around the globe. His first client was Princess Caroline of Monaco, and soon women like Diane von Furstenberg and Catherine Deneuve were seen wearing his heels. "Christian Louboutin, Exhibition[niste]" follows the footwear designer's career and inspirations, from his creative process to myriad references of art, travel, culture, and music. The show also features new collaborations with David Lynch, artist Lisa Reihana, design duo Whitaker Malem, choreographer Blanca Li, and artist Imran Qureshi.
Recommended: Christian Louboutin on the Lamp That Shaped His Career
3. "Indelible Marks"
UBS Art Gallery, New York
From January 27
According to the World Resources Institute, humans waste enough clothes each year to fill one and a half Empire State Buildings every day. The world consumes 80 billion pieces of clothing annually, and more clothes are being produced than there are people to buy them. Intrigued by the way in which we create, consume, and discard, Shinique Smith responds to this issue in "Indelible Marks"at UBS Art Gallery in New York. The artist utilized garments from her family, friends, thrift stores, and even her own closet to create a new body of work that seeks to make her audience think about the consequences of overconsumption.
4. "Kimono: Kyoto to Catwalk"
The Victoria and Albert Museum, London
February 29–June 21
From its inception during the Heian period to the cultural inspiration it provided to countless fashion designers and stylists, the kimono has made its way from being the traditional women's garment of Japan to having an influence on fashion and pop culture around the globe. The Victoria and Albert Museum pays homage to the kimono in "Kimono: Kyoto to Catwalk," the first exhibition of its kind in Europe. The show traces the kimono to its origins in 19th-century Kyoto to a number of modern-day interpretations, including the one worn by Alec Guinness while he played Obi-Wan Kenobi in Star Wars and a vibrant polka-dot wrap coat designed by Duro Olowu.
Recommended: What Your Kimono Color Says About You
5. "About Time: Fashion and Duration"
Metropolitan Museum of Art, New York
May 7–September 7
French philosopher Henri Bergson's theory about la durée (duration)—in which he argued that time is ineffable and can be described only through images that never present the entire picture—serves as the starting point for The Met's spring Costume Institute exhibition, "About Time: Fashion and Duration." It will illustrate the timescale of modernity through a chronologic display of black ensembles paired with white ones that share shape, motif, or material. Expect some unlikely combinations, like a late-1870s black princess-line dress styled with a 1995 Alexander McQueen white "Bumster" skirt.
Next Post