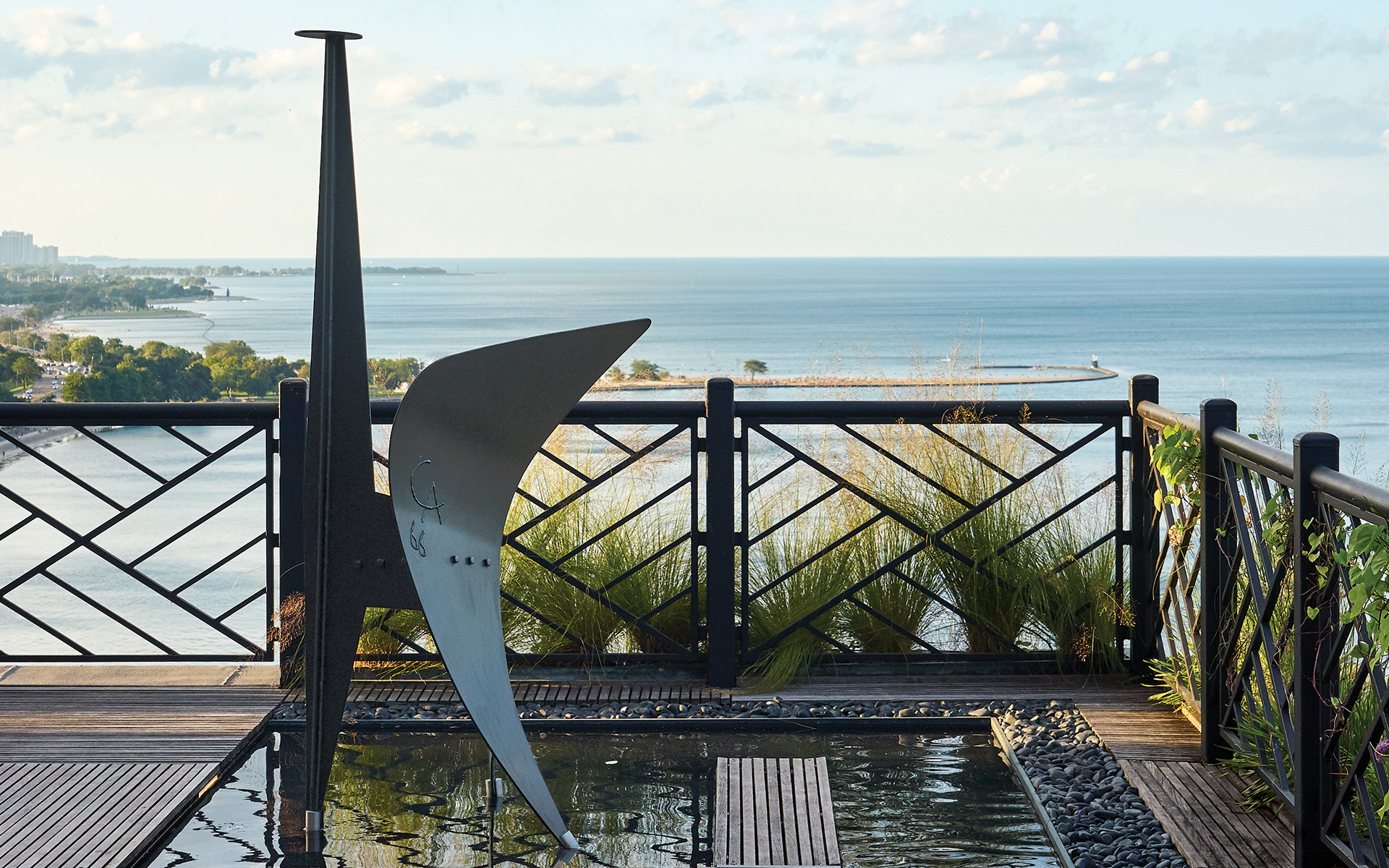 A Design Dream Team Collaborates on a Breathtaking Chicago Aerie with a Massive Collection of Art
Soaring high above the Chicago skyline, this rooftop oasis features a museum-worthy grouping of outdoor sculpture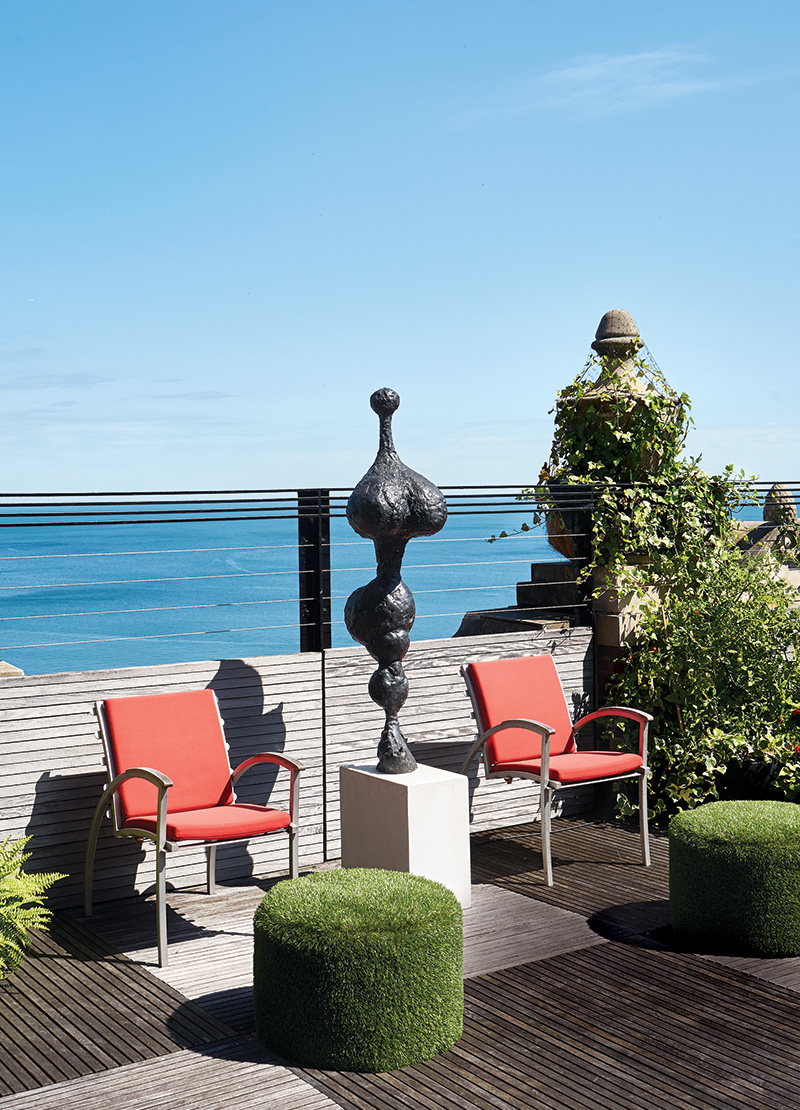 The most spectacular city gardens are often in the least obvious locales—namely, the terraces and rooftops floating many stories above the street, providing lucky occupants a rare combination of incredible urban views and tranquil outdoor space. For their own aerie, spanning 8,000 square feet on the 20th floor of a landmark building on Chicago's Gold Coast, Barbara Bluhm-Kaul and Don Kaul worked with a dream team of designers to create an oasis
that challenges many preconceived notions of what's possible, especially in a city known for inhospitable weather. In addition to the requisite plantings and decor, their outdoor space functions as a showcase for pieces from their world-class collection of art, which features works by Ellsworth Kelly, Alexander Calder, Anish Kapoor, and Olafur Eliasson, to name a few.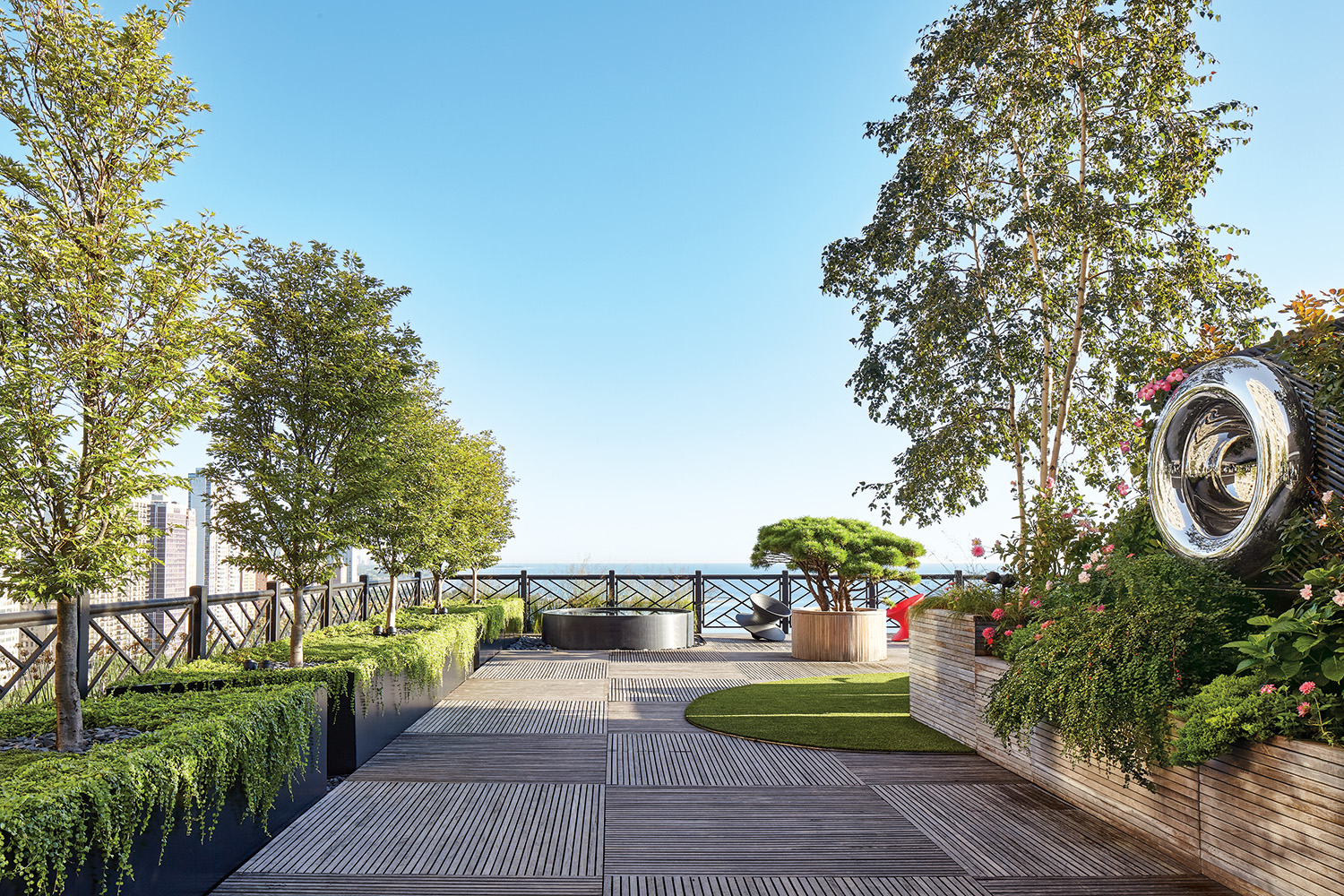 Bluhm-Kaul and Kaul, who are trustees at the Art Institute of Chicago and the Museum of Contemporary Art Chicago, respectively, have lived in the building for over two decades, in an apartment that includes a portion of the roof. They acquired the rest of it in a real estate transaction that involved buying the residence next door, then selling it sans roof. Once the acquisition was complete, they alerted María Seoane-Smithburg, a much-lauded landscape architect who created their original green space, for the expansion. Seoane-Smithburg, in turn, called on her Harvard Graduate School of Design classmate Dirk Denison, an architect who, Bluhm-Kaul says, has "tremendous knowledge of urban spaces and appreciation of artists." Atelier AM rounded out the group, collaborating with Denison on the interior finishes and furniture.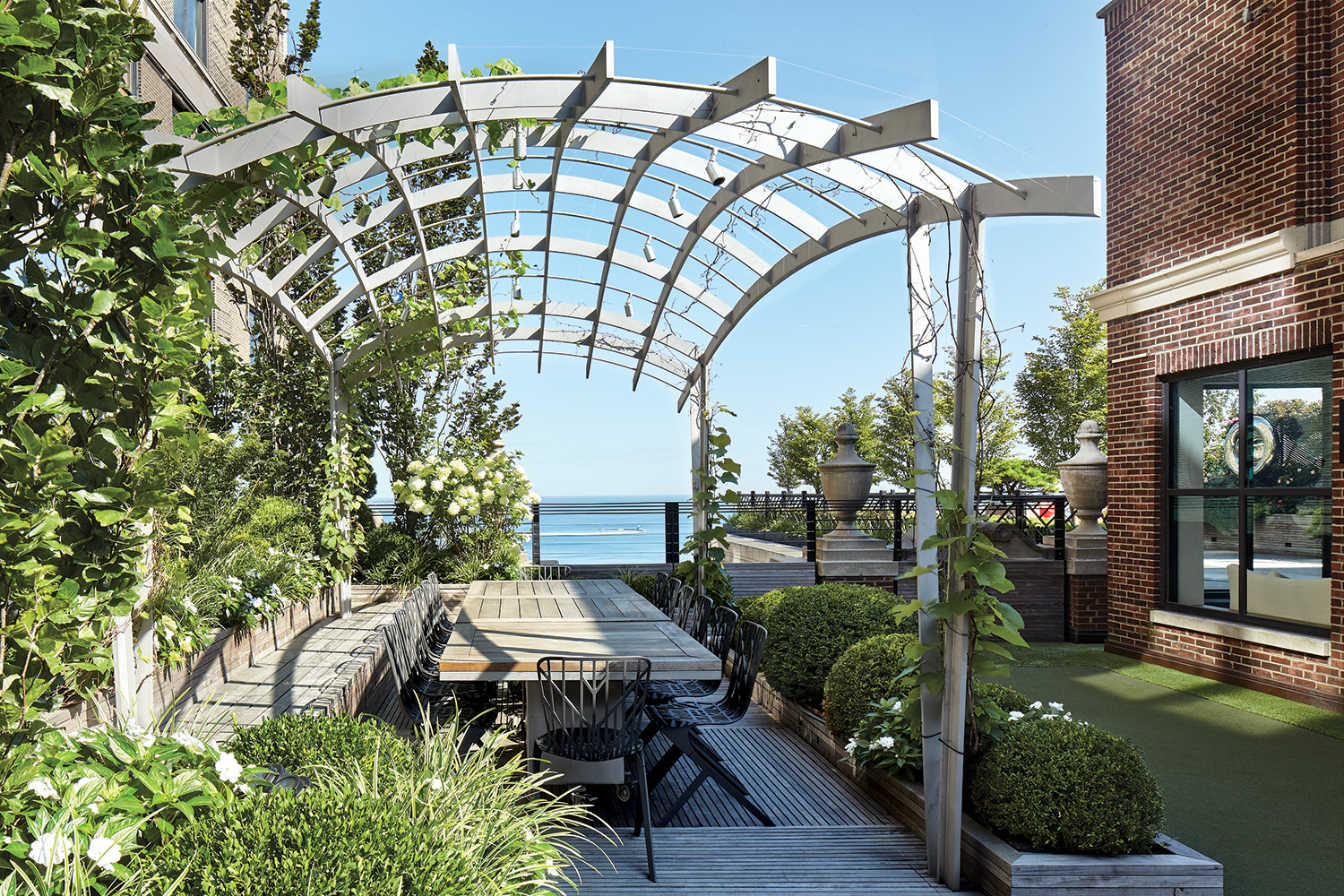 At the onset, the excavation revealed that the 100-year-old roof needed to be completely reengineered, and they updated everything, from the drainage to a safety system for washing the building's windows. During that process, some of the trees—beeches and a weeping birch, among others—were removed and stored, to be reinstalled later. In the interim, Denison set about designing a plan with "variety, so each of the outdoor areas would have a different feel to it," while Seoane-Smithburg schemed a "garden with personality" that would complement the art but also hold its own against a backdrop of iconic Windy City buildings, including the John Hancock Center and the Drake Tower.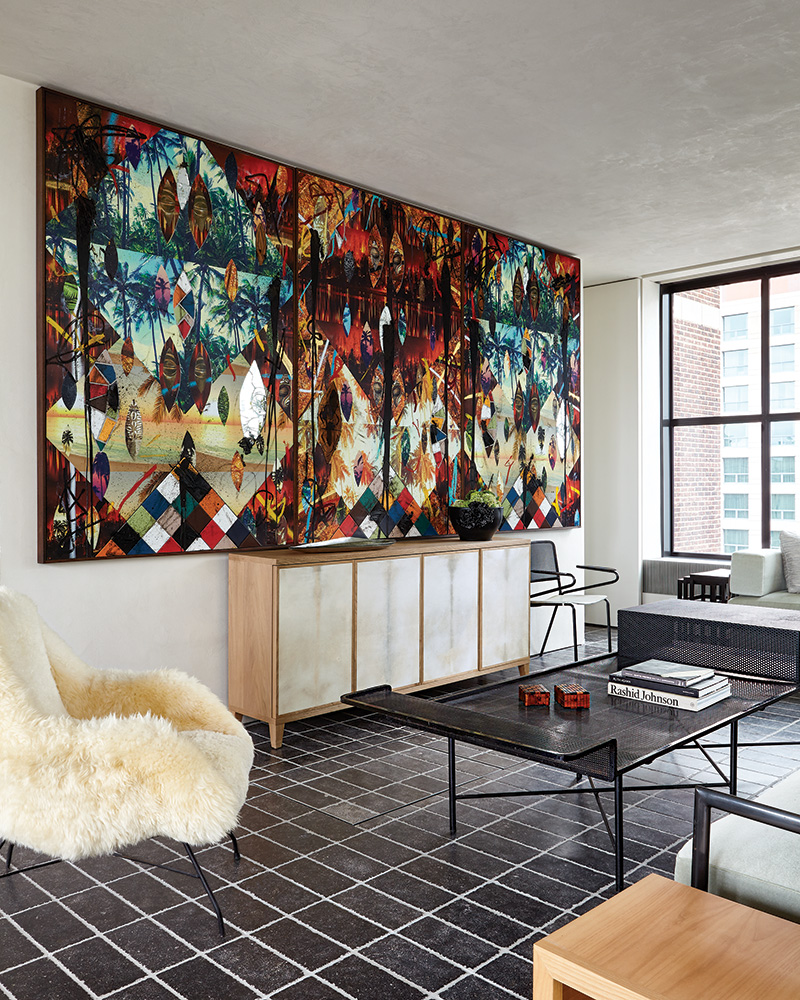 At the end of the three-year-long project, the rooftop emerged renewed with three distinct gardens-within-a-garden, each with its own flavor and social agenda. An Astroturf green (complete with movable holes) provides space to practice putting. A curved stainless-steel pergola, which was craned into place, can accommodate a dinner party for more than 20 guests perched on chairs designed by David Adjaye. The boxwoods and evergreens that had been relocated during construction were replanted and, surprisingly, are thriving. "I call them my survivor trees," jokes Seoane-Smithburg.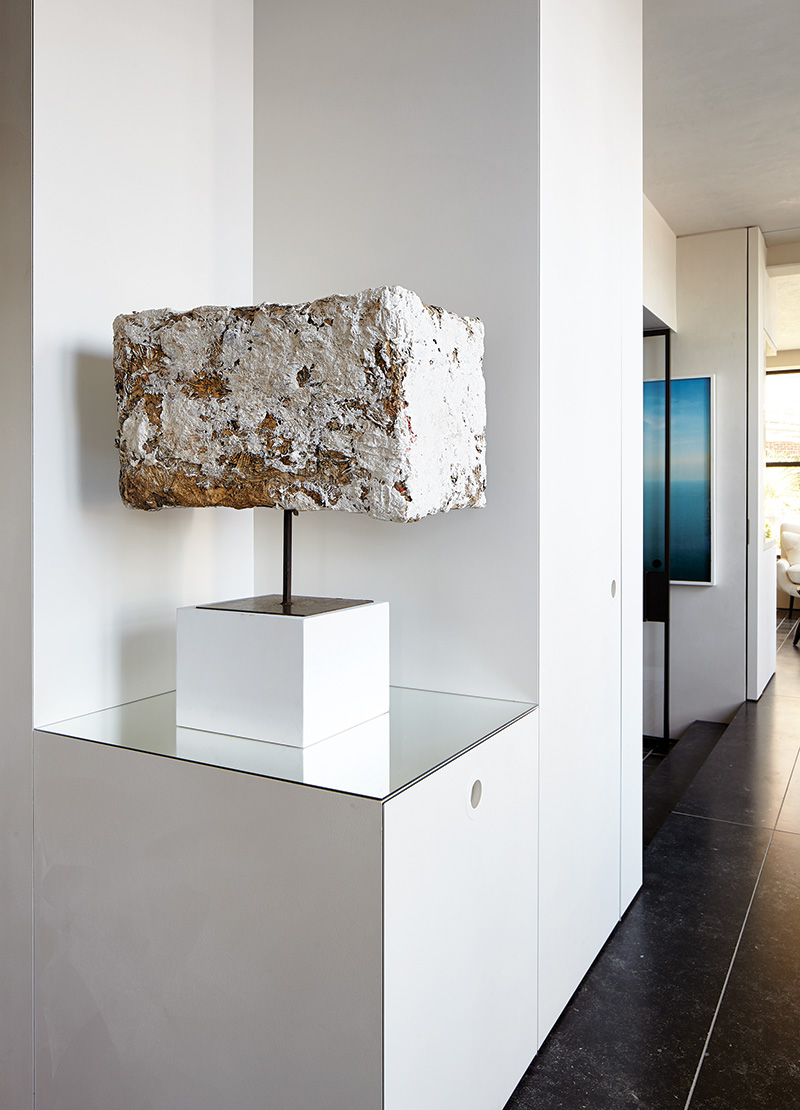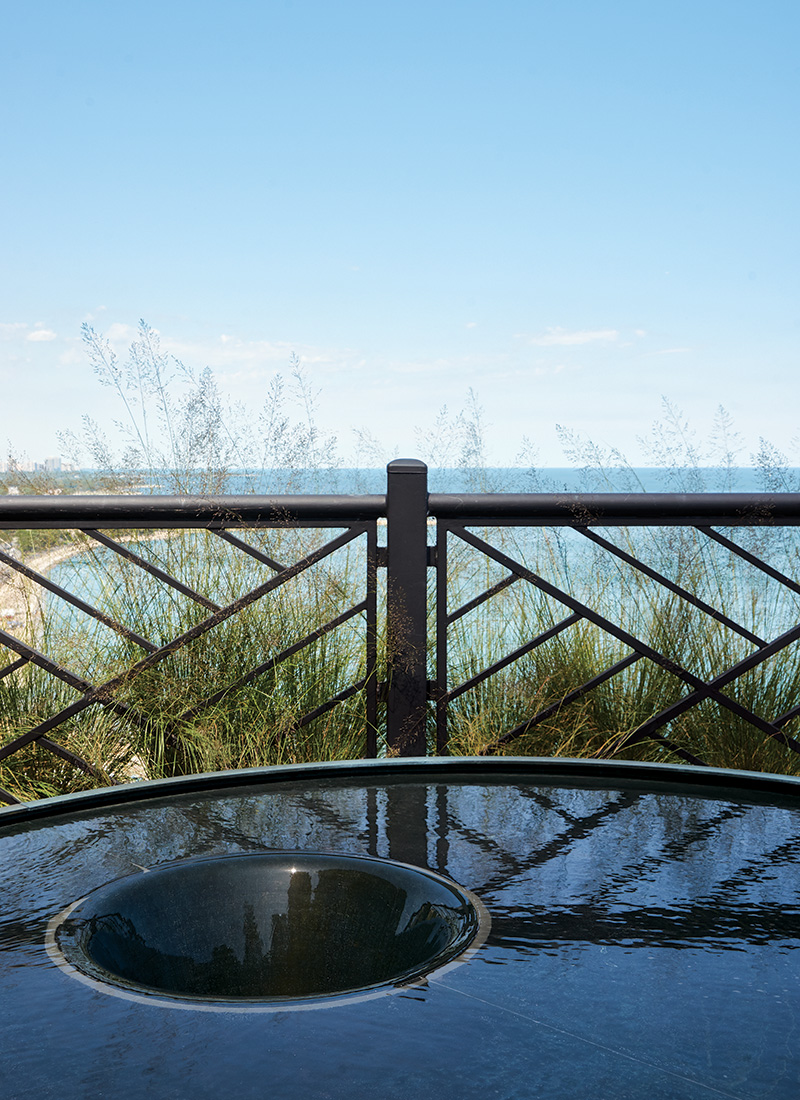 A grove of white birches denotes the red-themed east garden, with lounge chairs set on artificial turf. Seoane-Smithburg wanted it to be bold and planted large ferns, mandevilla, moon flowers, and other tropical foliage known for both their beauty and long blooming periods. The north garden faces Lake Michigan and, says Seoane-Smithburg, is "all about curves. Almost like a metaphor for the water and the lake, it has movement." In this piazza-style configuration, sculptures by Calder and Kapoor mingle with a pine tree strategically rooted in a circular planter, playful Magis Spun chairs by Thomas Heatherwick, and what Denison calls his "magnum opus": a pond with a spillway fountain. "I had a lot of fun with it," he admits. "I designed it to sound like a waterfall, and a light inside glows at night and reflects the sky and the surrounding buildings."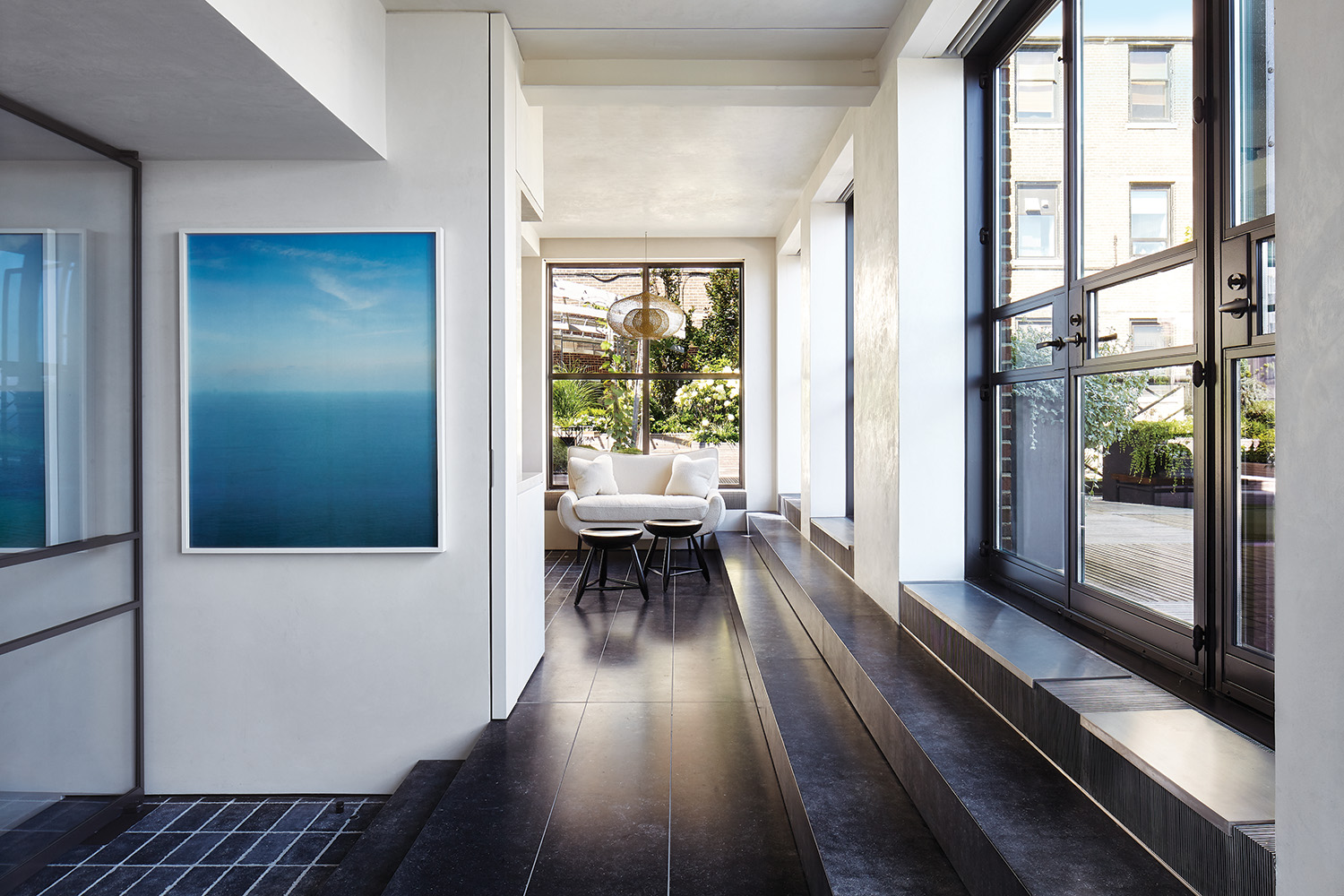 Those lucky neighbors have a museum of sorts to gaze down upon, and real estate agents listing nearby apartments with views of the family's rooftop have joked that it's become a selling point. The couple is thrilled with the results and often makes the space available to groups of landscape and design enthusiasts for tours. "It's a joyful, restful, beautiful space," notes Bluhm-Kaul. "As far as I'm concerned, the rooftop is my personal piece of art."
A version of this article first appeared in print in our 2022 Summer Issue under the headline "Lake Luster." Subscribe to the magazine.
Next Post