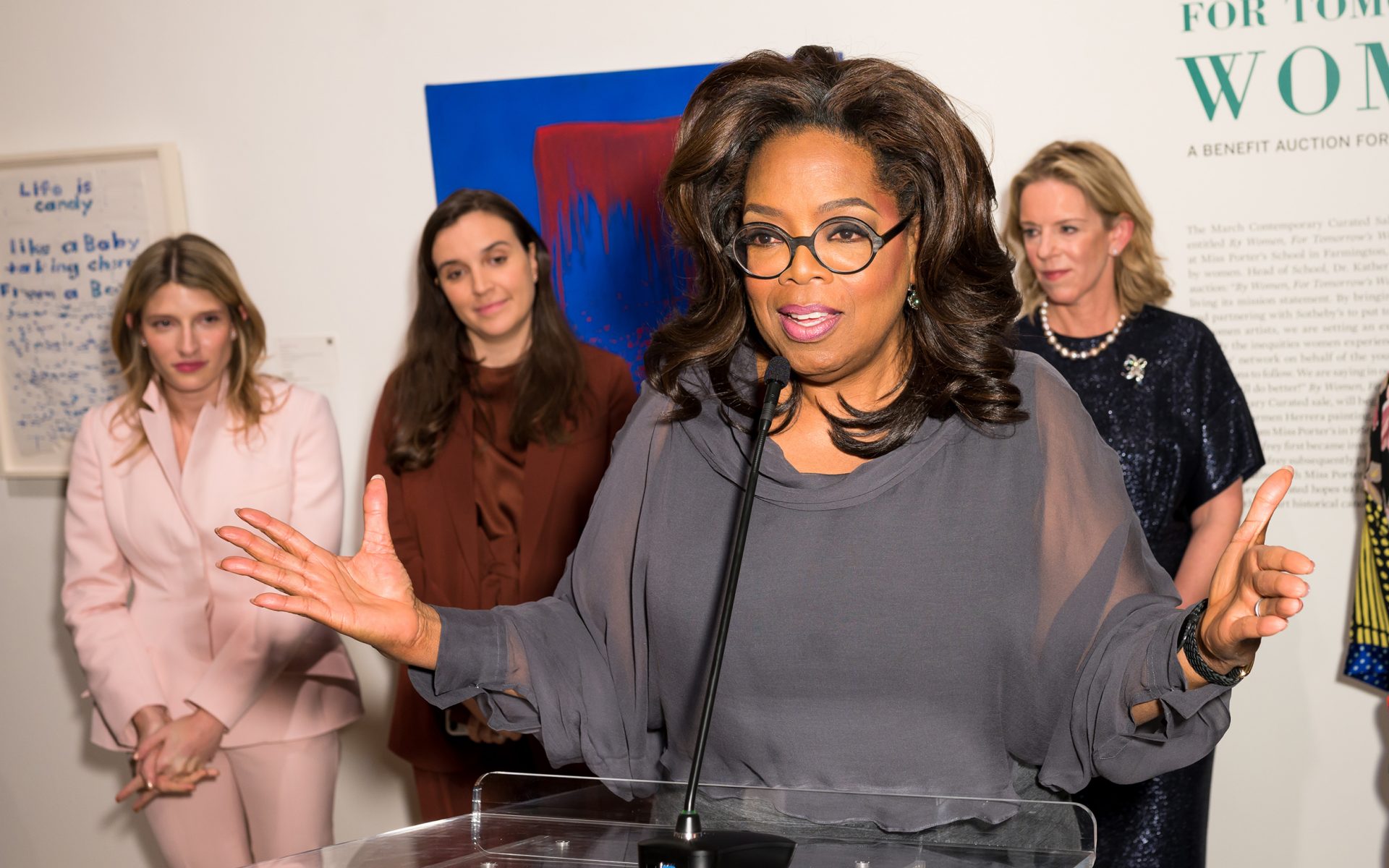 Oprah Urges Support for Women Artists at Sotheby's Benefit Auction
The billionaire mogul delivered inspiring remarks in celebration of the benefit auction "By Women, For Tomorrow's Women"
UPDATE, March 1, 2019: This morning, Sotheby's took in $3.9 million at the first offering of its benefit auction with Miss Porter's School By Women, For Tomorrow's Women. Carmen Herrera's Blanco Y Verde, which sold for $2.9 million, led the first group of 26 works.
Last night's elegant preview of "By Women, For Tomorrow's Women," an upcoming exhibition and sale at Sotheby's, featured a poignant theme: the enumerable possibilities that arise when women work together. On site to bring that theme home were the event's co-chairs and two fierce proponents of female empowerment: Oprah Winfrey and Agnes Gund.
The two became involved with the first-of-its-kind benefit auction, which features only work by female artists, via Miss Porter's School in Farmington, Connecticut. The auction and exhibition were organized by the renowned preparatory school for girls and the proceeds directly support the school's financial aid program, an effort Winfrey referred to as "an investment in the power of women."
Following opening remarks by the head of Miss Porter's, Dr. Katherine Windsor, and an "expression of gratitude" by Gund, who is an alumna of Miss Porter's, Winfrey took the stage to cheers from the several hundred attendees.
"I have to say, over the years, I've bought a lot of beautiful art," said Winfrey, who modeled her own school—the Oprah Winfrey Leadership Academy for Girls in South Africa—after Miss Porter's. "But I've never thought about whether it was by a woman or a man. I just thought, I like it. And now my own perspective has changed, and so I am going to consciously be looking for work by women. If we all do that, then this will be a big success."
Recommended: 8 Unforgettable Quotes by Painter Alex Katz
Many students from Miss Porter's were in attendance at the preview, seeming perfectly at home among art-world aficionados.
There are 43 artworks in the exhibition, which are slated to hit the auction block on March 1 as a precursor to Sotheby's Contemporary Curated sale. Headlining "By Women, For Tomorrow's Women" is a Carmen Herrera painting that formerly belonged to Gund, Blanco y Verde. One of the artist's most important works, the piece is expected to bring in between $1.5 million and $2 million. Other highlights include Pat Steir's Blue and Red Waterfall, Jenny Holzer's Selection from Survival: Men Don't Protect . . . , and works by Roni Horn, Cecily Brown, Carrie Mae Weems, April Gornik, and Lorna Simpson.  
"I hope you buy a lot of art," Winfrey said at the end of her speech, evoking laughs from the crowd. "That's the bottom line."
Next Post