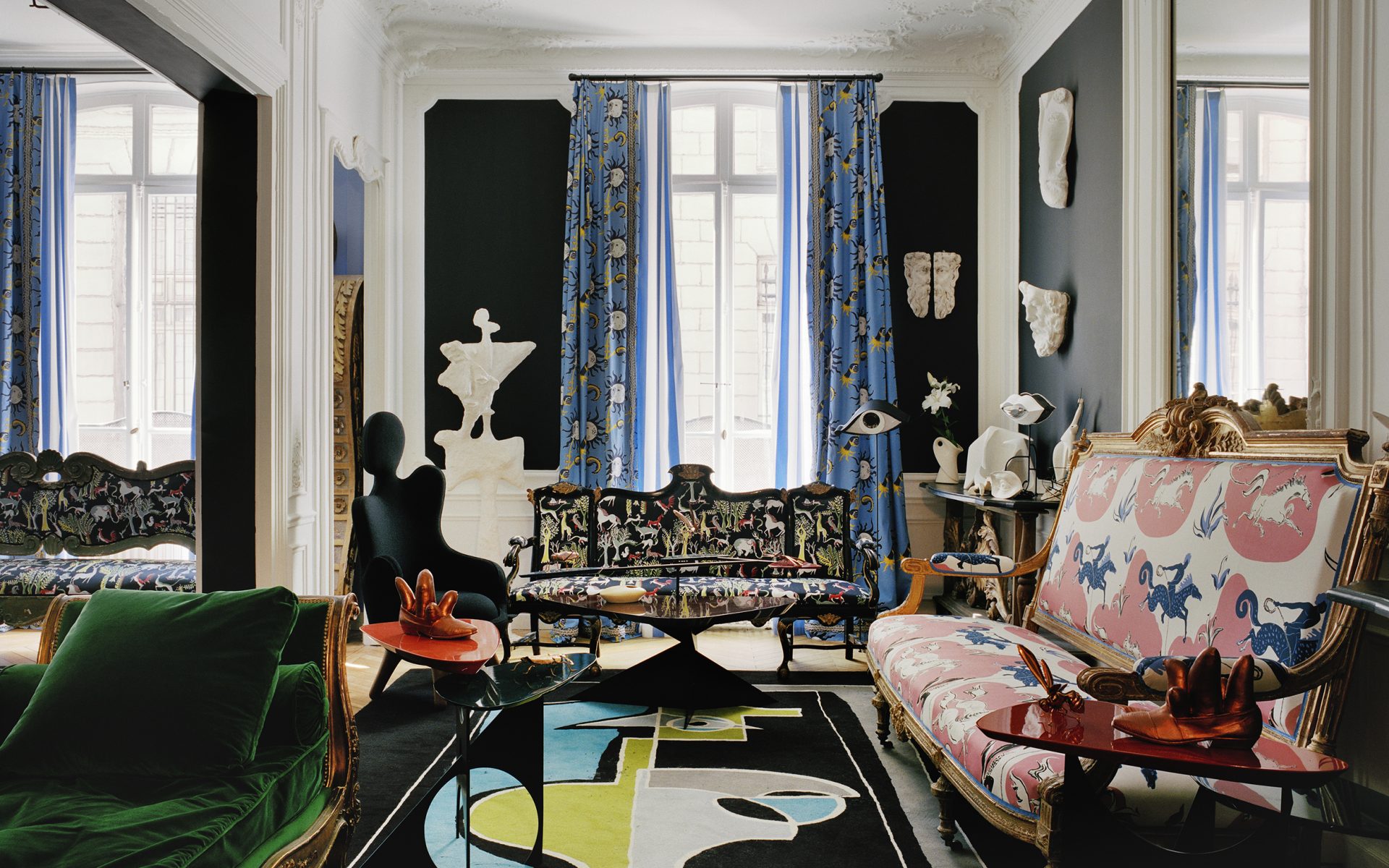 See Designer Vincent Darré's Dazzling Parisian Interiors
The world-renowned decorator talks to Galerie about his handsome debut monograph
A maverick. A trendsetter. An enfant terrible. "A Dada dandy." The words used to describe designer Vincent Darré are as colorful as the artful interiors he creates for distinguished names in the arts, fashion, and French high society, all of which are showcased in his debut monograph, Vincent Darré: Surreal Interiors of Paris (Rizzoli; $65).
"I worked three years on this book," Darré tells Galerie. "The difficulty was not to make a classic book about decoration but a scrapbook that explains the process of my work, aspirations, and friends who inspire me."
In the book, Darré showcases his versatility by capturing three iterations of his own Paris apartment on rue de Bellechasse, in 1996, 2006, and 2016. There's also a mirrored space for Elsa Schiaparelli's daughter Gogo Cacciapuoti and the artist's studio for Spanish actress Inés Sastre. Don't miss the boudoir-inspired, red-and-black New York nightclub the Baron of Chinatown, as well as the plum-and-gray Paris salon for Elie Top's jewelry collection.
"The choice of photos was made with the development of a model that would come to involve collage and drawings accompanied by my texts as a diary," says Darré. "Everything should be coherent and understanding; the selection of images should be very precise. I was lucky to have the support of great photographers such as Francois Halard and Jacques Dirand but also fashion—Gilles Bensimon, Jean-Baptiste Mondino, Pierre and Gilles. The list is infinite!"
Recommended: 11 Fabulous Rooms at the Kips Bay Show House Palm Beach
Each space is a "more is more" mix of flea market finds; artwork by Gérard Garouste, David Hockney, Eduardo Arroyo, and Pierre Le-Tan; and a rainbow of fabrics and furnishings by Pierre Cardin, Knoll, and Pierre Frey. Aquatic animals, like bronze octopuses, silver frogs, crystal fish, or even a Surrealist gilded chest of drawers shaped like a lobster (designed by Darré), appear frequently.
"My philosophy is a return to decorative arts," declares Darré. "I advocate the craft. All my objects are stamped, as was the furniture of the 18th century—this is the true value of a luxury object and the strength of France. It is this exceptional work that I highlight by creating a royal street apartment in tribute to the French know-how."
Interspersed throughout the volume are personal photos, illustrations, and mementos that capture his colorful crowd of friends, including Karl Lagerfeld, Muriel Brandolini, and Christian Louboutin. There are testimonials by Le-Tan, journalist Simon Liberati, and photographer Francois Halard. "All of my projects start from watercolor drawing," reveals Darré. "I often work on weekends in pajamas; it's a unique moment. I think that my work has a lot of dream, the one I want to achieve since my childhood, and I try in all my projects to make dreams my interlocutors."
In addition to the rooms, the book is a celebration of Darré's furniture collections: Ossobucco, which is inspired by skeletons of all sorts, and A l'Eau Dali (To Water Dali), a nod to Surrealism—both available at Maison Darré, which the designer founded in 2006.
Recommended: At NOMAD St. Moritz, Contemporary Art Mingles with Design in the Swiss Alps
"My gallery is designed as an apartment where guests are invited to browse this space like a trip," says Darré. "The dining room is an 'exotic carnivorous garden,' where the glass dominates. In the room is the blue stormy sky that covers the walls or sits the cyclops bed. In the 'orange wood lounge' there is wood paneling classified as historical monuments. The office 'silver powder room,' labyrinth corridor, and my small office bathroom coral are all discoveries. The visitors in this course discover a dialogue between old furniture and my own creations but also that of friends, designers, and artists. Everything mixes, and this heterogeneous group reflects a coherence, mine, that of a typical Parisian taste where the lack of taste is an eccentricity!"
Next Post