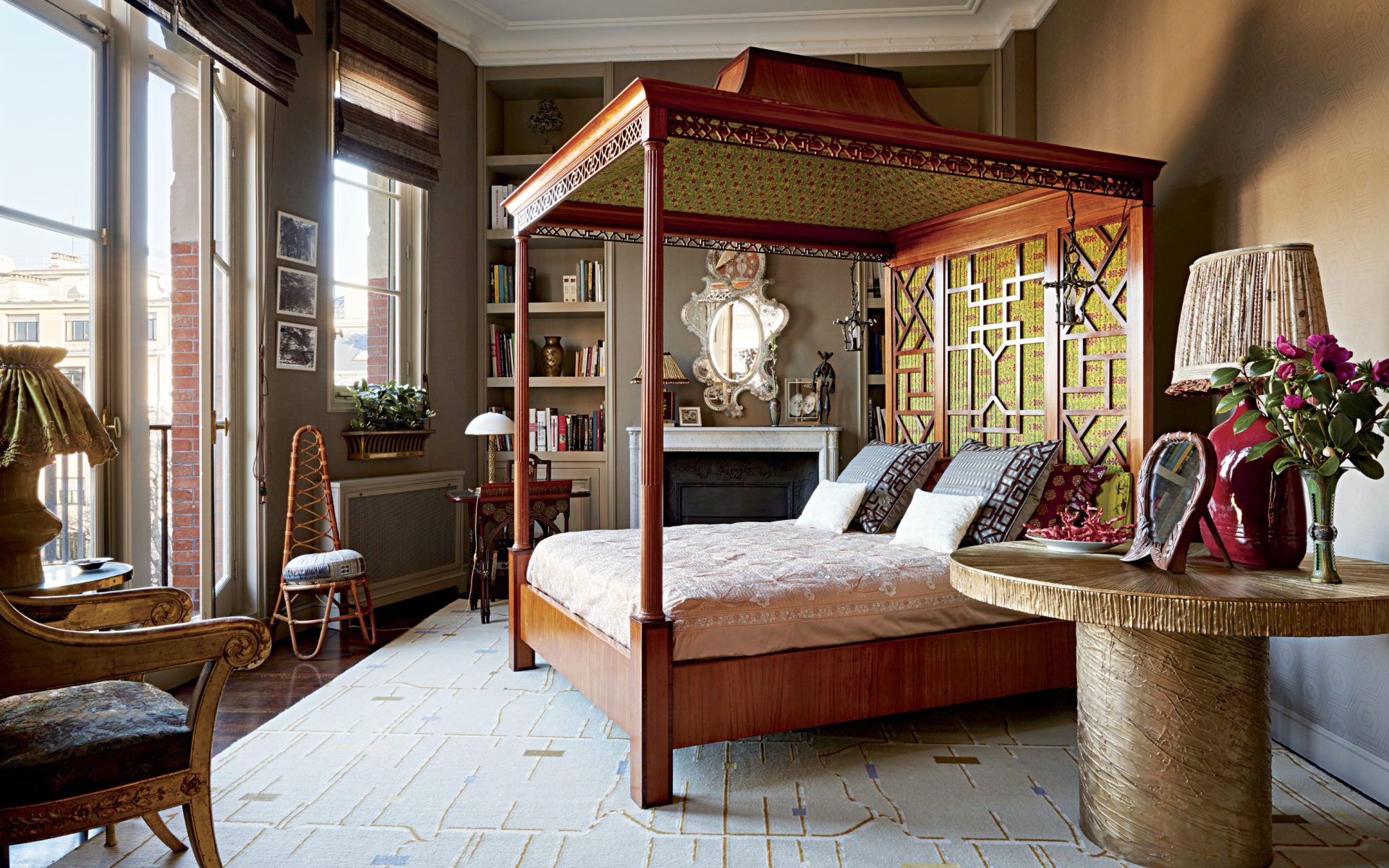 Inside Muriel Brandolini's Chic Paris Apartment
The designer creates an exquisite pied-à-terre brimming with personal treasures
If the Ritz Paris hadn't closed for renovations in 2012, New York–based interior designer Muriel Brandolini and her husband, Nuno, probably never would have bought a pied-à-terre in the French capital. "The Ritz was like home," she says. "I wouldn't even open my suitcase on arrival. I'd jump in the bath, and by the time I got out all my clothes were hanging up just the way I liked it." Deprived of her beloved Paris hideaway, she initially tried other hotels, only to be disappointed by cramped rooms and meager closet space. Plan C was a rented flat on the Left Bank, but that never felt comfortable either.
Then, like most things Muriel does, the acquisition of the apartment happened swiftly. When she and Nuno, a banker, found themselves with a layover in Paris on their way to Venice, they booked appointments with a few real-estate agents. By evening they'd made an offer on a two-bedroom flat overlooking a glorious church square in the 7th arrondissement. But don't expect a detailed explanation from Muriel about why they fell for it.
[Slideshow: See more photos of Muriel Brandolini's chic Paris flat]
"In my life I never say to myself, 'Why?'" she pronounces, adding in typically delphic fashion, "It just is what it is, when it is." One safely assumes that the enchanting views and 15-foot ceilings played a role, as did the proximity to Nuno's mother and brothers. Nuno lived in Paris for eight years as a child, and Muriel spent part of her youth in the city, too, having been sent by her mother, at age 15, to acquire secretarial skills after she dropped out of high school in Martinique.
Known for a haute-bohemian sensibility informed by her travels and an eye for distinctive design, Muriel approaches decorating intuitively and has little patience for obsessing or second-guessing. "I don't overthink what I'm doing," she insists. "I just do it and it works." Acutely sensitive to color, the designer, who enlisted Paris decorator and close friend Caroline Sarkozy to help oversee the project, opted for an atypically subdued and soothing palette. "The painter was so excited to hand-mix the colors with me," she says. "He told me, 'Madame, it's wonderful! You work in the old-fashioned way!'"
Another of Muriel's passions is fabric. Here she designed the textiles for the walls throughout the apartment. She also commissioned Jean-François Lesage to hand-embroider pillows and the pelmets that crown the living room's floor-to-ceiling French doors. Over the years, she has amassed a vast collection of vintage fabrics, around a dozen of which now clad a pair of slipper chairs in the living room. Slipper chairs are a signature of Muriel's, and after picking these up at a flea market she had them covered in a dizzying patchwork of panels, including an obi she found in Kyoto and a fabric made with silver thread. "It's so beautiful, isn't it?" she enthuses. "It's beyond haute couture!"
[Slideshow: See more photos of Muriel Brandolini's chic Paris flat]
A number of the furnishings Muriel used were pieces she had in storage, some having previously made appearances in her New York City residence or in her Hamptons summer house. They include the 19th-century Portuguese pagoda bed she put in the library, placing it at an angle for a relaxed, jaunty feel. "At least like that, it's decadent," says Muriel, who had tried to install the bed—a present from her mother-in-law—in her Hamptons home but Icouldn't get it inside.
As for the Nada Debs Pebble cocktail table in the living room, Muriel transported it across the Atlantic herself: "I just folded it up accordion-like and put it in my suitcase." The apartment also features numerous custom-made creations by friends, such as Hervé Van der Straeten nightstands and Federica Tondato rugs. What makes Muriel's interiors so compelling is the mix of exquisitely unusual pieces, chosen for the beauty of their forms. One of her favorites is a desk with a flower motif in wood, metal, and mother-of-pearl inlay, designed by Eugenio Quarti at the end of the 19th century.
Recommended: Designer Lillian Fernandez Creates Her Dream House in Palm Beach
Today the Brandolinis use the flat as their European base, though Muriel admits she is still getting acquainted with the quartier. "I'm so busy—I'm working nonstop," she explains. "But it's always fun. My life is beauty, and beauty gives you a high. And we love it here." Remind her that the Ritz is open once again across town and she'll tell you: She doesn't miss it a bit.
A version of this article first appeared in print in our 2017 Spring Issue under the headline At Home in Paris. Subscribe to the magazine.
Next Post