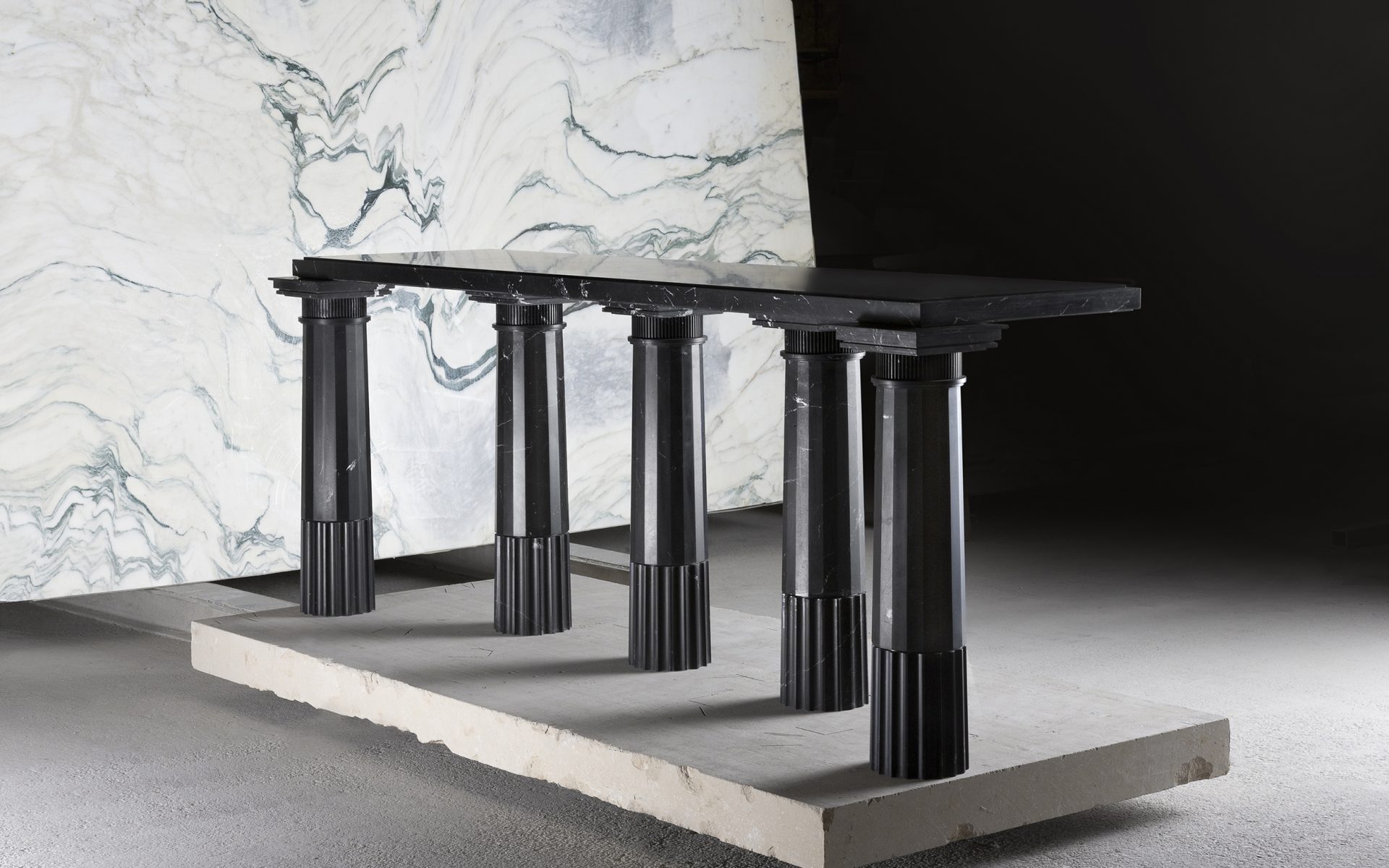 Karl Lagerfeld Debuts Sculpture Collection Inspired by Greek Antiquity
The fashion icon has made his foray into sculpture with eight functional works, now on view at Carpenters Workshop Gallery in Paris
Titan of the fashion industry Karl Lagerfeld has debuted his first series of sculptural works in an exhibit at Carpenters Workshop Gallery in Paris.
Called "Architectures," the show features a collection of functional sculptures—items you might see in a line of home goods, like gueridons, tables, lamps, consoles, and mirrors—that were inspired by Lagerfeld's love of Greek antiquity.
Architect Aline Asmar d'Amman carried out Lagerfeld's designs and oversaw the creation of the sculptures. D'Amman first met Lagerfeld when she was overseeing the renovation of the Hôtel de Crillon in Paris. Consumed with the idea of Lagerfeld designing the hotel's grand apartments but never having met before, she wrote him a letter out of the blue. "He called me personally the very next day," d'Amman tells Galerie. "It was very pure and magical."
The two worked together for several years on the hotel, and Lagerfeld often spoke of his passion for antiquities and the beauty of Grecian architecture. "To him, the origin of beauty is traced to Greece," says d'Amman. "He sketched these pieces of furniture and proposed that we develop it."
Recommended: Interior Designer Aline Asmar d'Amman's Shares Her Inspirations
Only available as a limited edition of eight pieces in two shades of marble, each sculptural work is precisely cut, sculpted, faceted, and polished in Italy by craftsmen, to achieve the fastidious sharpness of each element.
"There's something timeless but also basic and functional about the sculptures," d'Amman says. "Karl thinks about the comfort and the ergonomics of the piece. He designed the height of each side table to fit a certain moment of the day — like having a cup of tea on the sofa in the morning or if you're sitting in an armchair in the evening. Everything has an instinctive flow."
Each piece is carved from a carefully selected marble block, the Arabescato Fantastico, a rare vibrant white marble with dark gray veins that has not been quarried for more than 30 years and must be bought as an antique, or black Nero Marquina marble, curated for its brushstroke-like, milky white veins.
Recommended: Jonathan Adler Creates Amazon's First-Ever Exclusive Home Collection
"I'm very drawn to marble because it comes from the earth; it's natural," says d'Amman. "It's born from the compression of layers of earth and sand and the passing years. There's something mystical about it. You can use it in a modern way or see it in a palazzo in Italy. It's timeless and noble."
D'Amman says working with an icon like Lagerfeld is a gift. "He's the creator, and you just learn and develop next to him. It's a priceless journey, not just on a professional  level, but on a human level."
Karl Lagerfeld's "Architectures" is at the Carpenter's Workshop Gallery at 54 rue de La Verrerie in Paris through December 22.
Next Post