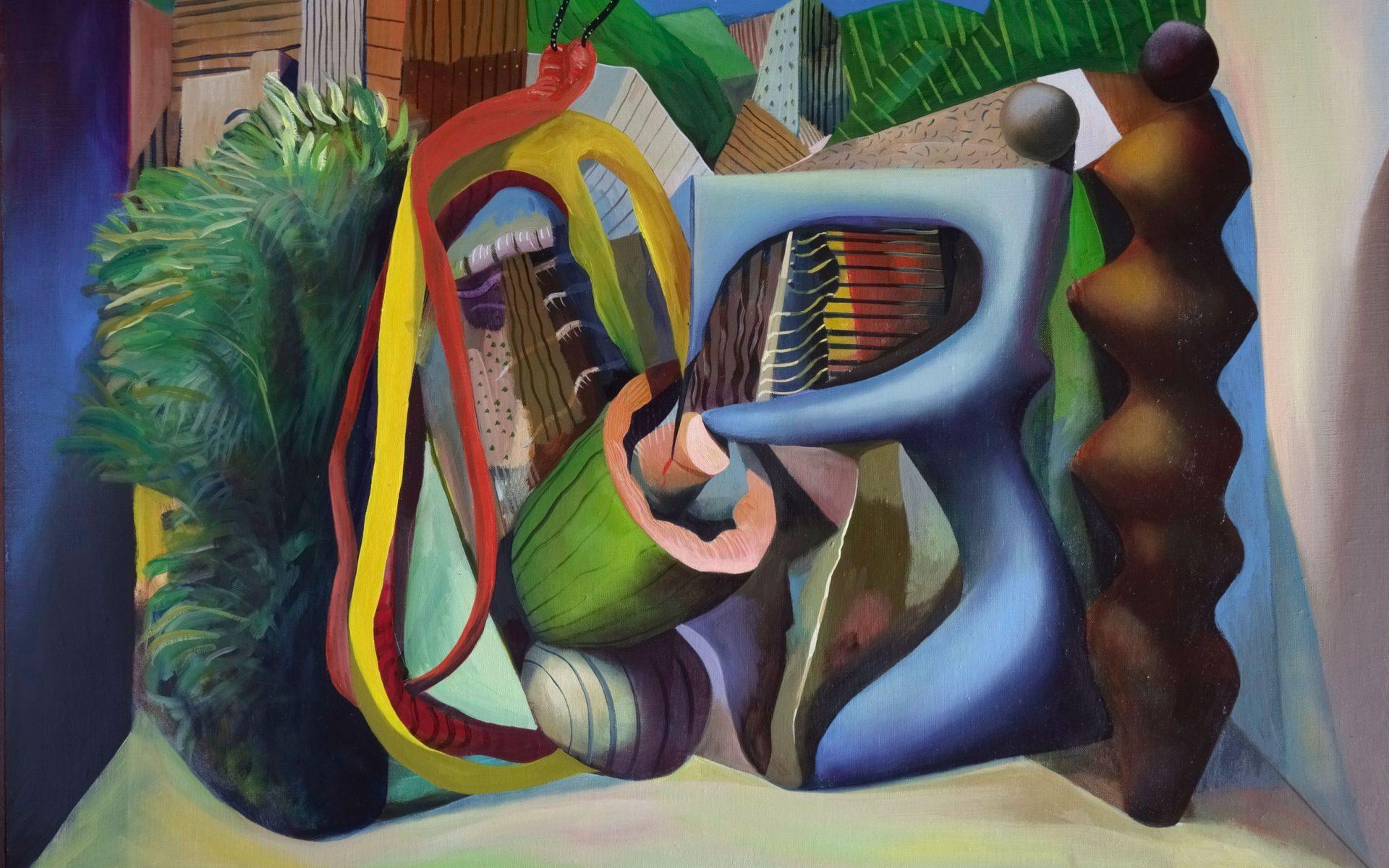 6 Must-See Artists Showing at Condo New York 2019
From the dreamlike paintings of Miguel Cardenas to Katinka Bock's smashed ceramics, here's what not to miss
An alternative to the traditional art fair, Condo gives member galleries the opportunity to show the work of their artists in other cities, which can ultimately help to expand the knowledge of their program—not to mention their collector base. Founded three years ago in London by Vanessa Carlos of the gallery Carlos/Ishikawa, the show has since taken place in New York, Shanghai, Mexico City, São Paulo, and Athens.
Host galleries share their spaces with visiting galleries—either by cocurating an exhibition together or by giving over part or all of their space. Running through July 26, this year's Condo New York is presenting 20 out-of-town galleries at 18 local ones, ranging from the more established on the Upper East Side, and in Chelsea and Tribeca to edgier spaces on the Lower East Side, where a majority of the shows are taking place.
With a lot of work to see, Galerie has rounded up the artists that we think stand out from the crowd.
1. Tromarama
Petzel, Hosting Edouard Malingue Gallery, Hong Kong and Shanghai
An Indonesian art collective comprising artists Febie Babyrose, Herbert Hans, and Ruddy Hatumena, Tromarama gained the art world's attention by making a graphic, stop-motion video with 450 woodcut blocks that they hand-carved and animated to the pulsating sounds of a hard-rock band in 2006. Since that time, the Bandung-based trio—whose name is a playful riff on the angst-ridden word trauma—has made a number of internationally exhibited videos and installations, which employ everyday objects to comment on contemporary culture in the digital age.
Recommended: 5 Artists Making a Splash at Condo London
At Petzel, Tromarama is presenting an installation of 96 secondhand lamps displayed on painted industrial palettes. The lamps are programmed to blink out messages of Twitter users letter by letter every time they deploy the hashtagged term #kinship. Programmed with an application that the collective designed for use on an Android phone, the lamps blink out the messages using binary code. Criticizing our relationship to social media, #kinship cleverly comments on the constant connection to an Internet family while the striking installation's title, Soliloquy, more ironically references the act of just talking to oneself.
2. Andy Giannakakis
Ortuzar Projects, Hosting Park View/Paul Soto, Brussels and Los Angeles
After receiving an MFA from Rhode Island School of Design in 2015, Andy Giannakakis headed west to continue his painting career. The Georgia native, who now resides in Los Angeles, makes small-scale atmospheric abstractions that present a hazy view of the world. Slowly painting in oil on wood panels, on which he's simultaneously adding and subtracting paint, Giannakakis layers gestural brushstrokes and smudges with rags and sponges to envision blurry places and objects like one might discover in a dream.
Presenting three intimate panels in a small side gallery, the meditative show brings to mind the work of the largely admired American abstract painters Forrest Bess and Thomas Nozkowski, while still leaving room for this younger artist's talent to shine.
3. Katinka Bock
Bortolami, Hosting Galerie Jocelyn Wolff, Paris
A German sculptor living and working in both Berlin and Paris, Katinka Bock creates simple, ritualistic sculptures using clay, steel, wood, and found objects, which she places in poetic installations to change the nature of the space they inhabit. Exhibiting mostly in Europe since getting a postgraduate degree at the École Nationale des Beaux-Arts de Lyon in 2005, Bock is a 2019 nominee for the coveted Marcel Duchamp Prize, which includes a monetary award and a solo show at the Centre Pompidou in Paris.
Recommended: A Look Back at Carmen Herrera's Extraordinary Career
For her New York solo show debut, Bock combines the industrial with the organic. Using repeated gestures of rolling and folding clay, she places her ceramic sculptures in precarious balancing acts that speak to both the fragility and strength of her constructed objects and their materials. Covering the floor of the gallery with shards from smashed ceramics, she provides an uncanny texture to the show, which gets metaphorically repeated in the impressions of fabric and shadows on skin in her black-and-white photographs. Taking viewers beyond the realm of the gallery, she has a snake-shaped pipe running in and out of a corner of the room and a coiled piece of fired clay strangely strapped to an outer wall.
4. Miguel Cardenas
Metro Pictures, Hosting Koppe Astner, Glasgow
A Colombian painter and sculptor living and working in Bogotá and New York, Miguel Cardenas conceives surreal paintings, drawings, and sculptures that mix aspects of European modernism with elements of his homeland's cultural past. Exhibiting ten landscape and still life paintings, four animalistic sculptures, and a flora and fauna drawing that sprawls across two walls, Cardenas creates an installation ripe with dreamlike sensibilities.
Small-scale landscape paintings of colorful, prickly cacti popping up in architectural ruins conjure the canvases of Yves Tanguy, while the larger still lifes lean toward the more metaphysical nature of Giorgio de Chirico's paintings and the twisted view of his Sleeping Gypsy makes a direct reference to Henri Rousseau's namesake masterpiece at MoMA. Three of the four sculptures present animal and human heads cast in bronze and perched on geometric pedestals made from found objects and carved wood and the fourth re-creates the skull of a prehistoric beast with a stick in its mouth, as though it was a willing participant in a humorous, anthropological version of a dog's game of fetch.
5. Nick Doyle
56 Henry, Hosting Reyes|Finn, Detroit
Dealing with the notion of the masculine ideal, Brooklyn-based Nick Doyle constructs real objects at a larger-than-life scale with denim, plywood, and paint. A master craftsman and prop builder, Doyle's neo-pop products look like the real thing for giants.
Developing a narrative around the idea of a road trip, his exhibition "No Vacancy" gives the sense of a night at a Motel 6 after a long day. A crushed pack of Marlboros, a Motel 6 matchbook, a pair of Alka-Seltzer tablets, and a light switch offer the image of a traveling salesman bedding down for the night, but a key to a Ford on a ring with a Western logo and a push-button phone that's off the hook make the scenario seem somewhat more nostalgic.
Recommended: The Major Events and Exhibitions Elevating Aspen's Cultural Cachet This Summer
However, at the center of the show is the miniature Executive Toy; Make It Stop, which becomes another key of sorts—one that unlocks and completes the implied narrative.
A wind-up toy figure of a suited man in bed with a bag over his head and a knife in his hand, he has a winding key in his crotch, which, when wound, causes the character to repeatedly stab himself in the head. Whether it's based on fiction or reality, Doyle's installation presents the concept of toxic masculinity in a gut-wrenching yet surprisingly charming way.
6. David Alekhuogie
Company, Hosting Commonwealth and Council, Los Angeles
A recent Yale grad with an MFA in photography, Los Angeles artist David Alekhuogie takes an unconventional approach to the medium. Turning the hip-hop style of wearing sagging pants into the colors on a flag through photographs printed on fabric and stitched together, Alekhuogie puts the power of symbolism back into the hands of disenfranchised bodies.
His exhibition "Black Satin" presents seven flags and banners that address racial issues in semi-abstract terms. Building relationships to the body with close-ups, blurring of focus, and tight framing, Alekhuogie uses a large-format camera to get hi-resolution saturated images, which he then combines in a very painterly way. Appropriating satin boxers and briefs and camouflage T-shirts and shorts, the artist brings a community to life without ever showing skin. Oddly shaped in their finished forms, the colorful pieces drape the gallery's walls like flags gently fluttering in a hot summer breeze.
Next Post