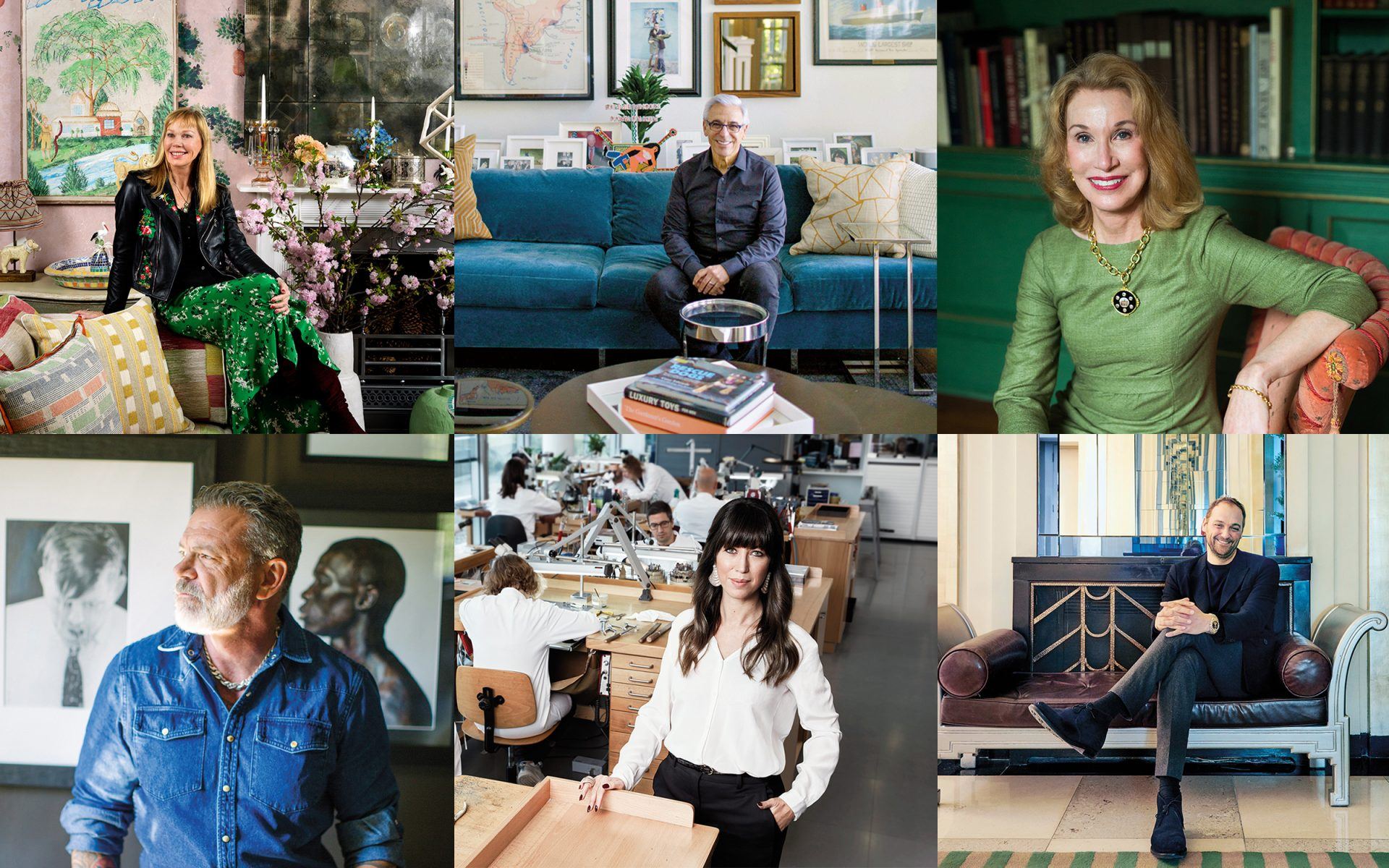 16 Power Players with an Eye for Collecting Reveal Their Stunning Personal Troves
From Elizabeth Locke's micromosaics to Loïc Le Gaillard's tribal art, these collections are built on passion and perseverance
Collecting can be defined in a multitude of ways. For some, it's a passion, others an affliction. While the drive to acquire can be all-consuming, bordering on obsessive, it can also be incredibly rewarding, reaping not just happiness but inspiration as well. Galerie asked creative forces in a range of fascinating fields to divulge the what, why, and how behind their personal troves. And although their inclinations are as dissimilar as miniature chairs and motorcycles, the stories behind them reveal a devotion that's both endearing and illuminating.
1. Bob Williams, Cofounder, Mitchell Gold + Bob Williams
Furniture designer Bob Williams is a collector of collections. A feature in a magazine that spotlighted copper Statue of Liberty souvenir figurines inspired him to pick up one at a flea market. Now he has a dozen, including two with working lightbulb torches. And then there are the 100-plus pieces of McCoy pottery he owns. "My interests will vary—usually I have two or three things I'm collecting at various times," he says. "The whole idea of collecting and hitting antiques stores I find very relaxing. It's like going on an adventure to discover something."
His hunt now focuses on miniature chairs. It's an apt obsession for the cofounder and president of design for furniture maker Mitchell Gold + Bob Williams, and it's a passion he shares with his husband, Stephen Heavner. Heavner collects tiny versions of iconic designs, such as Ludwig Mies van der Rohe's Barcelona chair, while Williams searches for unique, child-size ones. "I get to make these big upholstered chairs, and then to find all these other amazing styles you've seen for a long, long time or handmade little wooden chairs with woven seats—it's fun," says Williams, citing an exceptional wire seat unearthed in an off-the-beaten-path junk shop in rural Tennessee as an unexpected treasure. "You have one item and it's like, That's interesting. You have three of them; now it's a collection." —Jill Sieracki
2. Mitchell Gold, Cofounder, Mitchell Gold + Bob Williams
Back when Mitchell Gold was traveling the country to get his now-renowned furniture company, Mitchell Gold + Bob Williams, currently celebrating its 30th anniversary, off the ground, he was happy to stay in the guest room of any friend or family member who offered. On one such business trip, the chairman of the company was introduced to outsider art while staying overnight at his cousin, gallerist Judy Saslow's Chicago apartment. "These are artists that are not formally trained, but there's something in them that gives them this quirky, interesting artistic ability and sensibility," says Gold. Today, his collection features work by such talents from the Southeast as Missionary Mary L. Proctor, Theresa Gloster, and Sam "Dot Man" McMillan, which he picked up at art fairs. A work by Fayette, Alabama, artist Jimmy Lee Sudduth was a surprising discovery at an out-of-the-way antiques store Gold stumbled upon during a drive from Raleigh to Taylorsville, North Carolina. In addition to paintings, his cache contains a number of woodcarvings by Shane Campbell, such as one of a devil with a base inscribed with "Whatcha looking here for?" "Their stories really hit home," he explains. —J.S.
3. Céline Assimon, CEO, de Grisogono
Vintage motorcycles may seem like an unusual obsession for someone who helms a high-jewelry and luxury timepiece brand, but for Céline Assimon, the new CEO of de Grisogono, it makes perfect sense. "I like things that are beautifully made. I appreciate the craft and the time taken to make something special," says Assimon, who inherited a noteworthy collection of ten rare bikes from her father. "For me, there are many similarities in the two worlds." Significant motorcycles in her collection include a 1934 Peugeot in chrome and red, which took years of working with specialists to restore to its original condition, and a 1961 Lambretta scooter, which is already promised to her nine-year-old daughter. "My collection is purely emotional—it's about the relationship with my father and the memories of riding together."
Assimon, who splits her time between Geneva and Paris, stores them in a massive garage in her hometown in the South of France, where she regularly goes riding with her father's friends—all of whom are avid car and bike aficionados. "It's very social. Vintage bikes are definitely not a means of transport to get from A to B. In fact, you often don't get to B because they can break down! You ride them slowly, almost as though on a carousel in an amusement park—and the noise is deafening." She currently has her eye on a Norton Dominator Street, which was first created in 1947 in England and is now being rereleased with just 50 editions globally. "In the end, as long as I have the bikes, I have the memories." —Lucy Rees
4. Loïc Le Gaillard, Cofounder, Carpenters Workshop Gallery
For Carpenters Workshop Gallery cofounder Loïc Le Gaillard, nothing pairs better with the fabulous artist and artisan pieces his atelier shows than tribal art—particularly the masks he has been collecting for the past decade. "I absolutely adore the mix and creating a dialogue," he says of the juxtapositions he devises by placing these works next to Vincent Dubourg's seemingly ruptured or exploded consoles and tables, or the harmony brought forth by pairing them with a complementary bronze bench by Ingrid Donat, who is known for similar motifs.
Historical Inspiration: I'm obsessed with how tribal art has consistently influenced post-1900s art. At Frieze Masters one year, I saw a Picasso painting and realized that a mask had in a way sparked Cubism. Picasso had loads of masks in his own studio and then put the two in parallel.
His collection: Many of my masks are in my office in Mayfair. I display them as a cabinet of curiosities. There's something very human about them. I'm not alone with them; you have all of these interesting faces looking back at you. —Jacqueline Terrebonne
5. Daniel Humm, Chef, Eleven Madison Park and The Nomad Hotel
Collecting art is above all about friendship for Daniel Humm, the Swiss-born chef behind such lauded culinary institutions as the Michelin three-star Eleven Madison Park and the Nomad. "I love to be surrounded by the works of artists who are close to me," he says. The first piece he ever bought was a small painting on cardboard by his good friend Rita Ackermann, made during a trip to Martinique with her husband, artist Daniel Turner, whom Humm also collects. "I love it because it marked the beginning of a new series for her," Humm explains. "When it's personal, each piece becomes so much more than just a work of art."
Revered for his refined elegance in the kitchen, Humm is unsurprisingly drawn to minimalist art, and he owns an important "Spatial Concept" canvas by Italian artist Lucio Fontana. "His work is so inspiring to me," Humm shares. "I admire the restraint it requires. It's much harder to take things away than it is to add. That piece has truly influenced me and my cuisine." Art abounds in Humm's restaurants, too. His latest venture, Davies and Brook at Claridge's hotel in London, features works by Roni Horn. "I want to bring about a sense of intimacy in the dining space," says the chef. "There is a link between the food on the plate and the art on the walls." —L.R.
6. Alan Faena, Hotelier
Alan Faena's penchant for crystals is evident to anyone passing through the gates of his Miami home, where a fountain is filled with clear quartz, a stone that symbolizes power and is prized for its healing properties. This installation is but a visual amuse-bouche for the multilayered meal that awaits inside the hotelier and creative force's abode, where groupings cover every surface. Over the decades these bits of amethyst, malachite, lapis, tourmaline, and pyrite remained in the same family but were divided among heirs in Europe. Faena reunited them with help from Il Segno del Tempo gallery in Milan. "They bring a real energy from nature and the universe into the home," Faena explains. But before installing them, he made sure to traditionally cleanse each piece—a practice many believe clears any bad energy from previous environments. "This collection is like art." —Rima Suqi
7. Elizabeth Locke, Jewelry Designer
The thrill of collecting often lies in the hunt. Jewelry designer Elizabeth Locke would know: She has spent the past 30 years amassing one of the most impressive collections of micromosaics, many of which figure into her bold designs. These diminutive objects, crafted from thousands of tiny glass-enamel tiles, were originally sold as brooches and pendants to Victorian ladies in the early and mid- 19th century on what was known as the grand tour. "The obsession began when I was living in Florence as a student and I discovered these dusty cases of micromosaics at the Museo Degli Argenti," says Locke. "I was absolutely fascinated." Years later, when she started her jewelry business, she chanced upon a micromosaic for sale at London's Portobello Road flea market, sparking the idea to set them into bijoux. "I would be at Bermondsey Market at five o'clock in the morning with a flashlight, at all the church jumble sales." As Locke's interest in the subject grew, she found herself unable to part with many of her discoveries; realizing she had amassed almost 100 pieces, she donated the collection to the Virginia Museum of Fine Arts. In January they will go on display at the Gibbes Museum of Art in Charleston, South Carolina. But that doesn't mean she's stopped looking for more. "It's a continual treasure hunt," she says, "and just when you think, That's it—bingo, you find something incredible." —L.R.
8. Kit Kemp, Designer and Creative Director, Firmdale Hotels
When interior designer Kit Kemp was developing her Charlotte Street Hotel in London's Bloomsbury district, she found herself wanting to marry the space's aesthetic with the neighborhood. That simple quest whet a deeper interest in the works of the Bloomsbury Group, an early-20th-century bohemian circle of artists and intellectuals. "They made their portraits almost abstract, and the colors that they used are just perfect for an English light," says Kemp, who bought works at auction by the set's most established talents—Duncan Grant, Roger Fry, Vanessa Bell, and Henry Lamb—when they were still relatively affordable. "I was very lucky; it was all about timing because they went out of fashion for a while, but now they're very collectible." Inside Charlotte Street, one of 12 properties in her Firmdale Hotels, Kemp displays their art and decorative items alongside contemporary works to keep the overall design rooted in the present. A prized still life by Mark Gertler, a lesser-known Bloomsbury member, has pride of place in the designer's own residence alongside other artworks by the collective. "There was a lot of romance and a lot of rebellion in their work." —Ashley Petras
Recommended: 12 Art and Design Heavyweights Share Their Stunning Collections
9. Lisa Perry, Fashion Designer
In designer Lisa Perry's world, fashion and interiors blend seamlessly to create a singular, modernist vision. "I know what I like," says Perry, whose unshakable aesthetic was formed early, in part by her childhood home outside Chicago, which was designed by modernist architect George Fred Keck. Her exacting eye is evident not only in her namesake fashion line—boasting architectural cuts with fearless splashes of color—but also in her vintage furniture collection, which punctuates her Palm Beach home, a low-lying alternate reality in both magnitude and geometry. Take, for example, an enormous crescent-shaped white leather sofa by de Sede, which faces the showstopping ocean view. Other beloved pieces are by Vladimir Kagan and Pierre Paulin. "I was immediately attracted to Paulin as I'm completely aligned with his sensibility, including the fact that he used stretch jersey knits for upholstery, which is what I used for my first dresses," says Perry. "I have my eye out for one of his long, winding Osaka sofas. I love the simplicity and the lines, and I admire the vision he had to make such a creative, beautiful, and fun statement." —Jennifer Ash Rudick
10. Siamak, Babak, and Daniel Hakakian, Coowners, DDC
For brothers Siamak, Babak, and Daniel Hakakian, collecting is a family affair. The trio, who own and operate the New York furniture mecca DDC Group, along with their father, Nader, focus on acquiring furniture pieces that have made a mark on design history. Before an item can enter their remarkable collection, all three must agree on its purchase. One standout in their fraternal trove is a pair of original doors by Antoni Gaudí for Casa Batlló in Barcelona. "Casa Batlló is an extraordinary project, and one that offered Gaudí complete and total creative freedom," explains Babak. "It feels like we are the custodians of a real treasure." Clearly, this addition required no debate. "Gaudí continually pushed the envelope in pursuit of his own aesthetic, and each project has such a monumental quality," adds Siamak. Daniel agrees: "His material selections and attention to detail were incredible." Of course, the doors are just one of the brothers' many prized possessions—Babak is especially proud of a Zibaldone bookcase by Carlo Scarpa and Gaetano Pesce limited-edition chairs that were, he says, "basically made for us in red, white, and blue to honor 9/11." And Siamak is quick to endorse a Calatrava chaise as a major find. But the family's enthusiasm is not only for pieces from the past; their NoMad showroom, where they regularly display their personal collection, proves there's a dazzling design future ahead and a world of new talent still out there for them to discover. —J.T.
11. Martin Katz, Jewelry Designer
Jeweler Martin Katz may have a world-class collection of rare and highly sought-after watches, but he doesn't believe in keeping them ferreted away. "The one that's on my wrist the most is my F.P. Journe tourbillion in platinum," says Katz, who spied the watch in Geneva at a time when the master craftsman was still relatively unknown and made so few pieces they were almost impossible to purchase. "I thought, I've never seen such an unusual, gorgeous watch—I have to have it." Now the tourbillion from F.P. Journe's first year in production is one of several in Katz's reserve, which also includes watches by Baume & Mercier, Piaget, and Patek Philippe. "I tend to like some sort of complication, but sometimes, like with many of my F.P. Journe watches, there's a simplicity to them," says Katz. "One of my absolute favorites is a blue-dial, tantalum-case Chronomètre Bleu." While Katz rotates what he wears by occasion or attire, there are a few recent acquisitions—including a rare Philippe World Time 5131G with a cloisonné dial and a Greubel Forsey in stainless steel—that he's still waiting to debut. "I haven't awarded myself a watch in a year," says Katz. "I don't know what the milestone is, but I'll know it when I feel it." —J.S.
12. Pierre Frey, Chairman, Pierre Frey
Grandson of the French fabric and wallpaper company's eponymous founder, with whom he shares a name, Pierre Frey serves as the firm's international director of communications and as creative director of its Boussac collection. As recognizably sartorial and whimsical as the maison's offerings, Frey details his penchant for hats:
Start of a Collection: I was given my first hat at 22 by a very elegant Italian girlfriend. We were shopping in a vintage market, and she bought it for me and said, "You should wear hats." She was right, and now it's a signature look for me.
Storage Issues: I have over 100 hats that are stored on shelves and in boxes. Some are in my home, others are in my office, and I wear them back and forth, so they are often changing locations. 
Favorite Shop: Veronica Marucci Chapeaux in Paris is a fabulous custom hat shop just in front of my son's school. Three years ago for Christmas, my wife gave me a hat from there. The owner pushed me to choose white felt, which seemed very bold at the time, but this hat has become my favorite and the one I wear the most. There's such a difference in a custom-made hat. —J.T.
13. Audrey and Martin Gruss, Philanthropists
"Ever since I got my driver's license at 16, I've been in love with European sports cars," says financier and philanthropist Martin Gruss. In his late 20s, he bought his first real collector car, a gray 1958 Jaguar XK150 roadster with a maroon interior, and in the decades since, has been buying and selling autos, primarily European sports cars from the 1950s and '60s, with Jaguars making up the majority of his collection. Today, alongside his wife, Audrey, the founder and chairman of the Hope for Depression Research Foundation, Gruss has amassed a fleet of 30 different marques and models, many of which he enters into some of the world's most distinguished auto shows. Most recently, his 1938 Bugatti Type 57 d'Ieteren Cabriolet, a luxury touring car he discovered in Switzerland, won best in class at Audrain's Newport Concours & Motor Week. He also has a Concours d'Elegance third-in-class award for his 1959 Ferrari 250 GT LWB Scaglietti Spyder California Competizione, that he won in 2015. "They each have their own driving characteristics, and no two marques are the same," he says. "They're like my children—you can't really pick a favorite." —J.S.
A version of this article first appeared in print in our 2019 Winter Issue under the headline The Collectors. Subscribe to the magazine.
Next Post