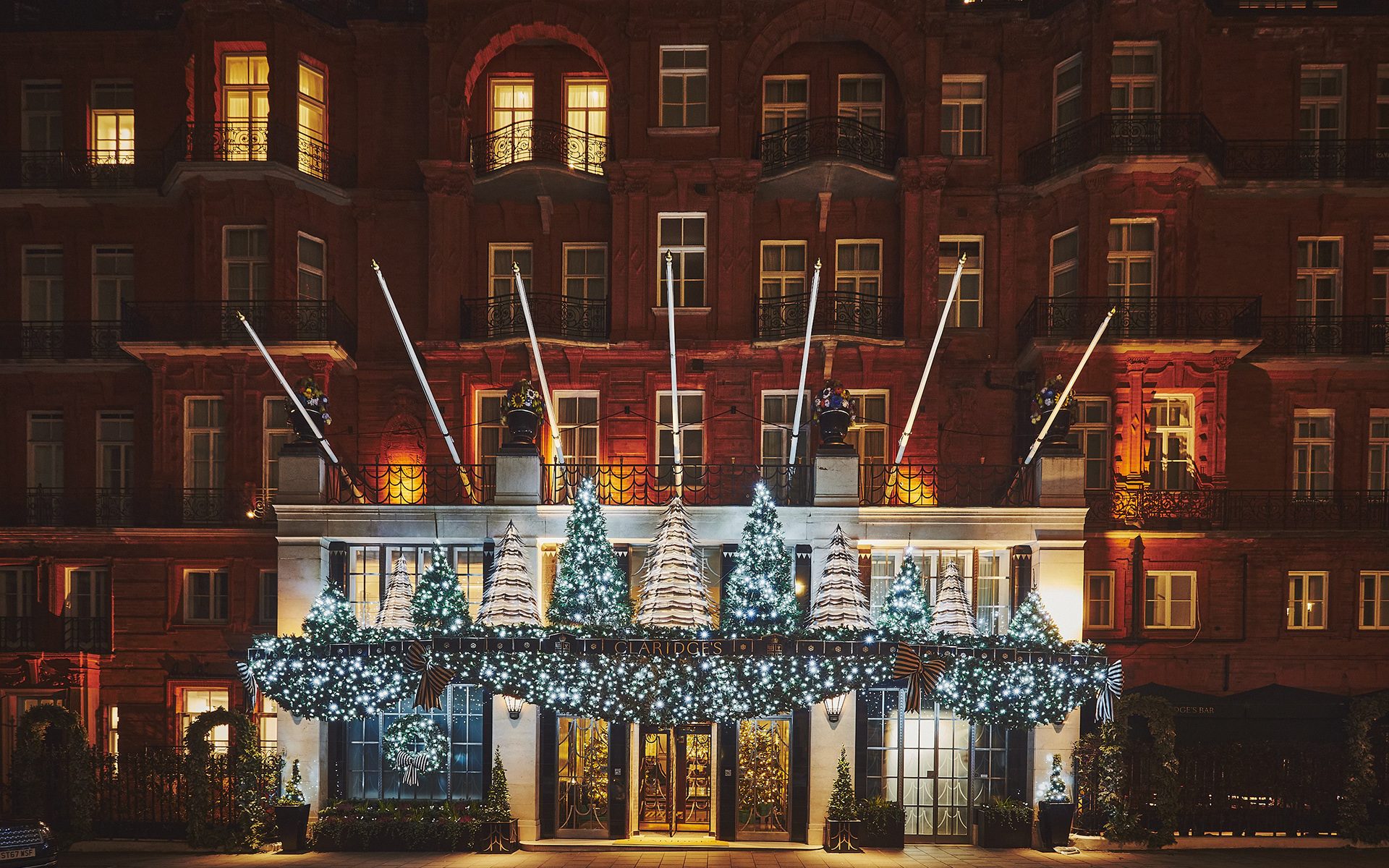 9 of the Most Extraordinary Christmas Displays Around the World
Artists, fashion designers, and style icons lend their creative vision to dazzling light displays and breathtaking trees in New York, Palm Beach, London, and beyond
Even those not into Christmas as a holiday can get behind the latest round of high-profile collaborations, where (mostly) hotels tap multi-hyphenate creatives to have a go at festive decor. Imaginations run wild, both indoors and out, resulting in wondrous installations that surprise and delight. Some err to the elegant and traditional, others introduce over-the-top concepts that end up as permanent fixtures, drawing curious onlookers year-round. Here, a few inspirational activations that will undoubtedly be all over your feed, to enchant and enliven the holiday season.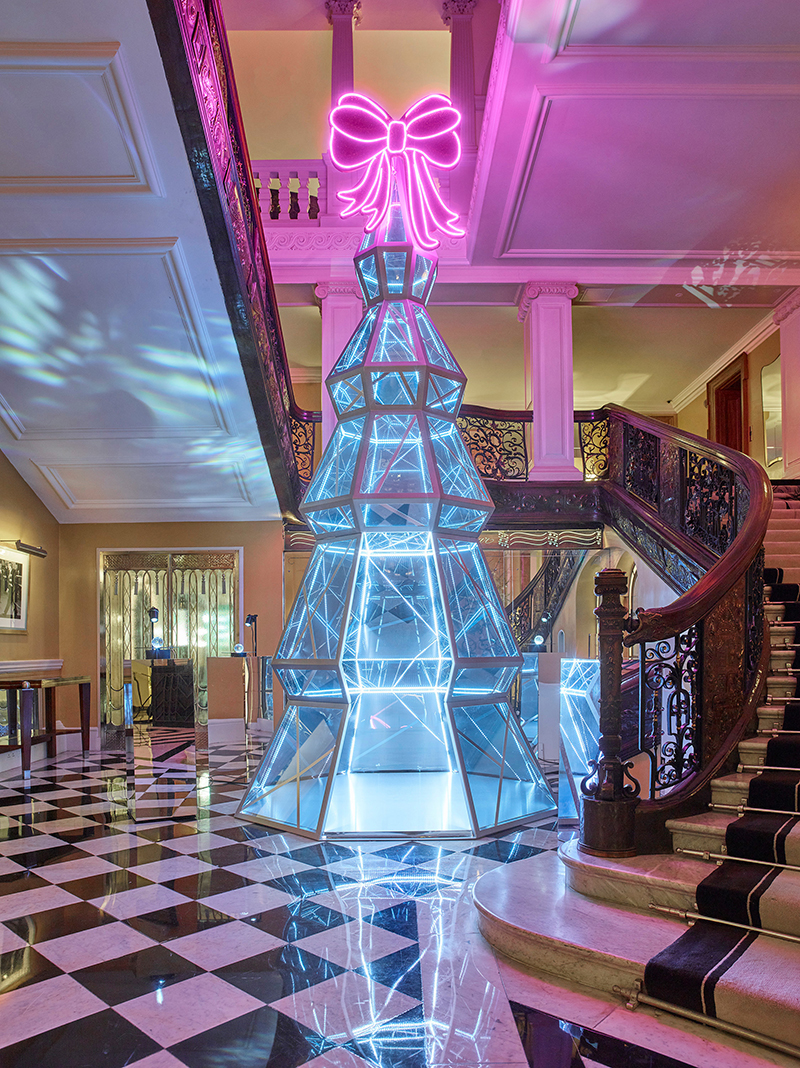 1. Claridge's
This marks the 12th year that the legendary London hotel has invited a "long-time friend" to reinterpret their tree, and and it's a showstopper. Designed by Sandra Choi for Jimmy Choo, "the Diamond" is a soaring faceted conifer-like sculpture with individual sections patterned after its namesake stone. The 17-foot design is rendered in reflective mirrors illuminated by pulsating, undulating lights that change color with the festive glittering bow topper, a nod to a theme of the brand's winter collection. And because Choi had always wondered what it would be like to step inside a diamond, visitors are allowed inside to experience the refracted space. Claridge's, she noted, is the "perfect blend of glamour and decadence….and at night the hotel invites you to party."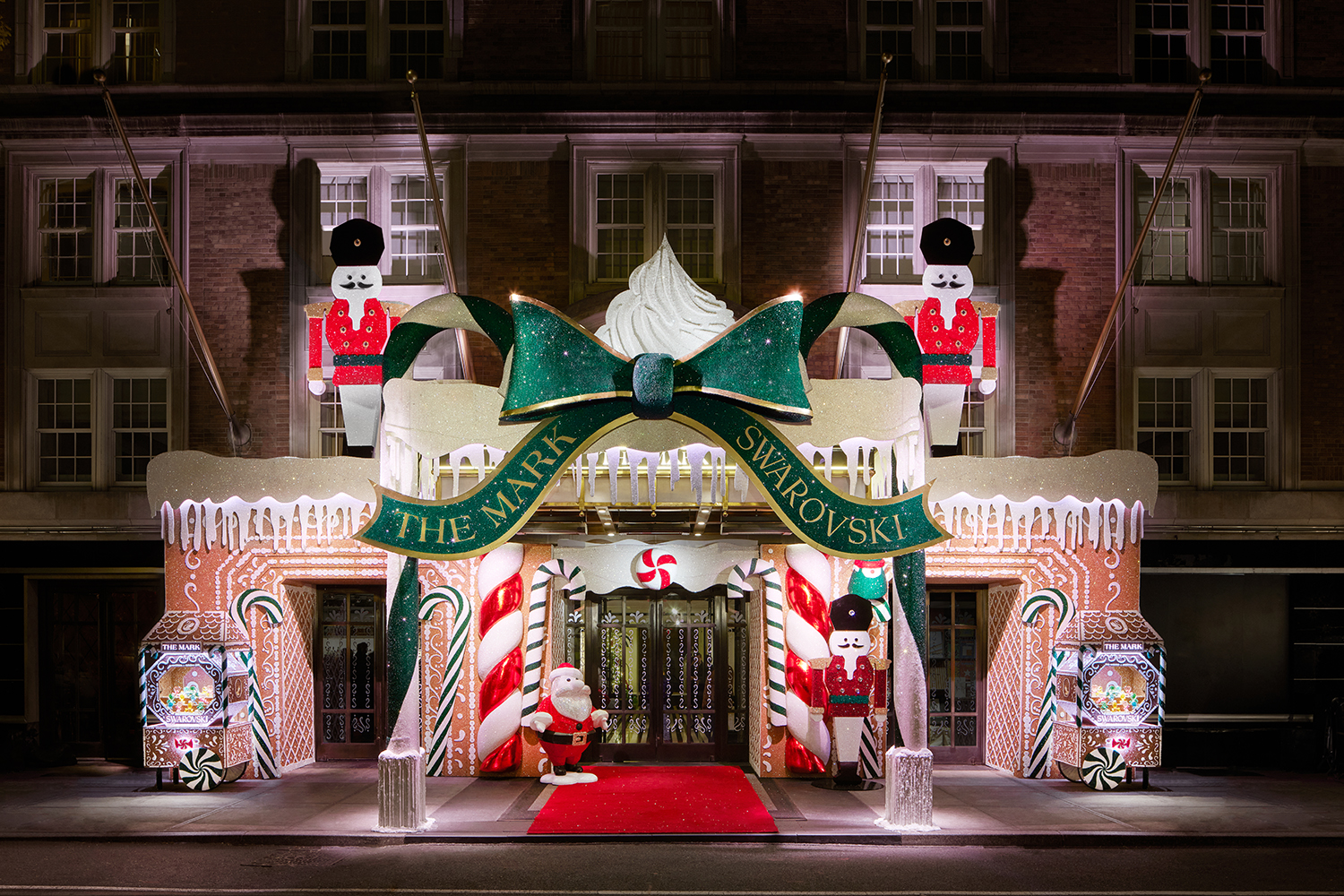 2. The Mark Hotel
Swarovski has transformed the facade of this Upper East Side gem into a crystalized gingerbread house, with two matching candy carts selling hot chocolate, homemade marshmallows, giant chocolate chips dipped in gold dust, chocolate peppermint bark, and oversize the Mark x Swarovski lollipops in festive colors flanking the entrance. Conjured by the brand's ultra-glamorous creative director, Giovanna Engelbert, the exterior confection incorporates two tons of Swarovski crystals, with a "roof" of frosting and whipped cream crafted from hand-sculpted and crystal-dusted fiberglass. "For me, gingerbread evokes childlike wonder, inspiring us to dream," Engelbert said of the design, which also features candy canes, uniformed nutcrackers, and a sparkly Santa, on display through January 7.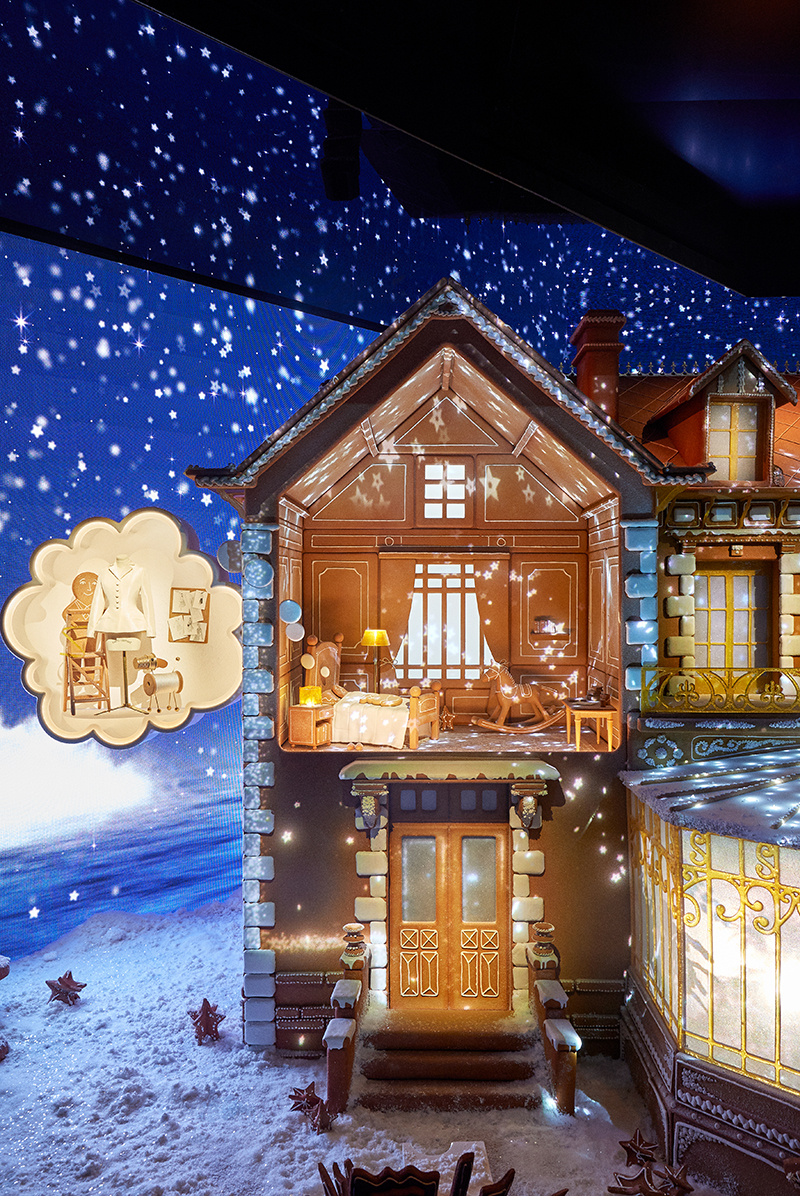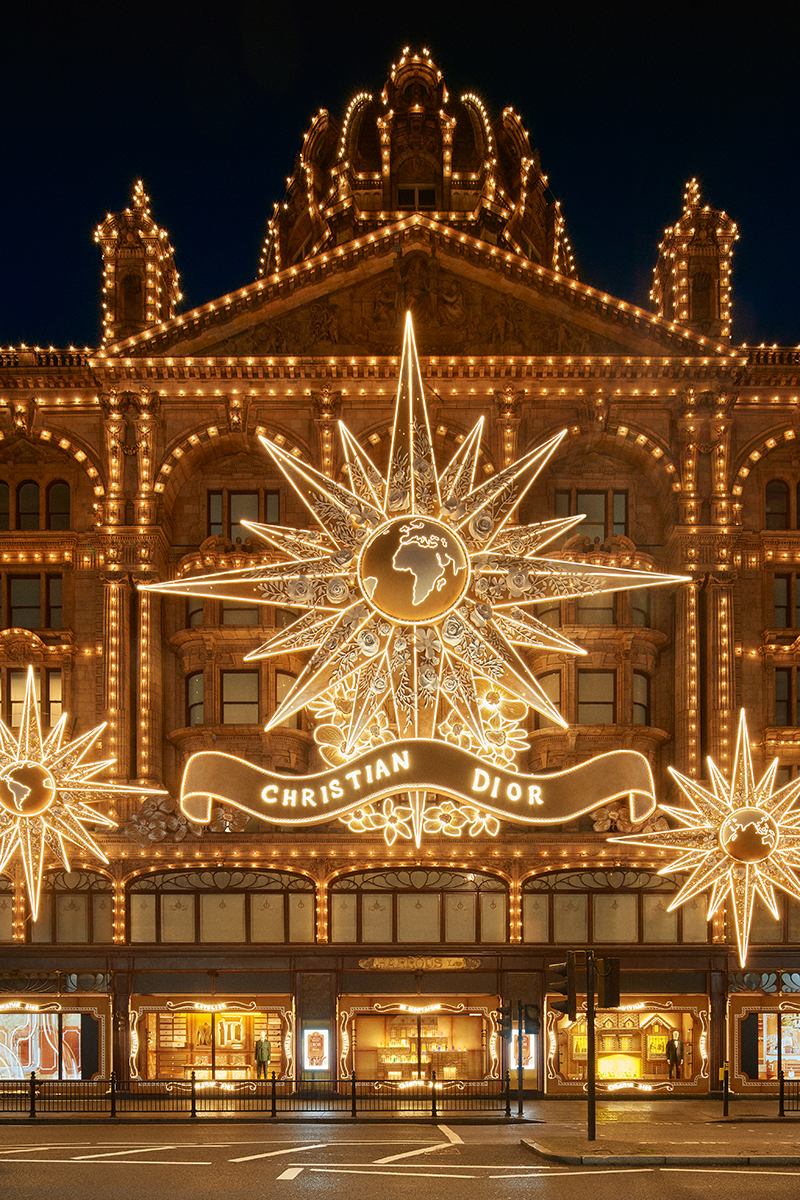 3. Harrods
"The Fabulous World of Dior" has taken over swathes of Harrods, the iconic London department store in Knightsbridge. The sartorial splendor begins outside on the historic facade where a dazzling light installation reinterprets the imagery created by the brand's creative director, Maria Grazia Chiuri, and Roman artist Pietro Ruffo for the the 2023 Dior cruise collection. Each of the store's 44 windows were also reimagined by Dior (marking the first time Harrods has allowed such a take-over) with scenery made of gingerbread, punctuated by moldings and other details (including classic Dior fashions) sculpted in sugar and caramel.
A delicious popup gingerbread version of Monsieur Dior's Atelier was created inside, as was a mind-boggling exhibition, "Kingdom of Dreams" which reproduces the architecture of Dior's most iconic locations entirely in cookies. The gingerbread theme continues at the cafe, where cookie versions of classic Dior creations are on display and the menu offers French cuisine with a British twist. Though January 3.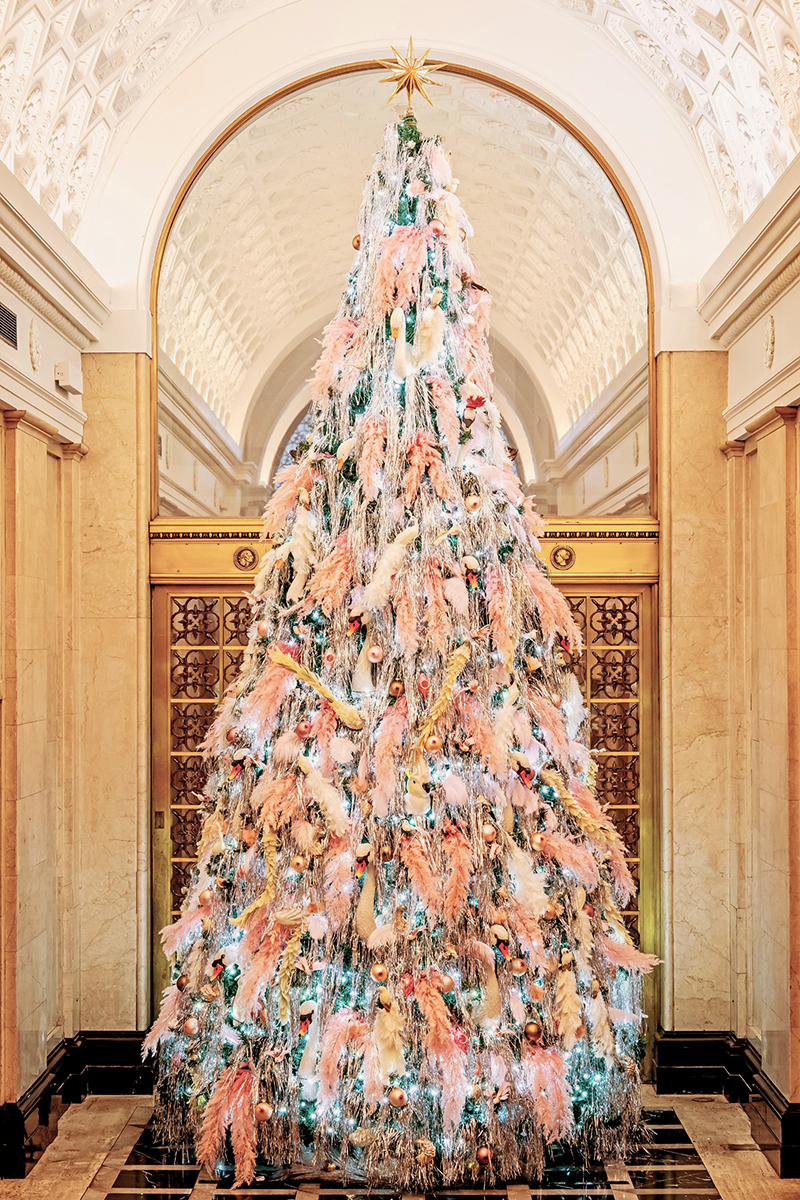 4. Riggs Washington D.C.
The last time jewelry designer Alexis Bittar created a holiday tree in our nation's capital, it was for Michelle Obama. Flash forward a couple administrations and the Brooklyn-based creative has collaborated with the Riggs Washington D.C., a high-design hotel in a repurposed 1891 bank building in the city's Penn Quarter. At a glance, it is a glamorous 18-foot conifer covered in festive and fashion-y tinsel, feathers, and custom pearl garlands. But a closer look at this "Menagerie a Tree" reveals various feathered friends nestled in the branches, hanging bottles with quotes and inspirational messages from iconic women, and ornaments that look like vintage metallic balls (albeit with nipples). And for who those either don't travel with jewelry, need gifts, or feel inspired to shop after a martini at the property's Silver Lyan subterranean cocktail bar, a selection of Bittar's designs are available for purchase via an in-room "Gem Service Menu" for the duration of the holiday season.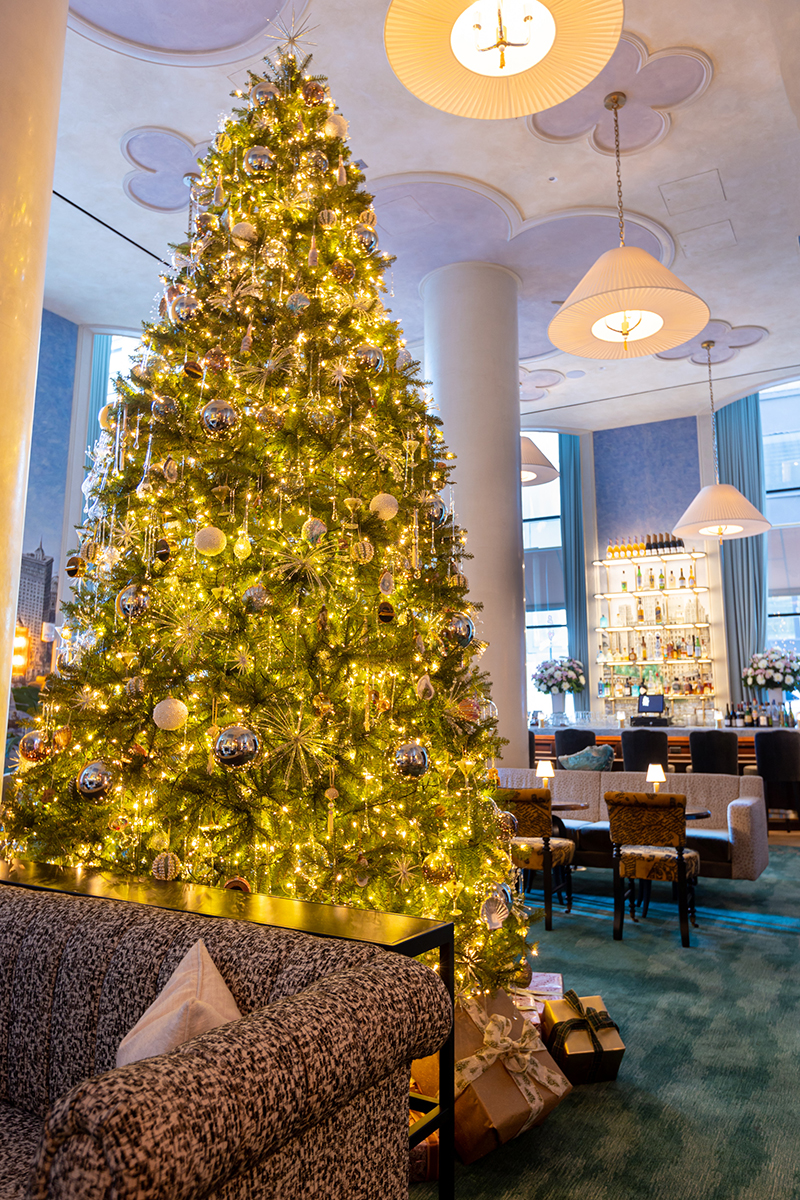 5. The Wall Street Hotel
Recently opened in Manhattan's Financial District, the Wall Street Hotel is celebrating its first holiday season with a 14-foot, martini-inspired tree. Located in the Lounge on Pearl and designed by Alexandra O'Neill, founder and creative director of luxury womenswear label Markarian, the label worn by First Lady Jill Biden at the 2021 inauguration. O'Neill  says she took inspiration from "many places and mixed in different types of ornaments, trimmings, and baubles to create an impactful design with lots of bright lights and shiny elements." The tree features the expected martini, champagne bottle, and caviar tin ornaments, but also many pieces that include pearls or allude to pearls in a nod to the hotel's owners, the Paspaley family, who are best known for their South Sea pearling trade. In fact, pearls can be found throughout the property not only because they bought this Beaux-Arts building as part of a pearling business deal, it's also located on the corner of Wall and Pearl Streets, in what used to be the city's pearling district.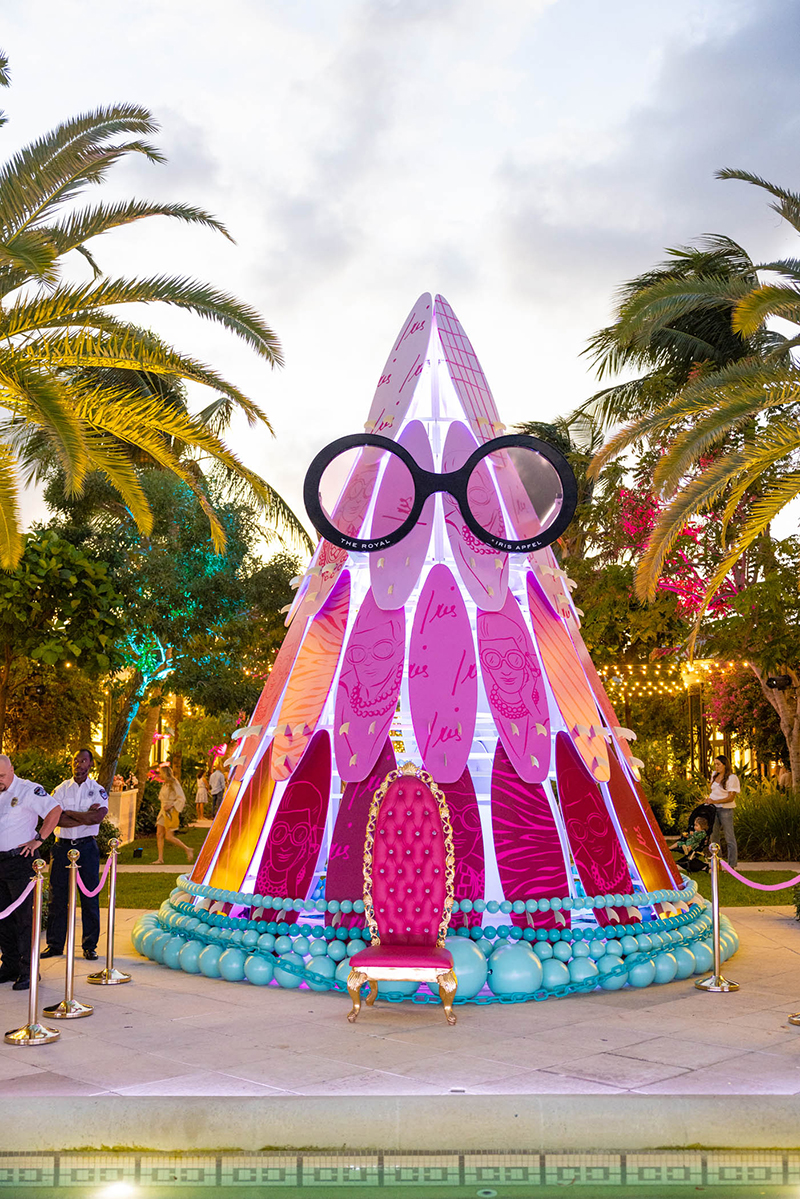 6. Royal Poinciana Plaza
Designed in 1957 by the world-renowned architect John Volk—who also designed homes for the Vanderbilts, DuPonts, and others of their ilk—Royal Poinciana Plaza is a legendary Palm Beach shopping destination with a Christmas tree constructed from surfboards. This year, Iris Apfel, a legend in her own right, who happens to live part time in Palm Beach, added her own sartorial touch, crafting a modern, bright, colorful conical wonder ringed with layers of pearl "necklaces" and topped off with a large replica of Apfel's iconic black glasses. "When approached this year to work with the Royal on the installation, I was flattered," she admitted. "What we've pulled together emulates my outlook on life—it's playful, colorful, optimistic, and completely unique. I hope everyone who views it, smiles, and is inspired to walk to the beat of their own drum."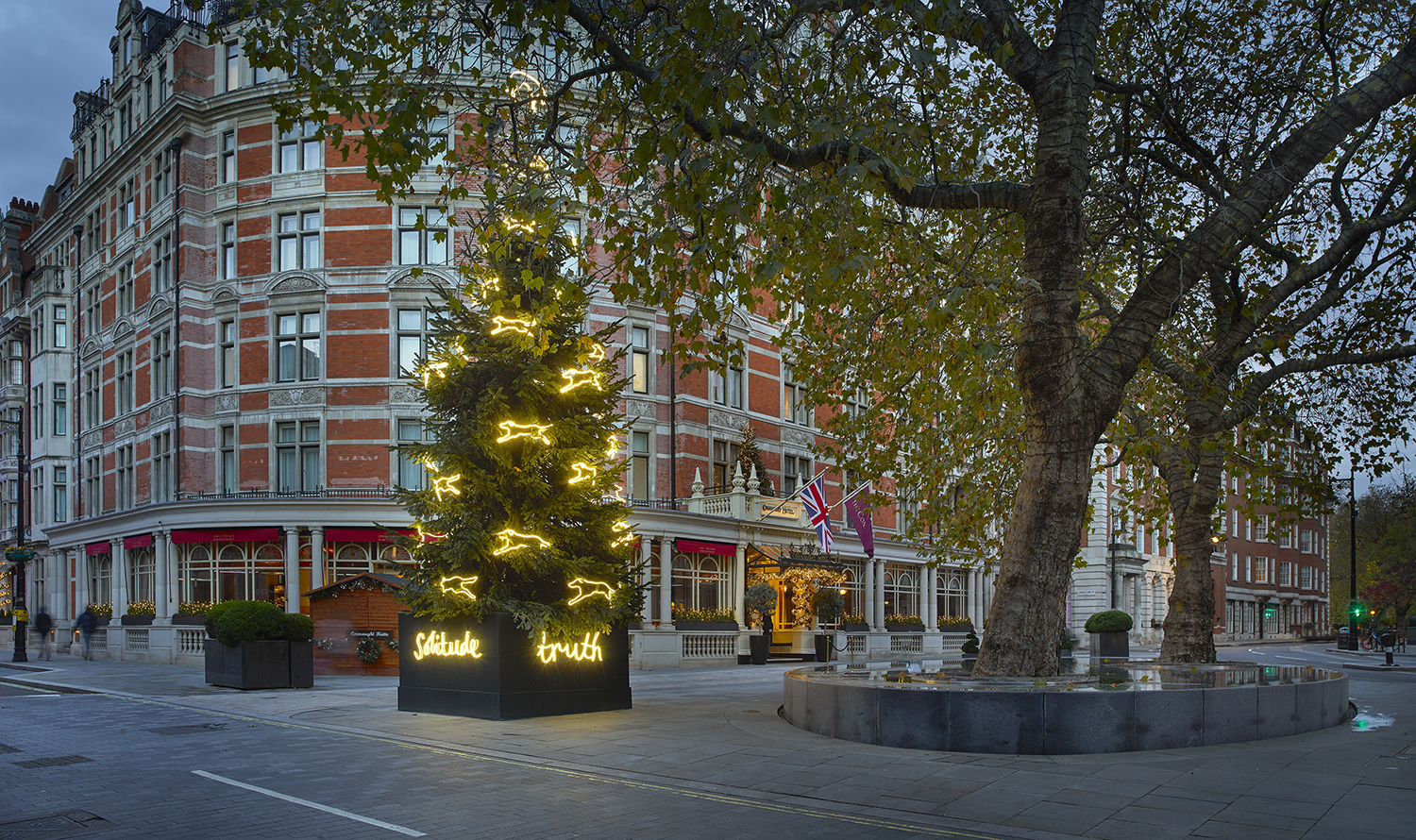 7. The Connaught
For the seventh year, the Connaught Christmas tree has been designed by a celebrated artist; this time, it's Suzy Murphy, who follows in the footsteps of Damien Hirst, Antony Gormley, and Tracey Emin, who have each produced impressive holiday collaborations outside the hotel. Murphy, a painter hailing from London's East End, bedecked the 30-foot-tall British sourced Nordmann Fir with 34 soft white neon dogs, inspired by a series of sketches of her childhood pet. While smaller dogs bedeck the higher branches, the largest example is at the base, which features neon titles of her creative and philosophical mantra "solitude, truth, passion, and peace" to describe the various stages one must pass through in order to arrive at "Peace." An apt message for this holiday season.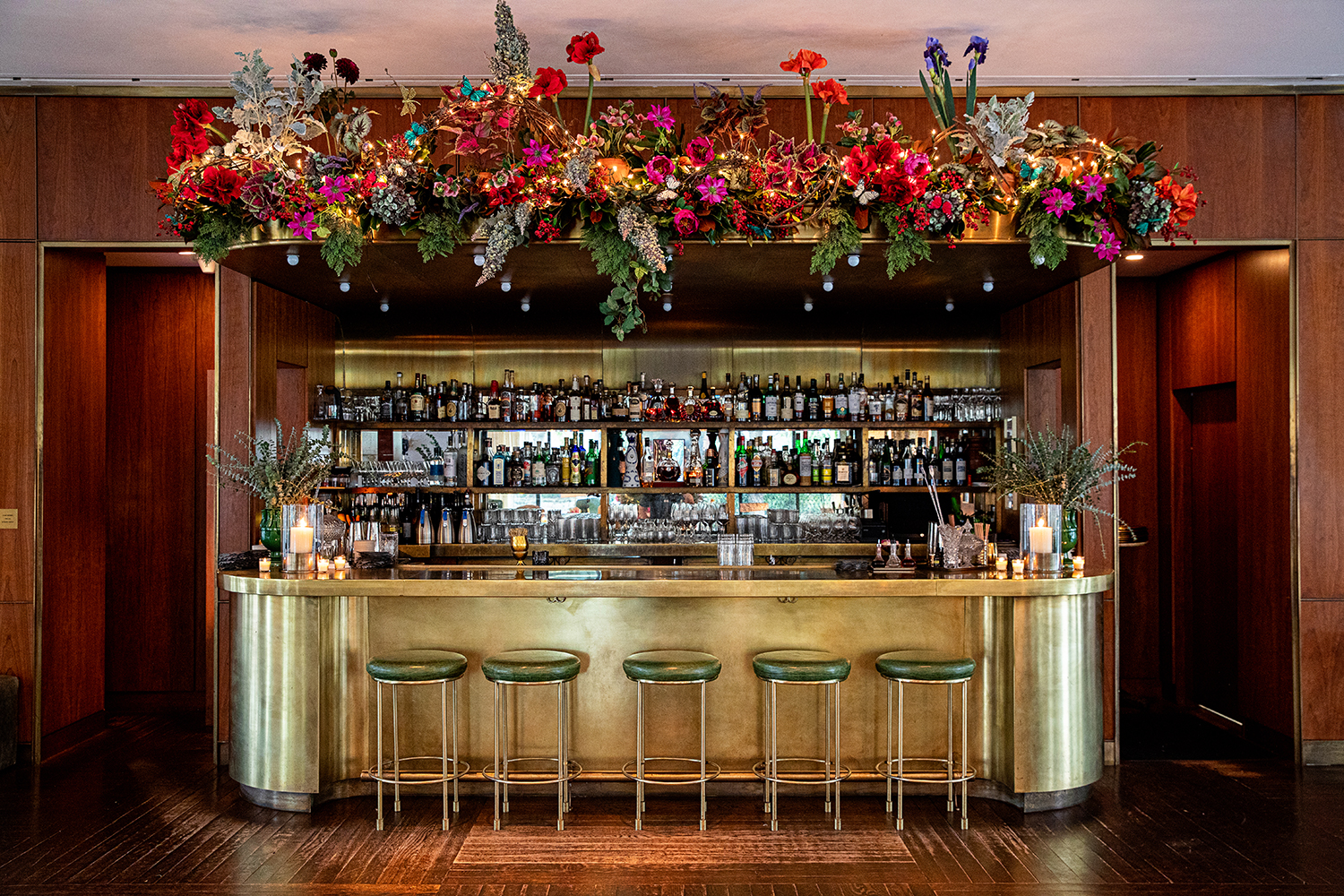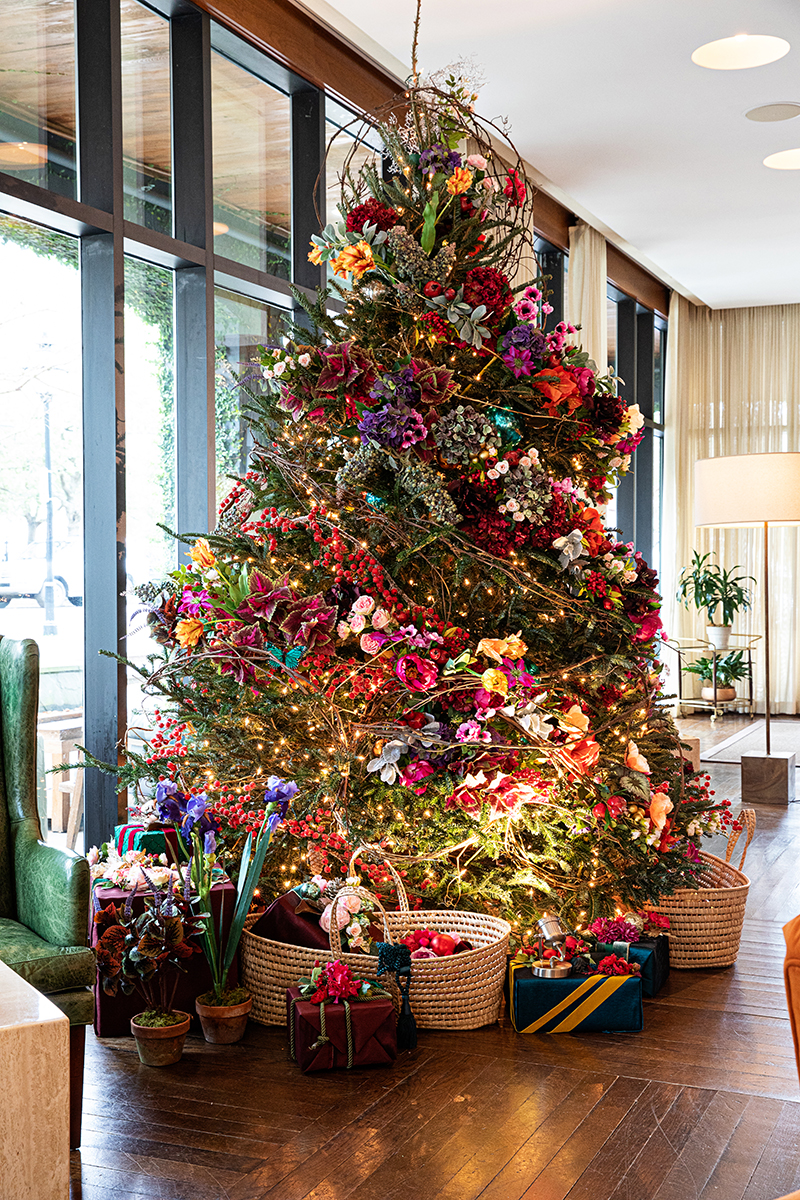 8. The Dewberry
Lewis Miller, the New York floral designer famed for his creator guerilla-style "Flower Flash" street art installations, has created holiday decor for Charleston's Dewberry hotel. For the playful decorations, Miller—a past Galerie Creative Mind—drew inspiration from exotic treasures in gemstone colors influenced by Majolia ceramics, weaving together a simply gorgeous, layered and unexpected creation. Keen-eyed guests will find curiosities like coral and butterflies hidden in the lush foliage.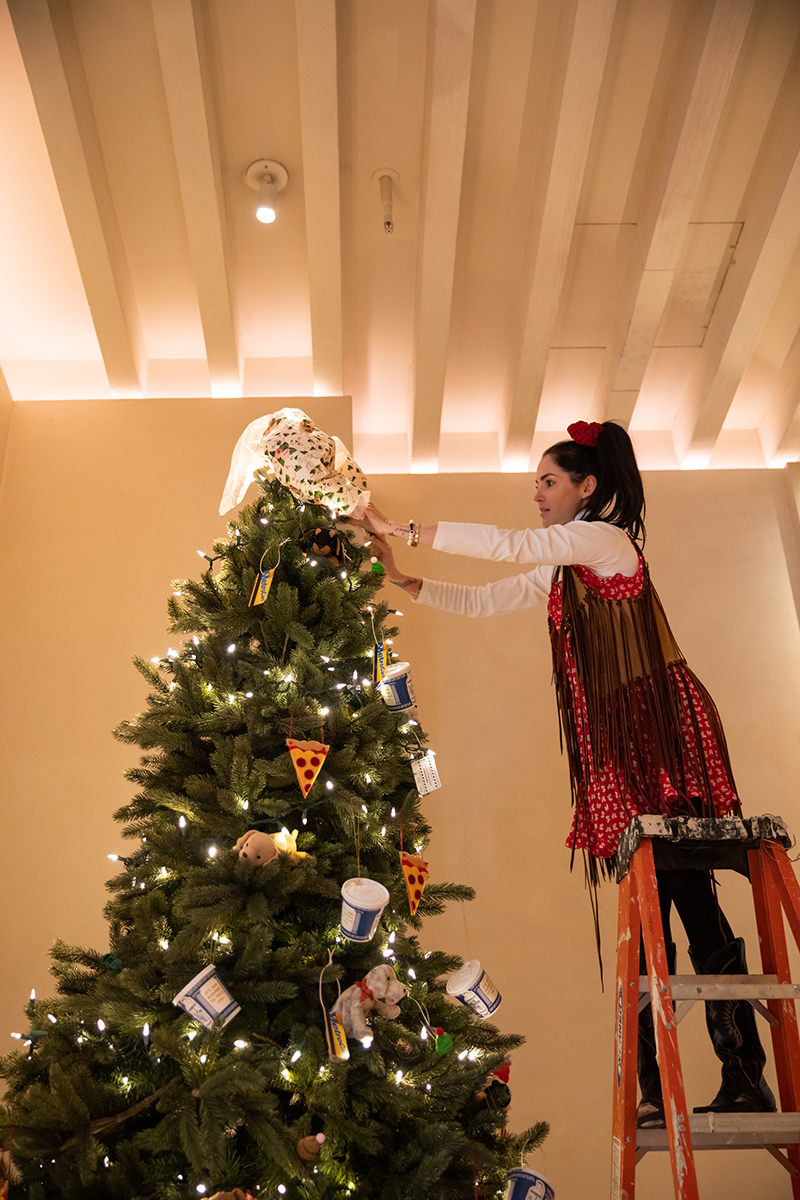 9. The Edition
The Edition has tapped New York based visual artist Sarah Coleman for holiday tree installations at their Miami Beach, West Hollywood, Times Square, and Madison Park locations. "A Holiday Nod to Nostalgia & Commodities," was conceived as a living time capsule, to evoke wistfulness and celebrate the season throughout the decades. "The viewer is invited to experience [each tree] as a nod to the iconic commodities they might encounter in these places," notes Coleman. "I want people to see the joys in the stereotypes placed on each location and look to them as a celebration of the culture around them."
The New York and The Times Square trees will both feature toy taxis, miniature knitted hats, pizza ornaments, and vintage MetroCards; while the Miami Beach version represents an ode to the city's tropical locale with toy sports cars, drink umbrellas, mini pool inflatables, and seashells. The West Hollywood iteration will pay homage to the music and film industries using Hollywood memorabilia and figurines of L.A. streetwear. The Edition also introduced the Native Nostalgia libation—a tangy blend of Havana Club and Diplomatico rum, Banane de Bresil, Amontillado, brown butter syrup, lemon, and black tea bitters—with a portion of the proceeds from each cocktail supporting youth arts organization Arts Ignite.
Next Post