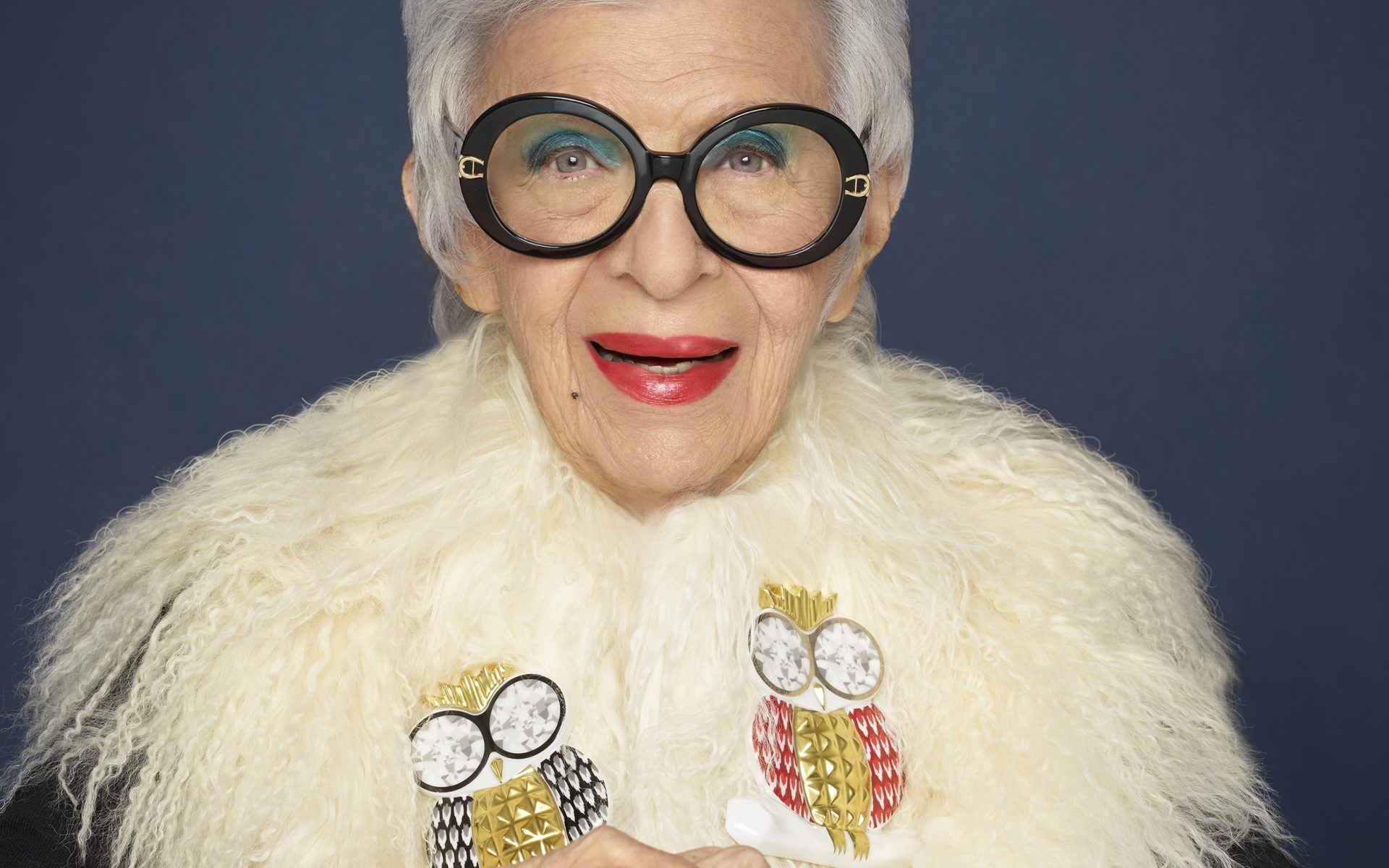 Fashion Icon Iris Apfel Debuts Jewelry Collection with Bernardaud
Get ready to "Be Bold Over" by these porcelain necklaces, brooches, and rings
At 98 years old, Iris Apfel, fashion's most beloved maximalist and accessories aficionada, is still taking on creative projects galore, much to the delight of her many fans and followers. Her latest endeavor pairs her trademark style with the centuries-old French tabletop and giftware maison Bernardaud.
The idea to collaborate happened after Apfel and fifth-generation chairman and CEO Michel Bernardaud met by chance at an event in Paris. Le Bon Marché was hosting a cocktail reception in Apfel's honor to celebrate the famed department store's installation of her "Iris in Paris" fashion exhibit. A lively discussion ensued, prompting Apfel to visit the Bernardaud flagship on rue Royale the next morning. Not long after that meeting, plans for a jewelry collaboration were under way, an undertaking that took about two years to complete. Titled "Be Bold Over" (a nod to Apfel's famous "more is more, less is a bore" philosophy), the collection encompasses 15 styles across a number of size and color variations.
Of these, the necklaces, some spanning 20 inches long, offer the largest breadth of options. Distinguished by porcelain beads and disks, the design elements embrace a modernist palette—mainly black and white, alongside Prussian blue, ballet pink, and citron, coupled with flashes of gold. Exaggerated proportions abound, yet the bijoux is surprisingly lightweight. And the necklaces make a marvelous clinking sound when worn in multiples, as Apfel does—layers upon layers of jewelry are one of the foundations of her signature style (her famous oversized glasses being a noteworthy addition).
Recommended: 6 Dazzling Pieces with Remarkable Stones 
The Plastron Disque necklace series borrows a pattern from Bernardaud's historic Chinoiserie Fond Bleu pattern, which features gilded artwork against a background of cerulean. Richly detailed toiles and chinoiserie scenes were also a staple of Old World Weavers, the textile business Apfel once ran with her late husband, Carl. The result is a perfectly balanced expression of the collaborators' DNA—graphic, geometric shapes, tactile surfaces, and chic color combinations infused with a flicker of European elegance and gentility.
Collectors may be most interested in the Adam sautoir, a full eight inches long from top to toe, with silver-backed articulated limbs and a loincloth coated in 22K gold (that leaves little to the imagination). Only 50 of this limited-edition jewel have been produced.
All Be Bold Over pieces are produced at the Bernardaud factory in Limoges, France, where Kaolin, a key ingredient to make porcelain, was found in 1768; it is part of why Limoges porcelain has come to be regarded as some of the finest in the world. "The qualities of porcelain—whiteness, sensuality, softness, lightness—are wonderful for jewelry, but whether a cup or a necklace, the manufacturing process is the same," says Bernardaud. "A piece will pass between 50 hands, and it takes a week to be manufactured before being decorated."
As a heritage brand, Bernardaud regularly collaborates with internationally recognized artists such as Jeff Koons, David Lynch, Kara Walker, and Marina Abramovic, as a means to stay current. The Iris Apfel partnership, while unique because she's in fashion, not fine arts, falls in line with this approach. "Sometimes it is quite challenging to realize these complex projects, but we have found this is the best way to be in tune with our time," says Bernardaud. "They help us think outside the box, and they give us the opportunity to leave our comfort zone."
Recommended: Zac Posen Shares How His Father's Art Inspired His Career 
Meanwhile, the Iris Apfel answer to Koons's balloon animals and Kara Walker's silhouettes is without question an owl motif, which alights on the Bernardaud collection in the form of a brooch.  It's an "odd bird," she has said, as well as a creature of the night, a quality she says she can relate to given her endless supply of RSVPs. And indeed she does not rest because plans for Iris Apfel x Bernardaud 2.0 are already in development. The muse is ready for her next adventure.
Next Post