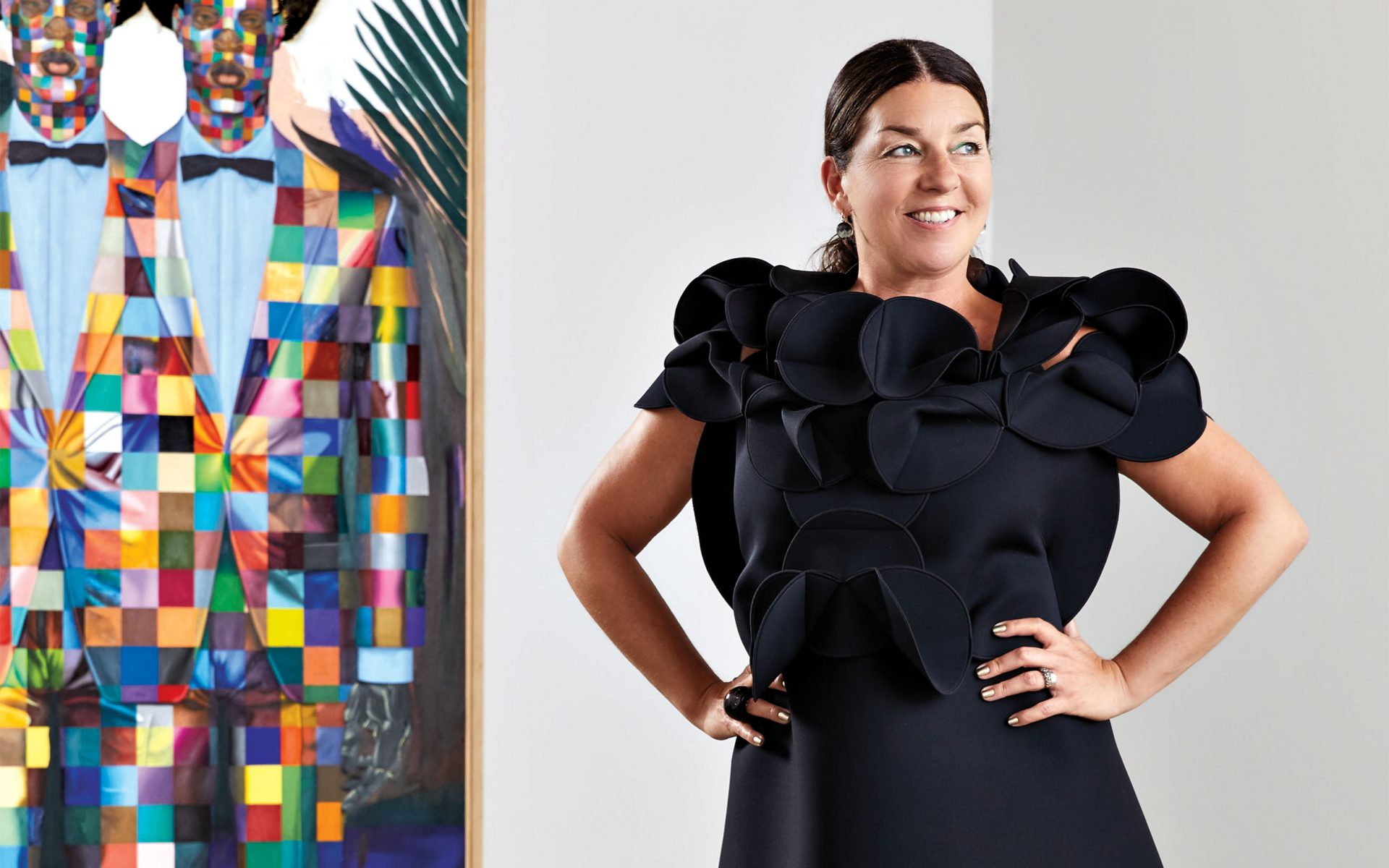 Chicago Gallerist Monique Meloche Tells Us About Her Favorite Things
The dealer, who recently expanded her gallery, opens up about her favorite places to explore and what she collects
One of Chicago's foremost gallerists, Monique Meloche has launched the careers of Amy Sherald (who painted Michelle Obama's portrait), Rashid Johnson, and Ebony G. Patterson, who currently has a survey show at Pérez Art Museum Miami. Of her roster, Meloche says, "I'm ridiculously fond of artists who like to do superambitious projects early on in their career."
Meloche, who recently moved her gallery from Wicker Park to a larger space in West Town, is also well known for her taste in fashion and for entertaining visiting artists, curators, and museum directors when they come to Chicago. Here, the art dealer lets us in on her favorite spots in the Windy City as well as her penchant for high heels, pizza, and prosecco.
My mother is a former model, and I kept a ton of her clothes, like this floor-length Diane von Furstenberg wrap dress from the 1970s. There are killer pieces of hers that I incorporate all the time; I like unexpected juxtapositions. I'm also a huge fan of Rick Owens—I probably own more of his pieces than any other designer. But I'm known for my shoes. I have an extensive collection of over 200 pairs; I even did my master's thesis on the history of the shoe in contemporary art.
Recommended: 12 Art and Design Heavyweights Share Their Stunning Collections
My favorite work of contemporary shoe-related art is Doris Salcedo's series, "Atrabiliarios," which includes shoes of Colombian women who had been kidnapped. This sculptural piece in Ebony G. Patterson's new show at PAMM has about 400 women's shoes covered in black glitter that are hanging in a cloud-like form. I sent her 25 of my own pairs to be included in that installation.
Most of my and my husband's personal collection is focused on contemporary art, but one of our most awesome pieces is a 1966 Brunswick pool table that his parents gifted to us when we bought our house. When you walk in, it sets the stage, like there's going to be some entertaining going on here.
When I'm entertaining, I take everybody to Erie Cafe. It's a real old-school Chicago steakhouse, with red leather booths, waiters in white jackets. There are also ridiculous portions, and the food is delicious—I get the white fish with lemon and capers every time.
I'm fascinated right now with Bentonville, Arkansas, with the Crystal Bridges Museum. I went there when they first opened. They had a really weird show, a survey of unknown artists across America. But they've found their way.
Recommended: Designer Lillian Fernandez Creates Her Dream House in Palm Beach
Every year, during Expo Chicago, I do a party with pizza and prosecco; it's turned into this superfun event for out-of-town curators, artists, and collectors, with a lot of great networking. Sharon Hoffman, a collector from Kansas City, and Hank Willis Thomas hashed out the idea of For Freedoms [a nationwide initiative that uses public art to spark conversation about civic issues] in my kitchen.
My favorite places to stay are the 21c Museum Hotels. For the most part, they're in historic buildings that they've repurposed. The architect, Deborah Berke, is very sensitive to the original uses of the buildings. One was a former bank, and they've made the vault into a private dining room. 21c Museum Hotels has a tremendous collection. The curator, Alice Stites, organizes thematic group shows that travel from one property to the next. There's always an interesting exhibition in the lobby and gallery spaces, and it's got both a local and an international flavor. They've been very supportive of my program, in particular Ebony G. Patterson, early on. The next project they're working on, fantastically, is in Chicago. I'm thrilled!
My favorite local boutique is Ikram. It's very funny—Ikram Goldman opened her store and I opened my gallery on the exact same day in 2001. I'm very much a fan of her aesthetic. She carries a lot of Rick Owens and Rodarte. It's a very expensive habit, but after a good sale, it's nice to splurge.
A version of this article first appeared in print in our 2018 Winter Issue under the headline Game Changer. Subscribe to the magazine.
Next Post