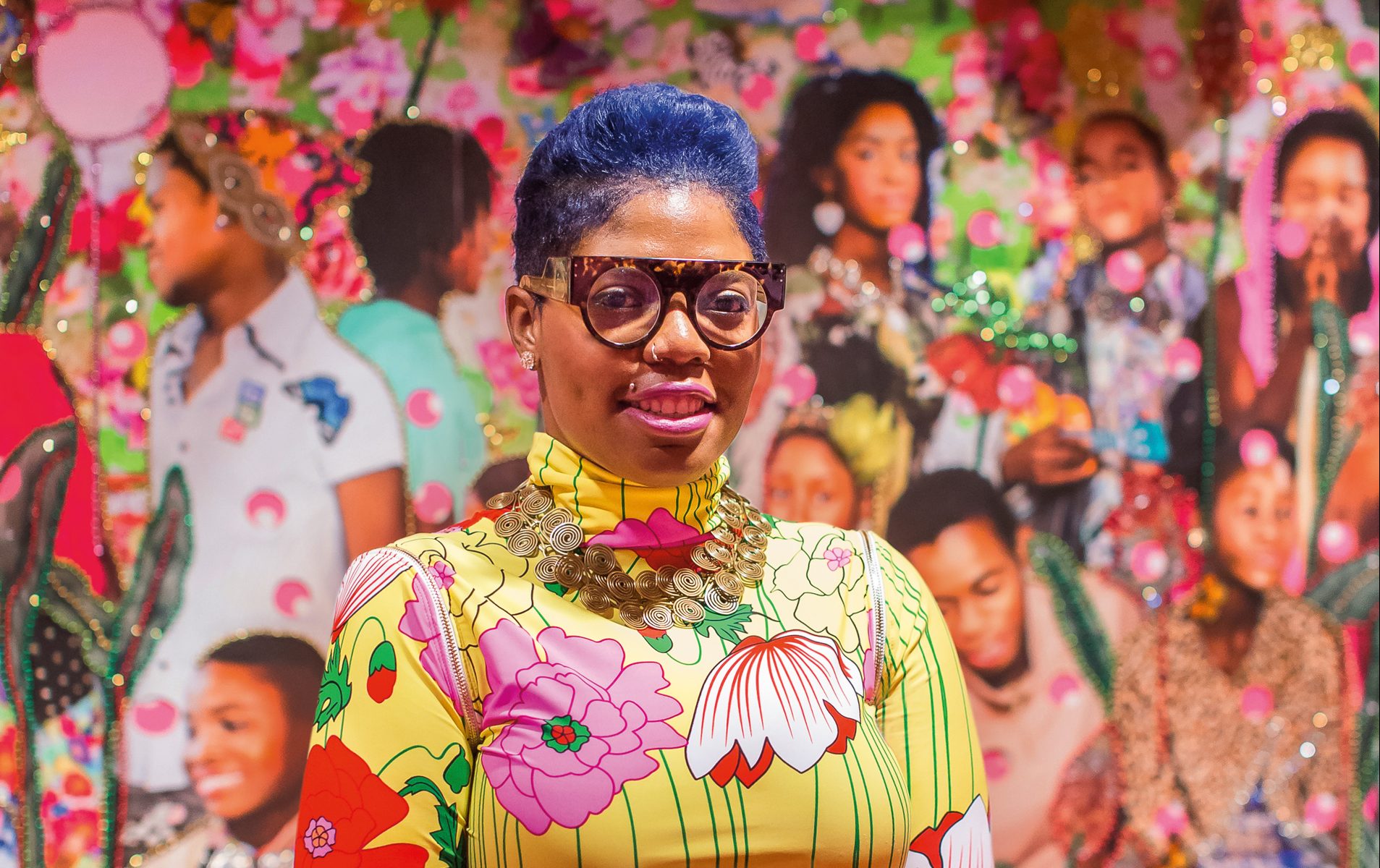 Artist Ebony G. Patterson Pushes Boundaries
The Jamaica-born artist creates a carnival of cultures in her thought-provoking work
At first glance, your eye is taken by a glittering tapestry—a band of Jamaican youth stare forward, garbed in the tropical bird-like finery of the island's dancehall culture. But standing back, you become slowly aware of the ground against which the tapestry is set—a wall covered with an almost prim-flowered wallpaper. This visual pairing of aggressive and recessive imagery in the 2013 Bella Krew—From the Fambily Series, as the work is titled, is not incidental; rather it is an archetypal example of Ebony G. Patterson's collages of cultures.
"Bella Krew looks at gangs and other social masculine groups as an alternate family in working-class communities," explained Patterson. "I am a mixed-media artist whose practice is grounded in the language of painting. I use drawing, painting, installation, and the performative. But for me the construction of my work is rooted in the language of painting."
The Jamaica-born Patterson has quickly risen to stardom. Since receiving her MFA degree from the Sam Fox College of Design & Visual Arts, Washington University in St. Louis, Missouri, in 2006, the artist has had solo shows in numerous galleries and museums in the United States and the Caribbean. During the 2015–2016 season, she has been honored with a major exhibit at New York's Museum of Art and Design, as well as a large-scale installation at the Studio Museum in Harlem. Patterson's work has also reached a broad national viewing audience as part of the art collection seen on the popular Fox network television series Empire. In the fall of 2016, Patterson was a featured artist at the 32nd Bienal of São Paulo, in Brazil.
Next Post