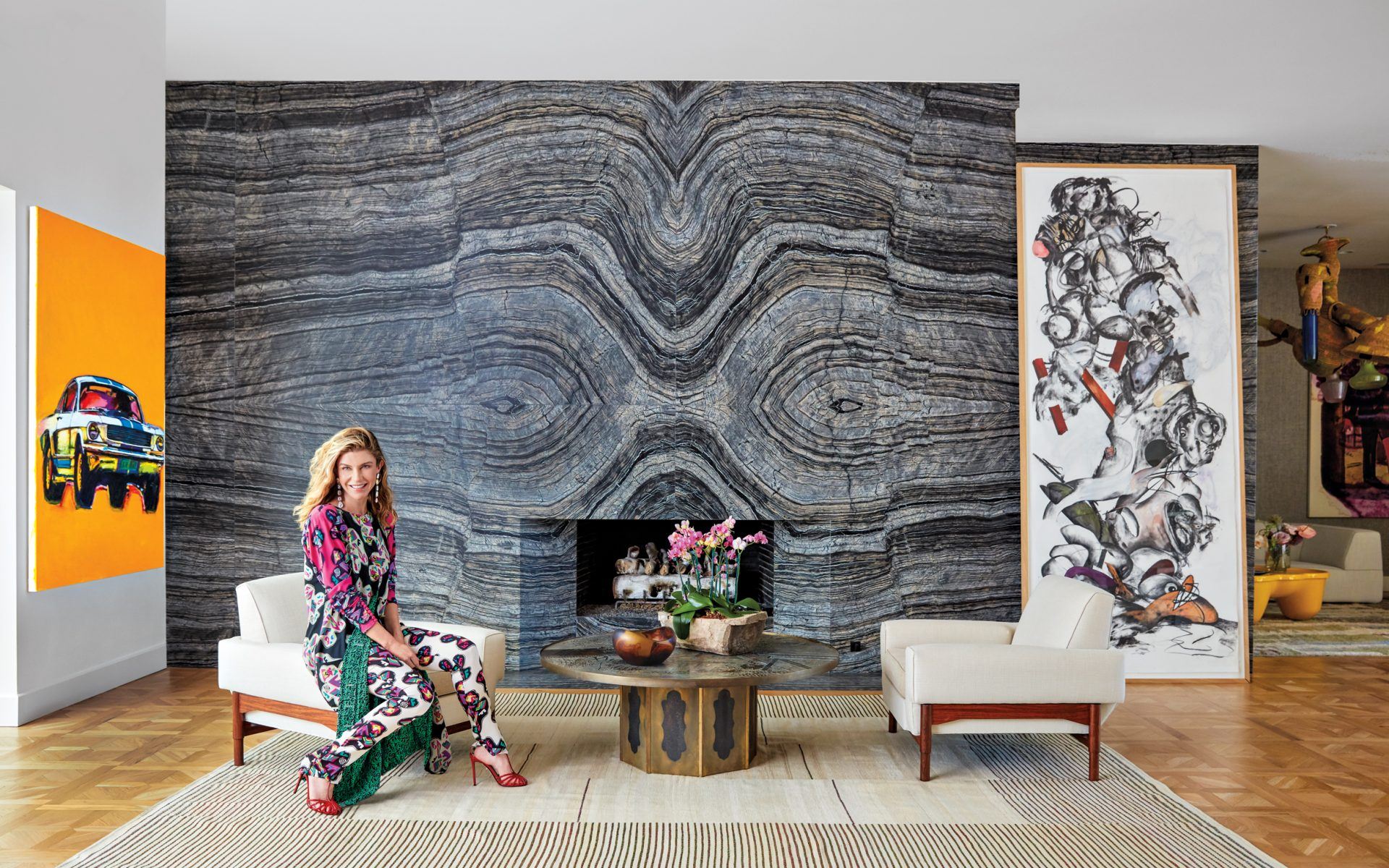 Collector Cherine Magrabi Tayeb Opens Up Her Sensational Santa Monica Home
The airy estate is filled with creative works by Andy Warhol, Richard Prince, Fernando and Humberto Campana, Katie Stout, and the Haas Brothers
After three years of fruitless house hunting in Beverly Hills, Cherine Magrabi Tayeb and her husband, Ahmed, were lured to Santa Monica by a tantalizing prospect. The real estate listing promised a pristine, airy abode with enough bedrooms for their three children plus guests and ample walls for the couple's growing art collection. Designed in the early 1980s by Peter Choate—the architect of residences for such Hollywood heavyweights as Anne Bancroft, Mel Brooks, Carol Burnett, and Sharon Stone—the house also offered serious curb appeal. It's situated on an elegant street lined with regal fig trees, and the façade is dramatically draped with greenery. The moment Tayeb stepped into the sun-splashed entrance hall and was greeted with a wide-open view across the Riviera Golf Course, she knew she was home.
"I immediately responded to the light," she says. "And the house had everything we needed." Plus, it was in perfect, move-in-ready condition.
[Slideshow: See more photos of Cherine Magrabi Tayeb's art-filled Santa Monica home]
That made things easier for Tayeb, who envisioned the home as a refined yet relaxed dominion where she could find peace and tranquility, free from the demands of her and her husband's heavily programmed life in Beirut. There, Tayeb oversees communications for and the creative direction of Magrabi Eye Care, a family business with 180 stores that requires constant travel throughout the Middle East and Europe. In addition, she launched her own minaudière line, 13BC, last fall during Paris Fashion Week, and she is the founder of a nonprofit called House of Today, which nurtures emerging Lebanese designers working across an array of disciplines.
Tayeb's wide-ranging passion for design is bolstered by a trust in her own instincts. "The common thread in my design work is a naiveté," she says, "because I buy what I fall in love with and make it work." Decidedly more modern in feeling than the family's residences in Beirut and Paris, the Santa Monica home features a mix of furnishings and art that radiate whimsy with sophistication and opulence without excess.
Recommended: Inside Clarissa Bronfman's Art-Filled Hamptons Retreat
Arresting artworks by Michael Heizer and Andy Warhol overlook the dining area's sleek 1930s Paul T. Frankl table and George Nakashima rush-seat chairs from the '60s. In one of the living room's multiple seating areas, an Imi Knoebel geometric abstraction plays off the eccentric Misha Kahn chandelier that hangs above a yellow fiberglass table by Wendell Castle. In another sitting area, a vintage etched bronze table by Philip and Kelvin LaVerne is flanked by an eye-popping Richard Prince painting of a Ford Mustang and a ten-foot-tall surreally chaotic composition by Ahmed Alsoudani.
Even one of the sons' bedrooms is dominated by a suite of Warhol "Electric Chair" paintings in different hues—a strikingly unconventional statement for the family's private quarters. "The fact that the spaces are so bright and quite large," says Tayeb, "meant I could have daring and colorful pieces that breathe quite easily."
[Slideshow: See more photos of Cherine Magrabi Tayeb's art-filled Santa Monica home]
Throughout the home, idiosyncratic works by adventurous contemporary designers such as Fernando and Humberto Campana, Katie Stout, and the Haas Brothers add to the animated spirit. "I value the designer's process and how each one has innovated in their own way," Tayeb says.
A typical day at the house might include a morning workout, a visit to the nearby farmers' market for flowers and fresh produce, and a light lunch around the pool en famille. Tayeb, an avid gardener, spends a lot of time tending to the African daisies, pansies, lantanas, baby petunias, princess flowers, and other varieties she cultivates.
At night, the family likes to pile into the screening room to watch movies. "We love the fact that Santa Monica is so laid-back," says Tayeb. "Honestly, I can't imagine us living anywhere else in L.A. now." 
A version of this article first appeared in print in our 2019 Fall Issue under the headline "Cross Currents." Subscribe to the magazine.
Next Post