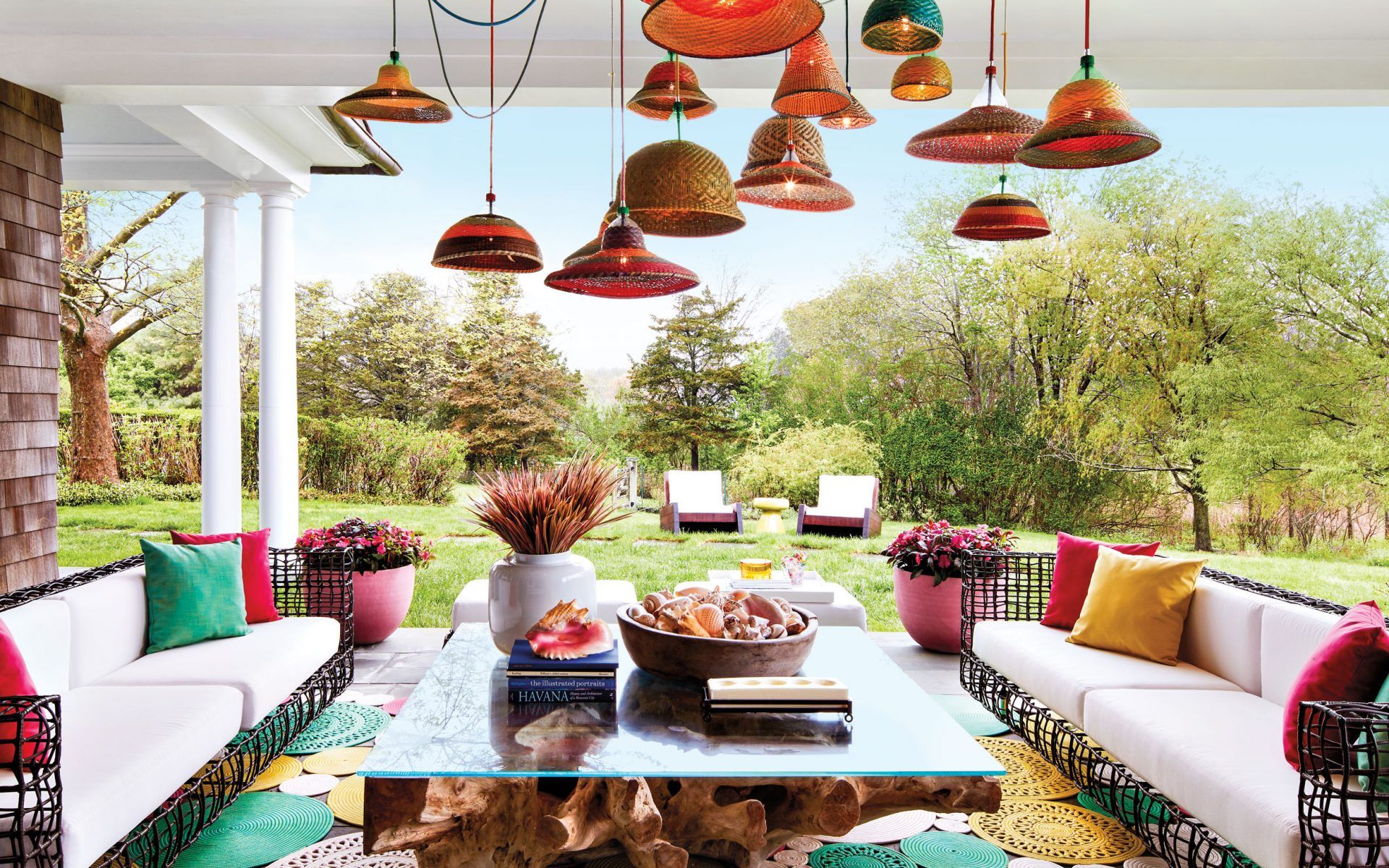 Inside Clarissa Bronfman's Art-Filled Hamptons Retreat
Designer Amy Lau collaborates on the colorful East End getaway that Bronfman shares with her venture capitalist husband
Clarissa Bronfman knows what she likes. That much is made crystal clear in the Long Island weekend house she shares with her husband, venture capitalist Edgar Bronfman Jr., and their four children. It takes confidence—and a keen eye—to orchestrate the stylish assortment of A-list art and design, anonymous folk art, and offbeat objects that fill the house. The living room alone combines works by contemporary artists like Ernesto Neto and Pia Camil, classic modern furniture and recent pieces by Brodie Neill and Robert Stadler, and beaded African armchairs There's even a motorcycle that belonged to actor Steve McQueen. Okay, one of her sons bought that, but Bronfman put it in the living room. "I don't want to walk into a room that's simply full of big-name things," she says. "I want to mix." And mix she does.
Born in Venezuela, Bronfman is a photographer and a jewelry designer whose creations are distinctly idiosyncratic and diverse, combining stones old and new, precious and not, with symbols like a cross or a Star of David, or iconography from Islam and Buddhism, as well as pieces from her mother and grandmother. She is also a passionate collector and patron of the arts, serving as a vice chairman of Carnegie Hall, a trustee of the Museum of Modern Art, and the cochair of the Guggenheim Museum's Latin American Circle. (Her husband comes from the art-collecting family that founded Seagram.)
[Slideshow: See more photos of Clarissa Bronfman's Hamptons home]
To tailor the interiors of the house—built by previous owners in "typical Hamptons Shingle style," as she puts it—Bronfman collaborated with Amy Lau, the designer who also did the couple's Manhattan triplex apartment and other projects. "Clarissa and I speak the same language," says Lau. "She's a true collector of art and design, which is rare." Among other things, Lau added larger windows in the living room to maximize views and found furnishings and fabrics that complement the vintage 20th-century pieces the couple already owned.
An inventively eclectic tone is set right away in the double-height entry, where a trio of eye-catching hanging lights by artist Jorge Pardo overlook large-scale photographs by In Sook Kim and Richard Misrach, a limited-edition version of Fernando and Humberto Campana's famous Mono Sushi sofa, and a group of colorful South African baskets. A Moroccan door, one of Bronfman's finds, leads outside.
Recommended: Isabel López-Quesada Crafts a Magnificent Family Getaway in the Spanish Countryside
In the spirited dining room, which is anchored by a hanging light of fantastical blooms by Hsiao-Chi Tsai and Kimiya Yoshikawa, a 1960s work by kinetic art pioneer Julio Le Parc hangs above the fireplace, between Hiroshi Sugimoto photographs of the Chrysler Building and the Empire State Building. Installed over a 1930s sideboard by Paul Dupré-Lafon is a triptych of photographs by Bronfman—images of her lips in three different colors—that was an anniversary gift to her husband. (The unconventional pink wall color was Edgar's suggestion.) Bronfman has been taking pictures since she was 12 years old (which also happens to be when she made her first purchase—a photograph by Man Ray—as a collector), and her photographs of a flower that opens only one night a year hang in a private dining room at the Four Seasons Restaurant in New York.
On one side of a large window in the spacious kitchen are more of Bronfman's colorful photos, while two Irving Penn flower photographs hang opposite. Lau filled a nearby sitting area with bright hues: A sky-blue-upholstered Florence Knoll sofa joins vintage Allan Gould chairs atop a chromatic spiraling rug Lau commissioned from Paola Lenti. Bronfman, the designer notes, "loves color."
[Slideshow: See more photos of Clarissa Bronfman's Hamptons home]
Cool shades of blue accent the master bedroom, which features a Louise Lawler artwork titled Blue and a cyanotype by the 19th-century botanist and photographer Anna Atkins. One of Bronfman's favorite finds, a bench by the noted furniture designer Judy Kensley McKie, stands at the foot of the four-poster bed. Hanging from another Moroccan door is an evil-eye symbol, to guarantee that "nothing evil comes into the room," she explains, adding that she often uses the imagery in her jewelry designs.
Weekends at the house are full of kids, family, and friends, who gather both indoors and on the porches and terraces, as well as in the lush landscape that was originally designed by Edmund Hollander and more recently updated by Juan Ramón Pacheco. As Lau notes admiringly, "Whenever you go into a Bronfman house, there are always flowers, wonderful smells, and the hippest music." For Bronfman it's all about cultivating an atmosphere of fun and comfort—which basically sums up her vision for the home. "If it makes me happy, it's okay," she says. "If you don't take risks, what's the point? You have to have joy."
A version of this article first appeared in print in our 2019 Summer Issue under the headline Rooms to Play. Subscribe to the magazine.
Next Post