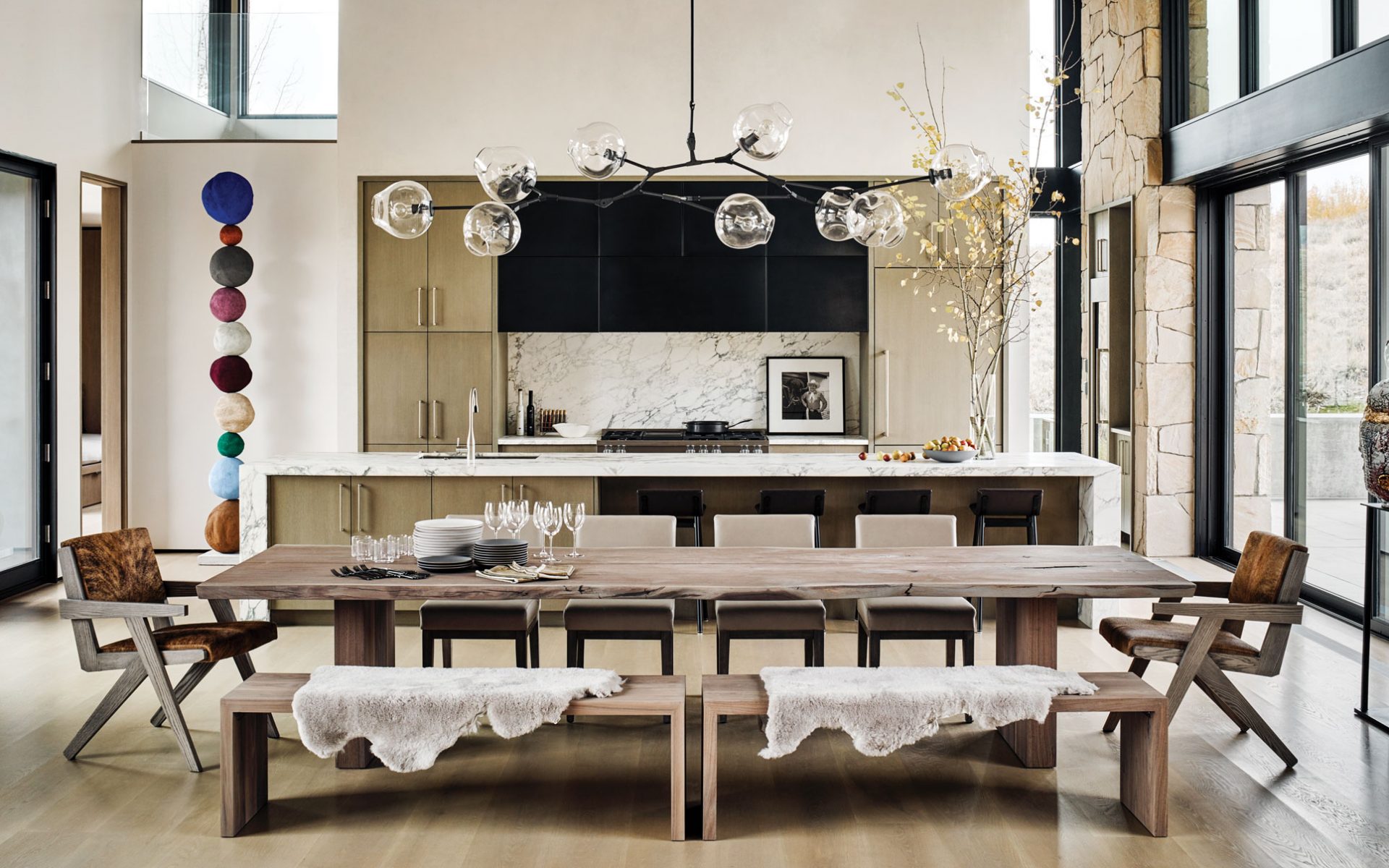 Inside Art Dealer Stacey Winston Levitan's Stunning Sun Valley Retreat
Majestic natural surroundings inform and enhance the treasure-filled mountain getaway, conceived by Scape Design Studio and Susan Marinello Interiors
About 13 years ago, Stacey Winston Levitan and her husband, Dan Levitan, made their first ascent up the long driveway at the dead end of a road in Sun Valley, Idaho. Stacey, head of the gallery Winston Wächter Fine Art in Seattle, and Dan, a venture capitalist and adviser who had helped Howard Schultz take Starbucks public, were making the rounds with a real estate agent and were determined to buy. They had fallen in love with this dominion of softly undulating ridges that erupt into snow-dusted peaks as jagged as broken teeth, where moon-booted jet-setters touch down to hit the slopes and unwind in saloons with the no-nonsense, denim-clad locals.
In the 1930s, the lure of skiing, hunting, and fishing amid such natural splendor (and the absence of social pretense) proved irresistible to Ernest Hemingway, who settled in Sun Valley's sibling town of Ketchum, helping to imbue the area with an adventurer-artist legacy that survives to this day.
Click here to view more photos of the home.
The Levitans—their lives guided by art and innovation, urbane living and a passion for nature—were inevitably drawn to it, too. Stacey loved family ski trips to Aspen when she was growing up on Long Island, and this place, she felt, was a more laid-back version of that storied Colorado resort. It also has its share of cultural outlets, including the Sun Valley Center for the Arts, the Sun Valley Summer Symphony, a high-profile annual writers' conference, and Allen & Company's powwow for moguls in tech, media, and finance. Best of all, Sun Valley is a mere hour-and-a-quarter hop from the Seattle-Tacoma airport.
As the Levitans approached the end of the driveway on that first visit, a nondescript 1980s dwelling came into view. Stacey: "I want to buy this house!" Dan: "But you haven't even been inside it!" It didn't matter. Suburban plantings of pines and aspens had given way to ruggedly austere, wide-open terrain and astonishing vistas. "I just fell in love with the view," Winston Levitan recalls. "We bought the house that day."
Recommended: Pierre Yovanovitch Transforms a Brussels Townhouse for Major Collectors
But the home itself was far from ideal for the couple and their two young daughters, and in 2015, they decided it was time to build anew on this beloved spot. Winston Levitan worked closely with the local firm Scape Design Studio and Susan Marinello Interiors to conceive a 6,000-square-foot, four-bedroom residence crafted with rugged yet refined blackened steel, glass, concrete, and Utah buff stone. "I wanted it to be very simple, very elegant—all about the materials and the views," she says.
Winston Levitan found a kindred spirit in Scape Design Studio's Gretchen Wagner, an expert on creating indoor-outdoor living spaces in this setting. "I have 360-degree views around the whole house," says Winston Levitan, thanks to floor-to-ceiling windows that take in the surrounding thousands of acres of protected land. She lists the frequent visitors to the property: "There are owls and elks and coyotes. I have to watch out for my dogs because there are wolves." Some mornings, she says, she'll pour a cup of coffee, look outside, and see as many as 30 "really big" elk moseying across the lawn.
As the cofounder of Winston Wächter Fine Art—her business partner, Christine Wächter-Campbell, oversees the gallery's New York branch—Winston Levitan has made art a focus of the interiors without having it take over. Many of the works on display are by the gallery's artists, including Annie Morris, whose stack of multicolored bronze orbs towers over the kitchen. And hanging in a stairwell landing is a specially commissioned 13-foot-tall wall drawing by Amanda Manitach with the words "YOU HAD ME AT SNOW MOUNTAINS SLEET SUN."
Winston Levitan, who began her career at New York's legendary Mary Boone Gallery in the early '80s ("I was the person at the front desk when Basquiat had his exhibitions," she says), loves the idea of placing fine art in proximity to wild nature. Throughout the house, artwork provides moments of surprise and pop, set amid the spare environment of pale oak ceilings and floors and accent walls of wood, stone, and earthy plaster. The furnishings tend to emphasize wood—not least the 14-foot-long walnut slab dining table by local artisan Scott Taylor—and other natural textures: cashmere, leather, animal hide. The feeling is classic American lodge meets refined modernism.
Click here to view more photos of the home.
The house has been up and running since last fall, and the couple plans to use it for occasional parties and fundraisers for causes such as the Seattle Children's Hospital. But mostly it's for mellow weekends watching basketball (Dan is a Duke alum, and the sofa in his office/TV room is Blue Devils blue), enjoying quiet cocktails and cookouts on the two terraces, and roasting s'mores with the children around the pool as the stars come out over the Pioneer Mountains. For Winston Levitan, the house is a refuge from the hectic art world. "It's all about the serenity and the raw surroundings," she says. "It's the place I go to quiet my mind."
A version of this article first appeared in print in our 2018 Fall Issue under the headline Mountain Majesty. Subscribe to the magazine.
Next Post