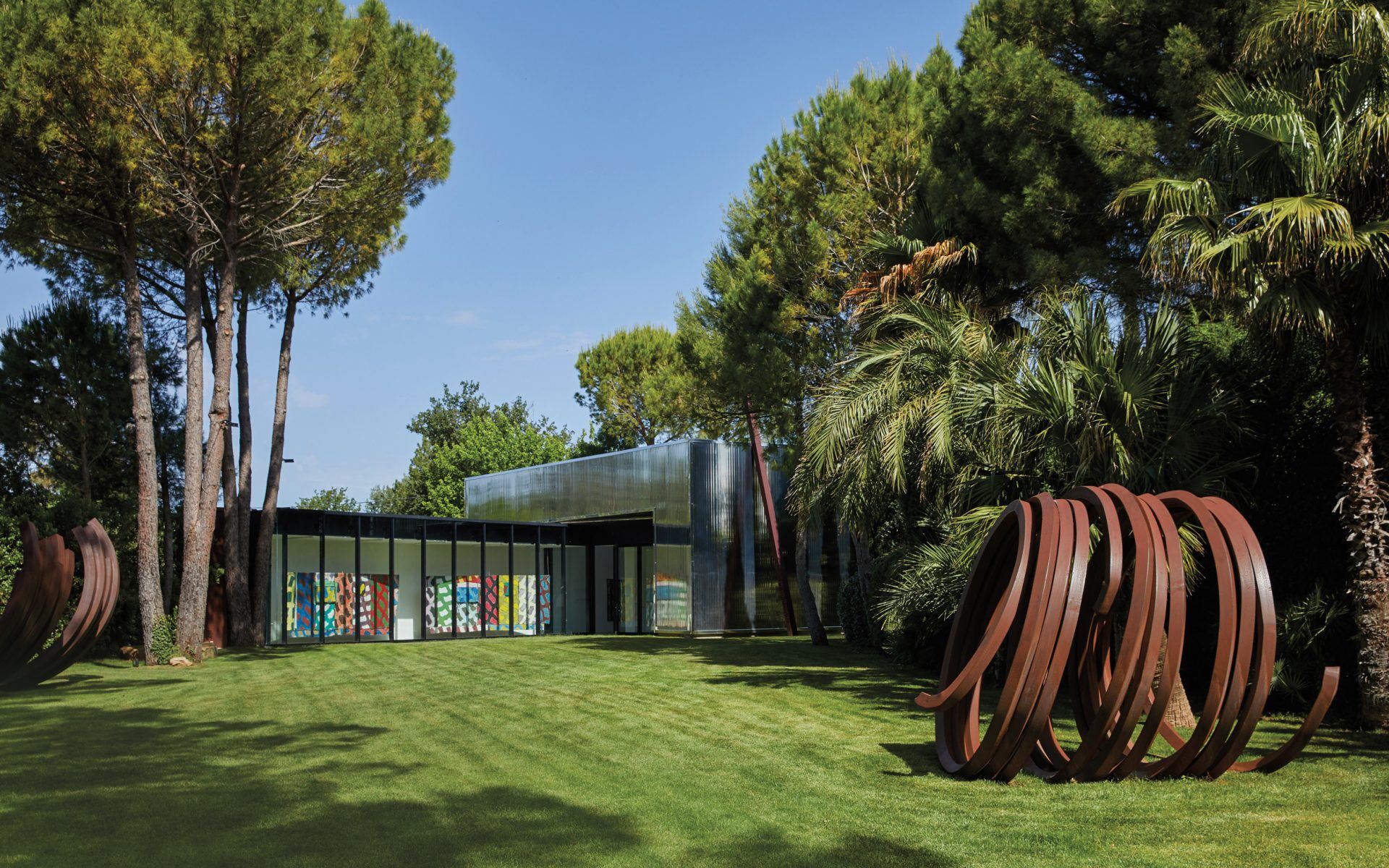 Go Inside Artist Bernar Venet's Stunning Estate in the South of France
The esteemed sculptor's arresting steel works will be on display at Kasmin, while his largest public installation opens in Belgium
What Richard Serra is to steel slabs, Bernar Venet is to steel bars. Venet may be less famous than his counterpart, but he is a giant of modern sculpture in his own right and, like Serra, a master at bending massive pieces of weathered steel to his will.
Since the 1960s, Venet has been producing endless variations on his complex tangles, bundles, and piles of ruddy steel. Ranging from rigorously geometric to almost spontaneous in feeling, all of his pieces are products of a meticulous conceptual approach. One might imagine the 78-year-old Venet, the holder of a knighthood in France's National Order of the Legion of Honour, as a grand old figure sketching in a leather-bound notebook at his Provençal estate as the wind whistles through the cypresses. But non.
"I don't sketch," says the energetic Venet, speaking from Le Muy, the town in southeastern France where he has a home and his namesake foundation is based. "I have an idea in mind, and I make maquettes immediately." These rough studies, typically in steel measuring a foot or two in height, are a crucial part of his creative process, often producing happy "accidents," as he calls them. Later, a team of people in a Hungarian factory translates the models into finished sculptures. 
[See more photos of Bernar Venet's estate and foundation]
But Venet says his most important work actually happens before all that, when he is simply thinking and reflecting. After all, he is the rare artist who is also well-known for not making art, such as when he took five years off in the 1970s to ponder and construct a theoretical basis for his life's work.
"Michelangelo said that you don't make art with your hands, you make art with your brain," says Venet. "And there are many people who just enjoy painting or enjoy making sculptures, but they don't spend much time thinking and asking the questions about the nature of art."
Recommended: Charles Arnoldi Conjures a Creative Compound in Southern California
The fruits of his many decades of questioning are on view all over the place these days. On the heels of a major retrospective at the Musée d'Art Contemporain in Lyon, France, last fall, Venet showed new works at Blain|Southern's Berlin gallery, with more to be presented at Kasmin in New York, beginning September 12. Among the pieces displayed will be five large-scale sculptures from his "Indeterminate Lines" series.
Then, in October, Venet will unveil what he calls "the most major piece of my life," a public artwork titled L'Arc Majeur, which he created for Belgium's E411 highway. Cars will appear to drive through a massive broken circle embedded into the landscape. Because of the work's size—it stands nearly 200 feet tall—and its striking visual impact, the artist describes it as a career high point: "I will never go beyond that."
Venet was born and raised in France, but it was in New York that he was born as an artist. "I felt terribly lonely while I was in France, because nobody was taking my work seriously," he says. Traveling abroad helped open doors—and open his mind. Seeing Jean and Howard Lipman's seminal collection of modern sculpture at the Whitney Museum in 1966, when he was 24, was "a shock," he recalls. "I said, 'That's it. I'm not alone.' "
[See more photos of Bernar Venet's estate and foundation]
Venet settled in New York—his primary base ever since—soaking up its influences. "I took very important lessons from American formalism, its power and its strength," he says. At the same time, he made career-shaping personal connections, becoming "the kid" among a group of older, influential conceptual artists like Donald Judd, with whom, he says, he enjoyed "intense conversations," and Sol LeWitt, who became a close friend.
As a result of those relationships, Venet acquired a significant collection of works by Judd, LeWitt, Ellsworth Kelly, James Lee Byars, Robert Indiana, and others. More than 100 pieces are now part of a private museum that his foundation oversees in Le Muy. There's even an outdoor chapel designed by Frank Stella, featuring six of his large-scale wall reliefs and a four-ton spiraling glass-and-steel roof. (The Venet Foundation, currently featuring a Claude Viallat show, is open on a limited, reservation-only basis during summer, this year through September 13.)
The foundation also features Venet's own art, of course, notably a number of pieces from the "Collapse" series, which the artist began about 15 years ago and describes as "the best of my work." Several "Collapse" sculptures were on view in the Lyon retrospective, including a stack of steel rods at acute angles and an arrangement of rusty circles lying on top of each other. Works like these reflect the artist's particular interest in "concepts like order, disorder, collapse, and unpredictability," as he puts it.
Recommended: 4 Works at the Heart of Rachel Lee Hovnanian's New Show
Despite a prolific career spanning more than five decades, Venet confesses that he's never satisfied. "I know that there is so much more to create," he says. "And I constantly try to push the limits."
A version of this article first appeared in print in our 2019 Fall Issue under the headline "Ahead of the Curve." Subscribe to the magazine.
Next Post