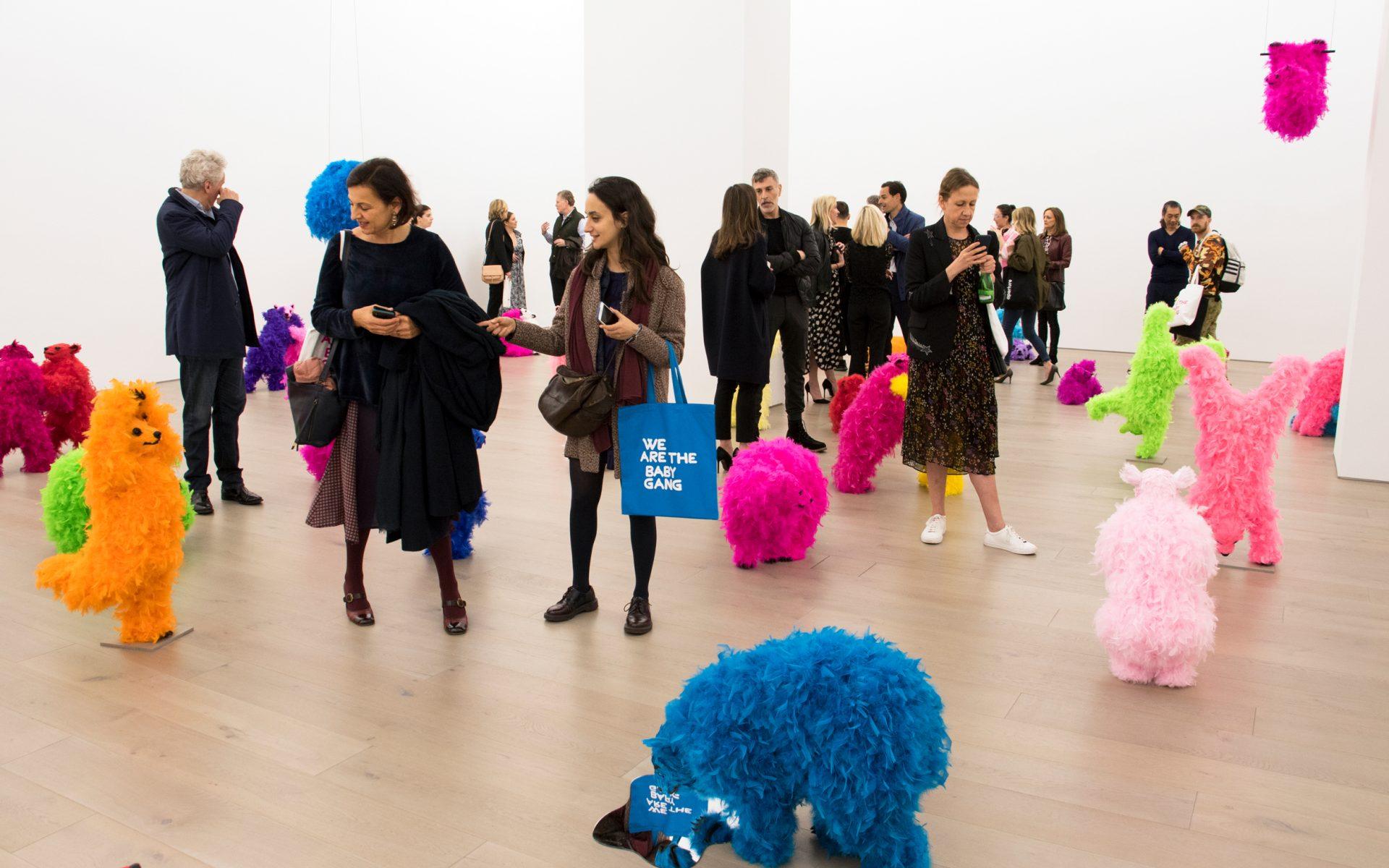 Paola Pivi Gives a Tour of Her Bear-Filled Solo Exhibition at Perrotin
The artist's show at Perrotin features 70 colorful feathered bears
Guests of Galerie magazine and Perrotin New York got a walk-through recently of artist Paola Pivi's newly opened solo exhibition, "We Are the Baby Gang." A sleuth of feather-covered baby bears dominated Perrotin's third-floor gallery, transporting the space into a playful wonderland.
"I'm obsessed with polar bears," she said. There are 70 of the playfully arranged creatures, and they all have different funky names. Two bears, one red and one pink, with their arms intertwined are called, Are We Dancing or Fighting. One purple bear lying supine on the floor is called Is Your Full Name Bear?
The show follows Pivi's successful solo exhibition at the Bass Museum in Miami and her previous solo exhibition with Perrotin six years ago. Emmanuel Perrotin and Pivi's 20-year partnership was highlighted in a dialogue between the artist and gallerist with editor in chief Jacqueline Terrebonne in Galerie's Summer 2019 issue in which they discussed the show and their collaborations together over the years.
Pivi guided guests through the room of vibrantly plumaged bears, talking to Terrebonne about the conception of the project. She noted that the project was inspired by a vision she had of "bears in all different colors." Despite her work's cute and playful nature, Pivi also reflected on how the bears with their feathers have adapted to climate change with the melting of the polar ice caps.
Recommended: Paola Pivi's Playful Baby Bears Take Over Perrotin
Once Pivi finished with her tour, guests mingled in the space and vied to get a picture with their favorite feathered bears. Back on the first floor, the reception was hosted in Perrotin's bookstore with refreshments of champagne and Galerie's Summer 2019 issue on display. See more photos from the event below:
Next Post