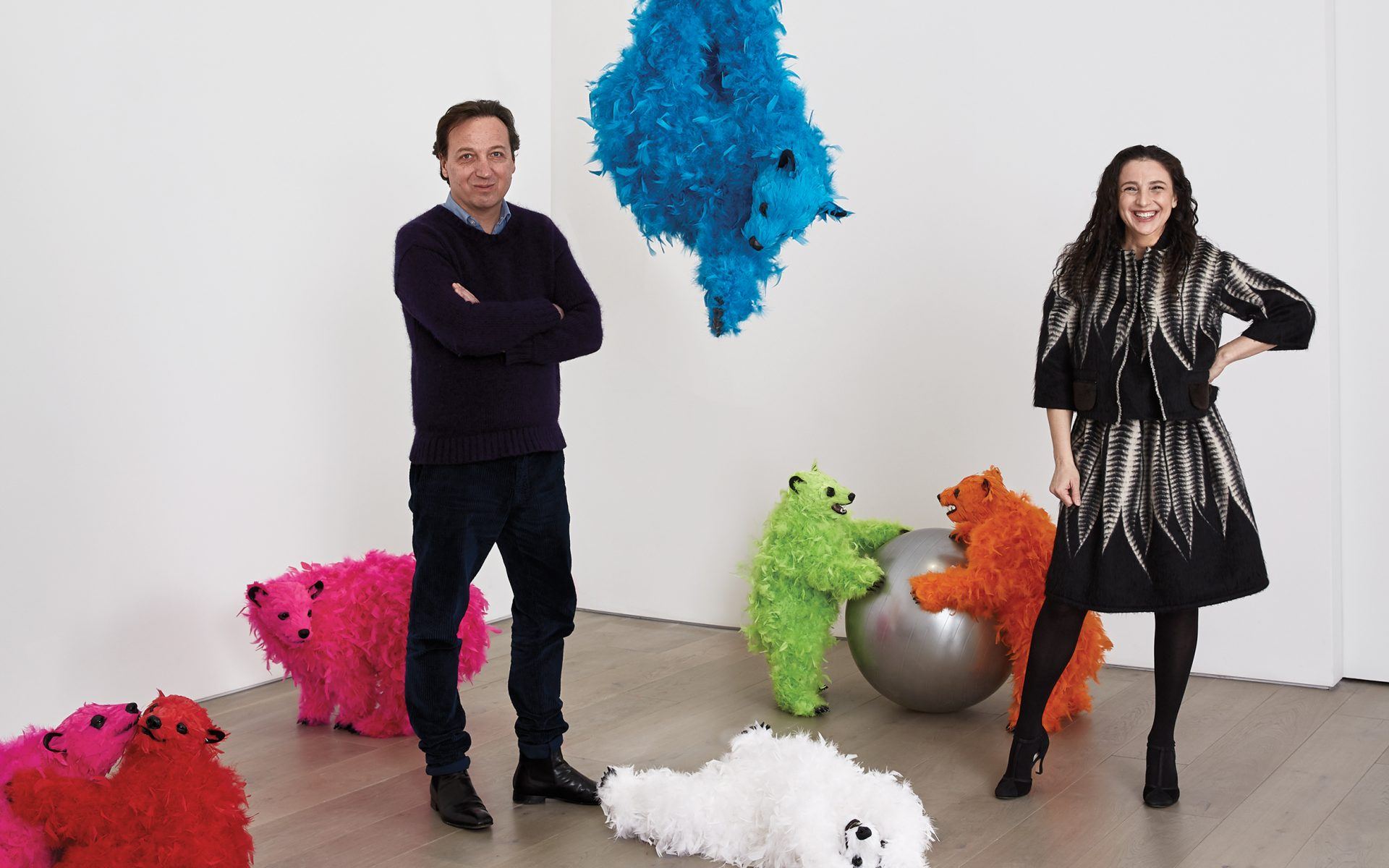 Paola Pivi's Playful Baby Bears Take Over Perrotin
The new show is just the latest development in the artist and gallerist's 20-year partnership
In celebration of Paola Pivi's New York show at Perrotin gallery, "We Are the Baby Gang," which features 70 petite versions of her iconic feather-covered bears, the artist and the gallery's founder, Emmanuel Perrotin, discuss highlights from their collaborations over the past two decades.
Their First Meeting
Emmanuel Perrotin: Maurizio Cattelan told me, "You have to meet this lady at the Venice Biennale." Paola was 28 years old at the time and had created an upside-down airplane. I thought, She's crazy or she's a genius. I asked her, "What the hell is this sculpture?" She said, "Imagine you are in the grass and you're looking at the plane in the sky, except it's the reverse situation." That's when I knew she was a genius.
Paola Pivi: I remember he was looking at me a little bit like, This woman is crazy. He was actually one of the first gallerists I met. We immediately clicked. I didn't know how special it was. Sometimes, when you're young, you don't know how rare things are.
Pivi's First Perrotin Show
Pivi: I was working at the CERN lab near Geneva on an idea for a big, interactive sculpture made with invisible strings and needles that moved when a person approached the piece. Although it would be ridiculously costly to create, Emmanuel went with it for our first show. On opening day, it started beautifully and then, one by one, all the strings started falling. We had to fix it. It was a very intense beginning.
Perrotin: She proposed a sculpture with 1,800 needles. There's almost no chance to sell that for an artist nobody knows, and it's extremely expensive to create. That's a real commitment as a gallerist, because the work only exists if you fund it.
Artistic Needs
Perrotin: Paola said she needed 10,000 liters of whipped cream and alligators for a Miami show. For another one, she needed money to put a zebra in the snow. Together, we put horses on the top of the Eiffel Tower. That is the beauty of everything she does with animals—for sure, it would take two minutes to do it in Photoshop, but her creations are real.
Pivi: I started as if we were already rolling, so he had no choice but to roll with me. He supported me with the leopard with the 3,000 cappuccino cups that was done at Kunsthalle Basel and the photographs of zebras in the snow at the museum MACRO in Rome.
Recommended: East Hampton's LongHouse Reserve Opens 2019 Season with Major Will Ryman Installation
New York Opening
Perrotin: When we launched our gallery on the Upper East Side, with Paola's show, we had eight big bears in a small space. When you open a gallery, you try to show you have a big space, and this made it feel like a small space.
Pivi: I had this strong vision of bears in all different colors. Then I forgot about it. I was just going on with my life, and then Emmanuel told me, "That vision of yours, we can do it for the opening of my gallery in New York." For this show in his space, now downtown, I had a vision: Let's make a lot of baby bears. I said, "It's probably a stupid idea," and then Emmanuel sold one baby bear, so I had to make one. Instead, we made five. I loved them, so we made 70 for this show.
Their Relationship
Pivi: It's like he's my comedic sidekick. I'm the crazy one, but it's funny because then he becomes the crazy one in supporting me. It's a very strong relationship of research and experiment between two intellectuals, even though the result can be an enormous bear hanging in his living room.
Perrotin: A big retrospective of hers would not be boring, because everything is always surprising. Her work is always different, and that gives me more responsibility as a dealer because you have no idea each time if the people will love it or not. It looks easy now because we have a big gallery, but when I started, it was a risk to produce artworks we were not sure would sell.
How They See Each Other
Pivi: On his 50th birthday, Emmanuel explained the way he works is about capturing the spirit of nightclubs in your 20s. You go out at night ready to meet people with a sense of openness. If you observe him from afar when he's talking with a new collector or a new artist, that vibe is there.
Perrotin: Her work is like poetry. You don't explain poetry. You can ask her, but I don't know if she would explain something, and everything I will tell you will be reducing her works to my interpretation. It's much better if you see the works yourself and decide. 
We Are the Baby Gang is on view at Perrotin's New York gallery April 25 through June 8.
A version of this article first appeared in print in our 2019 Summer issue under the headline "Birds of a Feather." Subscribe to the magazine.
Next Post