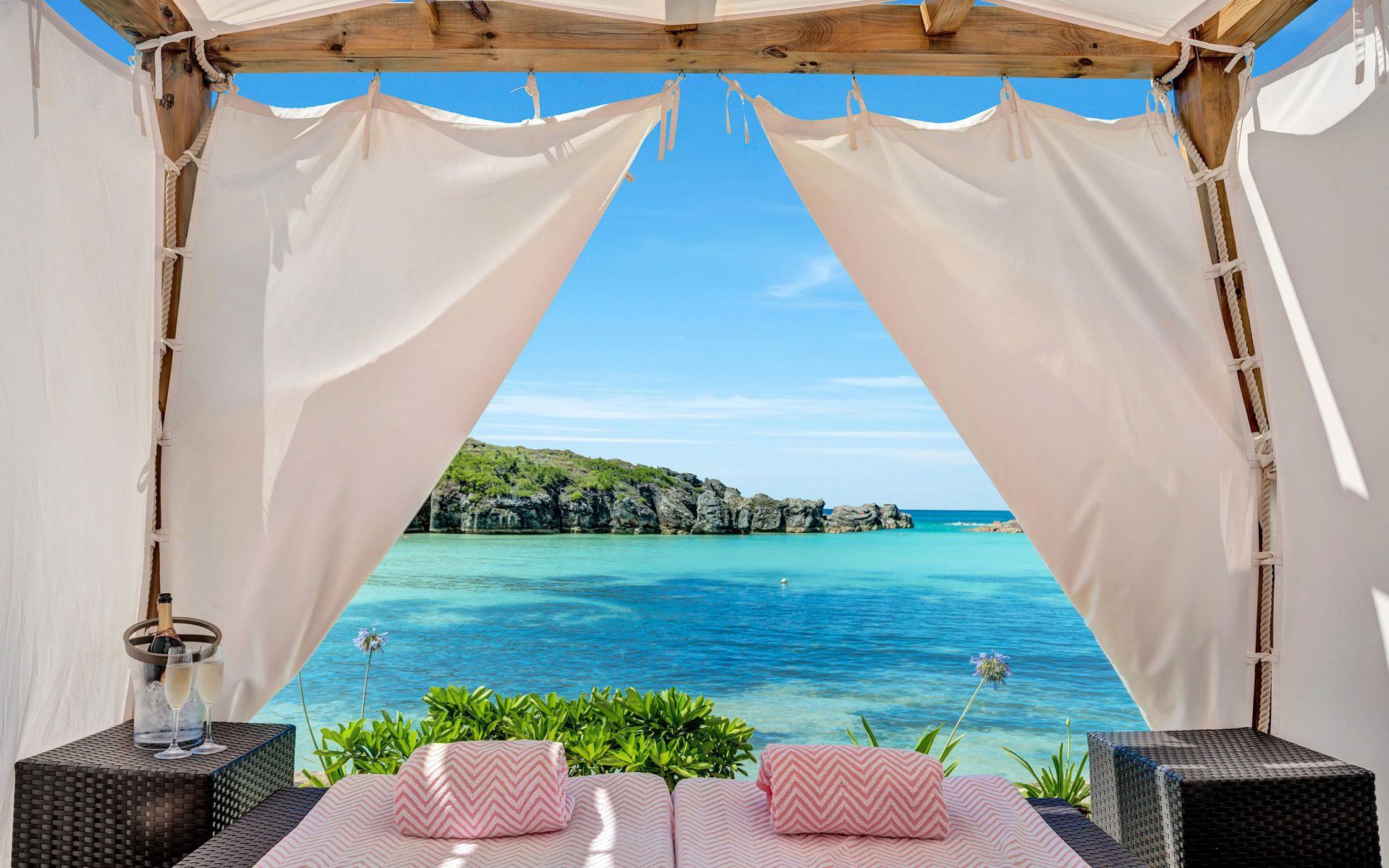 Discover the Museum-Worthy Art Collection at Bermuda's Hamilton Princess & Beach Club
Works by Henri Matisse and Pablo Picasso are just a few of the treasures at this spectacular island paradise
Far removed from the cluster of Caribbean islands, Bermuda maintains an authentic charm, with sherbet-colored houses speckling the hillsides and turquoise water lapping on pink-sand beaches. Here, artists such as Floyd MacMillan Davis, Winslow Homer, and Georgia O'Keeffe have found inspiration for their own paintings, drawings, and photography.
One of the standout resorts on the island, the luxurious Hamilton Princess & Beach Club is an Instagram-perfect "pink palace," boasting a treasure trove of art that perfectly complements the noteworthy Marcus Samuelsson–helmed restaurant, soothing Exhale spa, and prime waterfront location that's within walking distance of shops, restaurants, and nightlife.
The hotel's museum-worthy collection belongs to the Green family, who purchased the 400-key property in 2012 and spearheaded a reported $100 million update. An on-site curator offers weekend tours of the Hamilton Princess's 300-piece collection of modern and Pop Art that includes works by Takashi Murakami, Christo and Jean-Claude, Ai Weiwei, and Shepard Fairey, as well as several works by masters like Henri Matisse and Pablo Picasso, to name just a few.
In a corridor leading to the recently renovated Gold Wing, for instance, Jasper Johns's Two Maps II shares wall space with Le Beau Monde by René Magritte, David Hockney's Hotel Acatlán First Day, and Andy Warhol's Martha Graham: Satyric Festival Song. Outside the Exhale spa, guests will find one of Ugo Rondinone's vivid Mountain works.
Recommended: Explore Grace Kelly's Most Iconic Looks at the Christian Dior Museum
A scale model of the Hamilton Princess & Beach Club, constructed in 2017 by artist Sean Kenney using 27,500 Lego bricks, sits under glass in the retail corridor. The lobby is a dotted with colorful pieces like an Anish Kapoor Mirror, Jeff Koons's Monkey (Blue), Banksy's Balloon Girl, and a series of works by Julian Opie, whose Walking in Sinsa-dong 3 adorns the on-site restaurant Crown & Anchor. Meanwhile, a mural by the artist creates the perfect backdrop for the Marina Nights party at 1609 Bar & Restaurant.
Interactive video installations also have pride of place, including Flowers and People – Dark by teamLab at the check-in desk and Hans Kotter's hypnotic Fractal Circle by a ballroom. Urban artists feature heavily, including pieces by Invader, Speedy Graphito, Mr. Brainwash, and Seen. There are also works of historical significance, such as selection of roses from Paul Cummins's 2014 installation at the Tower of London, Blood Swept Lands and Seas of Red, and a series of works by Nelson Mandela near Marcus's kitchen and private dining room.
The works here aren't limited to those that just hang on the walls; sculpture is represented in works of varying size—from petite versions of Koons's Balloon Dog and Yayoi Kusama's Pumpkin, to a larger-than-life Tom Sachs piece, Miffy, and a towering, 18-foot-tall wood sculpture by KAWS, At This Time.
The hotel's collection is so significant that it has filled three volumes, while the Green family's art holdings are substantial enough that they were able to loan a considerable number of other works to the nearby Bermuda National Gallery, which opened the exhibition "What's Poppin'! Pop Art and Its Influence" in February. Many of the artists whose work populate the Hamilton Princess & Beach Club—including KAWS, Koons, Kusama, Murakami, Warhol, and Roy Lichtenstein—can also be found at the National Gallery show.
"This was an exciting exhibition for us because we were able to pair it with the public school curriculum—they are studying Warhol and printmaking, and this is Warhol and printmaking at its best," says the museum's executive director, Peter Lapsley, an artist whose work was included in the recent "Detrás del Muro (Behind the Wall)" show at the Havana Biennial. "It's a fun exhibition and a terrific extension of what they're doing at the hotel."
Next Post