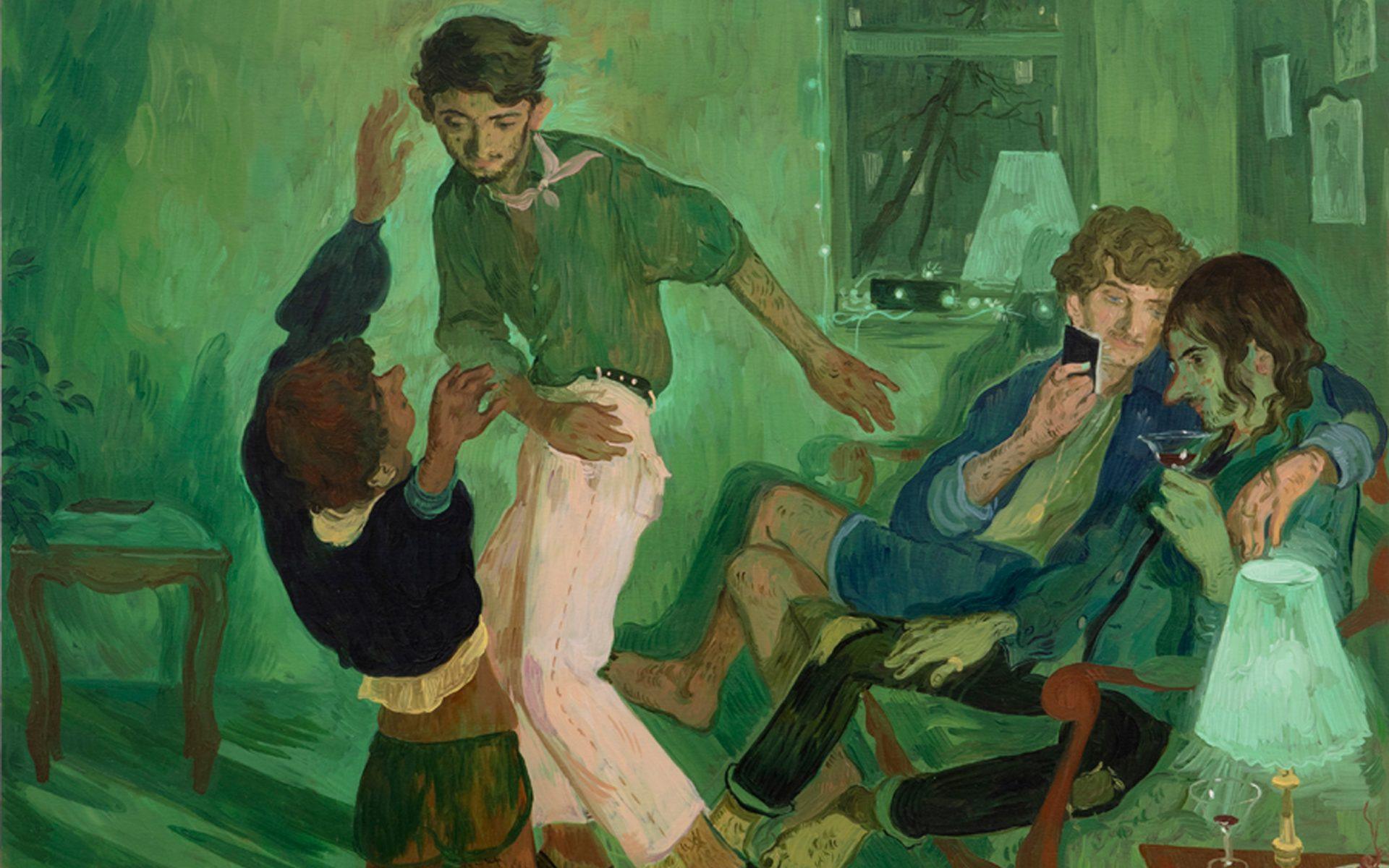 5 Artists Having Their First Museum Solo Shows This Year
From Salman Toor at the Whitney Museum to Genesis Bellanger at the Aldrich in Connecticut, these exhibits are not to be missed
From rapidly emerging talents to more established names finally receiving their due, many artists will be making their institutional debuts in 2020. Museums' continuous efforts to offer more inclusive and accessible programs are reflected in their exhibition schedules, with artists from various geographies, generations, and statements finding space on their walls.
Here, Galerie highlights the five most anticipated museum debuts in 2020.
1. "Salman Toor: How Will I Know" at the Whitney Museum of American Art
New York City 
Salman Toor belongs to a new generation of figurative painters who use their brushstrokes to unravel realities and utopias faced by communities that help them shape their identities. The Lahore, Pakistan–born, New York–based artist has gained tremendous attention in recent years with his paintings of fleeting, mundane moments experienced by his friends, lovers, and confidants. Toor's interiors range from hole-in-the-wall East Village apartments brimming with books to nightclubs and cafés, where brown young men enjoy idyllic and jovial moments traditionally granted only to white subjects. They catch up over red wine, dance under disco lights, and snap nude selfies, blurring the line between rituals of intimacy and public norms.
"They are painted doodles that make me feel safe and happy," Toor tells Galerie. "The paintings summon love and friendship, create cozy safe spaces full of books and paintings, my friends, fashion, banter, and period dramas." The artist's Whitney exhibition, "How Will I Know," rings with buoyancy, featuring renditions of "imaginary subjects lingering in the sly glitter of urban nightlife, finding themselves as suspicious immigrants in the spare world of transit," according to Toor.
"Salman Toor: How Will I Know" runs at the Whitney Museum of American Art from March 20 through July 5.
2. "Genesis Belanger" at the Aldrich Contemporary Art Museum
Ridgefield, Connecticut

Genesis Belanger's stoneware sculptures of joyfully uncanny objects donning humanlike features have garnered extensive commercial and institutional recognition since her 2018 two-person exhibition, "A Strange Relative," with painter Emily Mae Smith at Perrotin gallery. In early 2019, the New Museum gave the Brooklyn artist its Storefront Window for a display that took cues from transitory public spaces, such as hotel lobbies and airports.
Next for Belanger is a grander affair—the Aldrich Contemporary Art Museum in Connecticut has commissioned the artist for a new body of work that blends and subverts tropes of Surrealism and Pop Art through her signature, corporal lens. "Belanger's work blends Méret Oppenheim and Marisol with a self-possessed feminism that uses humor to speak to notable afflictions of this century: desires, addictions, and anxieties specific to a hyperkinetic image-obsessed present," exhibition curator Amy Smith-Stewart tells Galerie.
Recommended: 12 Must-See Art and Design Exhibitions in 2020
Under Smith-Stewart's curatorial helm, the Aldrich has presented solo exhibitions of 21 woman artists, such as Suzanne McClelland and Harmony Hammond, since 2013. The dedication started out organically, but "has become more conscious, more urgent, and more empowering," she notes. The exhibition—Belanger's largest to date—will be an ambitious staging of dozens of porcelain and upholstery sculptures juxtaposed within a domestic eeriness that is prompted by a wall-covering curtain and the sculptures' resemblance to objects and body parts.
"Genesis Belanger" will be on view at the Aldrich Contemporary Art Museum from May 17 to November 1.
3. "The Otolith Group: Xenogenesis" at Institute of Contemporary Art at Virginia Commonwealth University
London-based artist duo the Otolith Group (Kodwo Eshun and Anjalika Sagar) has become a sought-after name in institutional circuits in Europe, the Middle East, and Asia since their formation in 2002, presenting their work in the Sharjah Architecture Triennial, documenta, Lyon Biennial, and Dhaka Art Summit and receiving a Turner Prize nomination in 2010. The pair utilizes heavily researched essay film style to satirize pressing issues of alienation and technological excess in a stylized aesthetic, through a multidisciplinary practice that spans workshops, publications, and curating. After presenting their film O Horizon at the Rubin Museum in 2018, the Group opens its first full-breadth exhibition in the U.S. at the Institute of Contemporary Art at Virginia Commonwealth University. Traveling from Van Abbemuseum in Eindhoven, Netherlands, "Xenogenesis" (which means "becoming strange or alien") projects an expansive look at the Group's films from the past decade, in an installation adapted to ICA's Steven Holl–designed building. In addition to O Horizon, films such as Sovereign Sisters, Who Does the Earth Think It Is (both 2014) and The Year of the Quiet Sun (2013) tap into urgent subjects modern societies have become numbed toward through media, such as environmental decline and power struggles. ICA's executive director, Dominic Willsdon, shares with Galerie the importance of bringing the duo's work to Virginia and adds: "The Otolith Group is dealing with facets of colonial and racial experience past, present and future and around the world—in beautiful and speculative ways. In Richmond, the program of our still new ICA has already dug deep into the history and experience of race and colonialism in the United States, and presenting 'Xenogenesis' here enables us to pursue those concerns in many new and thought-provoking directions."
"The Otolith Group: Xenogenesis" will be on view at the Institute of Contemporary Art at Virginia Commonwealth University from February 22 to May 10.
Recommended: Copenhagen's Faurschou Foundation Opens Brooklyn Outpost
4. "Alia Ali: FLUX"  at the New Orleans Museum of Art
Born to Yugoslavian and South Yemeni parents in Austria, Los Angeles– and Marrakech-based artist Alia Ali uses textiles in her search for a definition for home, an ever-shifting concept for the 34-year old artist who has thus far lived in Istanbul, Vietnam, Sarajevo, and Wales. Textiles appear in Ali's practice as a unifier of all cultures and an accessible medium used for art and craft in a wide array of geographies, as well as a border between bodies and their surroundings. "FLUX," which will open at New Orleans Museum of Art's Nn-style Great Hall, introduces the artist's photographs of anonymous bodies shrouded in African wax print fabrics in captivating patterns and bright colors inside upholstered frames. Presenting fabric as a symbol of politicized intimacy and privacy, Ali both questions and celebrates the mystery behind garbs, taking cues from studio photography, fashion editorials, and African printing technique, which relates to colonialist pasts and domestic labor. Freed from notions of gender, age, class, or race, the figures are both empowered and hobbled by fabrics dominating their bodies, expressively embodied in their dramatic postures that blend into the equally mesmerizing backgrounds they pose before.    
"Alia Ali: FLUX" is on view at the New Orleans Museum of Art between February 21 and August 2.
5. "Tishan Hsu: Liquid Circuit" at SculptureCenter
Long Island City, New York 
Tishan Hsu emerged in 1980s, when the East Village was a burgeoning hub for artistic celebration of body politics; however, Hsu's tech-infused approach to corporeality was considered too obscure for its time. Three decades later, the art world and Hsu are finally on the same page. The artist's sleek sculptures that have long investigated the mysterious relationship between the body and the machine, tapping into our post-Internet-era sensibilities and anxieties in elegant forms.
"Liquid Circuit" will be the first U.S. survey of the Boston-born artist's career, opening at L.A.'s Hammer Museum in late January, followed by a New York adaptation at SculptureCenter. The exhibition will manifest Hsu's avant-garde vision and boundary-pushing approach into three dimensionality with sculptures, wall reliefs, architectonic paintings, and film. Across 30 sculptures on view, visitors will encounter traces from the artist's architecture training at MIT, with buildinglike forms—both dystopian and convivial—adorned in unexpectedly domestic materials, such as tiles, which coat surfaces with a subtle technological aesthetic. From Photoshop to urethane, Hsu's innovative utilization of physical or analog mediums reflects the vision of a forward-thinking artist and a thinker who challenged his time's demands and trends for a body of work that now seems more urgent than ever.
"Tishan Hsu: Liquid Circuit" is on view at SculptureCenter from May 9 – August 17.
Next Post