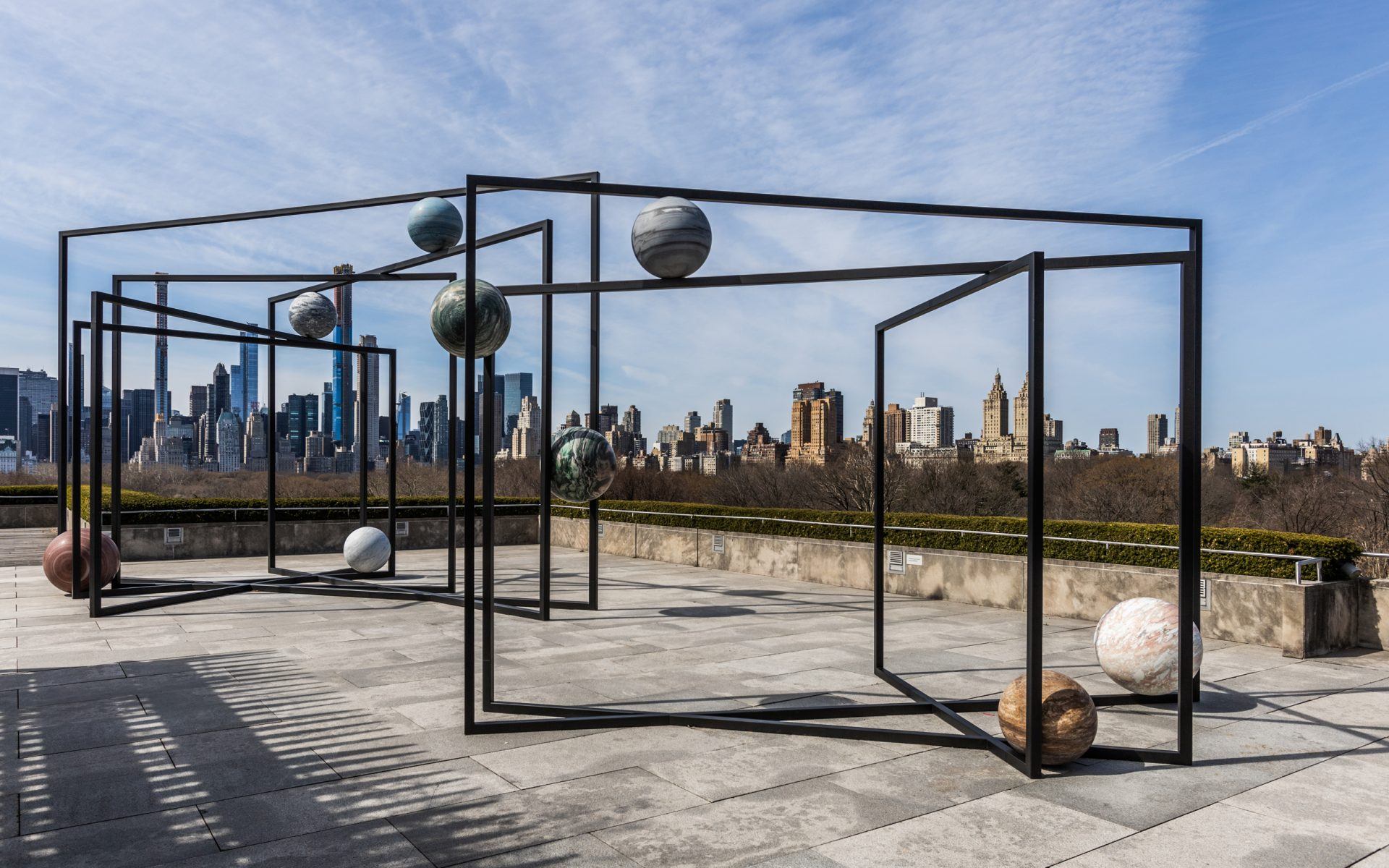 Artist Alicja Kwade's Latest Installation Beguiles Crowds on the Met Rooftop
The work's mesmerizing steel frames capture New York's famed skyline
What would Narcissus be without his mirror? Ask Alicja Kwade, whose reflective sculptural installations have been beguiling art crowds throughout her career, which includes such highlights as the timeless clock she created for the Public Art Fund in 2015 and her solo show that opened 303 Gallery's Chelsea space the following year. In 2017, Kwade dazzled audiences at the Venice Biennale, and last year her work was exhibited in eight international venues.
Kwade's pieces act like frames of space and perspective that question social structures and science. Her works often have shiny reflective panels that have become selfie bait—truthfully, a sticking point for the artist. "I feel a bit hurt when viewers are not looking at all, just taking pictures of themselves, because I could just give them a mirror," she says.
For her current rooftop commission at the Metropolitan Museum of Art, which will be on view through October 27, Kwade decided not to use any mirrors, to prevent audiences from essentially viewing the works without seeing them. Instead, ParaPivot, a network of intersecting steel frames that you can walk through, balances nine sizable and weighty stone spheres. "It frames the skyline, like a picture or photograph," Kwade explains. Spheres line up with skyscrapers, "like gods placing planets on pedestals of capitalism," she says.
Prior to creating the installation, Kwade visited The Met rooftop and observed how highly trafficked the outdoor terrace is with people of all sorts—museum nerds, everyday tourists, even postwork socializers. "This place is very loud, it's very popular, and it's not a calm white space," she says. "The set already is almost cliché with the skyline and the park. We all know this scene, and it's not only part of New York, it's a part of the world."
Recommended: Paola Pivi's Playful Baby Bears Take over Perrotin
Thus Kwade felt an urge to offer an intervention that was not just easy on the eyes but also played tricks on the brain and demanded consideration. "I somehow see it as having more responsibility," she says of ParaPivot. That motivation is also why Kwade continues to produce mostly public sculpture. "I want to include people and not be hidden in this very protected art scene."
Recommended: East Hampton's LongHouse Reserve Opens 2019 Season with Major Will Ryman Installation
With her practice, the artist aims to "question my position in the art market and the market itself—who's leading it, where it is going, how do people connect, what the result of all these connections is, and how I can influence it." When you consider Kwade's countless commissions and biennials, it might be fair to say she is already making headway.
A version of this article first appeared in print in our 2019 Summer issue under the headline "State of the Art." Subscribe to the magazine.
Next Post