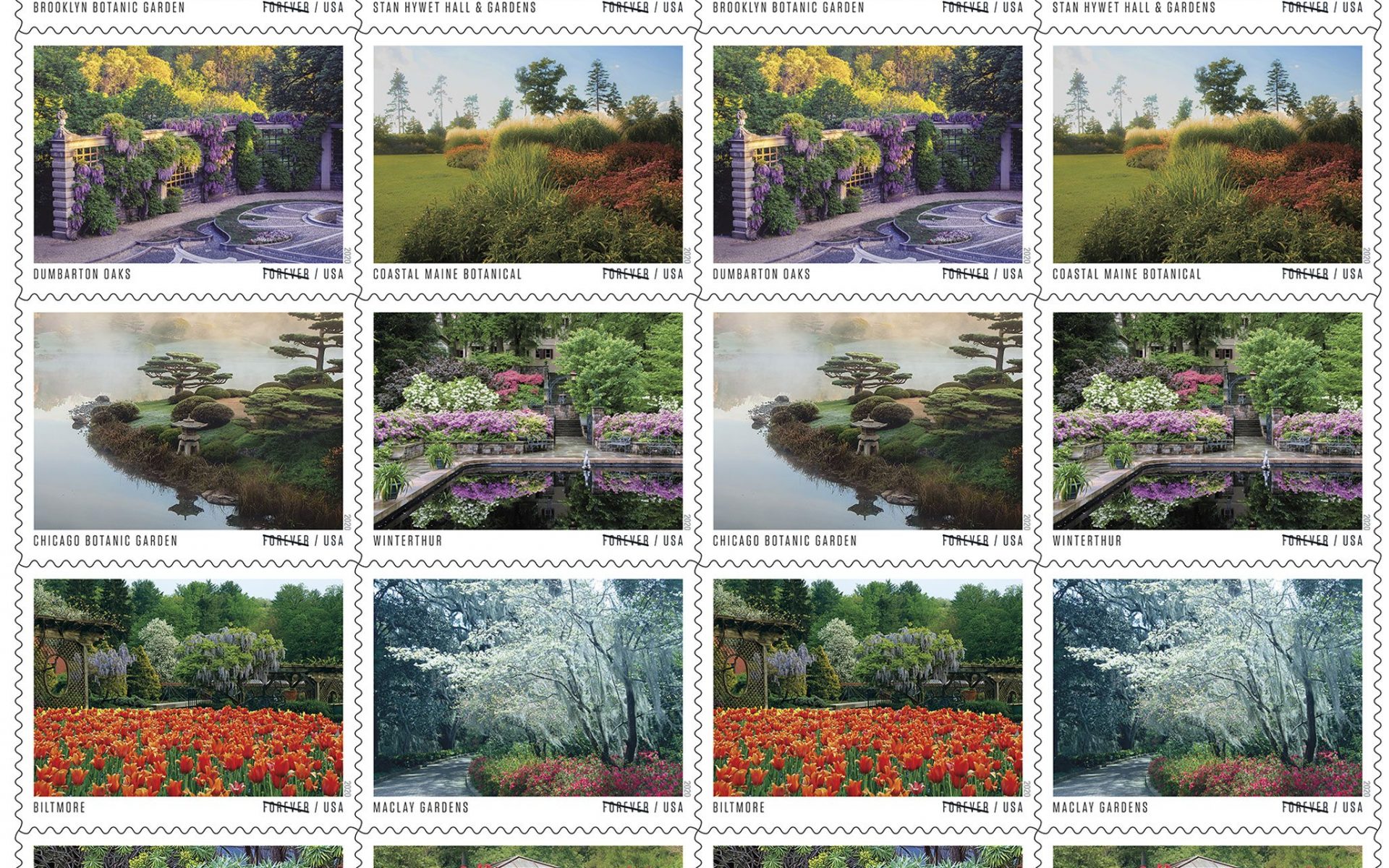 America's Most Picturesque Gardens Grace USPS's Latest Stamps
The Huntington, Biltmore, and Brooklyn Botanic Gardens are among the ten living museums featured in this National Public Gardens Week initiative
In 2019, contemporary art collectors got their perfect-postage fix when the U.S. Postal Service launched Ellsworth Kelly stamps. Now garden enthusiasts and green-thumbed individuals are getting their turn. In conjunction with National Public Gardens Week, the American Public Gardens Association and USPS have issued ten stamps featuring botanical, estate, and municipal gardens across the country. Ethel Kessler, who has served as USPS's stamps art director for more than a decade, designed the collection around photographer Allen Rokach's images, which were shot between 1996 and 2014.
As the majority of the country is currently sheltering in place, the stamps are apt reminders that even during periods of mass uncertainty, nature remains a consistent source of beauty and serenity. There's no better time to peruse your stationery collection, compose a handwritten letter to loved ones or essential workers, and seal it with a dose of restorative greenery.
Read on to discover more about the featured gardens, each of which combines conservation and education efforts with bucolic scenery.
1. The Huntington Botanical Garden, San Marino, California
Thomas Gainsborough's The Blue Boy and Henry Huntington's copy of the Gutenberg Bible are just the tip of the iceberg when it comes to gems found at the Huntington Library, Art Museum, and Botanical Gardens. Occupying nearly 120 acres, the botanical gardens are comprised of 16 themed areas, including the Desert Garden, illustrated on the USPS stamp. Here, visitors will find one of the oldest assemblages of cacti and more than 2,000 species of succulents.
2. Alfred B. Maclay Gardens State Park, Tallahassee, Florida
In 1923, New York financier Alfred B. Maclay and his wife, Louise, planted these Floridian gardens after they purchased the property for their winter home. Since the grounds opened to the public in 1946, visitors have enjoyed more than 1,000 acres of camellia- and azalea-filled gardens, Spanish moss–lined trails, and access to several lakes.
3. Biltmore Estate Gardens, Asheville, North Carolina
It comes as no surprise that America's largest privately owned house features an equally colossal landscape. In 1888, George W. Vanderbilt II enlisted Frederick Law Olmsted to design the grounds for his 250-room mansion, and the project was completed in 1895. Today the land comes in at 8,000 acres of formal and informal gardens with 20-plus miles of trails. Wisteria and tulips are just some of the flowers found in the Walled Garden, pictured on the USPS stamp.
Recommended: Beyond Central Park: Three Idyllic Landscapes by Frederick Law Olmsted
4. Winterthur Garden, New Castle County, Delaware
In addition to collecting antiques and breeding cattle, Henry Francis du Pont was a passionate gardener. In the early 20th century, he and his father designed Winterthur, emulating the European country houses of prior centuries. The property's 1,000 acres developed gradually, each generation adding to the one that came before. However, while the home opened as a museum in 1951, the garden—which wraps around the house and becomes increasingly informal as it extends outward—remained in Du Pont's hands until his death in 1969.
5. Chicago Botanic Garden, Chicago
The Chicago Botanic Garden features 27 gardens and four natural areas, which comprise 385 acres on and around nine islands. Though the garden did not open to the public until 1972, it was originally conceived by the Chicago Horticultural Society, which formed in 1890 and hosted several flower and horticultural shows. Following Japanese principles, Koichi Kawana designed what is now known as the Elizabeth Hubert Malott Japanese Garden—featured on the USPS stamp—in 1975. With large rocks, gold gingko trees, and plum blossoms, this 17-acre lakeside garden includes three islands.
6. Coastal Maine Botanical Gardens, Boothbay, Maine
One of Maine's top attractions, the Coastal Maine Botanical Gardens opened in 2007 after 16 years of planning. What began as a people's garden has since become the largest botanical garden in New England, comprising 295 tidal acres—17 of which are dedicated to plants native to Maine.
Recommended: The World's 10 Most Beautiful Sculpture Parks
7. Dumbarton Oaks Garden, Washington, D.C.
Dumbarton Oaks Garden began as the country house of American diplomat Robert Woods Bliss and his wife, Mildred, who purchased the 53-acre property in 1920. Famed landscape gardener Beatrix Farrand (whose commissions included the White House and Peggy Rockefeller Rose Garden at the New York Botanical Garden) worked on the green space with Mildred for nearly 30 years. Today visitors can explore 16 acres, including the Pebble Garden, pictured on the USPS stamp. Originally designed by Farrand to be a tennis court, this space was updated in 1959 with pebbles imported from Mexico set in an Italian manner.
8. Stan Hywet Hall & Gardens, Akron, Ohio
Renowned American landscape architect Warren Manning designed Stan Hywet's grounds (then occupying more than 3,000) acres between 1912 and 1915. Today the property stands at 70 acres, and the USPS stamp captures one of its highlights: the 550-foot Birch Tree Allée. A long covered porch connects the house directly to the alley, which consists of more than 100 silver birches that grew naturally over time to form a verdant corridor.
9. Norfolk Botanical Garden, Norfolk, Virginia
The largest rose garden on the East Coast, the only accredited collection of crape myrtles in North America, and a notable bonsai collection are just some of the highlights of Norfolk Botanical Garden's 175 acres. Camellias, hydrangeas, and azaleas also abound across the 60-plus gardens on-site. In peak season, more than 250,000 blooms—from over 3,000 plants representing 300 varieties—can be viewed from the rose garden terrace, which is pictured on the USPS stamp.
10. Brooklyn Botanic Garden, Brooklyn, New York
Frederick Law Olmsted's sons, Frederick Jr. and John Charles, designed the original Brooklyn Botanic Garden, which opened in 1911. Landscape architect Harold Caparn, however, took over the project in 1912. In 1939, the semiformal Osborne Garden—pictured in full bloom on the USPS stamp—opened, and it is now the first space visitors walk through via the Eastern Parkway entrance. The beauty of the wisteria-draped pergolas found in this Italianate garden is matched only by the Sakura Matsuri, the famed annual cherry blossom festival.
Recommended: 15 Freshly Picked Floral Artists to Follow on Instagram
Next Post