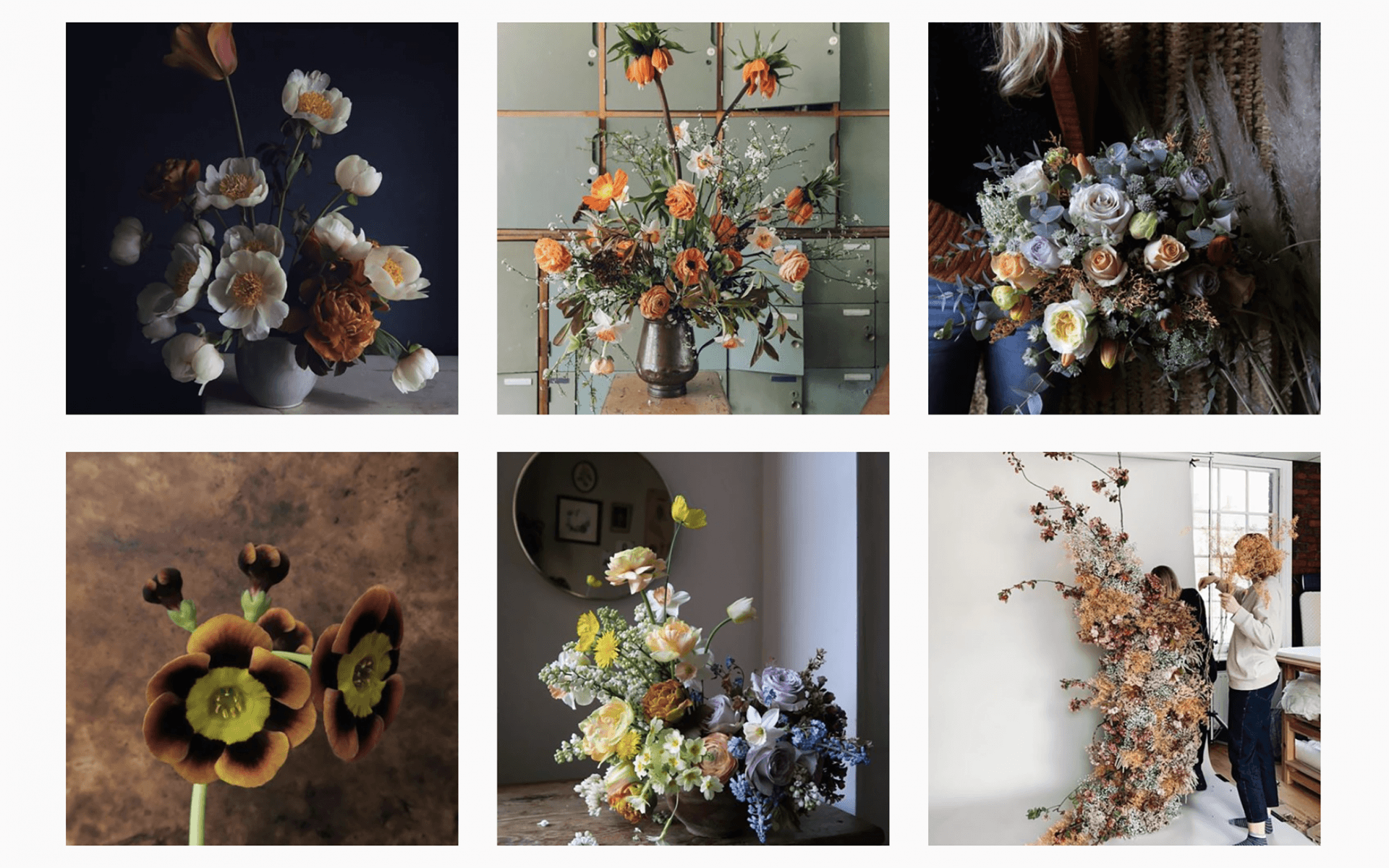 15 Freshly Picked Floral Artists to Follow on Instagram
Experimental and inspired, these florists are elevating their craft by sculpting art in its living form
While staying inside during the first signs of spring feels like an insufferable tease to many (especially city dwellers), Instagram allows us to bring the outside in, if only virtually. With their awe-inspiring, delectable creations, some of our favorite florists remain loyal to the Old Masters, while others forge brand-new territory with geometric, gravity-defying compositions, supernatural hues, and innovative preservation techniques. All possess a distinct eye that elevates floral design to an art. Here, Galerie spotlights 15 florists whose work will inspire you to enliven your space, whether through trying your hand at flower arranging, reading a florist-written book, or simply incorporating some botanical-based color theory into your home's palette.
Putnam & Putnam
If Princess Belle lived in New York City in 2020, she would certainly be a Putnam & Putnam client. Founded in 2014 by Darroch and Michael Putnam, the company has perfected the romantic, overgrown garden aesthetic, and its highly identifiable arrangements, signature cloches, and elaborate arches can be spotted at fashionable pop-ups and stores around the city. (It's a go-to for Bergdorf Goodman.) Its book, Flower Color Guide, details the Putnam approach to color with botanical-book-like photography.

Nicolette Camille Floral
While it's no surprise that florists today continue looking to lush Old Master still lifes for inspiration, no one successfully re-creates their opulent appeal like Brooklyn-based Nicolette Camille. She often showcases her work using high-contrast imagery, which gives each arrangement a painting-like sensibility. Through her Little Flower School, Camille travels and teaches classes around the world. For those looking to pick up a new hobby during quarantine, keep a lookout for her online classes (past examples include a Mother's Day theme, as well as Dutch Masters), where she ships high-quality flowers straight to your home.
Lewis Miller Design
Renowned New York florist Lewis Miller has distinguished himself as the unabashed and brilliant florist who takes "one man's trash is another man's treasure" literally. Since autumn 2016, Miller has staged "Flower Flash" installations in which trash cans become vases and hotdog carts serve as unexpected supports for dramatic floral arches. Like the Banksy of florists (sans the anonymity), Miller causes widespread fervor when his work pops up, bringing nature—and a dash of humor—to unassuming urban settings.
Recommended: See How Lewis Miller's 'Flower Flashes' Come to Life
McQueens Flower School
What began in 1991 as a local London flower company has blossomed into a global, trendsetting business. McQueens Flowers now has schools in London, New York, and Seoul, and its work adorns everything from Instagram hot spot restaurant Dalloway Terrace to the Vanity Fair Oscars after-party. It proudly features its students' creations, such as the imposing sculpture pictured above, which was created on site at the 2019 Venice Biennale.
Recommended: London's Famed McQueens Flower School to Open New York Branch

Floret
While we cannot get enough of the highly manicured and artful arrangements that dot our Instagram feeds, Erin Benzakein's Floret account humbly conveys the power of simplicity. By providing an inside look at her trade and the boundless fields of Washington state's Floret Farm, Benzakein reminds followers that before they were formed into bouquets, these objects of beauty stemmed from nature.
View this post on Instagram

Seed Flora
Sydney-based Seed Flora began in 2006 as a storefront flower shop, but it has since grown into an order-only business specializing in luxury events and retails displays, such as those for David Jones department store. Its feed often plays with a "flower face" pose, where an enormous bouquet engulfs its carrier. Seed Flora is also the hydrangea master, pushing this classic, voluminous flower into creative, contemporary directions.

Azuma Makoto
Azuma Makoto has been blurring the lines of flowers and art since 2002. Among his many arresting creations, the Tokyo-based talent is celebrated for his ice-block sculptures, in which flowers are frozen in time. In 2016 this body of work served as a backdrop for Dries Van Noten's runway collection, where the pieces melted onstage. The artist has begun experimenting with floral-themed animation during quarantine.
View this post on Instagram

BRRCH
Having launched her New York–based floral company in 2013, Brittany Asch is now the industry's cool girl. Her fantastical pastel arrangements have decked Rihanna's Savage x Fenty runway show and Florence + the Machine's stage. BRRCH is regularly featured on It beauty brand Glossier's Instagram and NYC store, crystallizing Asch as the florist of moment—and likely the future.
View this post on Instagram

Mary Lennox Flowers
Australian-born Ruby Barber—one of Galerie's 2020 Creative Minds—is the visionary behind Berlin-based Mary Lennox Flowers. Barber's experimental work has landed campaigns for Gucci, Meissen, and German jeweler Knauf, among other brands. We love how varied Mary Lennox Flowers' feed is and are especially inspired by her sweeping floating arrangements, which emulate statuesque chandeliers.
Recommended: Meet Australian Florist Ruby Barber

Swallows & Damsons
Another diverse grid we can't take our eyes off of is Swallows & Damsons, a flower shop run by Anna Potter in Sheffield, England. With its combination of eclectic arrangements, vintage botanical prints, and aesthetically organized mushrooms and fresh garden finds, Potter's feed reads like a Victorian pressed-flower book of precious memories. The occasional cameo from her wide-eyed dog is an added bonus. Swallows & Damsons admirers can enjoy Potter's work in her book, The Flower Fix.

Jeff Leatham
An American in Paris, Jeff Leatham is the artistic director of the French capital's Four Seasons George V, as well as the hotel's Beverly Hills and new Philadelphia locations. Clientele from the Kardashians to the Clintons turn to Leatham for vivacious full-room installations, as do art institutions, such as the New York Botanical Garden, which tapped the florist this spring.
Recommended: Jeff Leatham Creates an Orchid-Filled Wonderland at the New York Botanical Garden

Nicolai Bergmann
Though Danish floral artist Nicolai Bergmann has a global presence, he is best known as one of Tokyo's leading florists, occupying a gorgeous boutique in the flower-filled Aoyama neighborhood. The company's signature item is the customizable Flower Box, which Bergmann invented 20 years ago as a giftable alternative to the traditional bouquet. His preserved flowers appear vibrant and fresh but with proper care can last up to three years.

Hattie Molloy
If collaborative artists Maurizio Cattelan and Pierpaolo Ferrari made flowers, they would probably turn out like Hattie Molloy's. The Melbourne-based florist's work is blinding, bold, and subversive. Unexpected additions like tear-and-share bread, autumnal gourds, and unapologetically bodega-esque cellophane wrapping offer a contemporary twist on the decadent spreads found in Old Master still lifes.

East Olivia
Kelsea Olivia launched East Olivia as a New York–based, women-led creative agency. Her cheery and chromatic fresh arrangements can be made for clients and events, but Olivia's originality shines most in her preserved bouquets, which can be easily purchased online. In a full spectrum of hues, these florals beautifully play with texture and make for a meaningful gift that won't expire in a week's time.
Recommended: The 11 Best Designers to Follow on Instagram

Tulipina
Tulipina by Kiana Underwood is a New York–based company, but her 50-person-plus international team produces a stunningly diverse mix of floral installations around the globe. Among the company's most showstopping creations are those for weddings in Italy, India, Russia, and beyond. Her debut book, Color Me Floral, is a perfect keepsake for fans of her work and event floral at large.
Next Post