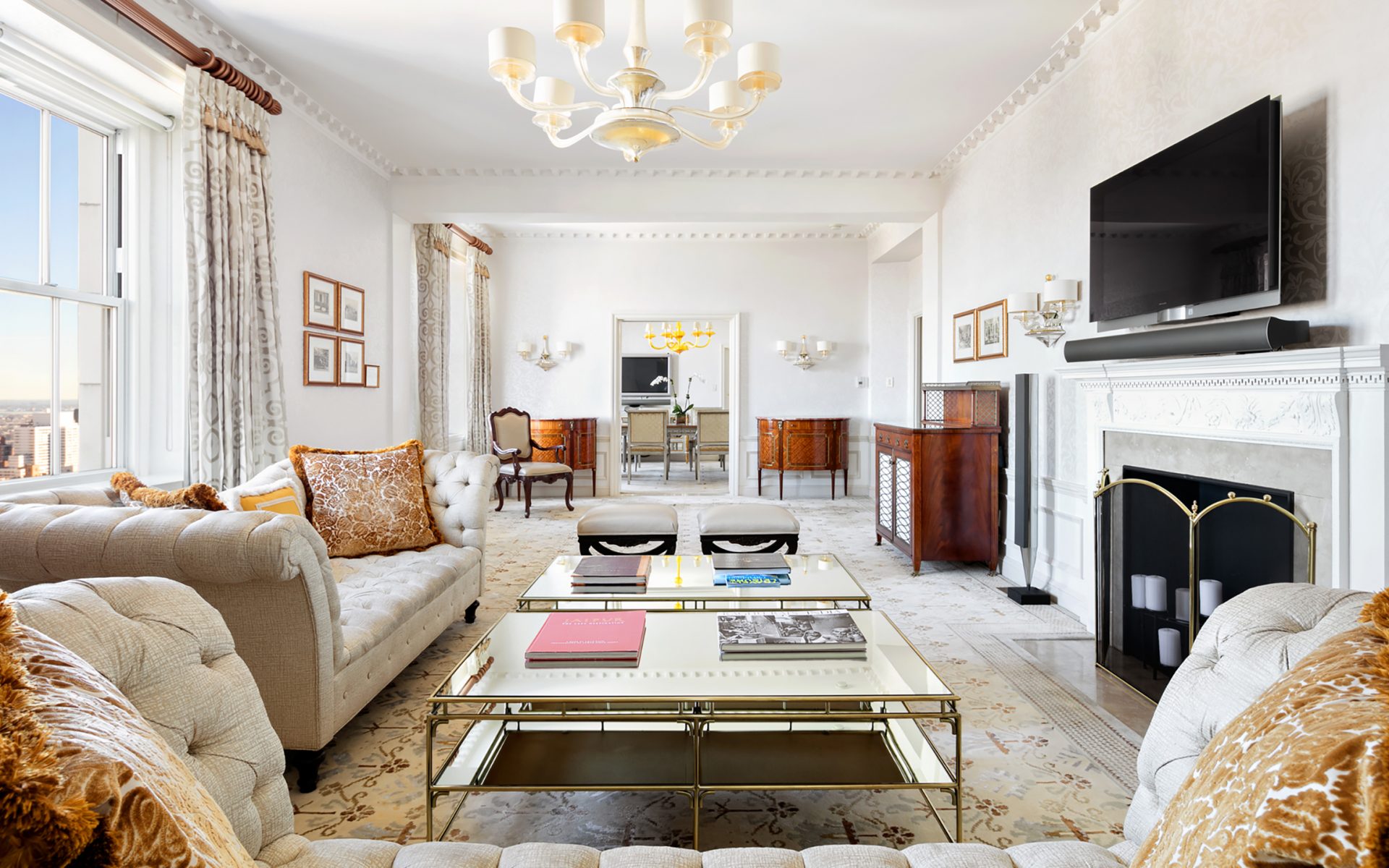 9 of the Most Expensive Hotel Suites in New York City
Treat yourself to an indulgent stay this summer
When it comes to choosing a hotel for your vacation (or staycation) in New York, there are thousands of options. But if you're looking for a remarkable luxury experience you're sure not to forget, you'll want to book a stay in one of the top hotels in the city. While each and every room at the most prestigious hotels is bound to be elegantly appointed, you might want to consider an upgrade for the most decadent getaway—herewith, we take a look at some of the most expensive hotel suites in New York City, perfect for that extra special getaway.
1. Penthouse Suite at The Mark – $75,000/night
Not only the top contender in New York, this exceptional hotel suite is one of the most expensive in the entire world. And, clocking in at 12,000 square feet, it's one of the largest in the United States. The duplex penthouse comprises five bedrooms, six baths, two powder rooms, a library, a kitchen, a dining room, and a living room that doubles as a ballroom, should you choose to host a fête here. There's also a 2,500-square-foot terrace that overlooks Central Park. The suite was designed by Jacques Grange, who created all the furniture especially for the accommodation.
Recommended: Inside the Party that Raised Millions for the Elton John AIDS Foundation
2. Ty Warner Penthouse Suite at the Four Seasons – $50,000/night 
The Four Seasons tapped architects I. M. Pei and Peter Marino, who collaborated with owner Ty Warner, to design this 4,300-square-foot suite on the 52nd floor of the hotel. The one-bedroom suite cost $50,000,000 to build—there are four cantilevered glass balconies, a private spa treatment room, and a collection of original art selected by Pei, Marino, and Warner. Guests who book this suite are given a chauffeured Rolls-Royce to explore the city.
3. Royal Suite at the Plaza – $40,000/night
The freshly renovated Royal Suite (which debuted its new look this year) at the Plaza is a gorgeously appointed residential-style accommodation with three bedrooms. With a chef's kitchen, the suite is ideal for entertaining—guests can have meals prepared by a private chef. There's also a library, a fitness room, and a living room with a grand piano.
4. Royal Suite at the Ritz-Carlton – $40,000/night
At nearly 2,000 square feet, this suite is the Ritz-Carlton's largest, with two bedrooms and two-and-a-half baths—the 22nd-floor accommodations looks out over Central Park (there's a telescope to give you an even better view). Guests who book this suite are given access to the hotel's Club Lounge, which offers complimentary breakfast, lunch, afternoon tea, cocktails, and dessert. There's also a champagne and caviar presentation each Saturday evening, as well as flower arrangement classes by the in-house, Jane Packer–trained florist.
Recommended: Jacques Grange-Designed Hotel Mamá Opens in Mallorca
5. Suite 5000 at the Mandarin Oriental – $36,000/night
Manhattan's Mandarin Oriental is known for its stunning views of Central Park—it sits right on Columbus Circle—but the best views are to be had through the floor-to-ceiling windows of its luxe Suite 5000, located on the 50th floor. The three-bedroom, 3,300-square-foot suite is designed to give the guests a very New York experience; there's a media center with a collection of New York–centric films, a sound system with a New York–themed playlist, and even a record collection curated by Academy Records, an iconic record store in the city. The spectacular accommodation isn't listed on the hotel's website, so you'll have to phone in a reservation.
6. Presidential Suite at the St. Regis – $35,000/night
In designing its Presidential Suite, the St. Regis team looked to create a suite that felt like the private home of a globe-trotting collector. With up to three bedrooms, a library, a living room, and a dining room across 3,430 square feet, the accommodation provides guests plenty of space in which to relax. Guests have 24-hour butler service, as well as a complimentary breakfast for two at the Astor Court or the King Cole Bar.
7. Presidential Suite at the Park Hyatt – $30,000/night
Located in midtown's luxurious One57 skyscraper, the Presidential Suite at the Park Hyatt exudes an Upper East Side–apartment vibe, thanks to design firm Yabu Pushelberg. The one-bedroom, 2,239-square-foot suite is decorated with plenty of original artworks—including some by Sol Lewitt—and comes with a butler's kitchen and a wet bar.
8. The Peninsula Suite at the Peninsula – $25,000/night
The Art Deco–inspired Peninsula Suite spans 3,300 square feet and offers six rooms: Two bedrooms, a living room, a dining room, a study, and a butler's kitchen. Guests are given round-trip transfers from the airport in the Peninsula's BMW 7 series, complimentary liquor, and their choice of luxury linens for the Savoir beds.
Recommended: 3 Gorgeous New Design Hotels to Check Out Now
9. Tata Presidential Suite at the Pierre – $20,000/night
While the Tata Suite is typically a two-bedroom, 1,980-square-foot accommodation, all the rooms on the 39th floor of the Pierre can connect to it, resulting in a six-bedroom, floor-through stunner that offers the utmost privacy. The decor is subtle, but luxe—see the Murano chandeliers, damask wallpaper, and silver-leaf dining table.
Next Post