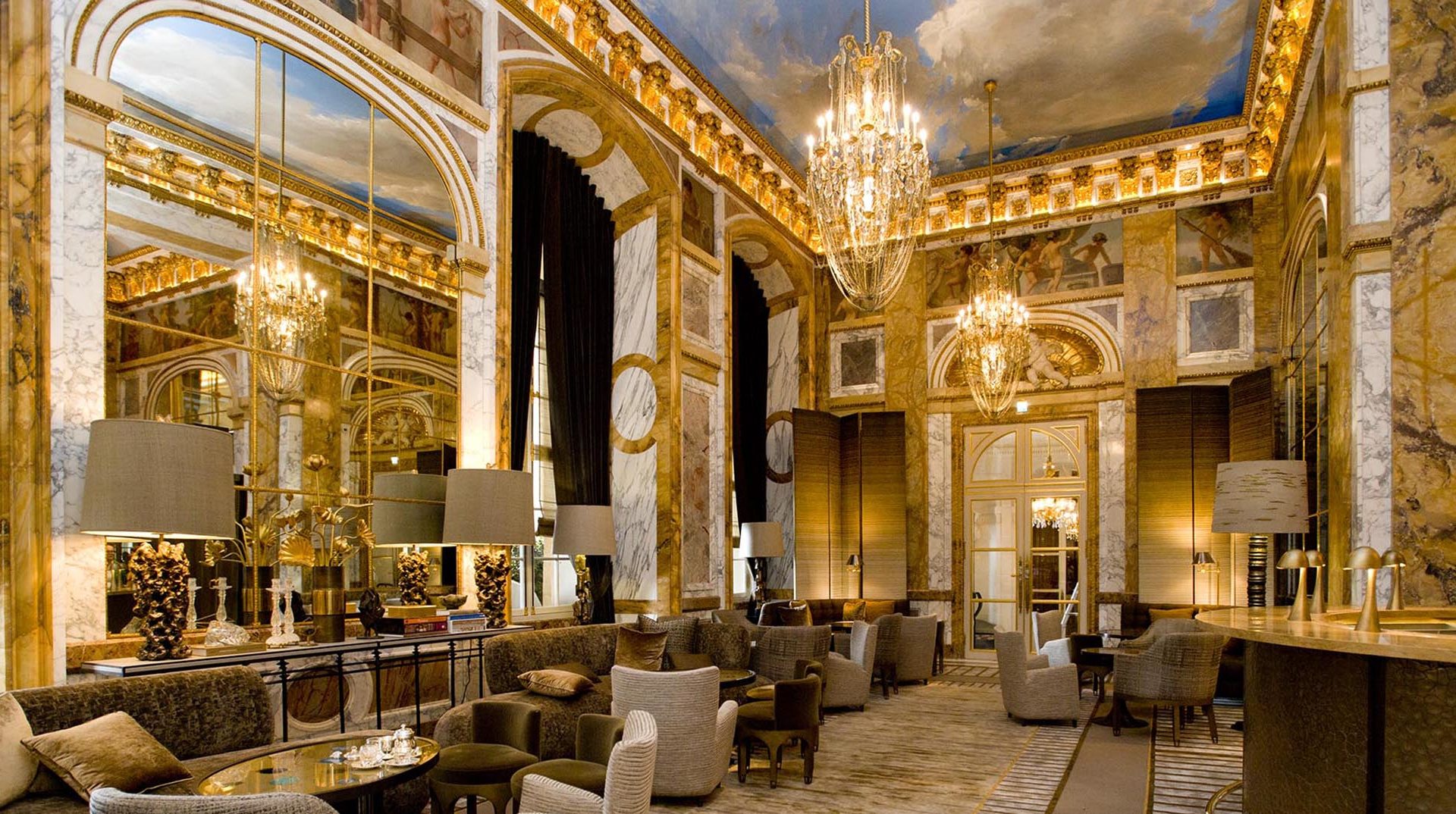 3 Gorgeous New Design Hotels to Check Out Now
From designs by Karl Lagerfeld to a De Niro-approved interior, here are this summer's most anticipated openings
During the often unrelenting heat of the summer season, nothing beats a luxe hotel stay. Cool, crisp linens; a constant stream of fluffy towels; and a gorgeous view will make you forget New York's steamy streets or the muggy, sluggish weather in other major metropolitan cities. As an added bonus, three new hotels are concentrating on their art and design elements. Guests can enjoy suites designed by Karl Lagerfeld, event programming from the originator of Studio 54, and a sleek interior approved by Robert De Niro.
Below, read about this summer's major additions to cosmopolitan hospitality, and the exceptional cultural and aesthetic features that distinguish them.
Nobu Shoreditch, London
Over the years, the celebrity-magnet restaurant helmed by chef Nobu Matsuhisa and Robert DeNiro has been expanding its hospitality footprint. Since opening the first Nobu Hotel in Las Vegas in 2013, the team has cut the ribbon on four more, including the new coastal retreat Nobu Ryokan Malibu in California. Now, the iconic brand's latest hotel and restaurant in London, designed by Ron Arad Architects and Ben Adams Architects, provides more of their subdued yet meticulously detailed luxury.
Here, overhanging floor slabs and cantilevered steel beams add an immediate sense of grandeur, while suspended glass orbs softly illuminate the space. The 143 guest rooms and seven suites—designed by a local Studio Mica—feature Japanese tea sets, modern finishes, and minimal color palettes. All-white bedding offers tranquil refuge—even with London's energetic East End and hip street-art scene beckoning outside. In the adjacent restaurant, don't miss Nobu's signature offerings: black cod, scrambled eggs donburi, and Matsuhisa wine.
Hôtel de Crillon, Paris

Paris's newly revamped Hôtel de Crillon, which overlooks the Place de la Concorde, melds the rich history and tradition that define the city with a contemporary flavor. Commissioned by Louis XV and designed by famed French architect Ange-Jacques Gabriel, the Neoclassical structure was built in 1758 and  survived the French Revolution and the Napoleonic Empire. Eventually transformed into a hotel in 1909, it has long been one of the most celebrated places to stay in the City of Light.
In 2013, the luxury-hotel group Rosewood assumed management of the property, prompting an update that required the Crillon to be shuttered for a major overhaul. An exceptional group of creative talents—including artistic director Aline D'Amman; architect Richard Martinet; designers Chahan Minassian, Cyril Vergniol, and Tristan Auer; landscape designer Louis Benech; and Chanel creative director Karl Lagerfeld—were tapped to refresh the interiors, and the results are extraordinary. For example, the elegant Lagerfeld-designed suites feature shimmering crystal chandeliers and massive sculpted-marble bathtubs; for La Barbière de Paris—the men's grooming salon—Auer employed sleek wood paneling and deep-green accents to create a clublike atmosphere; and Minassian juxtaposed the exquisite ornate decor of the Bar Les Ambassadeurs with streamlined deep-dish upholstery, embellishing the room's original chandeliers (which hang from a landmarked ceiling) with garlands of ball chain.
Public Hotel, New York 
Ian Schrager, the legendary founder of New York's iconic nightclub Studio 54, opened Public Hotel on the Lower East Side in June. Patti Smith performed during the opening festivities, launching the venue with her special New York brand of cool. Schrager is integrating his party throwing and culture-defining prowess into the design, maintaining a Public Arts space which will host rotating exhibitions, musical performances, late night dancing, and film screenings.
Located within a 28-story tower by Pritzker Prize–winning architecture firm Herzog & de Meuron, the hotel's sleek guest rooms are designed in a serene neutral palette and outfitted with a minimalist, yachtlike efficiency. And while Public certainly prides itself on aesthetics and chic, it's also inexpensive: rooms start at $150 per night.
Next Post