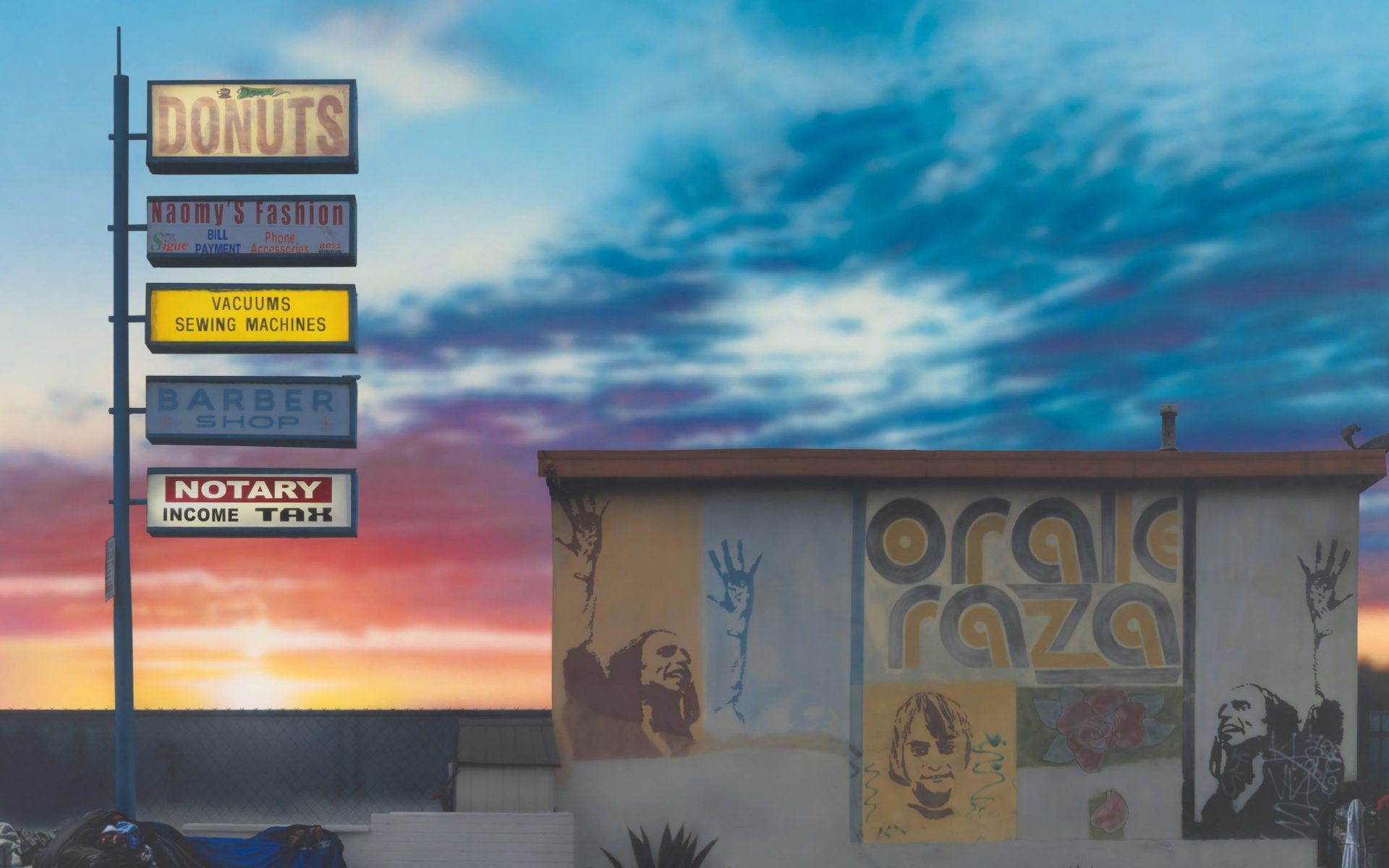 9 Los Angeles Artists to Look Out for at Frieze L.A.
In anticipation of the fair opening on February 14, we share a selection of artists presenting at the fair that are not-to-be-missed
Presenting 70 noteworthy galleries from around the world, Frieze Los Angeles triumphantly returns to Paramount Pictures Studios for its second edition February 14 – 16, 2020. Celebrating Los Angeles's position as a global arts center, the fair features a number of artists who were either born, trained or currently live and work in the city.
We've sifted through the best of the lot to find 9 established and emerging artists that are not-to-be-missed.
1. Sayre Gomez at François Ghebaly
A rising star on the L.A. art scene, Chicago-born Sayre Gomez headed west to study at Cal Arts, where he earned an MFA in 2008, and since that time his paintings, sculptures and videos have been exhibited everywhere. Italian conceptualist Maurizio Cattelan included three of Gomez's trompe l'oeil paintings of sticker graffiti in a curated show in Shanghai in 2018 and one of his large-scale, realist paintings of street graffiti and shopping center signs made the cut for Jeffrey Deitch and Larry Gagosian's annual talent round-up at last year's Art Basel in Miami Beach. At Ghebaly gallery's Frieze booth, look for another massive canvas from his series of "X-Scapes," which masterfully juxtapose sensational sunsets and appropriated urban ugliness.
A native Californian who called the East Coast home for much of her life, Kim Gordon moved back to L.A. five years ago and has let the spirit of the city filter into her edgy visual and sound art. Gordon, who is perhaps best known as the vocalist and guitarist of the alternative rock band Sonic Youth, makes personal and observational pieces that bounce between a Dan Graham-style of conceptualism and the raw, DIY nature found in much of Mike Kelley's work. With a solo show of her video, paintings, sculptures and photos currently on view at 303's New York locale, the gallery enlivens its Frieze LA booth with her expressive expressive Dream Evil painting, which is similar to the kind of dark and dramatic canvases she presented in one-person exhibitions at the Irish Museum of Modern Art in Dublin and Pittsburgh's Andy Warhol Museum last year.
3. Calida Rawles at Various Small Fires
Born in Delaware and schooled at Spelman College and NYU, Calida Rawles is simultaneously making her solo show debut at Various Small Fires and first one–person presentation at an art fair in the gallery's booth at Frieze Los Angeles. A photorealist with a knack for seductively portraying bodies in glistening water, Rawles depicts African American women and men in the monochromatic blue realms of swimming pools—moving through bubbles and ripples as they distort and abstract their bodies. Caught in stillness and in motion, her mostly youthful subjects display a joy for life that transcends our everyday existence.
4. Kelly Akashi at Tanya Bonakdar Gallery
Known for her poetic sculptural objects made in glass, wax and bronze, Kelly Akashi was born in Los Angeles and received her MFA from USC. Unafraid of dealing with erotic subject matter, her figurative sculptures approach the body in abstract and somewhat symbolic ways. Originally trained as a photographer, Akashi constructs her still life pieces and arrangements of objects like Man Ray, Hans Bellmer, Rene Magritte and other Surrealist photographers might do. The hand-blown glass sculpture that she's exhibiting here—titled three portals—initially appears to be a vase holding a bouquet of red flowers, but on further examination we discover the voluptuous nude torso of a woman with a garland of wet tongues bursting from the neckline like a delicate petal-shaped collar or the face of an owl, observing our world from a branch in a tree.
Recommended: The Ultimate Art Insider's Guide to Los Angeles During Frieze Week
An artist whose whole life's work is broadly associated with L.A. and Southern California, Ed Ruscha is a master of many mediums and styles. Generally referred to as a Pop artist, the 82-year-old has famously made paintings with such words as Radio, Honk and Oof; photographs of gas stations, parking lots and swimming pools; and drawings with gunpowder, fruit juices and grass stains. While his work can be found on the walls of most of the LA's major museums, look for his gritty word canvas Car Parts at the fair and his sublime painting Cosmo, Selma, Vine, which depicts a mapped aerial view of a patch of the city, in the gallery's highly touted Frieze Los Angeles 2020 Online Viewing Room.
6. Mike Kelley at Jeffrey Deitch
A transplant to L.A. from Wayne, Michigan, Mike Kelley attended Cal Arts during its heyday in the late-1970s. But while most of his creative classmates headed to New York upon graduating, Kelley stayed and became one of the city's most profound artists. A standout in the radical "Helter Skelter: L.A. Art in the 1990s" exhibition at Museum of Contemporary Art in 1992, Kelly was best known for his juvenile interpretation of American traditions and ideals. Often employing kitschy craft mediums with punk, bad-boy aesthetics, Kelley blazed his way through all aspects of Americana, including the stereotypical Land O'Lakes girl. The packaging for the butter depicts a Native American girl with bare knees, but when the the illustration is cut and folded her knees become exposed breasts—a bawdy trick that kept Kelley in touch with his teenage years.
7. James Turrell at Pace and Kayne Griffin Corcoran
Born in LA in 1943, James Turrell is one of the leading members of the Light and Space movement, which included such other California artists as Robert Irwin, Mary Corse and Doug Wheeler. While Turrell also became a major player in Land Art, when he began transforming Roden Crater from an inactive volcano into a massive artwork, he has always stayed true to his use of immersive light—making it his lifelong aesthetic pursuit and in the process creating countless Skyspaces (closed spaces for viewing the sky through an aperture in the roof) around the world. For the fair, Pace Gallery and Kayne Griffin Corcoran are collaborating on a presentation of the artist's immersive Glass works, which create changing light-filled environments, and generously launching a Frieze Week Crowdfunding Drive for Roden Crater.
8. Evan Holloway at Xavier Hufkens
Famous for his offbeat, low-tech sculptural installations, Evan Holloway was born in Southern California and began exhibiting in LA in 1997. Combining such readymade objects as light bulbs, batteries, barbed wire, and baby dolls with traditional sculptural materials, Holloway makes works that are both poetic and provocative. Holloway has been making his coveted tree sculptures, in which real branches are quirkily assembled to construct geometric forms, for nearly 20 years. Over time, these organic works evolved into painted bronzes, such as the piece Wonder Tree, which the widely collected L.A. artist is debuting with his Brussels's gallery at the fair.
9. Calvin Marcus at David Kordansky Gallery 
San Francisco-born and L.A.-based, Calvin Marcus prides himself on making work that is "stripped down to the bare necessity." Graduating with an MFA from UCLA in 2015, the buzzworthy talent made an immediate splash on the international art scene. He recently showcased a series of large-scale monochromatic green paintings with green ceramic chickens attached to their surfaces at Clearing in Brooklyn, as well as drawings of dead soldiers and grass at their outpost in Brussels. Exhibiting paintings of dog, rabbits and pigs in his first solo show with David Kordansky in 2019, Marcus presents a jumbo watercolor and oil painting of a jet in the gallery's booth at the fair.
Next Post