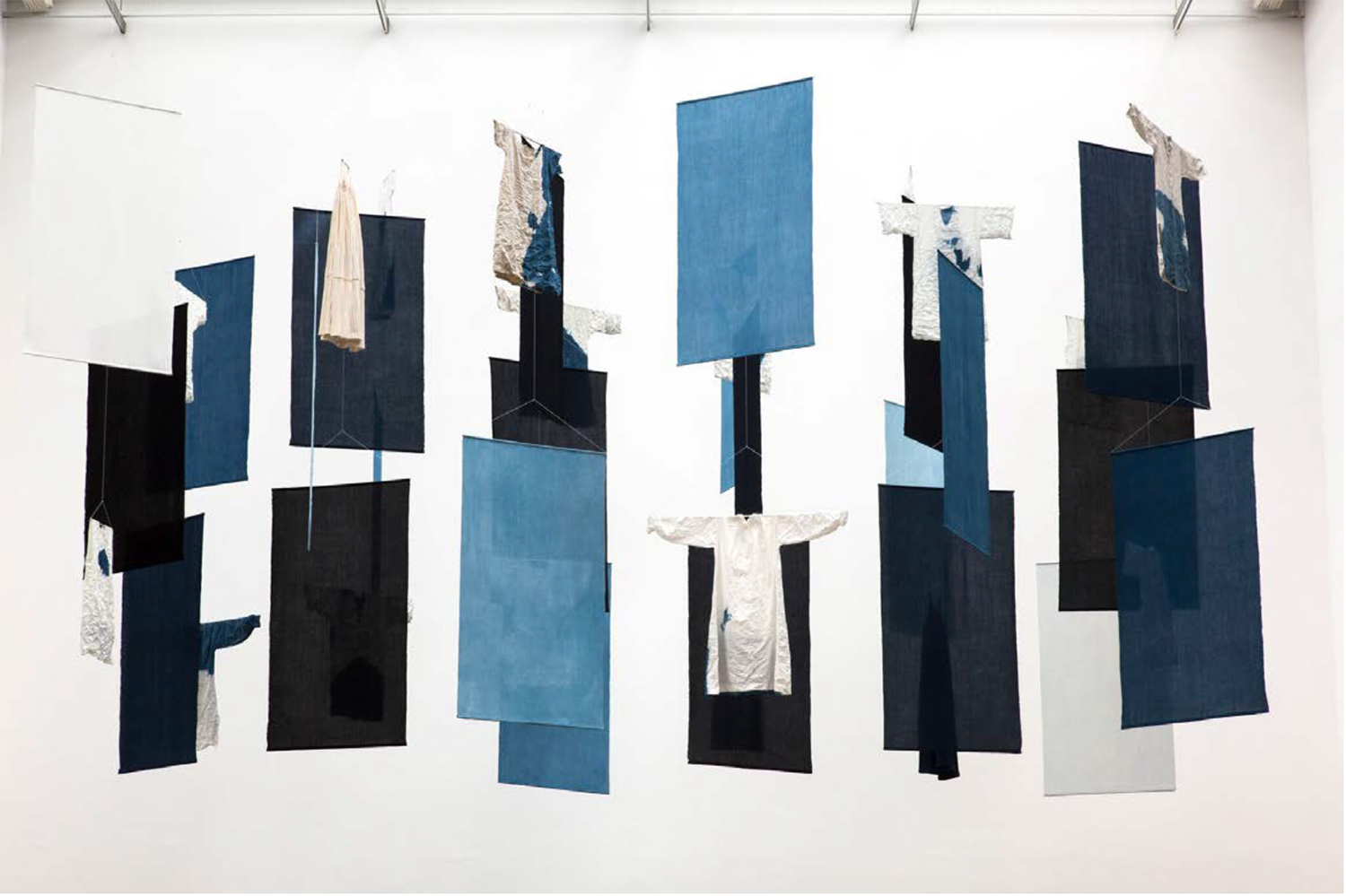 7 Brilliant Group Shows Not to Miss in New York This Summer
From a whimsical take on art historical clichés to a revisitation of female abstract painters, these summer shows are not to be missed
As the weather heats up and the art world enters a temporary lull over the summer months, some of New York's top galleries take the chance to break from commercially-driven exhibitions to put on curated shows with a more experimental edge—often with young or overlooked artists introduced to the scene. For savvy collectors and art aficionados alike, the season presents an opportunity to not only discover new talent but to see the practice of many blue-chip artists in a new light. Here, Galerie's arts and culture editor shares the shows that are not to be missed.
"This Is Not a Prop" at David Zwirner
June 27–August 3, 2018
Curated by the gallery's own Alec Smyth and Cristina Vere Nicoll, this exhibition is intended to be physically engaged with. The artworks here redefine art as a social experience and ask how objects can function as physical extensions of the body. The 13 artists include up-and-coming talents such as New York photographer Paul Mpagi Sepuya, who caused a stir at the "Being New" exhibition at MoMA, L.A.-based painter Christina Quarles, whose magnetic works are currently on view in the L.A. Hammer Biennial, and sculptor Hannah Levy who has caught the attention of collectors for her alluring silicone and steel works, interspersed with historic figures such as Felix Gonzalez-Torres and Franz West. The show is staged across both of David Zwirner's locations in Chelsea.
David Zwirner 525 and 533 W. 19th St, New York
"Cliche" at Almine Rech Gallery
June 20–July 28, 2018
Spearheaded by the brilliant curatorial vision of Half Gallery's Bill Powers, Almine Rech's summer show features some 44 young emerging as well as big names, all exploring the idea of the clichés found in art over the past century. The categories, which are divided into 16 themes, include Windows, with a painting by the trending artist Shara Hughes; Smokers with pieces by Brian Calvin and Tom Wesselmann; and the Student Work section will display a never-before-exhibited early work by John Currin. Visitors can also expect to see unexpected works by the likes of Genieve Figgis, Richard Prince, Cheyenne Julien, Cynthia Talmadge, and Alex Becerra.
Almine Rech Gallery, 39 E. 78th St., New York
"The Mechanics of Fluids" at Marianne Boesky Gallery
June 21–August 3, 2018
Taking its name from a book by the French feminist and cultural theorist Luce Irigaray, Marianne Boesky's summer show brings together a somewhat unlikely group of female artists who have all worked with abstraction—a historically male dominated realm. Curated by artist Melissa Gordon, the show attempts to chart the trajectory of abstraction through the lens of feminist theory. A bold, gestural canvas by Helen Frankenthaler, for example, is placed in dialogue with mid-career artists Laura Owens, Amy Sillman, and Mika Tajima and others.
Marianne Boesky Gallery, 509 W. 24th St., New York
Recommend: Manhattan Art Dealer Marianne Boesky Opens Her Doors
"Ravelled Threads" at Sean Kelly Gallery 
June 22 –August 3, 2018
Sean Kelly has invited on-the-rise Seattle gallerist Mariane Ibrahim (who is featured in Galerie's Spring Issue as a trailblazer to watch), to take over his Hell's Kitchen gallery space in a show that challenges our understanding of contemporary art and craft, and re-examines Post Colonial theories of African identity. The result is an exciting exhibition of 10 African artists—both emerging and established—who use fabric and thread as their primary medium. Expect buzz-worthy emerging talents such as Zohra Opoku and Athi-Ruga Patra, as well those using textiles in a more traditional way like the Mali-based designer Aboubakar Kofana, whose beautiful Indigo textiles have caught the eye of tastemaker Donna Karen.
Sean Kelly Gallery, 475 Tenth Ave., New York
"Etel Adnan, Ione Saldanha & Carolee Schneemann" at Galerie Lelong
June 28–August 3, 2018
The exhibition at Galerie Lelong considers how three master female painters have long focused on the relationship between body and landscape in their practice. First up is the Beirut-born, Paris-based poet, essayist, and artist Etel Adnan, who became an art world darling with her small-scale paintings—in her late 1980s. Her canvases have a child-like simplicity to them, radiating light and transporting the viewer to a specific moment of the day. (Adnan is also currently the subject of her first solo show in the U.S at Mass MoCA.) Ione Saldanha (1919–2001), one of Brazil's most significant talents, is known for her Matisse-inspired depictions of colonial towns and painted Afro-Brazilian totem instruments in her native country, but largely overlooked in the West. Her legacy was brought back to the market in a well-received curated section at the São Paulo art fair earlier this year. Schneemann (b. 1939) meanwhile, is one of America's most influential conceptual artists, who radically pioneered investigations into the social construction of the female body. The juxtapositions between their different approaches are bound to thrill.
Galerie Lelong, 528 W. 26th St., New York
Recommended: Artist Etel Adnan Makes Her Solo Debut at an American Museum
"Voices of America" at Gladstone Gallery
June 28–August 3 , 2018
The Italian conceptual artist Vito Acconci's iconic 1975 installation, "Voice of America," serves as the linchpin for a riveting—and politically timely—group show. First created for the Portland Center for Contemporary Arts, "Voice of America," featured wooden chairs, projected aerial views of America on the walls, and audio speakers playing the voice of a mythical "Mr. America" talking to a "Mrs. America," transforming the room into a platform for biting social critique of America's promise of boundless opportunity. Here, contemporary artists Paul Chan, Sharon Hayes, Barbara Kruger, and Rirkrit Tiravanija present works that shed light on the realities of the political situation today. Some 30 years on, Acconci's message is as clear as ever.
"AfriCOBRA: Now" at Kravets Wehby Gallery 
June 16–August 17, 2018
Savvy collectors know to head to Kravets Wehby Gallery in Chelsea to discover emerging talent and groundbreaking exhibitions. The gallery, one of the last small galleries remaining in the ever-developing neighborhood, now presents an important exhibition of work by the members of AfriCOBRA. The artist collective was founded in 1968 by five Chicago-based artists and helped shaped the black arts movement. This month, the group celebrates its 50th anniversary, and the exhibition has work by all 15 members. The show highlights the group's origins, which began in the home studio of Wadsworth Jarrell, and goes on to showcase the group's aesthetic of bold, rhythmic style and color. Visitors will not only learn about the group's historical significance but also see how the style has influenced contemporary artists such as Kerry James Marshall, who recently broke the auction record for a living African American artist, to Kehinde Wiley and Mickalene Thomas.
SaveSave
Next Post