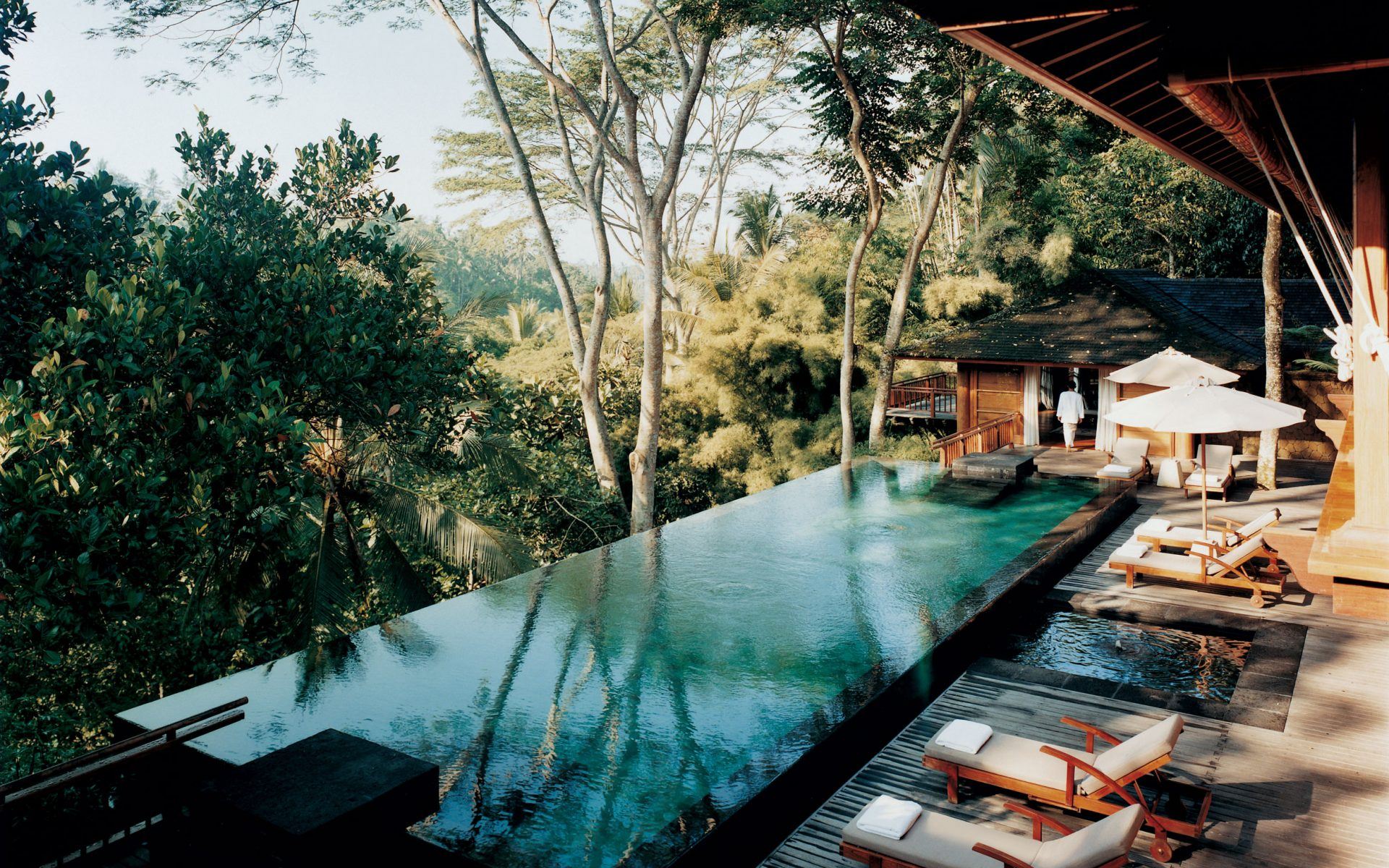 10 of the Most Luxurious Wellness Resorts Around the World
In destinations ranging from Switzerland to New Zealand, these retreats combine fine dining, luxury spas, and meditative scenery
Once the world has been given the green light to travel again, many people will be ready to book a restorative trip to a luxurious wellness resort. Whether you're looking for an intense fitness boot camp to jump-start your weight loss journey or a more blissful, relaxing retreat at a destination spa, there's a health-oriented property out there for you.
1. Aro Ha
Glenorchy, New Zealand
If you're looking for the kind of wellness retreat that's all about spa treatments and blissful relaxation, this isn't it. But if you are looking for a head-to-toe (or, more accurately, brain-to-body) metamorphosis, Aro Ha is the place for you. Located in New Zealand's Southern Alps, the luxury retreat offers a rigorous seven-day program: Guests follow a strict schedule that's centered around grueling hours-long hikes through the mountains. Yoga, massages, and soaks in hot or ice baths are included for restorative purposes. While there, you'll enjoy vegan fine dining made with ingredients grown on the property.
2. Miraval
Austin, Texas
After finding great success with its first retreat in Tucson, Arizona, the Miraval brand opened its second location, in Austin, Texas, in early 2019. The programming is so varied that it'll fit the definition of wellness for any type of guest: There are activities from traditional yoga programs and spa treatments to healthy-eating cooking classes and hatchet-throwing lessons. After a robust day of experiences, relax in one of the property's 117 sanctuary-like guest rooms, complete with meditation pillows and Tibetan singing bowls.
3. Como Shambhala Estate
Payangan, Bali
Combine the wellness-oriented Como hotel brand with a destination like Bali, and you've got a match made in heaven. At Como Shambhala Estate, located in the jungle just outside of Ubud, all guests have access to the wellness center and its spa treatments, fitness center, and yoga and Pilates classes. But if you want to go the extra mile, book a specialized wellness program, where you'll receive personalized consultations with the property's experts, whose expertise range from nutrition and chakra healing to Ayurvedic medicine.
4. 7132 Hotel
Vals, Switzerland

Built around the thermal springs in Vals, Switzerland, 7132 Hotel is all about relaxing soaks in the natural mineral waters paired with spa treatments featuring ESPA products. But wellness is only half of the equation—the hotel and its thermal baths are an architectural marvel, originally designed by Peter Zumthor, with later additions by Tadao Ando, Kengo Kuma, and Thom Mayne of Morphosis. And there's the culinary side, too: One of 7132 Hotel's restaurants, Silver, has two Michelin stars.
5. Mii Amo
Sedona, Arizona
Arizona has long been a haven for wellness resorts, but one of the best in the state is Mii Amo, an all-inclusive destination spa (part of the larger Enchantment Resort) that offers guests three-, four-, and seven-night "journeys." Guests can choose from five thematic paths focusing on everything from physical health to spiritual growth, or they can devise their own programming: Pick from guided meditation, hiking, and even painting classes.
6. Kumarakom Lake Resort
Kumarakom, India
The alternative medicinal practice of Ayurveda originated in India more than 3,000 years ago and seeks to restore balance between your body and mind and the environment. Head to the southern state of Kerala to find the best Ayurveda resorts—among them, the luxurious Kumarakom Lake Resort. The sprawling lakefront property is home to an Ayurveda center where specialists can tackle everything from detoxification to weight loss. Guests can do drop-in sessions, but longer stays for a complete wellness journey are advised.
Recommended: The 8 Most Luxurious Hotel Spas in Europe
7. The Ranch
Malibu, California

The celebrity wellness boot camp of choice, The Ranch in Malibu is a strict "results-oriented" fitness program, where you'll be challenged by up to eight hours of physical activity daily (rigorous hikes, personal-trainer-assisted workouts in the gym, yoga classes, and much more) complemented by a minimalist plant-based diet, meditation classes, and, yes, massages. While its signature is a weeklong stint at the property's location in Malibu, there's also The Ranch 4.0, which is a four-day program that takes place at the Four Seasons Hotel Westlake Village. You can also combine both with The Ranch 10.0 program, if you're looking for a total transformation.
8. BodyHoliday
Cariblue Beach, St. Lucia
The Caribbean island of St. Lucia is dotted with luxury resorts, but if it's wellness you seek, check into BodyHoliday. The hub of the property is the wellness center, where guests can choose from a wide variety of activities: acupuncture treatments, massages, skin therapy, Tai Chi classes, and more. But this is not a place that's super strict—you're also here to relax and have fun, so look for beach volleyball, golf, archery lessons, sailing, and scuba diving.
9. Rosewood
Phuket, Thailand
If you're interested in a more entry-level wellness experience—versus a no-nonsense, intensive detox—consider booking a stay at Rosewood Phuket, a luxury beachfront resort that has a stellar spa where you can sign up for wellness retreats and workshops that address issues like energy balances, renourishing your body, and fitness goals. You can also opt for à la carte treatments and classes, if you'd prefer.
10. SHA Wellness Clinic
Alicante, Spain
SHA Wellness Clinic in Alicante, Spain, is a luxe hilltop temple dedicated to improving the lives of its guests—including past visitors like Hannah Bronfman, Donna Karan, and Kylie Minogue. Housed in a modernist complex of all-white architecture, the clinic provides holistic treatments targeting fitness, healthy eating, sleep deprivation, weightless, and neurocognitive performance, among other issues. Beyond its wellness options, SHA impresses with its elegant—and incredibly spacious—suites and residences, each with contemporary decor and impressive mountain or ocean views.
Next Post