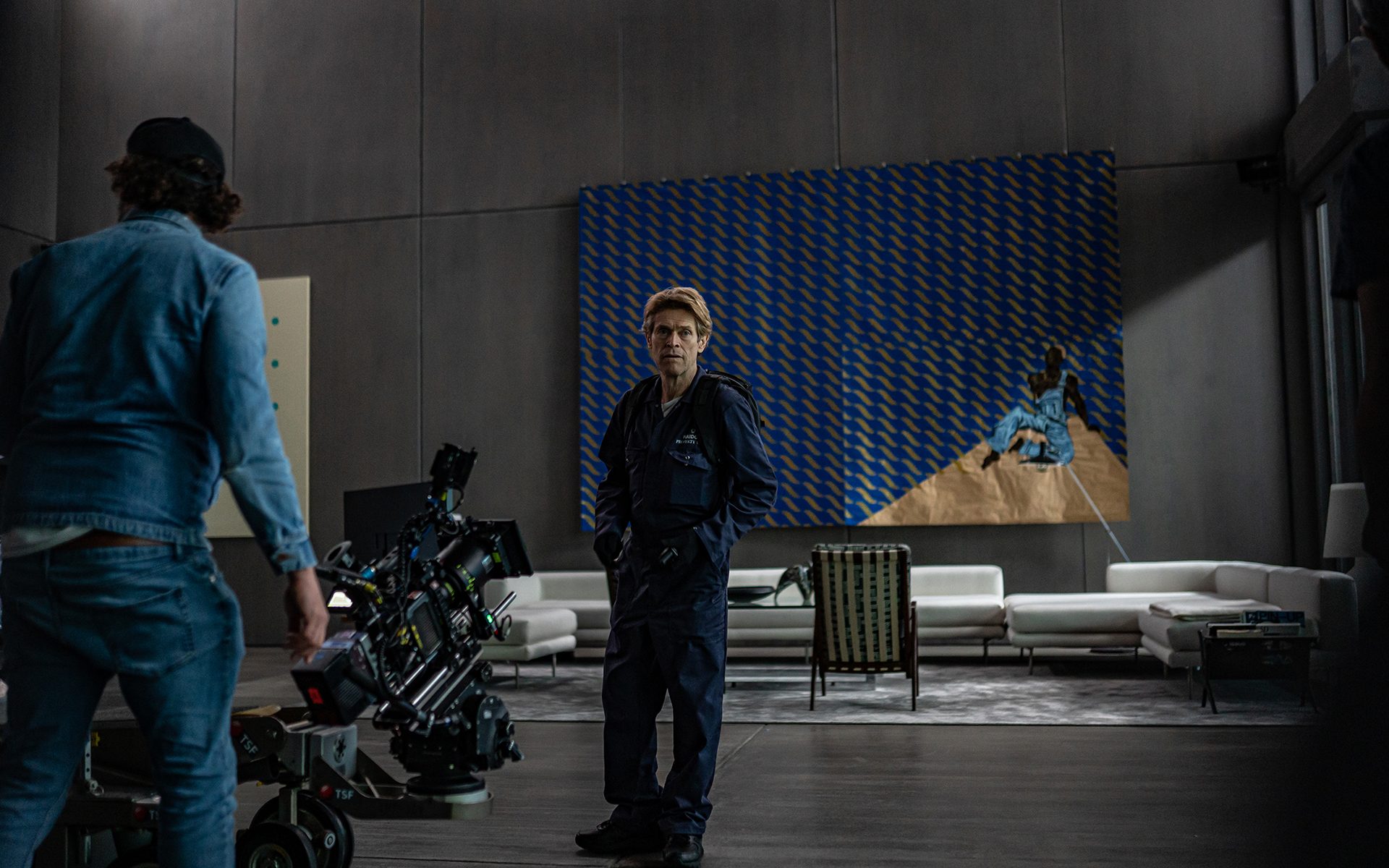 Willem Dafoe's New Psychological Thriller Also Stars a World-Class Collection of Art
The Oscar-nominated actor plays an art thief trapped in a Manhattan apartment with a museum-worthy trove in the heart-pounding film, Inside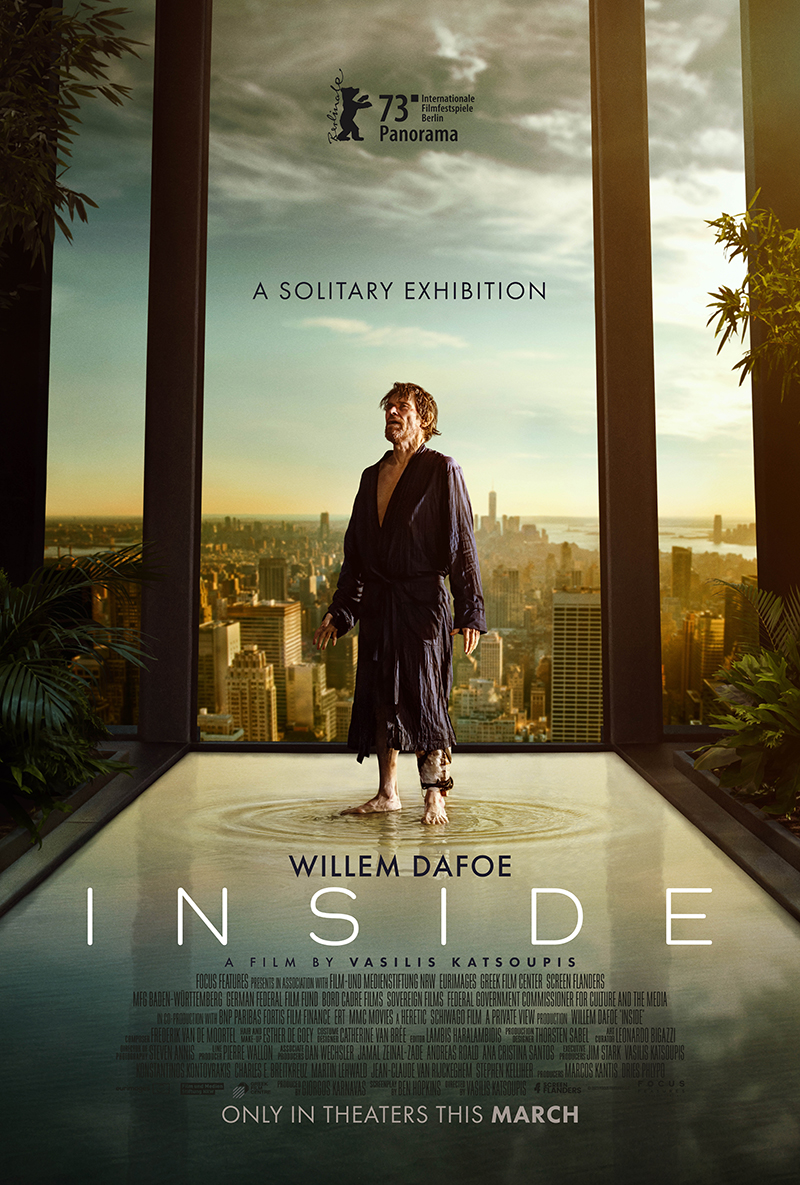 An art heist isn't a new premise for a Hollywood thriller, however when you mix the intensity of Panic Room with the survivalist "cast of one" element of Cast Away, you tiptoe closer to the emotional roller coaster that is Inside, a psychological drama from director Vasilis Katsoupis starring Willem Dafoe. Opening March 17, the film follows Dafoe's character, Nemo, as he attempts to rob a high-end Manhattan penthouse of its multimillion-dollar collection of artworks. But when the security system malfunctions, trapping him inside the residence, Nemo's unraveling takes the movie into heart-pounding, head-spinning new directions.
Adding to its intrigue, Inside's only other actors are a faceless voice on Nemo's radio or are observed through the residence's security feed, silently move about the building. That leaves the remarkable artworks installed throughout the apartment, collected by Italian contemporary art curator Leonardo Bigazzi, as Dafoe's main foil.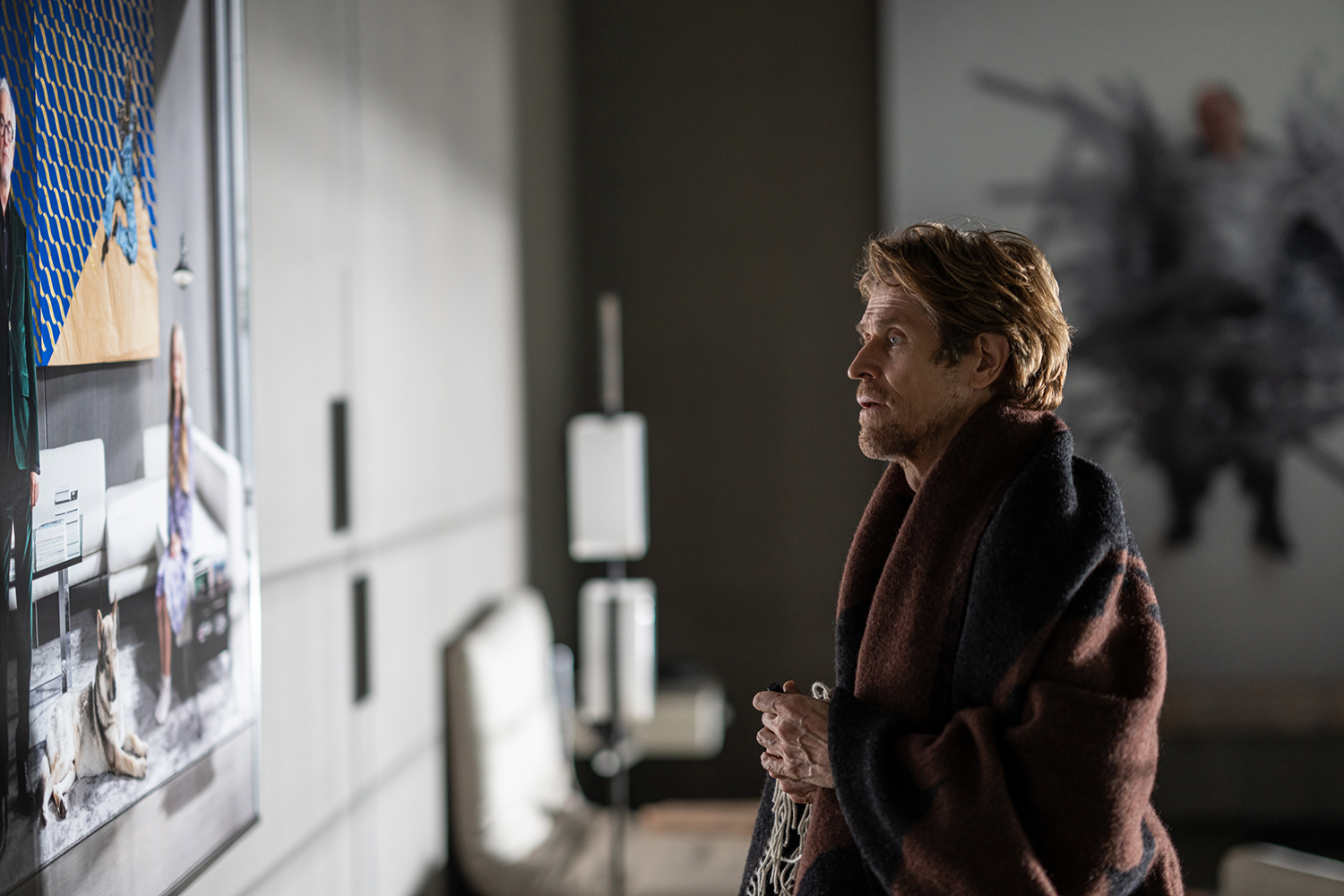 "It was a unique opportunity to work on a curatorial project, which I see in a way as an exhibition, but in a film space. As a curator, I like to work on the boundaries between mediums and on the boundaries between different worlds because I really believe that that's where the generative possibility of art really expresses itself," says Bigazzi, whose primary role is with Fondazione In Between Art Film. The Rome-based organization commissions, curates, and produces exhibitions with artists working with moving images, including many of the talents featured in Inside. "This is once-in-a-lifetime opportunity to work with Willem Dafoe, to develop a character through an art collection, and to develop the narrative of the film itself by inserting certain works that function as triggers of entire scenes."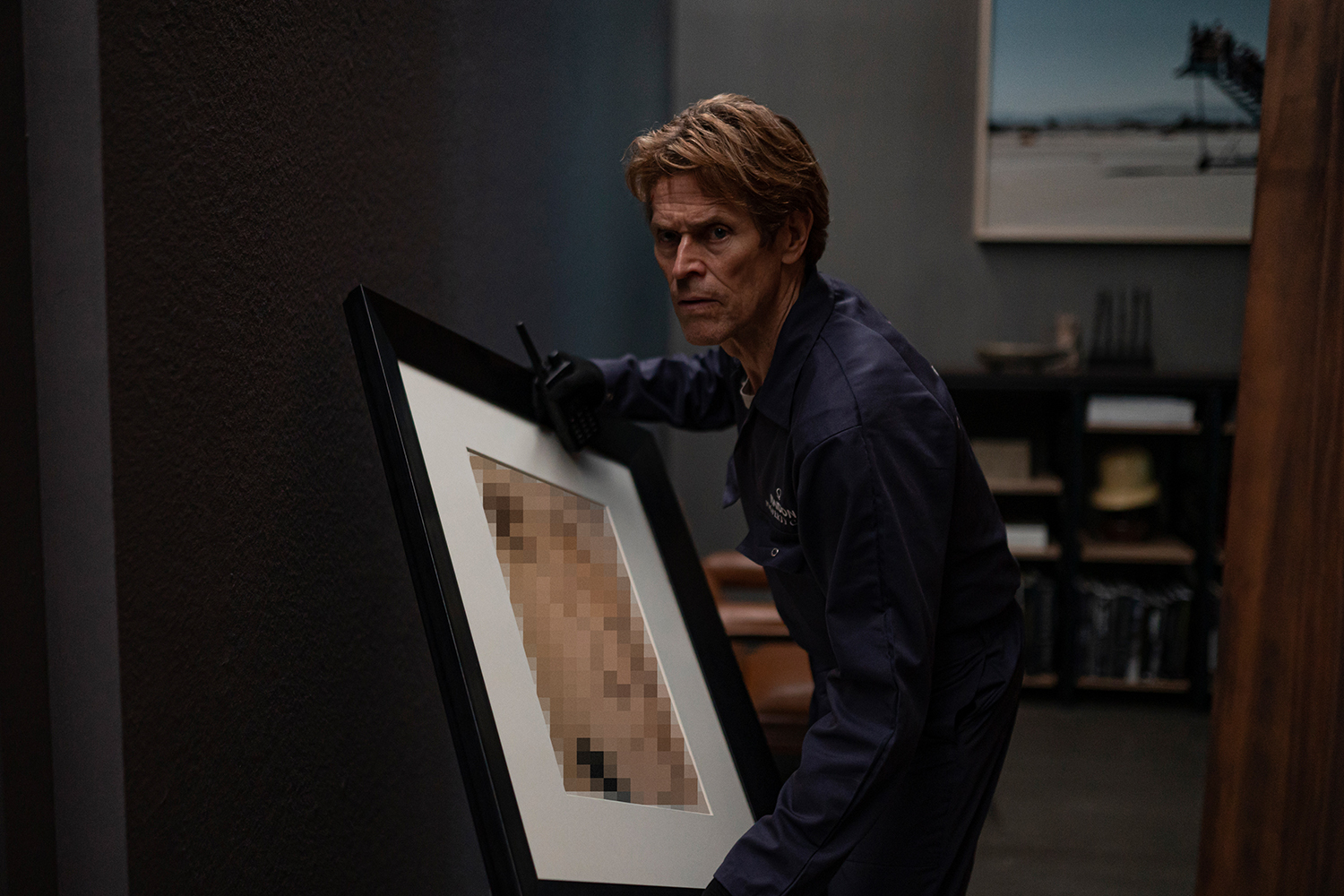 Indeed, Inside features myriad works by artists eagerly sought-after by collectors, including John Armleder, Maurizio Cattelan, and Luc Tuymans. Other pieces by Alvaro Urbano, Stefanos Rokos, Francesco Clemente, and Albrecht Fuchs, as well as Petrit Halilaj and Shkurte Halilaj were commissioned specifically for the film. "The level of trust that was necessary for them to trust this process was often granted by the fact that we know each other a long time," says Bigazzi, who was introduced to Inside's producer, Giorgos Karnavos, by artist Janis Rafa, whose 2015 video Winter Came Early is presented in the film.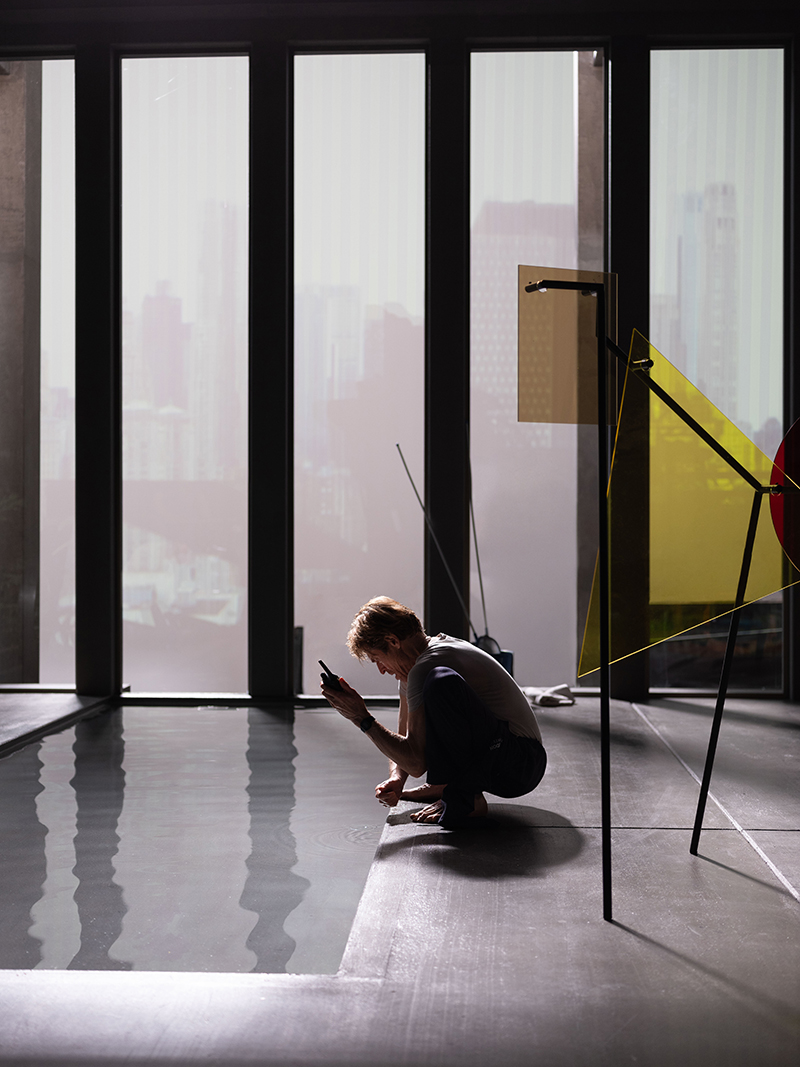 Guiding the collection was the biography of the fictitious home owner—an esteemed architect who created this Brutalist penthouse influenced by the designs of Oscar Niemeyer and Gottfried Böhm—with obvious nods to the wealth that would be required to put together an assortment at this level. Some selections, like a provocative Stefanos Rokos canvas, give visual cues to the film's dark psychological undercurrents, while other pieces literally influenced the direction of scenes improvised on the set, such as a moth sculpture by Petrit Halilaj, originally commissioned for the Venice Biennale in 2017 and later displayed at the Hammer Museum, that Dafoe then wears at pivotal moment in the film.
"The majority of the works are replicas, but even the replica process is really interesting because most are made by the artists themselves and shipped from their studios," Bigazzi tells Galerie. "The original works that are on set are all works that could either take the damage and be easily replaced, for example, the neon of David Horvitz or in which the damage would become conceptually part of the work, like the moth of Halilaj."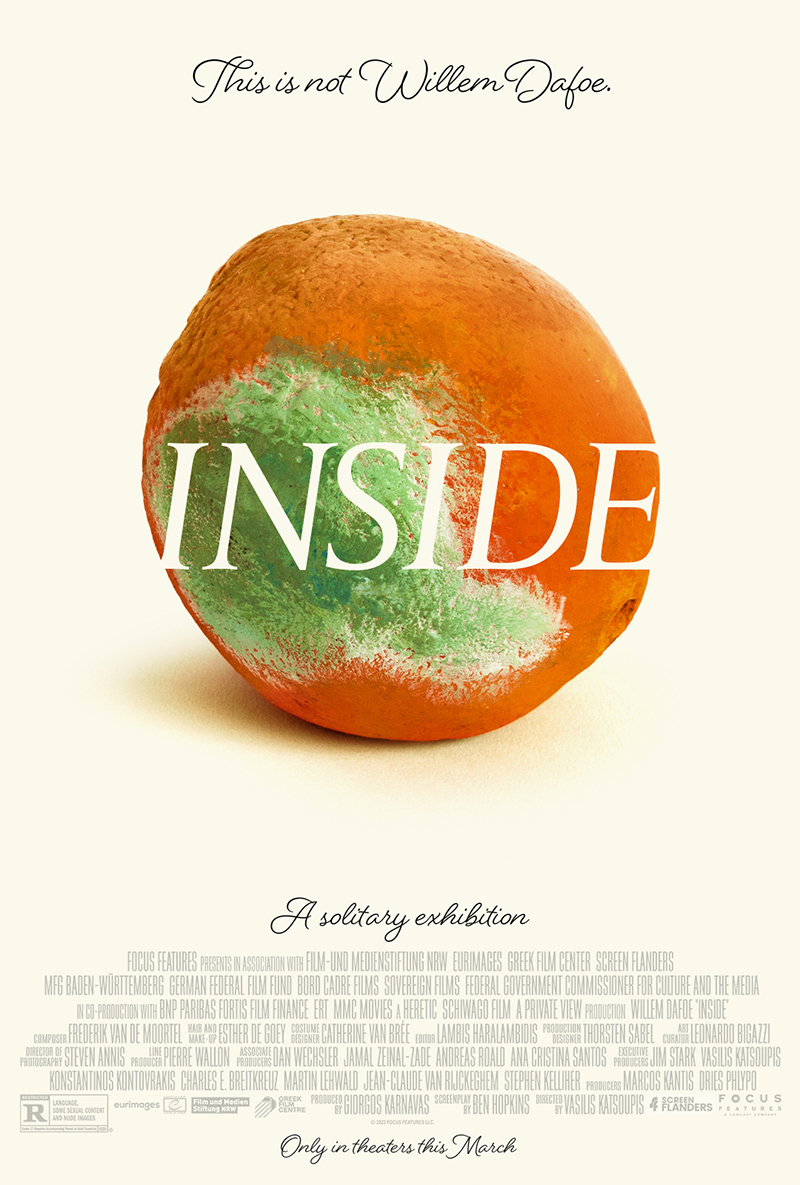 As Inside roars to its conclusion, the line between reality and delusion artfully blurs, and Dafoe, who previously played Vincent van Gogh in Julian Schnabel's At Eternity's Gate, morphs from art thief to creator. "Working with Willem was an immense privilege, and even by continuing to have conversations with him, I keep discovering and accessing new points of view on the work I did for the film," says Bigazzi, who notes that all pieces were either returned to the artists or destroyed at their request.
Only one selection survives—a specially commissioned example of Alvaro Urbano's Noches en los jardines de España (2020), comprised of five concrete oranges in a state of decay that have been shared with Bigazzi, Katsoupis, Karnavos, and Dafoe. "What I was mostly interested in about this opportunity was what happens when you place an artwork in a context that it's usually not meant to be. You have 25 artists involved in the art collection of a film; it will keep triggering ideas and possibilities."
Next Post