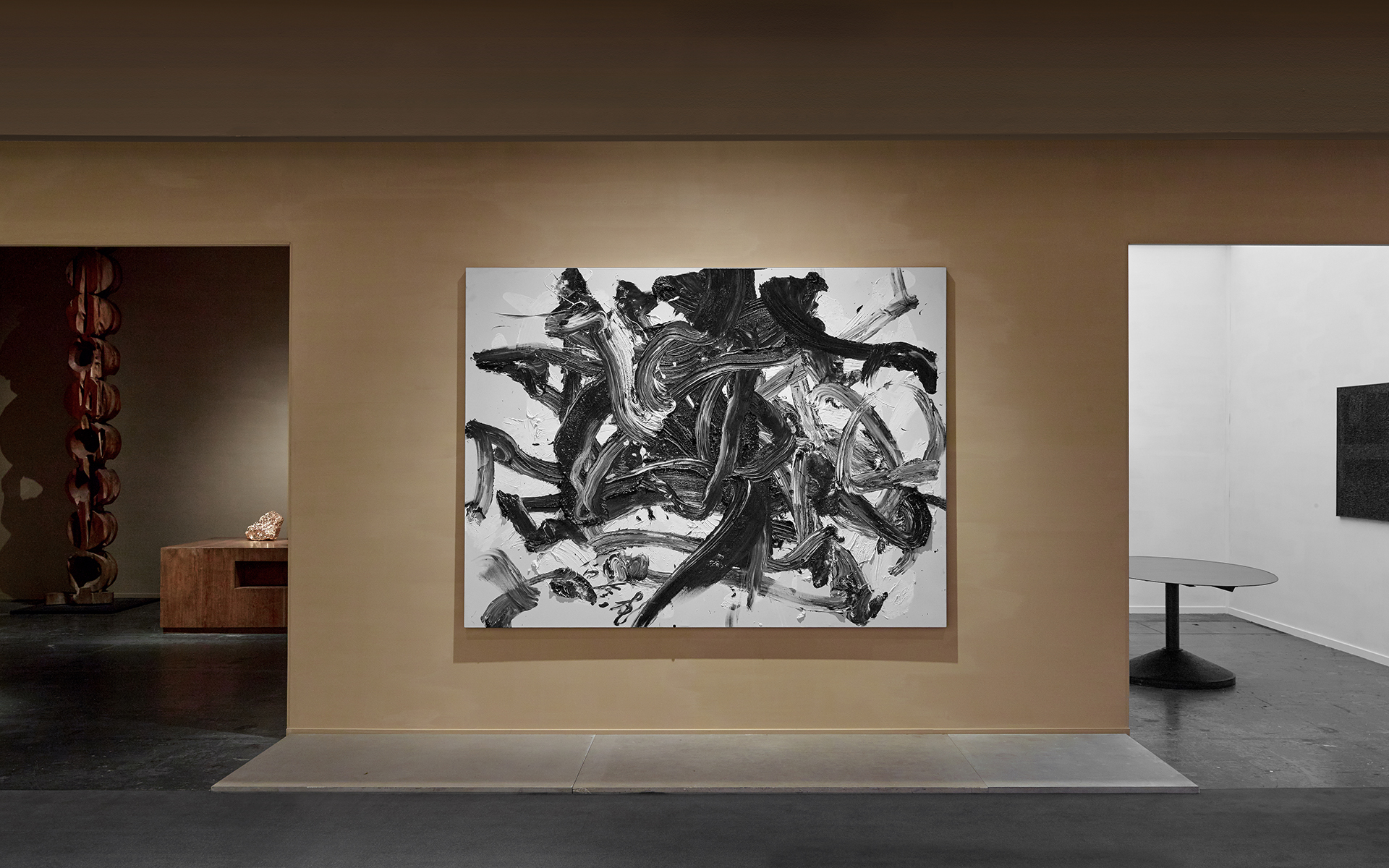 See the Most Fascinating Works from TEFAF Maastricht
Presenting some 7,000 years of art, the 2023 edition of the prestigious fair kicks off with 270 exhibitors offering a vetted selection of everything from tribal arts to contemporary design
Touting itself as the world's leading art and antiques fair, The European Fine Art Foundation—popularly known as TEFAF—delivers on its branding by consistently offering world-class works, and this year is no exception.
Presenting some 7,000 years of art, the 2023 edition of TEFAF Maastricht opened the doors on March 11 to a savvy crowd of curators, critics, and collectors who were excited to see the beloved art fair return to its full March time-slot after a shortened, post-pandemic version last summer.
Descending on this medieval Dutch city through March 19th, 270 exhibitors from some 20 countries are offering a vetted selection of top-quality antiques, tribal arts, rare books and manuscripts, jewelry, Old Master paintings and sculptures, and modern and contemporary art and design.
"Everything is top quality," Axel Vervoordt, the celebrated Belgian dealer who has been exhibiting at TEFAF Maastricht since its beginning in 1975, tells Galerie. "It's a like museum where you can buy things." And his TEFAF stand reflected that statement, with contemporary artworks by Kasuo Shiraga, whose 1990 abstract canvas fronted the stand, and Anish Kapoor combined with furniture by Le Corbusier and Lina Bo Bardi, as well as coveted relics from ancient times.
TEFAF Maastricht has once again delivered the goods across the many categories it highlights. Perusing the aisles for two days, Galerie has selected a variety of works in diverse mediums from multiple periods. These are our not-to-be-missed art and design picks from this year's fair.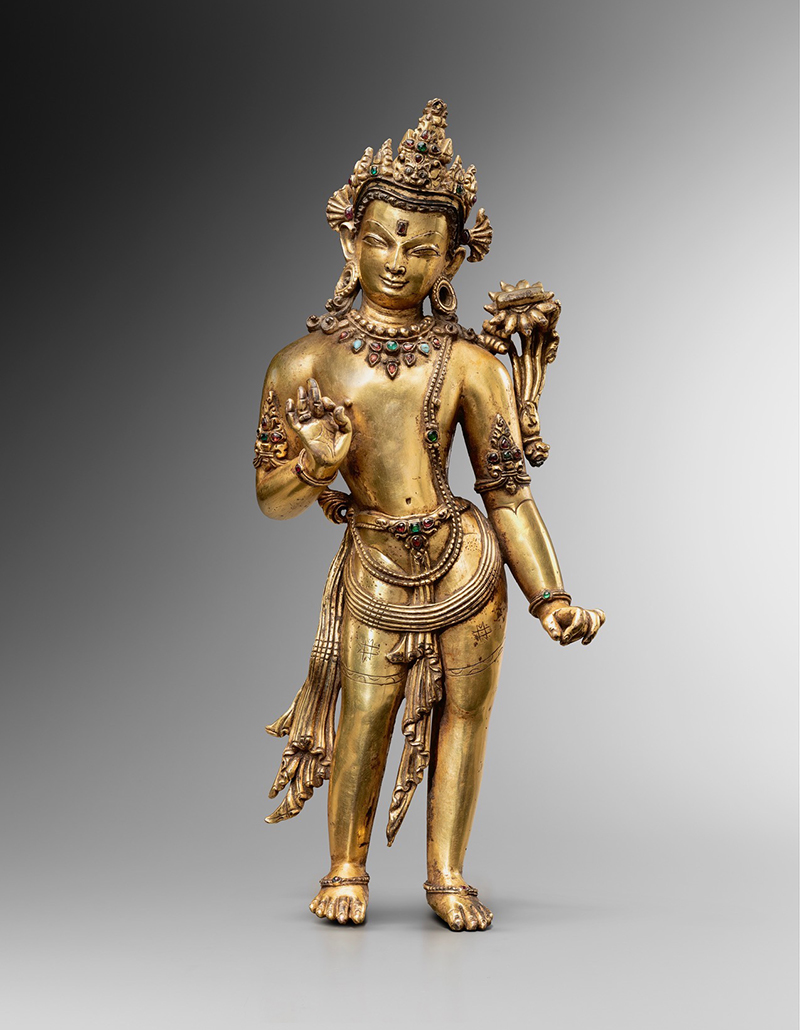 1. Manjusri at Nies Oriental Art
A bodhisattva associated with insight and wisdom, this Manjusri figure was cast in the workshops of the Newari masters during the early Malla kingdom in Nepal around 1300. The deity stands in a contra-posto pose, shifting his weight onto his straightened left leg. A lotus flower rises along his left arm and holds a manuscript containing the prajnaparamita sutra, Manjursi's emblematic attribute. Cast in gilded copper alloy and inlayed with semi-precious stones in the Kathmandu Valley, the intimate statue is a prime example of Newari craftsmanship.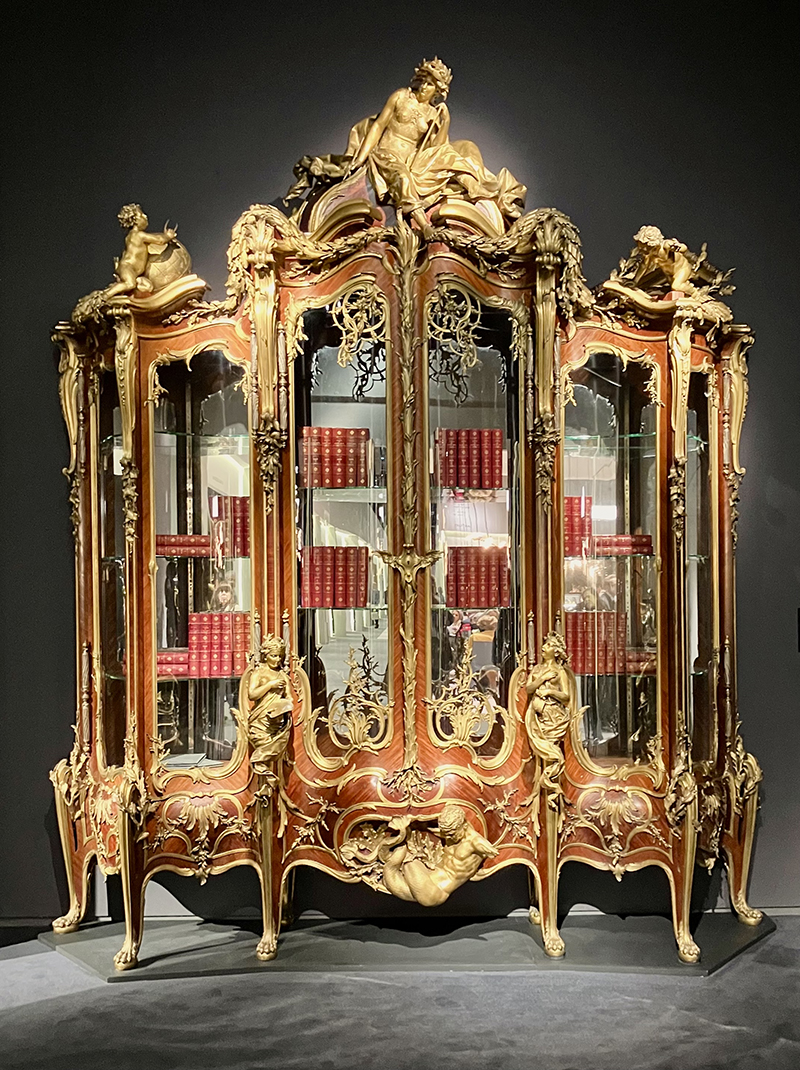 2. François Linke at Adrian Alan
François Linke's striking "La Grande Bibliothèque" was created for the 1900 Paris Exposition Universelle, where it won the gold medal. Made over a 10-year period by the Czech cabinet maker, who moved to Paris in the 1880s, it was the centerpiece of his stand and sold during the time of the show. The cabinet's gilded figures—representing geography, architecture, music and painting above and the monster of ignorance below— signified a celebration of the arts and the glory of France. Referencing the Rococo while looking ahead to Art Nouveau, Linke only produced three examples of the cabinet during his lifetime, with only two of them still remaining.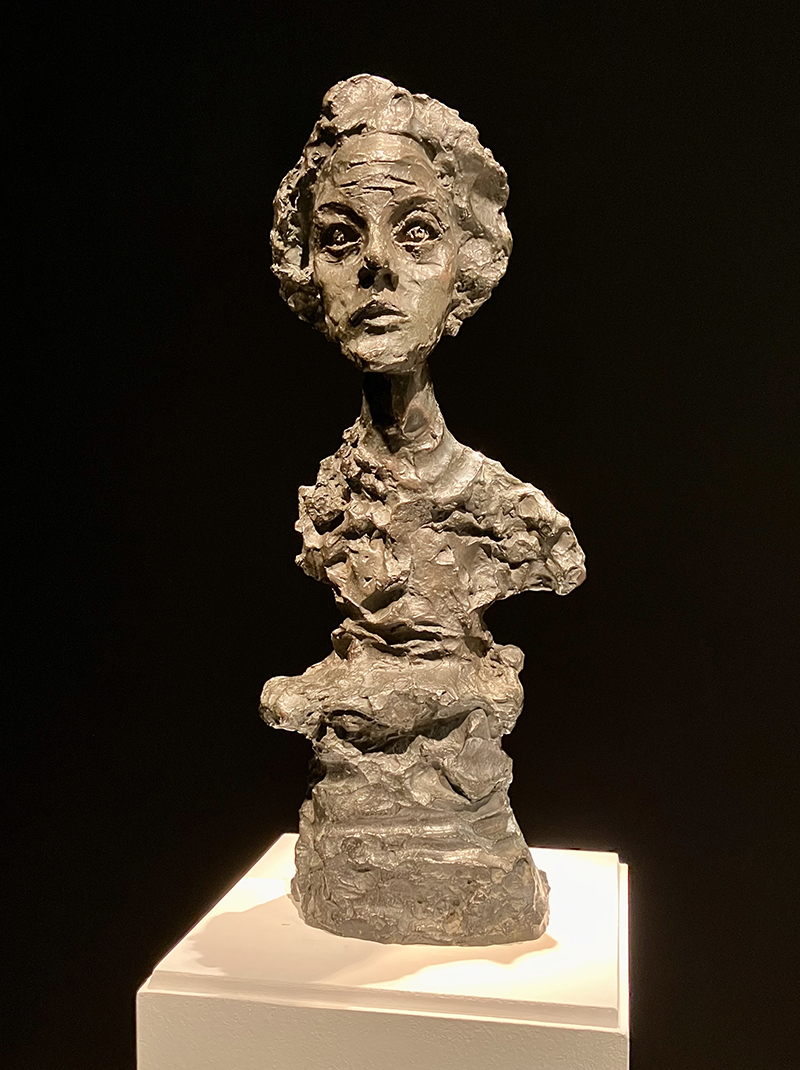 3. Alberto Giacometti at Thomas Gibson Fine Art Ltd
The 1962 bronze Buste d'Annette IV is one in a series of portrait busts that Alberto Giacometti created of his wife, Annette, between 1962 and 1965. Created in clay, transferred to plaster and then finally cast in bronze, the sculpture captures her large eyes, pointed nose and delicate chin realistically while her body becomes much more abstract. Created and cast in the year it was made, it's edition number two, which is the last edition of it made during the celebrated Swiss artist's lifetime. Given a place of prominence at the front of the gallery's TEFAF stand, it's an eye-catching piece.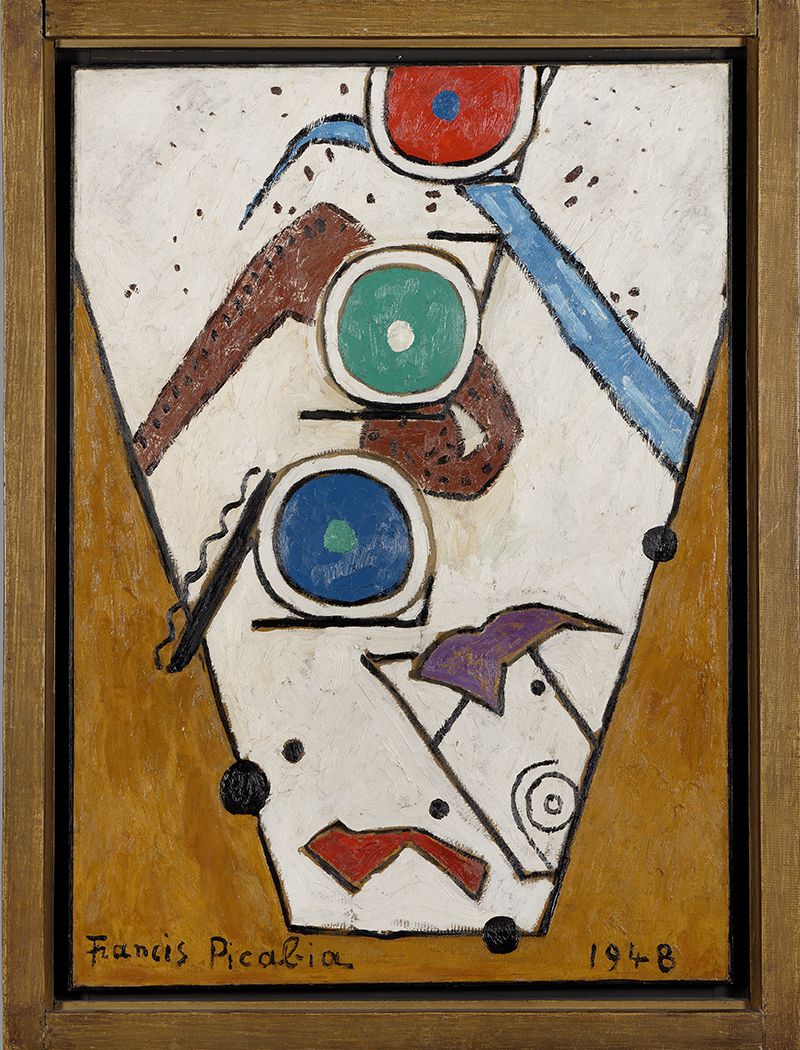 4. Francis Picabia at David Lévy et Associés
A leading light of the Dada and Surrealist movements, the French avant-garde artist Francis Picabia also made works in a variety of other artistic styles, including Impressionism, Cubism and abstraction while anticipating the Pop, Conceptual and Postmodern art movements of the latter half of the 20th century. The 1948 abstract painting Untitled (La Magie du hasard), from his short-lived Art Informel period, recalls canvases and drawings from his Dada days, with mechanical forms floating on a playful ground. Looking somewhat like a traffic light and flags viewed on a city street from below, it's composed with thick strokes of paint that reveal the expressive touch of the artist's brush.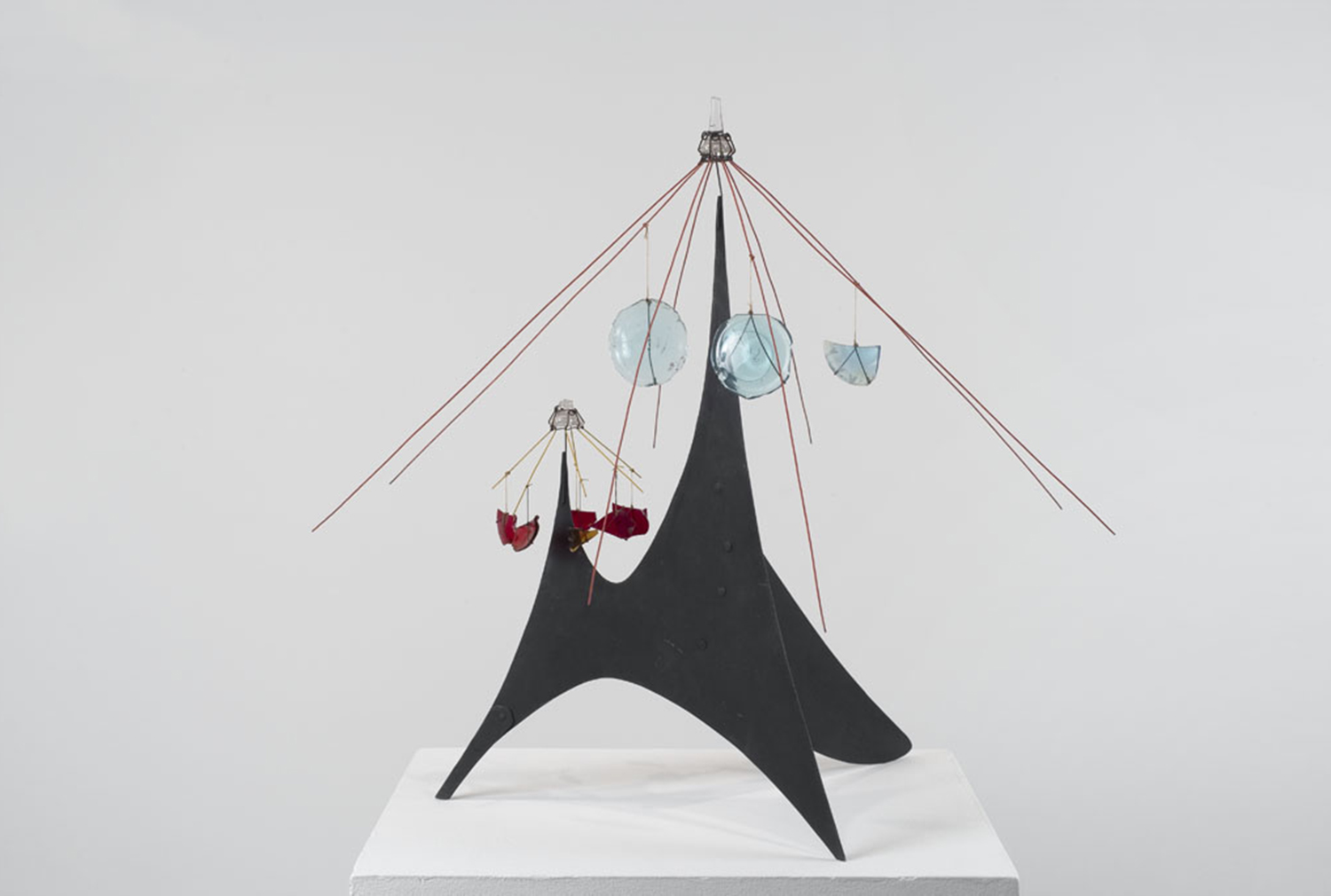 5. Alexander Calder at Tina Kim Gallery
One of Alexander Calder's most joyful three-legged standing mobiles, his 1942 sculpture Untitled (Carousel) incorporates found pieces of colored glass, dangling from delicately balanced bits of engineered wires. Created at his Connecticut studio during the war, when metal was harder to get, Calder used parts of glass bottles and automobile taillights to signify the horses of a carousel and extending stems of red painted wire to imply its canopy. Exhibited the year it was made at the Pierre Matisse Gallery in New York and then in his solo MoMA show in 1943, the mobile's provenance includes the prominent Pittsburgh-based collector G. David Thompson and Henry Clifford, a distinguished curator at the Philadelphia Museum of Art.
6. Alonso Sánchez Coello at Colnaghi
Alonso Sánchez Coello's 16th century Portrait of a young noblewoman wearing fine jewels and a black dress with gold embroidery in the form of wheatsheaves and a high white ruffle collar captures the fashion of the times worn on a stylish young lady. Active as a painter of Portuguese and Spanish royal families, Coello mingled with celebrated court figures while also making religious paintings. Working in the Renaissance style of the more objective Flemish paintings yet with the sensuality of the Venetian artists, his arresting portrait depicts the budding aristocrat with rosy cheeks and lips, which is thought to be a reference to the Virgin Mary.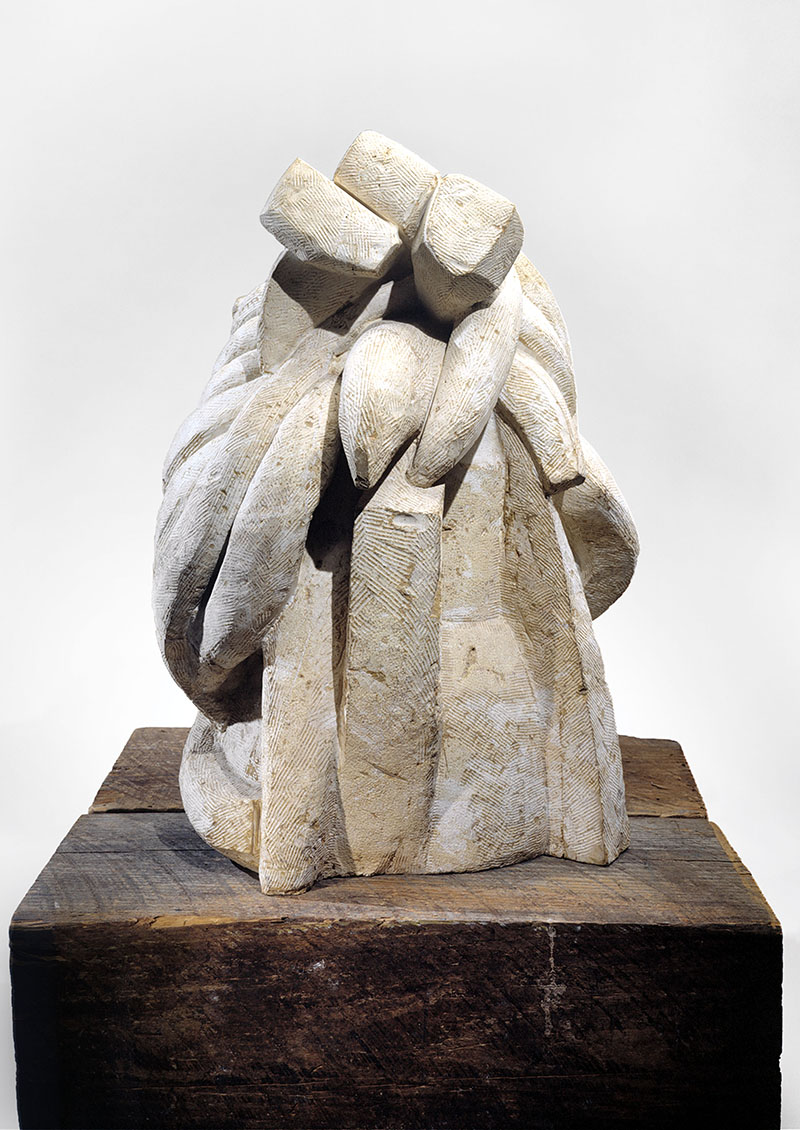 7. Louise Bourgeois at Karsten Greve
Louise Bourgeois' magnificent marble sculpture is a tribute to the 17th-century master of Baroque sculpture, Italian artist Gian Lorenzo Bernini (one of the few artists she repeatedly referenced in her work). Hand-carved by Bourgeois in 1970 and displayed on her homemade timber wood base, Baroque was featured in the artist's acclaimed 1982 retrospective at New York's Museum of Modern Art. A unique piece, it's often been considered a metamorphosis and contemporary reinterpretation of Bernini's famous sculpture Apollo and Daphne. Abstractly portraying intertwined figures, its chiseled surface accentuates the sculpture's shadows, while adding a sense of movement to its marvelous, entangled forms.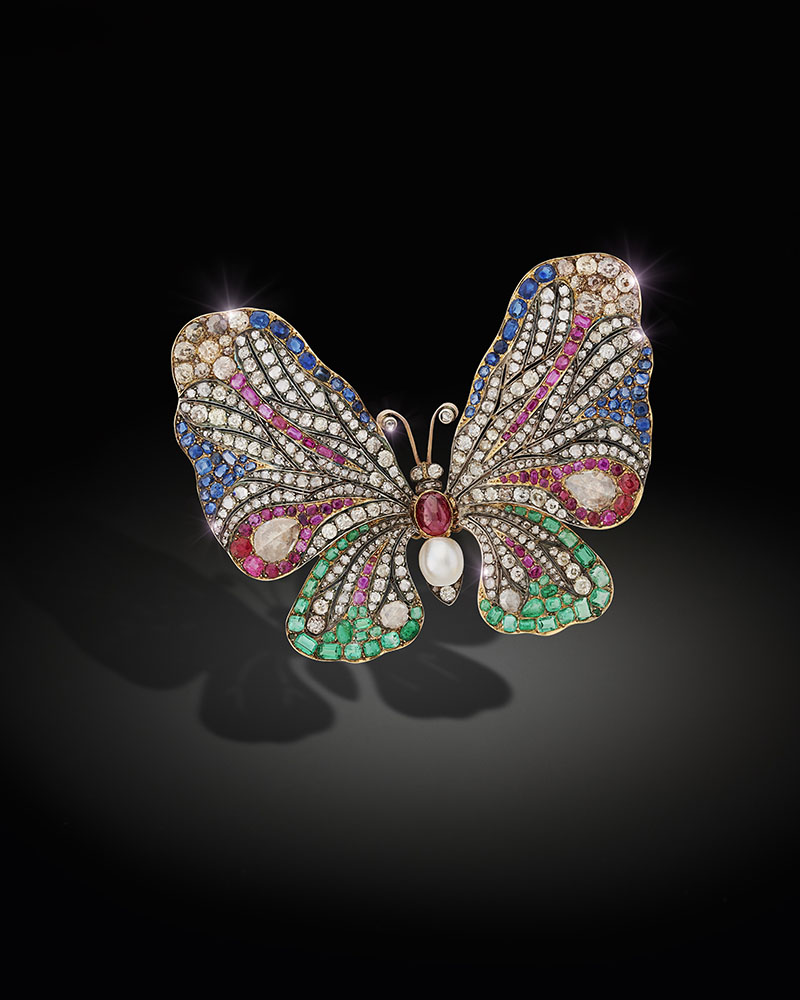 8. Jules Jean François Fossin at Wartski
A rare gem-set butterfly designed and crafted by the distinguished jeweler Jules Jean Francois Fossin around 1850, it's believed to have been created for Caroline Fraser, the consort of Prince Lucien Murat, who was the nephew of Napoleon I. Fossin was trained and worked alongside his father Jean-Baptiste Fossin, head of the workshop of Jean Francois Nitot, who in turn was collaborator to his father Marie-Etienne Nitot, Jeweler and Goldsmith to Napoleon I. The father and son supplied luxurious jewels to the Empress Josephine, and subsequently to the Empress Marie-Louise. Designed in gold, it's set with diamonds, rubies, emeralds and a pearl. Wartski acquired the signed piece of jewelry from a member of the Murat family.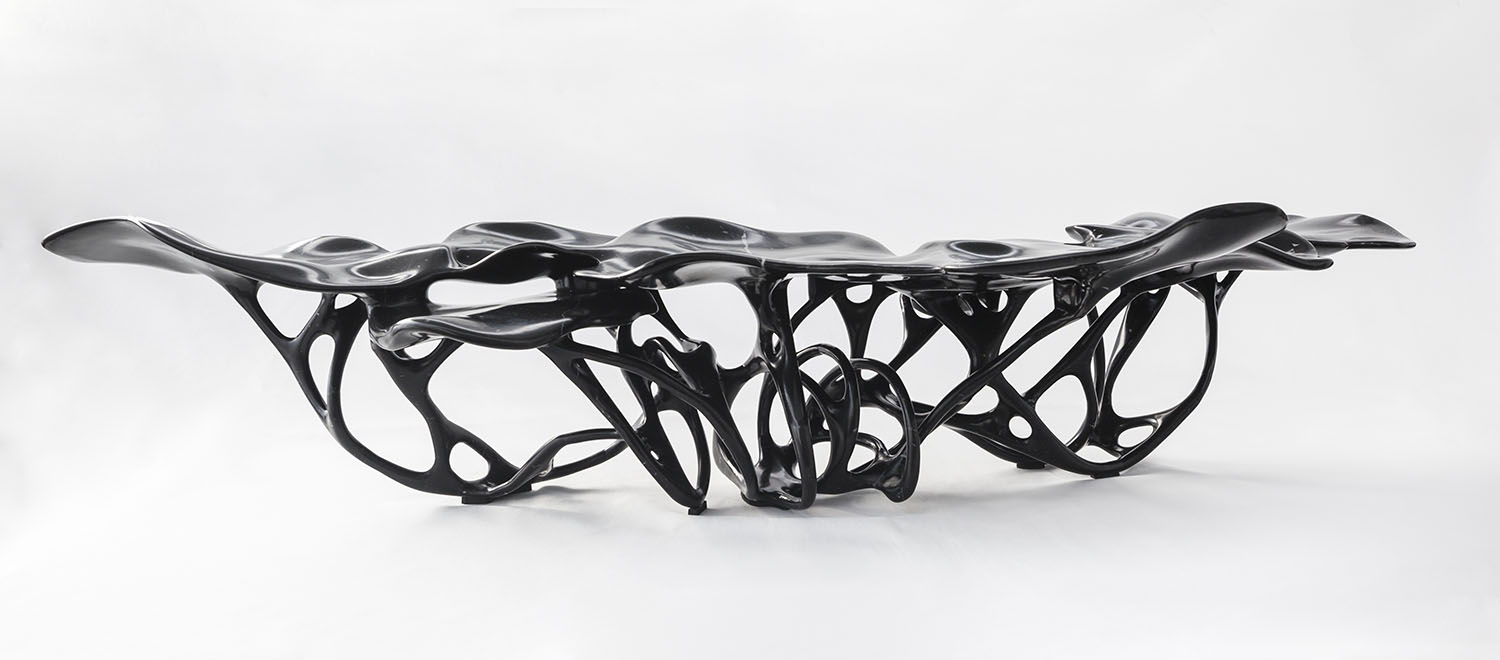 9. Mathias Bengtsson at Galerie Maria Wettergren
A pioneer of digital design, Danish artist and designer Mathias Bengtsson employed artificial intelligence combined with ancient craftsmanship to create his 2021 Membrane Table, which he has produced in a limited edition of 8. Digitally carved in black marquina marble and hand assembled and polished, the Stockholm-based Bengtsson created digital seed that he developed in AI software, giving it data on rain and sun to form lily pad-like leaves supported by twisting roots. Widely collected by major museums, Bengtsson is continuously experimenting to make new forms, which were previously impossible to create.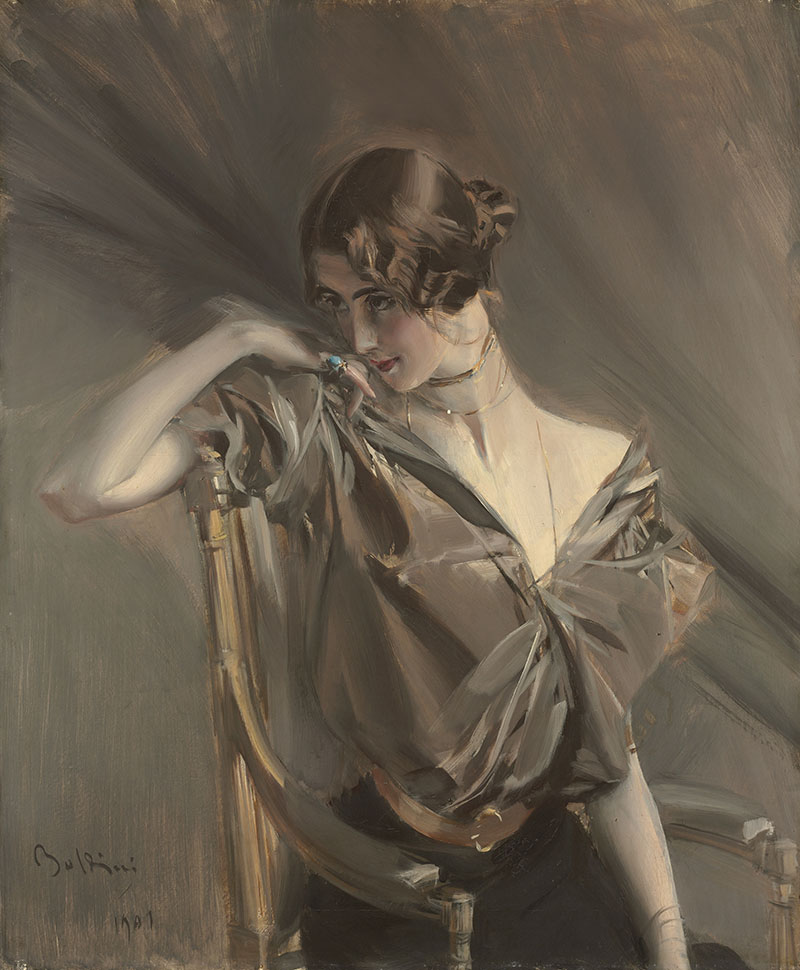 10. Giovanni Boldini at Wildenstein & Co. Inc
The illegitimate daughter of a Belgian baroness and a member of the Austrian upper middle class, Cléopâtre-Diane de Merode—known as Cléo de Mérode—was an admired dancer and artist's muse at the turn of the 19th century and beginning of the 20th. Posing for Giovanni Boldini, as well as Edgar Degas, Henri de Toulouse-Lautrec and Paul Nadar, she was rumored to be the mistress of King of the Belgians Leopold II. In his 1901 painting Portrait of Cléo de Mérode, the Paris-based Italian artist Giovanni Boldini—known as the "Master of Swish," because of his flowing style of painting—the artist captures her likeness realistically while painting the background and her blouse with lively, abstract brushwork.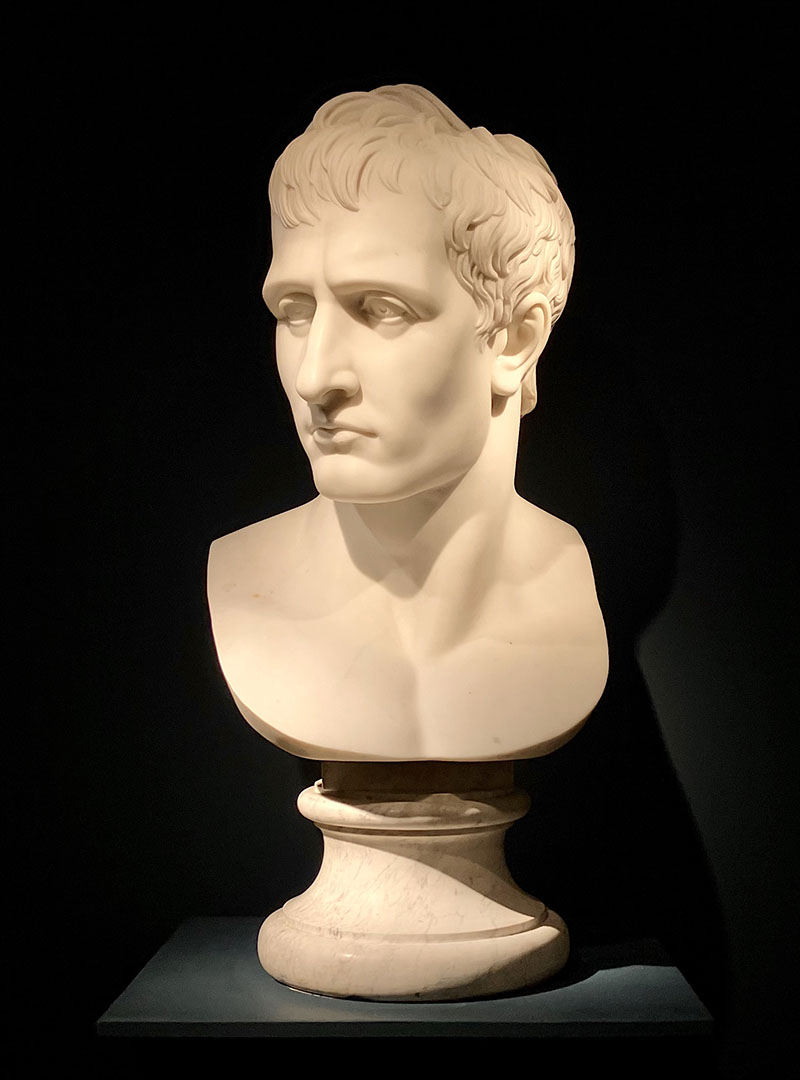 11. Antonio Canova at Imperial Art
Commissioned by the Provisional Government of the Cisalpine Republic in 1801, Antonio Canova's Colossal bust of Napoleon I, from around 1803 to 1806, is one of six busts of Napoleon and one of the largest. Canova created a sculptural image of the French emperor as a disarmed and peacemaking Mars. Hand-carved in Carrera marble with an incredibly smooth surface, which was typical of Canova's pure white sculptures during that period, the heroic bust is related to the full figure carving of Napoleon, which depicts the Corsican conqueror nobly in the nude, at Apsley House in London.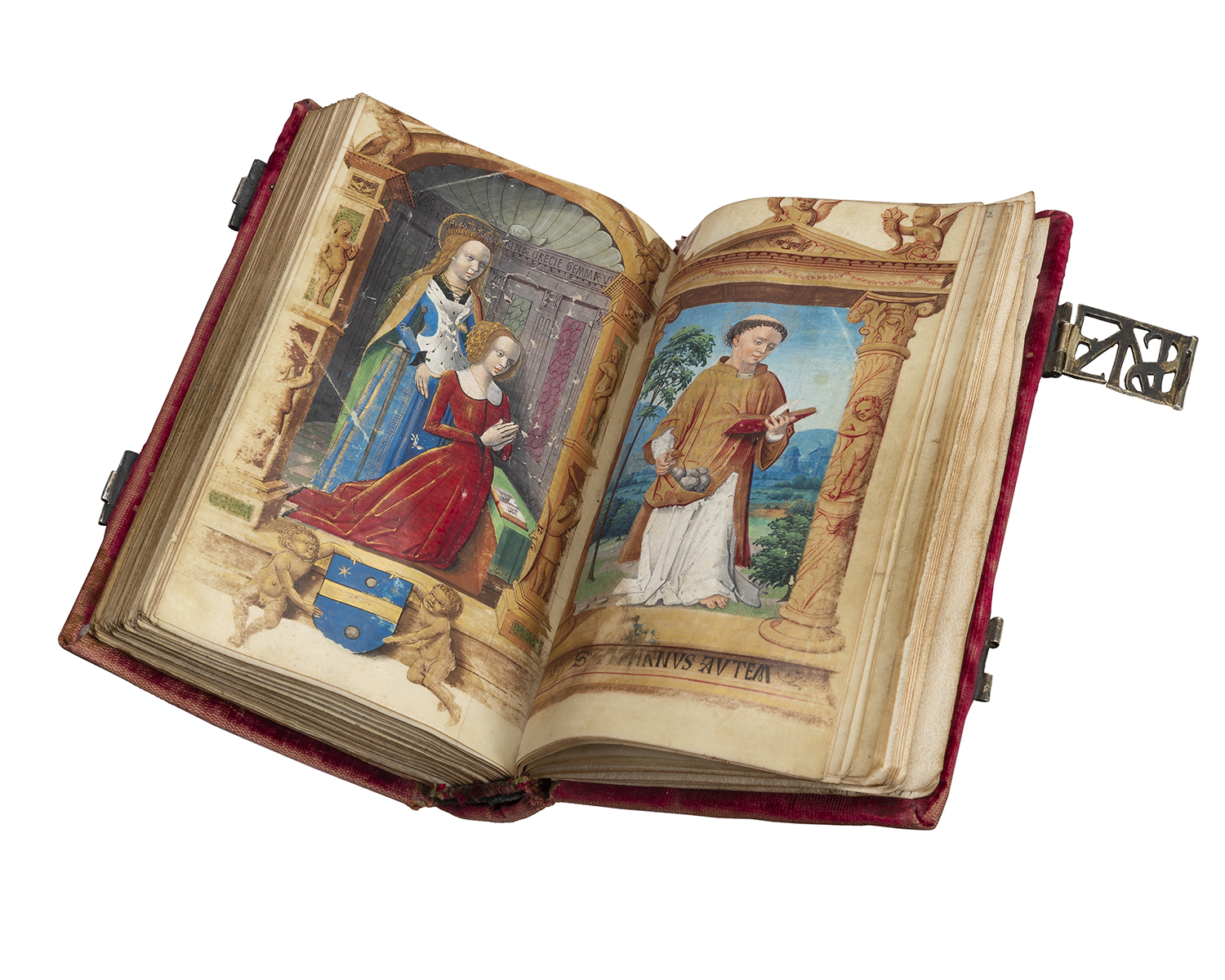 12. The Master of Guillaume Lambert at Les Enluminures
Featured in the gallery's exhibition of women in books, the Master of Guillaume Lambert's illuminated manuscript on parchment, The "Le Saunier" Hours, was produced in Lyon, France between 1490 and 1500. Hand-painted and hand-written on animal skin with the finest mineral-based paints, which were extremely expensive at the time, the remarkable book tells the story of the patrons, Jean and Catherine, from the Le Saunier family whose arms are reproduced in the manuscript. In the double-page spread open in the image here, Catherine is seen kneeling before Saint Stephens, revealing both her devotion and her importance to medieval society in Lyon.
Next Post