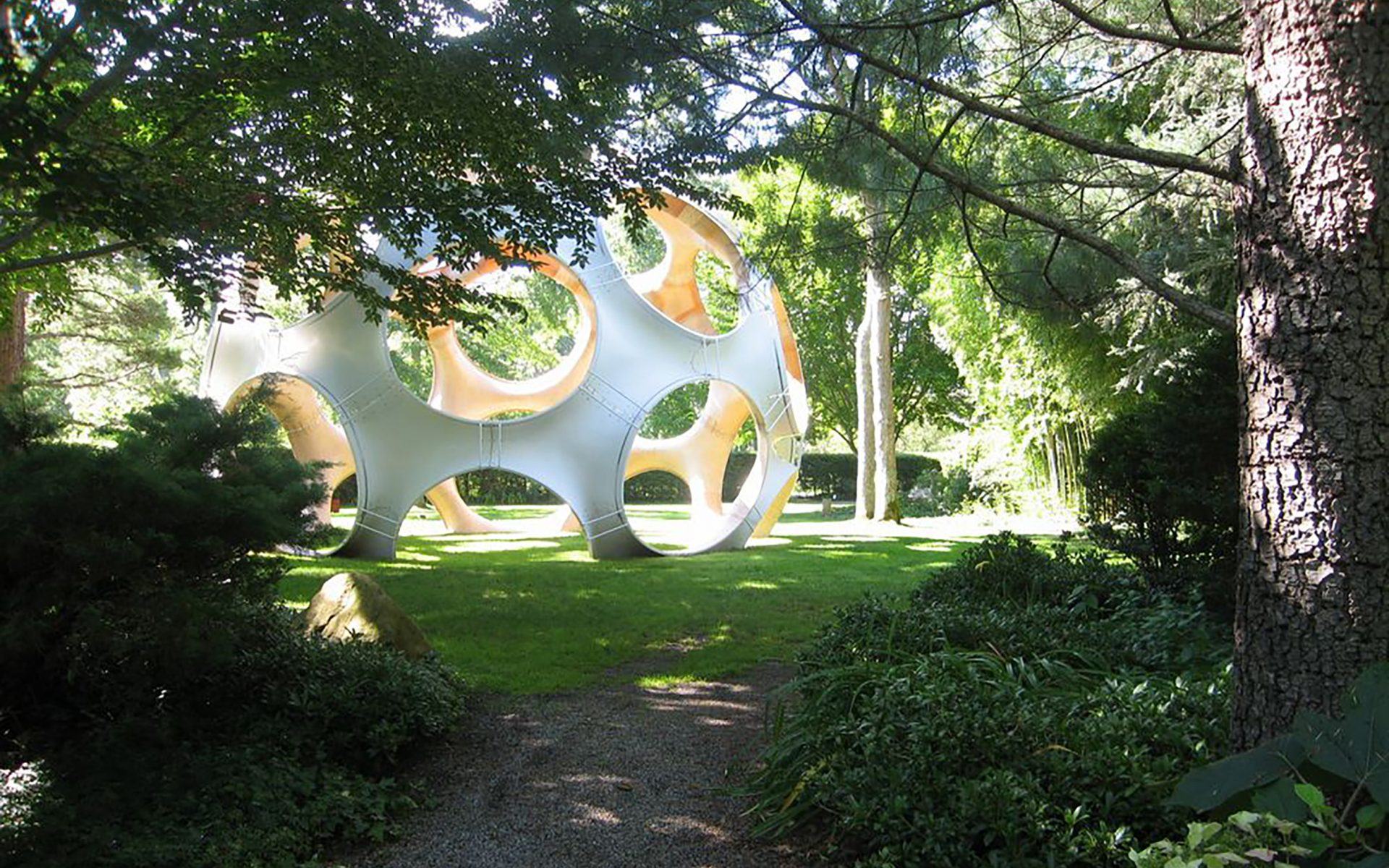 East Hampton's LongHouse Reserve Opens 2019 Season with Major Will Ryman Installation
The artist's towering sculpture of a rose is among several new installations by important artists
Nestled down a winding gravel path off Hands Creek Road in East Hampton is the art-filled estate of textile artist and author Jack Lenor Larsen, who has allowed the public to visit the 16-acre site, known as LongHouse Reserve, for the past 28 years. The unique property opens for the season on Saturday, marking the first time guests can see major new installations by the likes of Will Ryman, Wendell Castle, Jun Kaneko, Joseph Walsh, and Young Jae Lee. These powerful pieces join LongHouse's 60 previously installed works by artists such as Buckminster Fuller, Yoko Ono, Willem de Kooning, and Sol LeWitt.
"One of our goals is to be the first to introduce a new artist or display work that can be seen in a different light, both figuratively and literally," LongHouse curator Wendy Van Deusen tells Galerie. "Jack Larsen embraces change above all else. He's also a great supporter of artists, and LongHouse provides a spectacular setting for large-scale work that might not otherwise be able to be seen in a traditional gallery setting."
Recommended: Simone Leigh's Powerful Exhibition Opens at the Guggenheim
Rites of Spring, as LongHouse's opening day is traditionally called, will give visitors their first opportunity to interact with Ryman's LongHouse 6, a towering site-specific installation of crimson-red roses and fallen petals that will be displayed on the estate's Pyramid Plateau. Also making its debut is a magnificent bronze bench by Wendell Castle titled Grand Temptation, which will be installed near the Black Mirror, an artfully designed reflecting pool on the grounds. "Castle's work will make for a powerful presence and a perfect position to view Stephen Talasnik's Echo (2019), a trio of bamboo orbs floating in the Black Mirror fountain beginning June," says Van Deusen.
While several pieces on the property are permanent works, like Fuller's Fly's Eye Dome and Reclining Figure by de Kooning, others are on loan, like Walsh's shelf/sculptural piece Enignum Shelf XXXVI, which was designed specifically for LongHouse's gallery space. "We feel having works on loan is exciting and makes for a more interesting dynamic for visitors as well," says Van Deusen. "Walsh is a self-taught Irish furnituremaker and designer whose career is on the rise, earning international acclaim for his sweeping curvilinear forms in ash. His work was last seen at LongHouse in the 2016 exhibition 'MasterWorks.'"
Sharing gallery space with Walsh's work will be hand-thrown shallow bowls and tall pots by Young Jae Lee fashioned in the tradition of ancient Korean ceramics. "The surfaces, glaze, and shape differ subtly, radiating the grace, proficiency, and delicate characteristics of this artist," says the curator. "Lee has seamlessly combined the serene forms of vases and bowls with the functionality of the Bauhaus."
Recommended: 4 Galerie Readers Share Their Inspiring Collections
The real beauty of LongHouse is the way art interacts with nature on the grounds. Dale Chihuly's exquisite glass pieces dance among water lilies, while sculptural cherry-red benches toy with perspective among piercingly pink and red flowering shrubs in the Red Garden. Even Larsen's home, created by architect Charles Forberg and inspired by a seventh-century Shinto shrine, seamlessly melds landscape with man-made materials. "It is always remarkable to note that as we install pieces of sculpture throughout the gardens it seems to always be a surprise, the spaces become a vignette totally attuned to the presence of its new inhabitant," says Van Deusen. "Guests will comment on the joy of coming upon a sculpture and feeling intimate with the space."
A participatory new installation by Lawrence Weiner, Out of Sight, will be placed on LongHouse's popular Squash Court, which is regularly the stage for LongHouse's "Planters: ON+OFF the Ground," an annual reception that invites landscape designers, architects, gardeners, and other creatives to make works that combine plants and vessels in a limited space. "The Squash Court will be filled with a floor installation that aims to inspire and engage people through positive visualizations," says Van Deusen. "It is meant to be the framework for a journey of self-discovery and self-empowerment."
"I think all the works at LongHouse feel cohesive," she continues. "The sculpture may be very different from one another, but there is always this interesting juxtaposition of space and nature that is timeless."
Next Post