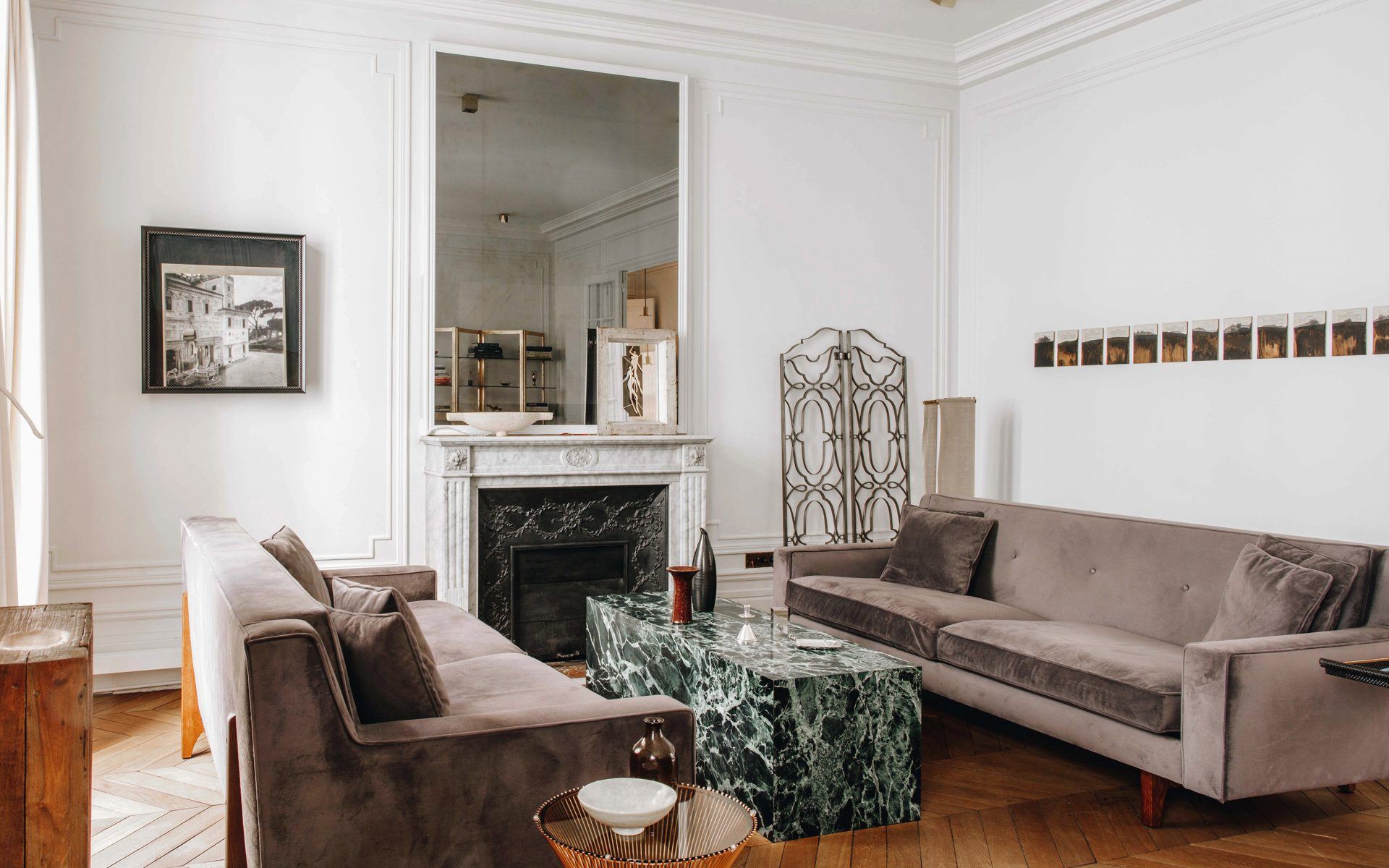 Why Up-and-Coming Parisian Architect Nathan Litera Loves His Home More Than Ever
A Haussmann-style apartment boasts an art and design collection featuring works by Nicolas Lefebvre, Lucien Clergue, Tobia Scarpa, Pierre Jeanneret, and Eileen Gray
For Parisian architect Nathan Litera, it's all about balance–the perfect mix of contemporary art and coveted design pieces, the tension between old moldings and new light fixtures. In mastering the back and forth of this pendulum, he's become a name to know in French design and his star is quickly on the rise in the U.S., especially with his most recent project—the reimagining of the restaurant at Spring Place in New York. Galerie asked the architect, who once worked for the legendary Jean Nouvel, to reflect on how he spent his time during the stay-at-home restrictions in Paris, just as his country begins to open up again.
Although we were in the French countryside when the quarantine first started, we came back to our Paris home soon after and didn't regret it at all. The apartment is on the west side of Paris, close to Parc Monceau. It was my first full apartment renovation project ever back in 2012. At that time I really pictured my dream house as a typical Parisian Haussmann apartment with the herringbone wood floors, the moldings, the millwork, and all the traditional hardware. However, I wanted all of this to be with lighter and minimal proportions. I painstakingly restored the original millwork, dating back to the 1920s, and sanded the wood floors again and again until I achieved the perfect color.
We don't usually spend much time in our living-dining room, especially during weekdays, but we decided to use the marble living room table as my office. I have often worked from home late in the evenings but almost never during the day. I was a bit surprised by the evolution of the light that I had never witnessed. Maybe we are also more sensitive to these kinds of atmospheric details at the moment. 
There's something pretty unique in the articulation of our office-kitchen room. I opened up the kitchen completely and wanted to bring more coziness into the space. It used to be just for cooking, but now my wife, who cofounded the firm with me, uses it to work. This space eventually turned into a hybrid kitchen-library-office-low-key-dining-room. We placed a Tobia Scarpa Soriana chair and an Eileen Gray black-lacquer chair there.
Recommended: Love Letter to My Home: Achille Salvagni's Glamorous Apartment in Rome
We definitely spend more time now in the kitchen improvising on Mediterranean recipes where some of our family roots are. Our regular office table that I had designed when we moved—and was partly a dining table for the two of us—is now only used for meals. We have never spent so much time selecting ingredients and pastas or homemade bread with the right tomatoes, olive oil, and wine. We like Italian-influenced dishes but with Middle Eastern spices as well.
During this period, I've enjoyed the company of the art that surrounds us, some of which were collaborations. I hardly ever got to see them by daylight, and they have a very different energy. There's a totem piece by Nicolas Lefebvre, which is a tribute to Constantin Brancusi; an art installation composed of book pages by Tim Rollins; and a Venetian nude by the French photographer Lucien Clergue. 
Recommended: Tour a Glamorous Manhattan Aerie by Designer David Scott
This apartment has been the witness of major steps in our lives, and we would not change much in terms of architecture. We would probably use a different color palette now and change a few design items, but we would keep most of them. To some extent the quarantine period came at the right time as a farewell to this home. We leave it this summer and have been working on an apartment showroom for a year. We feel this long stay is a proper way to say goodbye. I'm truly thankful and already nostalgic for this special home.
Next Post