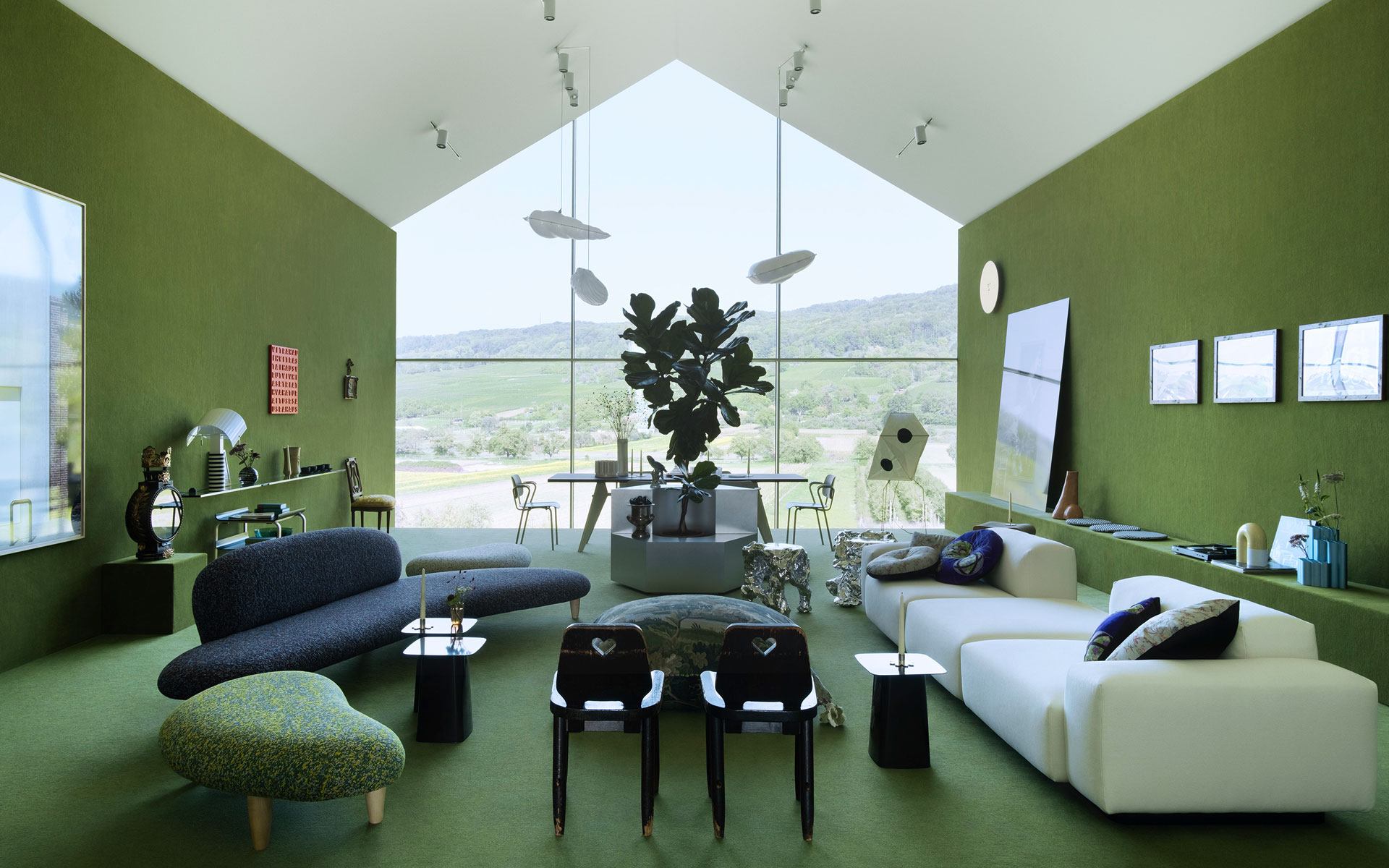 Buzzy Architecture Firm Charlap Hyman & Herrero Reimagines an Iconic Building on Vitra's Campus in Germany
In celebration of VitraHaus's tenth anniversary, the Herzog & de Meuron structure gets a thoughtful makeover that offers a poetic response to the pandemic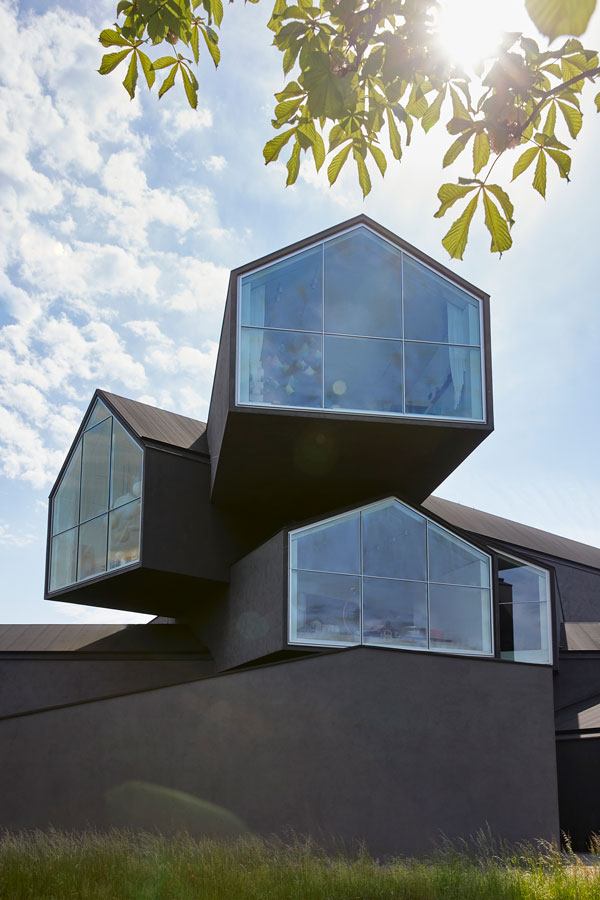 Since the mid-1980s, the Vitra Campus in Weil am Rhein, Germany, near Basel, Switzerland, has served as a hotbed for experimentation, not just with its own furniture manufacturing and now-iconic architecture design, but pointedly how the two work in tandem. This fall its Herzog & de Meuron-designed VitraHaus celebrates its tenth anniversary with a boundary-pushing redesign that sets a new precedent for what a commercial space can and should be.
Vitra creative director Till Weber, who has been with the Swiss company even prior to VitraHaus's construction, tells Galerie that the building was conceived as a "gesamtkunstwerk," or total work of art, where each of the five floors is carefully considered and seamlessly connected. While the building's café and shop received a recent facelift (plus, a new exterior garden), one of the most significant additions is a ground-floor Interior Studio which allows for more client interaction. Atelier tables and endless drawers of surface swatches, textiles, and flooring offer buyers the opportunity to curate an entire home design around select pieces of Vitra furniture.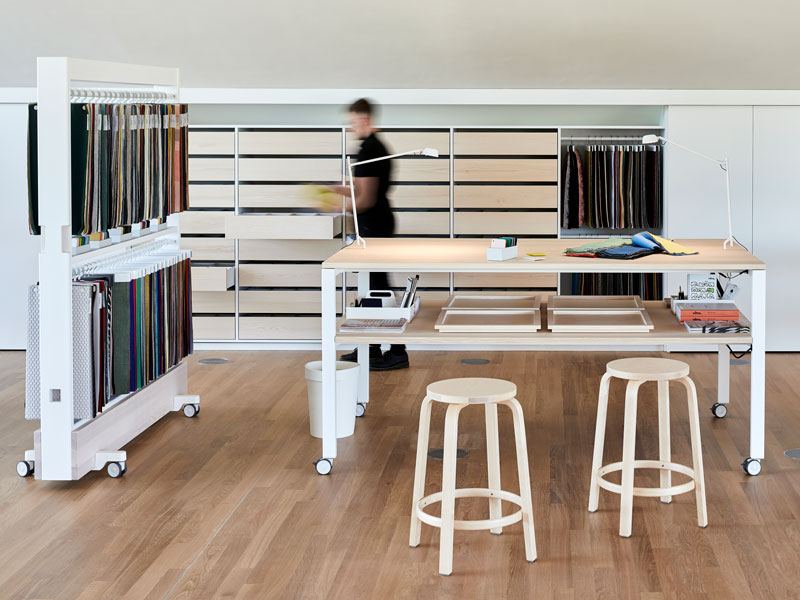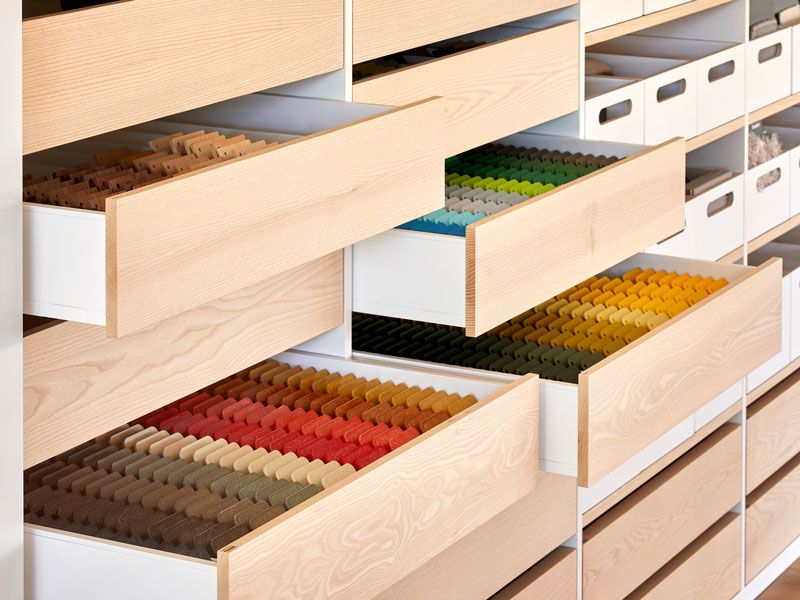 VitraHaus visitors seeking fully realized interior inspiration can head to the top floor where renowned designers and architects, including India Mahdavi and Raw Edges, periodically transform its loft. Most recently, buzzy firm Charlap Hyman & Herrero, whose wildly imaginative work ranges from stores to opera sets to art-filled residences, designed a fully-transportive and uniquely personal space. "At the beginning of the process, Vitra was encouraging us to create a character to design the space for, so we decided on a film director," Adam Charlap Hyman tells Galerie. The brief was perfect for the Los Angeles and New York-based interior architects whose fully integrated approach is guided by a deep passion for movies and film sets. "Heightened by quarantine, we found that the space was such a mirror of Andre's [Herrero] and my interests that it became a meditation on what it means to live in a home alone and find pleasure in solitude. It became less about the director and more about being our dream house."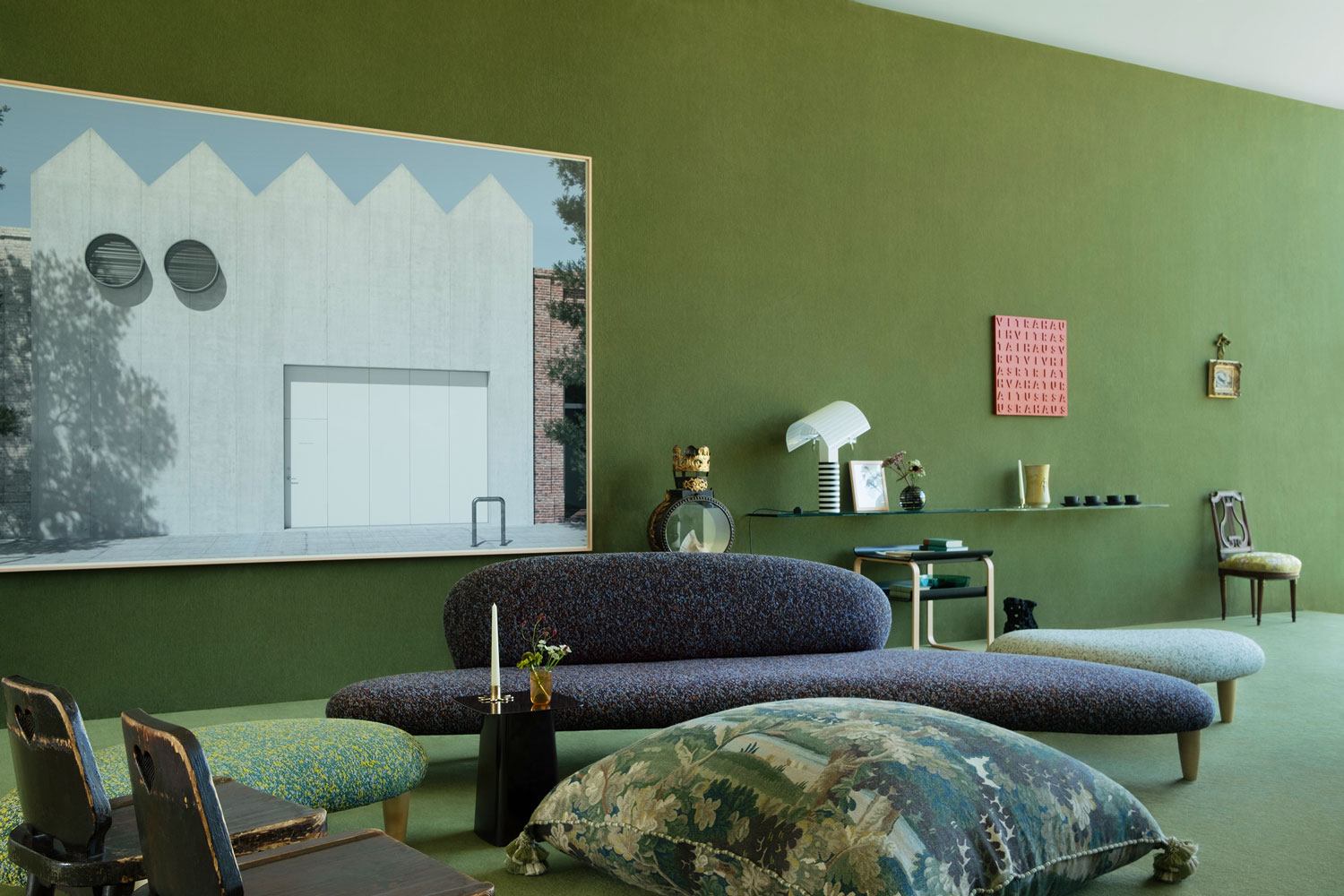 Having discovered Charlap Hyman & Herrero at the Chicago Architecture Biennial in 2017, Weber was instantly impressed with the firm's multilayered, narrative approach and would later collaborate with the duo for Vitra's booth at Salone del Mobile. For the VitraHaus loft project, which will be on view for approximately one year, both parties "wanted to go crazy," says Weber. At once tranquil, quirky, and Surrealist, the resulting interior begins with a verdant environment in which moss-green carpet extends up the walls—a dramatic departure from the building's wooden floors. "It creates such a soft, tender atmosphere," Weber says of the floor-to-ceiling textile.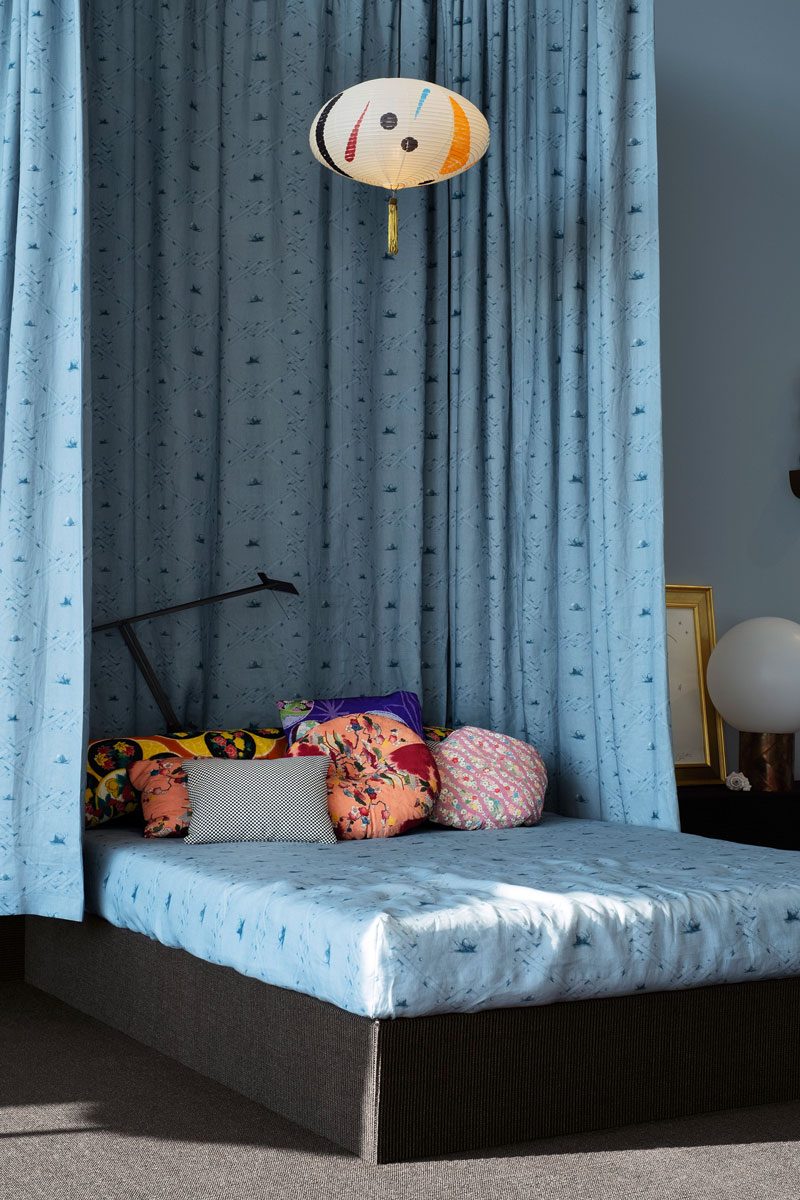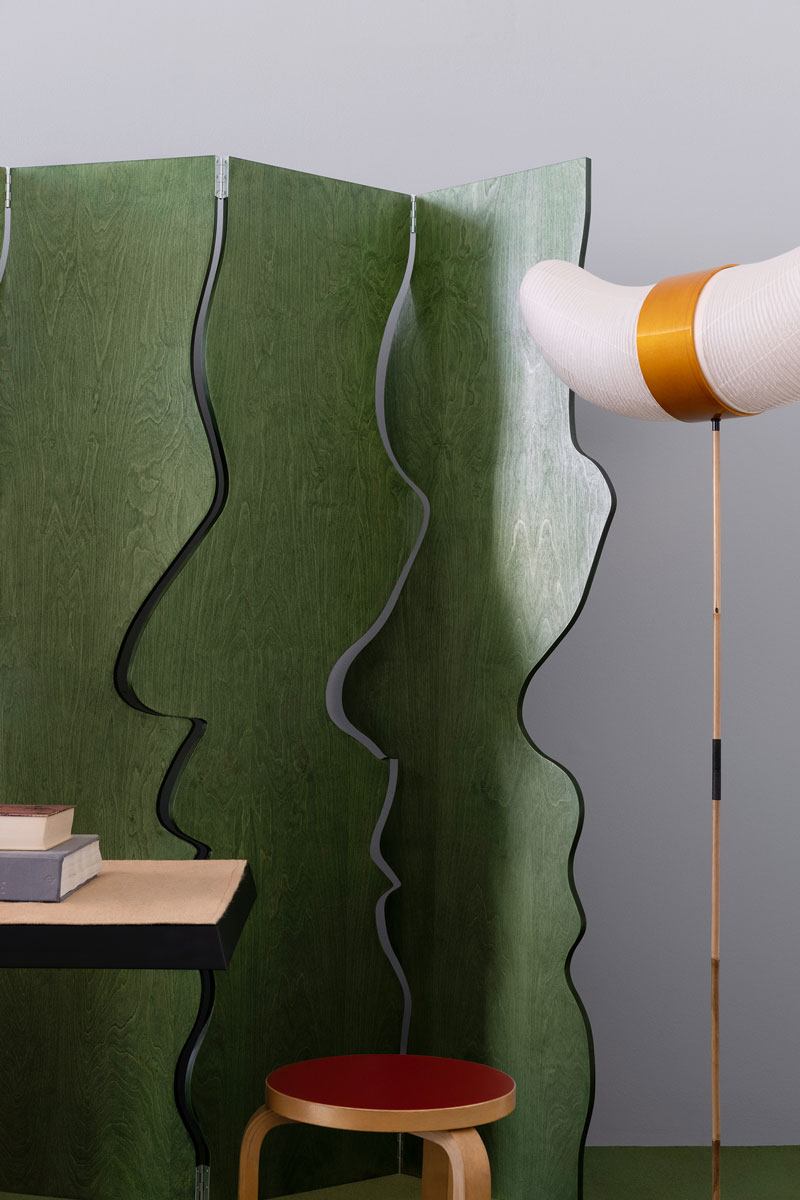 "For us, shells symbolize this whole idea of retreating into a luscious solitude, of having a rich inner life"

Adam Charlap Hyman
The living room gives way to a serene, blue nesting space, which Charlap Hyman says increasingly became a focal point due to COVID-19. "Stylistically, the bed hanging became really crucial to form a cocooning area," says the designer. "We wanted to have a small space enveloped in fabric that would be extremely calming and would allow you to feel completely removed from the world." The charming snail-and-shell-covered fabric, which came from an exhibition the firm did at Alma Zevi gallery in Venice, provided a surprisingly timely motif throughout the loft.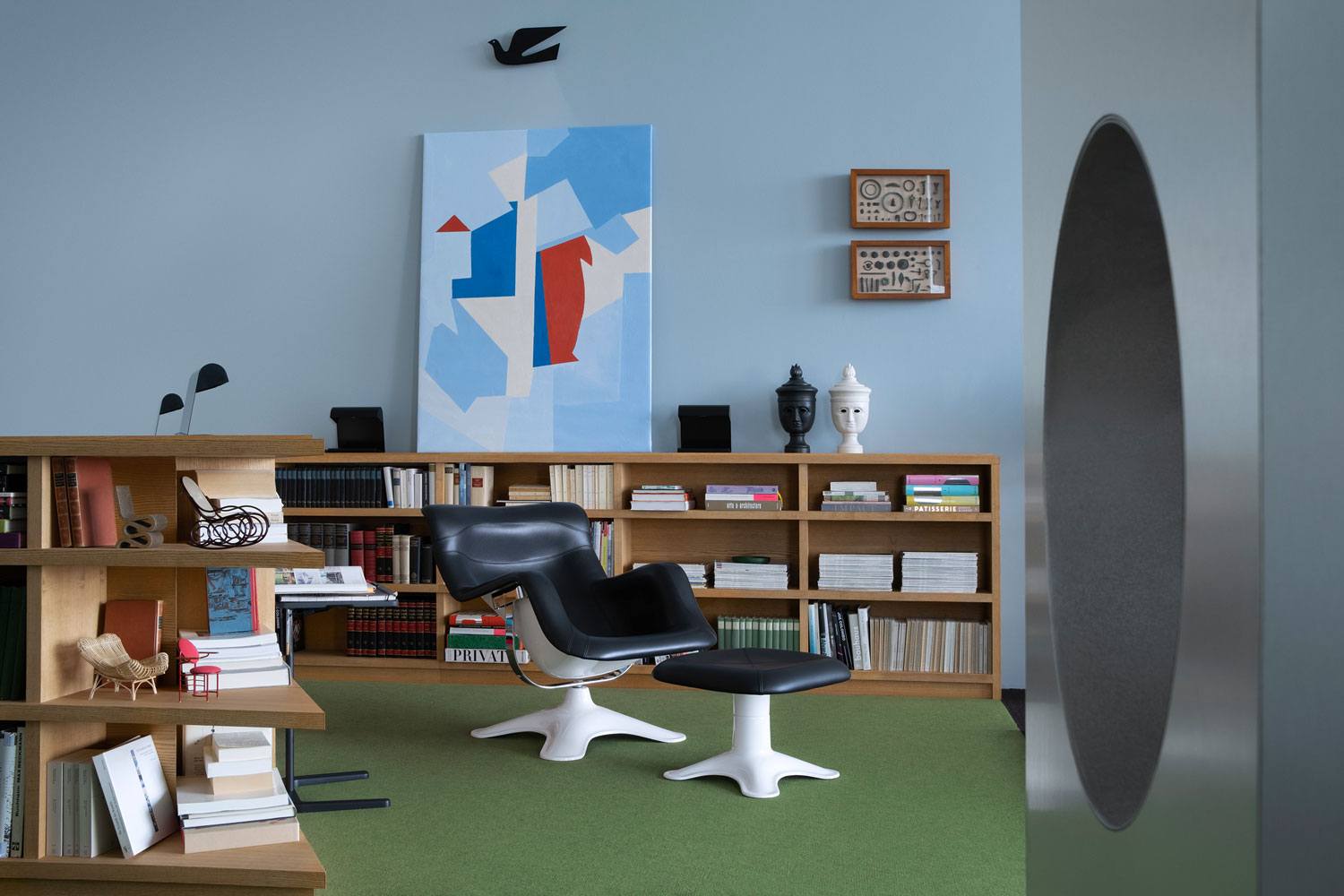 "The idea of a shell is so poetic in terms of how it relates to home. It's something that the animal carries with it and in some cases makes or finds. It's a kind of archetypal architecture, much like VitraHaus itself," says Charlap Hyman, who also references Herrero's and his fascination with the idea of the grotto. "Grottos came into popularity in the 18th century when people were just beginning to understand the idea of the subconscious, unknown, and depths of the mind. For us, shells symbolize this whole idea of retreating into a luscious solitude, of having a rich inner life."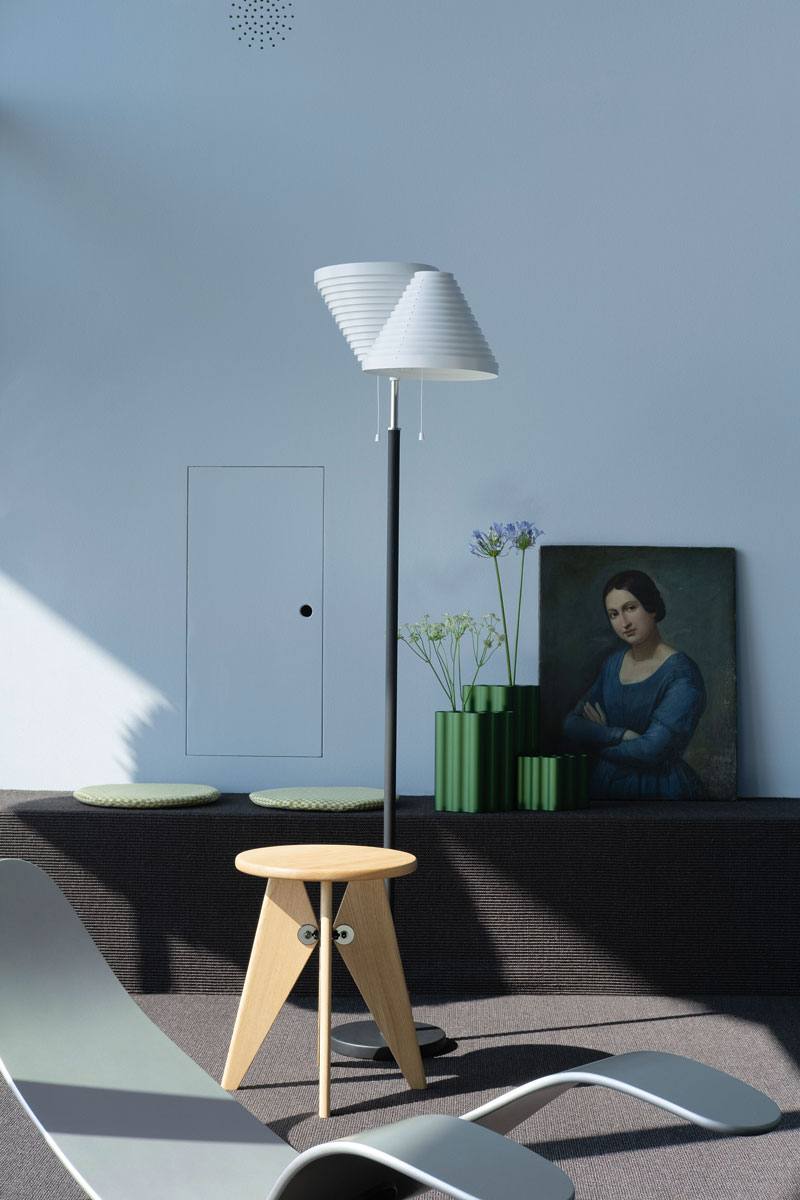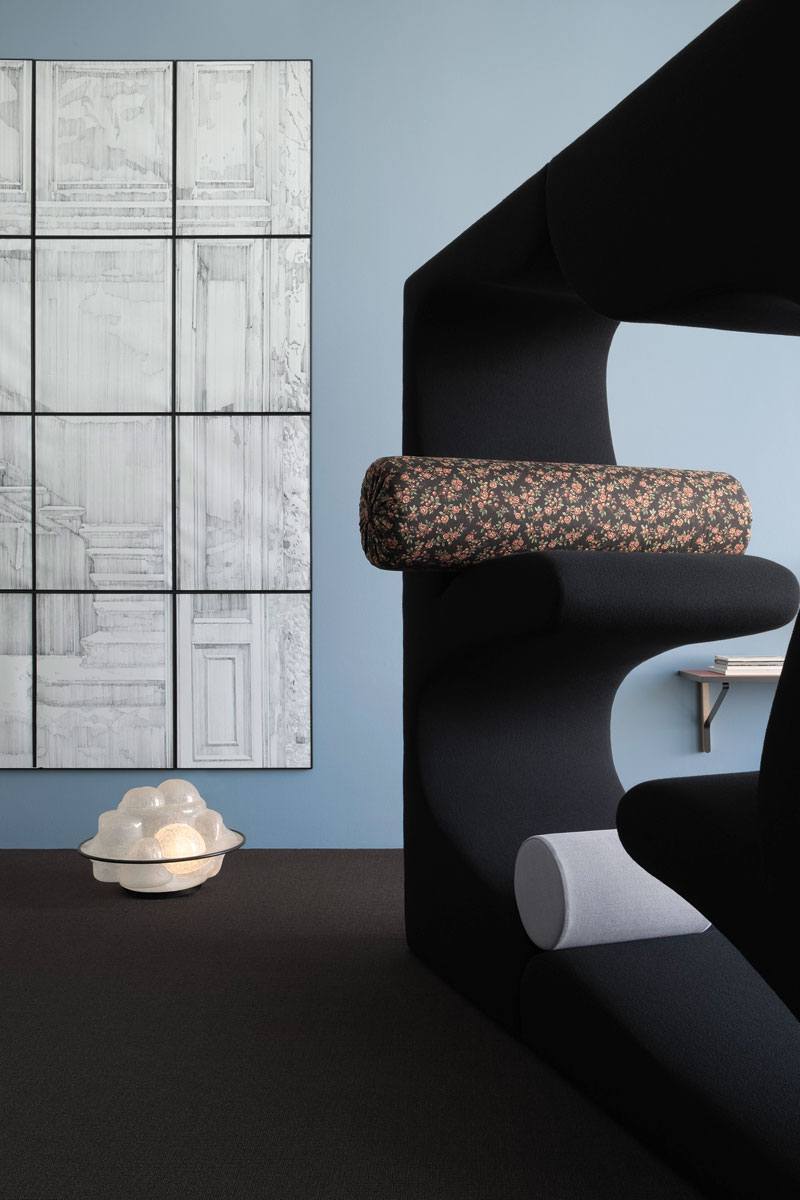 Poetic and powerful was also the benchmark for the Vitra pieces featured in the space, which include vintage finds from Artek 2nd Cycle, as well as Verner Panton's Living Tower, and Isamu Noguchi's Freeform sofa and Akari paper lamps, which Charlap Hyman hand painted. Vitra also manufactured brand-new, highly complicated pieces, such as the face screen, for the firm, and the campus's upholstery shop produced special one-off designs, including pillows made with vintage kimono fabric.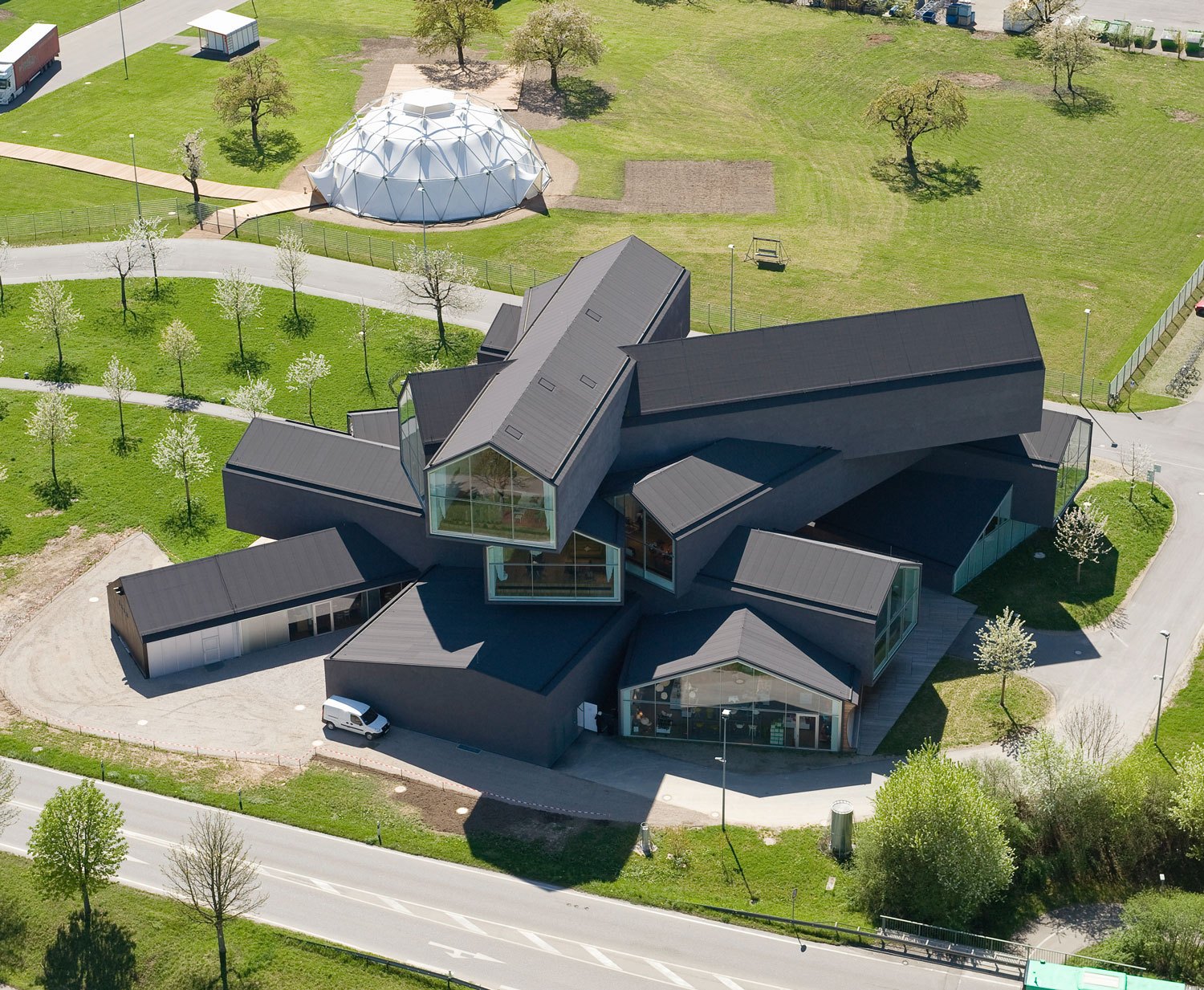 In terms of artwork, there is a series of prints from Henri Matisse's "Jazz" series, as well as a set of Giovanni Battista Piranesi's imaginary prison prints, which Charlap Hyman chose to echo VitraHaus's mannerist architecture. Other display items range from a huge movie still from Jean Cocteau's Blood of a Poet to works inspired by the artists, Alighiero Boetti, Georges Braques, and Serge Poliakoff, made by Charlap Hyman and his team. "The model for this kind of interior came from 1960s Antonioni movies," says the designer. "Often there are these modern Italian interiors where everything is placed as if it's a diorama. Each piece is intentionally chosen and has this energy that's very singular and special."
What began as a loft inspired by a film director ironically became Charlap Hyman & Herrero's most self-directed project yet—and our fingers are crossed for a sequel.
Next Post