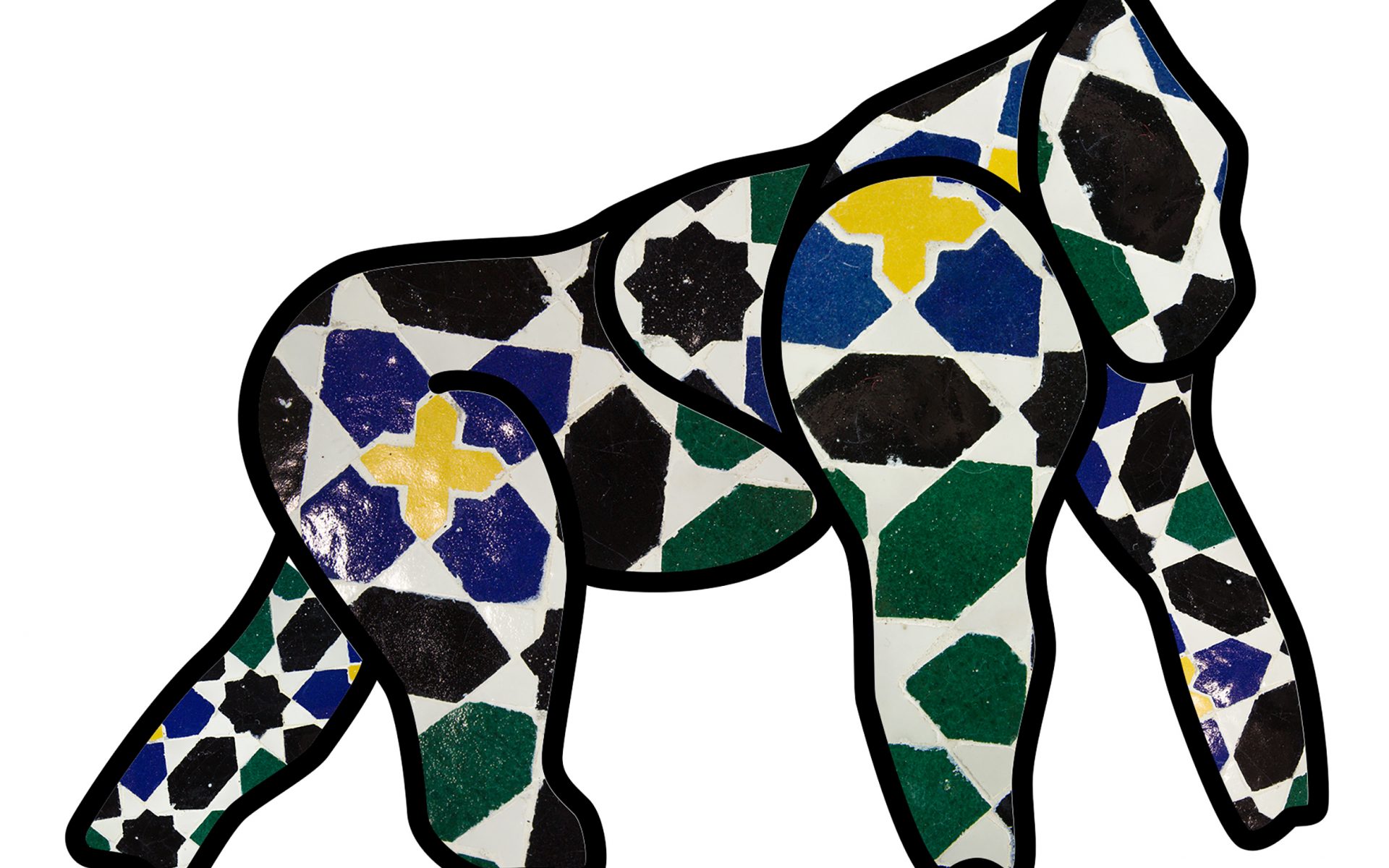 Valmont's First U.S. Art Exhibition Has an Unlikely Subject
Valmont Group President Didier Guillon created the show after an inspiring visit to the Berlin Zoo
On a bustling street in downtown Manhattan, a striking white marquee declaring a "symmetrical gorilla" stops curious passersby in their tracks.
The cavernous industrial space at 393 Broadway has been taken over with bold art historical depictions of a gorilla. A Carl Andre–inspired puzzle packs a punch on the floor by the entrance, for example, while an Alexander Calder–inspired mobile hangs delicately nearby. A sketch filled in red, blue, and yellow references Piet Mondrian's primary color palette. Sprinkled throughout are fabulous pieces of patterned Moroccan fabrics and tiles.
This wild mashup of created and found artistic tributes in the form of wall drawings, sculpture, installation, and video is the creation of Didier Guillon, an artist and president & artistic director of Valmont Group and Foundation Valmont. It is the luxury skincare brand's first New York City art exhibition, and  it runs from October 5—21.
The story begins on a trip to the Berlin Zoo with his youngest daughter Valentine, where Guillon was impressed by a handsome, "Cubist-looking" gorilla named Ivo. He got back to his hotel room and began to sketch. From there, the creative juices started flowing, and the premise for an exhibition was born.
Recommended: The Ultimate Insider's Guide to London During Frieze Week
"It's sad for people to see a gorilla in captivity. And we know that in several years we won't have any left in the wildlife," Guillon told Galerie at the preview. So, I thought, 'How can I offer the chance to the gorilla to see the world?' That sparked the idea and the show is going to travel to Berlin, Munich, and hopefully Hong Kong."
The craft and textiles, on the other hand, were inspired by a trip Marrakech. "They were woven by women in regional areas of Morocco. I blew up the fabrics and added them to the silhouettes of the animal, which I think has such a great Pop-art effect," he says.
Guillon is known for his fantastical imagination, sense of storytelling, and intense passion for the arts. For the past few years, he has curated exhibitions during the Venice Biennale at the 16th-century Palazzo Tiepolo Passi along the Canal Grande. Earlier this year, the foundation hosted a show featuring keys works from the brand's private collection at a castle in Switzerland. In 2016, he curated a group show "El Cuor No Se Vende" at the Historical Archives Museum of Hydra, Greece.
While many fashion and beauty brands are associating themselves with the arts, Valmont's approach stands out. Most importantly, art is considered the umbrella over the entire Valmont Group, which includes the four brands: Valmont, l'Elixir des Glaciers, Il Profvmo and Storie Veneziane."
Recommended: Wall Street's Famed 'Fearless Girl' Sculpture Heads to Ireland
"It's all my creation. It's also the chance for me to shift focus from the business side of things only. I try to share emotions and beauty with visitors and clients. It's not about selling products."
The defining characteristics of Valmont's art program are twofold: it supports and showcases art that expresses a pure, aesthetic beauty in the more traditional sense, and has a strong respect for traditional craftsmanship. Guillon also supports the art of Murano glassblowing, for example, and the chandelier in the new Maison Valmont Hong Kong was designed by master artisan Aristide Naean.
There are ambitious plans in the pipeline too. The Valmont Foundation has purchased a palazzo in a small side canal between Santa Croce and San Polo in Venice. "We are going to be able to stage some really exciting exhibitions here," he says, revealing images of the gorgeous terrazzo tiles and faded grandeur. For the 2019 edition of the Venice Biennale, visitors can expect a whimsical reimagining  the legend of Hansel and Gretel.
For the New York show, Valmont partnered with One Drop, an international non-profit organization dedicated to engaging communities to bring sustainable access to safe water. During October and November, Valmont will donate $10 to One Drop for every product sold at Saks Fifth Avenue New York and Spa Valmont at Plaza Athénée NYC. Valmont will also donate 100% sales of two artworks from the exhibition to One Drop.
"The Elegant Symmetry of the Gorilla" is open from October 5–21, 2018 at 393 Broadway, New York City. 
Next Post