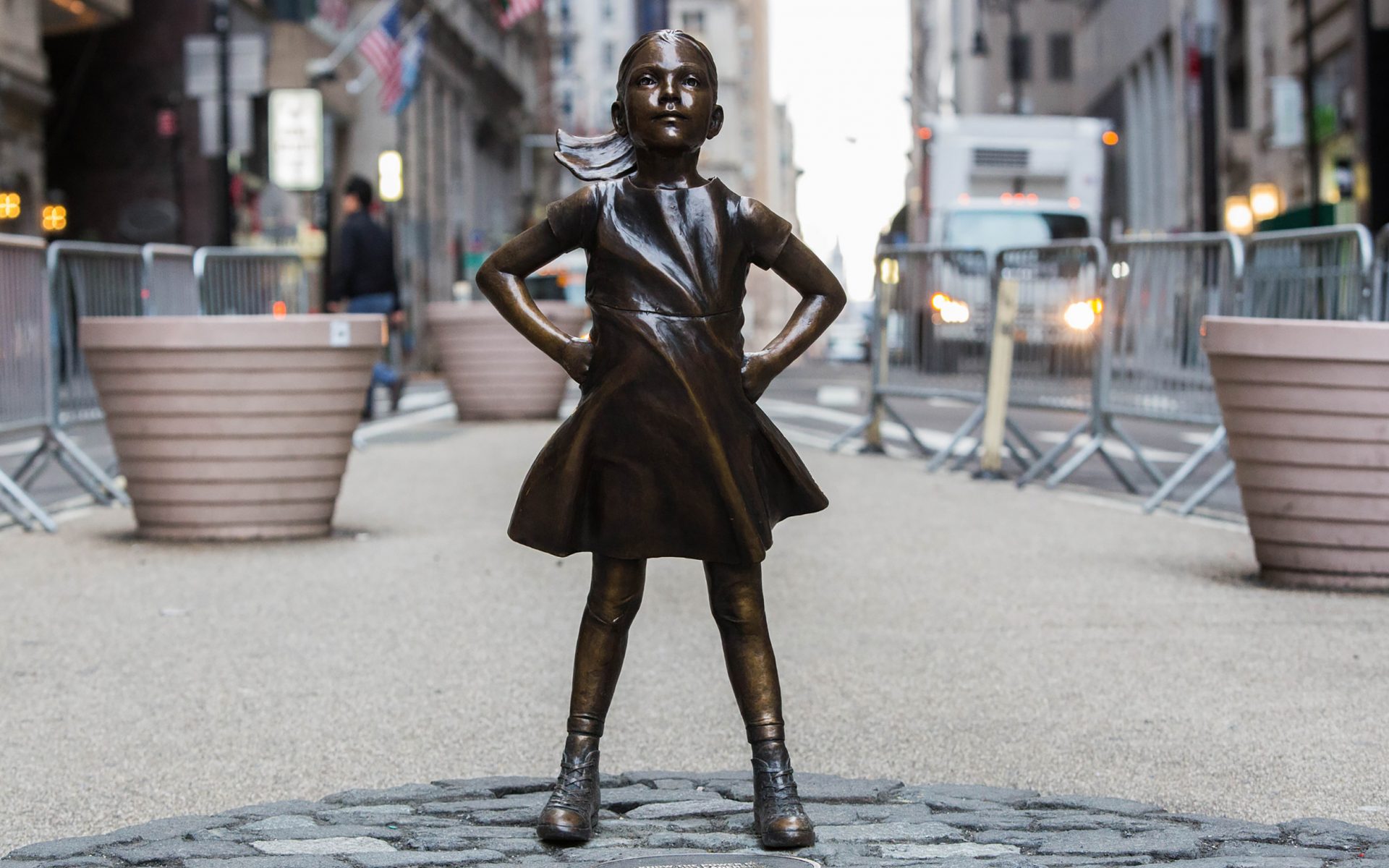 Wall Street's Famed 'Fearless Girl' Sculpture Heads to Ireland
The work of public art, a beacon of feminism to some and a corporate stunt to others, will appear as part of Ireland's first Climate Week
The controversial Fearless Girl statue is going abroad. The sculpture, which has been staring down the Wall Street bull for over a year, will make its international debut at Ireland's Dublin Castle from November 6 to 8 before coming back to the States to settle permanently at the New York Stock Exchange.
Sculpted by Kristen Visbal, the statue was placed in New York City's Financial District on International Women's Day in 2017. Fearless Girl instantly became a global sensation, prompting thousands of visitors to snap an Instagram picture posing alongside it. When it came to light that the piece was commissioned by the financial firm State Street Global and the advertising agency McCann, many people soured on the work.
While in Ireland, the sculpture will be part of the country's first-ever Climate Week. Stephen Nolan, chief executive of Sustainable Nation Ireland, a partner in Climate Week, told the London Times that the Fearless Girl statue would be a reminder of the challenges in securing a sustainable future for younger generations.
Recommended: The Best Art and Design Fairs Around the World This October
One fierce opponent of the sculpture is Arturo Di Modica, the artist who created Charging Bull. Di Modica placed the sculpture in front of the NYSE without permission in 1989, as a symbol of perseverance in the wake of the 1987 recession. Among his many issues with Visbel's work was the fact that Fearless Girl attempted to cast the famous bull as a symbol of capitalist, patriarchal ideals—a far cry from the intent of his sculpture.
Di Modica's crusade against the statue even prompted New York City mayor Bill de Blasio to get involved in the debate.
Men who don't like women taking up space are exactly why we need the Fearless Girl. https://t.co/D2OZl4ituJ

— Mayor Bill de Blasio (@NYCMayor) April 12, 2017
Despite the statue's corporate origins, executives at State Street Global still believe that the message that Fearless Girl conveys will resonate with people across the world.
"We're proud of the role [Fearless Girl] has played in sparking the conversation around women in leadership and workplace gender diversity," Ann Prendergast, head of State Street Global Advisors Ireland, told the Independent Ireland. "We are delighted she is coming to Dublin to support Climate Week events."
Next Post