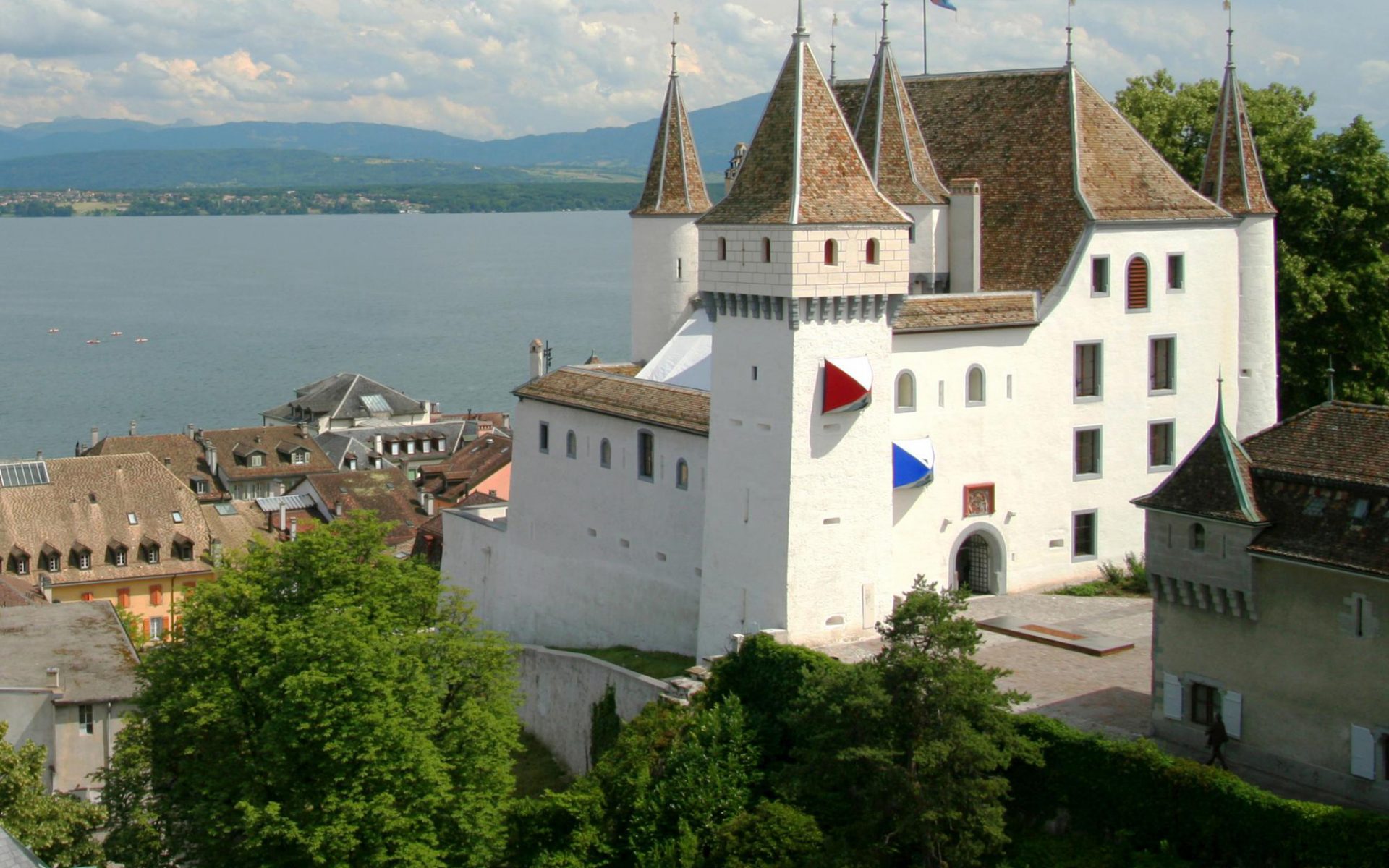 Maison Valmont's Intimate Art Exhibition in a Swiss Castle
Through April 8, a show featuring keys works from the Fondation Valmont is on view at Switzerland's Château de Nyon
There couldn't be a more fairy-tale setting for an art exhibition than the Château de Nyon in Switzerland. Perched above Lake Geneva, with its bright white exterior and towering turrets, the castle dates back to the 12th century. On most days, the noble structure is home to a local history museum featuring a remarkable porcelain collection and sweeping views of the lake, the French Alps, and Mont Blanc. But this month, it's hosting a selection of artworks from the Fondation Valmont, the art pillar of Maison Valmont, a leading brand in scientific skincare and fragrances.
"Les Affinités Électives" (which translates to Elective Affinities in English) is the vision of the Maison's president, Didier Guillon, and is on view at Château Nyon through April 8. In small group show, artworks by Jane Le Besque, Silvano Rubino, and from the Fondation Artigas, were selected for a connection to the Lake Geneva area. The title, plucked from a Goethe novel, refers to human nature and how chemical reactions can overpower rational thought. A passionate collector himself, Guillon spearheaded the entire selection and installation process.
"On my mother's side, we have a strong relationship with art," explains Guillon from his office in Switzerland, where a large Sol LeWitt hangs. "It's in my blood. My great-grandfather was a sculptor. My grandfather was a painter. My father was a collector."
Guillon's collecting strategy for Fondation Valmont is all about seeking connections with the artists. "Something that catches my emotion and stimulates my senses. It's about experience—I want to meet the artists and have a connection to them."
Visitors to the château will find Jane Le Besque's "Moveable Garden," an installation of several panels of painted, cut, and collaged paper that seem to either invite the view in or keep them from entering, depending on one's perspective. Another artist is Venetian Silvano Rubino, who works mostly in glass and explores the transmutable nature of the material's opacity. The third participant is Fondation Artigas, a Spanish art foundation that represents the work of J. Llorens Artigas, an artist who worked closely with Joan Miró on his ceramics and bronzes. Here, they have taken over an entire room with a collection of plates decorated by different artists, including those exhibiting in the show.
The exhibition is just one of the many large-scale installations and art shows undertaken by Valmont. Most recently, Guillon masterminded an exhibition during the 57th Venice Biennale. Titled "Beauty and The Beast" and set on the ground floor of a 16th-century grand palazzo, the installation aimed to explore the precarious relationship between human beings, plants, and animals.
There, a series of large bronze and wood sculptures and paintings by Paris-based artist Quentin Garel resembled a visit to an otherworldly natural history museum—and acted as a stark reminder of man's at-times destructive influence on the earth. In contrast, Miami-born artist Judi Harvest presented a series of dazzling, luminescent beehives, plants, and seeds crafted from Murano glass. The exhibition was aligned with the launch of Valmont's L'Elixir des Glaciers, a collection nature-inspired skincare using glacial spring water, extracts from Swiss plants, and naturally-occurring bee products.
Of course, Valmont's skincare products often receive an artful touch too. Over the past few years, the brand has launched coveted special editions of their fragrances with one-of-a-kind Murano glass bottles.
Up next is the 2019 edition of the Venice biennale, for which Guillon is planning to reimagine the legend of Hansel and Gretel. "The kids drop white bread on the floor, so the artists will work on the concept of white in different materials. They'll also explore the concept of being lost in the environment and trying to find the way to happiness and serenity." It sounds like another artistic adventure for Fondation Valmont is poised for a storybook ending.
"Les Affinités Électives" runs through April 8, 2018 at the Château de Nyon in Switzerland.
Next Post